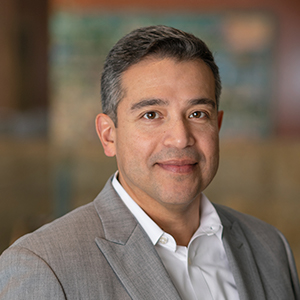 Jorge Lomeli Vice President and CFO
Jorge Lomeli is vice president and chief financial officer at the Federal Reserve Bank of Minneapolis. He leads the Financial Management Group, that consists of financial and managerial accounting, financial planning and analysis, accounts payable, and procurement. Jorge joined the Bank in 2017 as the Assistant Vice President of Treasury Services where he was in charge of an operations team of 165 employees focused on savings bonds processing for the U.S. Department of Treasury. Prior to joining the Bank, he spent more than 20 years in business administration – mostly focused in the health care industry.
Here at the Minneapolis Fed, he is the executive sponsor of the employee resource network group ¡Mi Gente! and is a member of the Bank's Inclusion Task Force. He is an active community member, serving on the boards of Bolder Options and Minnesota Community Care. He holds a B.S. from the College of Business Administration at the University of Illinois-Chicago.
September 2020