Rural businesses are spurring much of the growth in telecommunications
Rural businesses looking to improve their productivity and competitiveness are pushing much of the demand for advanced telecom. Rural branch offices are requesting digital links to the main office in urban areas, according to Nina Duncan of the Blackfoot Telephone Cooperative in Missoula, Mont. Local companies are competing for contract jobs in far-removed places and increasing sales through the Web, she says. Even ranchers are turning high-tech "and changing the way they do business."
Connie Sprynczynatyk, executive director of the North Dakota League of Cities, says, "We see many examples of ways that farmers, small and large communities, and businesses are taking full advantage of the technology to work smarter. Without the technological capability, I doubt the smaller communities would survive."
Advanced telecom is also changing the way local communities think about economic development. Traditionally, rural communities have been content to attract heavy manufacturing or natural resource-based companies, but today are targeting high-tech businesses that are environmentally friendly to replace those declining natural resource industry jobs.
The Iron Range Resources & Rehabilitation Board (IRRRB) recently unfurled a "do Information Technology!" (do I.T!) campaign to convince 25 of the nation's top 1,000 high-tech companies to set up a branch or production satellite office in the Iron Range of northeastern Minnesota.
"If the program is successful, it will transform the entire economic culture of the Iron Range. We will enjoy a diversified economy that is less dependent on mining and logging," says Jim Gustafson, until recently commissioner with IRRRB. While still in its infancy, the program already boasts a few success stories.
LearningByte International, a Minneapolis-based firm specializing in interactive, multimedia computer training programs, expanded to the Iron Range in 1997. According to Gustafson, a dozen people are employed in the branch office in Chisholm, and the company estimates that Iron Range employment might hit 40 over the next five years.
Underpinning the "do I.T!" effort are over 20 partnerships with private and public organizations. For example, MinnTelecom (a subsidiary of MinnPower) has invested $2 million to wire the Iron Range with a high-speed fiber optic network, linking seven "hub" cities.
Quality of life
Along with a more diverse business sector, advanced telecom offers rural residents better access to such fundamental things as education and health care, which often are taken for granted in larger urban areas.
Distance learning is now common at all levels of education. Virtually all higher education institutions offer on-line or video conference classes. Minnesota state Sen. Kelley noted that rural K-12 schools were among the first to embrace interactive TV to expand course opportunities for students. "Some rural schools have moved quickly to adopt Internet-based curricula, when we can get them the hardware," he says.
But an effective distance learning program is more than fancy technology, according to Paul Bowers, a distance learning consultant. "Distance learning, when done well, is a balance between needs and costs," Bowers says. "The technology should always come second, as a means of delivery."
More important is the "but for" test: Would the learning experience be available but for the technology? "In many cases, the comparison is not to a traditional delivery scheme but rather to no delivery at all," Bowers says. The hallmark of a good distance learning program "is being able to reach students who could not otherwise be reached as well, as completely or even at all. That's need at work."
Along with educational needs, rural areas are particularly desperate for good health care. The Upper Peninsula of Michigan (U.P.) is over 16,000 square miles, but has an average density of just 19 people per square mile—fewer total residents than the city of Minneapolis. It has only 50 miles of interstate (all on the peninsula's eastern end), and long, severe winters greatly reduce people's mobility.
Per capita income in the U.P. is below average and the percentage of people over age 65 is high—both of which typically lead to higher health care needs and usage. Nine of the 15 U.P. counties are federally designated as medically underserved, and 12 counties officially have a shortage of health professionals.
But thanks to advanced telecommunications, the U.P. is seeing inroads to better health care for its residents. Telemedicine—health care provided via video and other "off-site" technology—is offering doctors the chance to give patients more specialized care without long treks to hospitals that might be many miles away.
The Upper Peninsula Telehealth Network (UPTN) is a network of 22 video conference sites and 10 teleradiology sites located throughout the U.P. The most obvious benefit of UPTN is that "patients are able to consult with health care providers without leaving their home community," according to Sally Davis, UPTN program director. For example, Davis says, a pregnant woman experiencing complications would have to travel 18 hours to consult with specialists at the University of Michigan.
Along with clinical and medical applications, the system is also used for professional and community education and administrative meetings. This brings improved training for medical staff, more information for patients and better coordination of health services among regional providers, Davis says.
These benefits can accrue to virtually any rural community, but many obstacles prevent the widespread use of telemedicine, says Jill Zabel of the Minnesota Office of Rural Health and Primary Care. Rural care providers must first invest in upgrades to their telecommunications infrastructure, like an ISDN or T-1 line.
"Since the technology is rapidly changing, it is difficult to plan, pay for and install what's needed before it becomes outdated," Zabel says, adding that grants for such upgrades are available, but the application process "is often cumbersome and competitive."
Complicating matters is the fact that few insurers currently cover telemedicine services, and the federal Health Care Financing Administration has only recently started paying for teleconsultations on a limited basis. Until such cost coverage is expanded, "many providers cannot afford to offer services that will not be reimbursed," Zabel says.
Call waiting
The obstacles facing telemedicine provide a salient message: Don't let the anecdotes fool you. Rural America was last in line to receive railroads, highways, telephones and a host of other innovations, and is playing catch-up with advanced telecom in much the same way. In a market economy, where services are provided based on the number of willing buyers, it should not be surprising that rural communities have struggled to get on the information superhighway.
"At the moment, the biggest problem is rate of return," says Fritz Messere, a member of the National Experts Panel on Telecommunications for the Rural Policy Research Institute. "There has to be sufficient market to make a service profitable."
Rural counties cover 80 percent of the land in the United States, but hold only 20 percent of the nation's population. Such low density makes investment in rural telecom a tough sell to the private market—capital costs are high, rates of return are modest at best and subsidies for providing service to high-cost areas are being rethought as a result of the federal Telecommunications Act of 1996.
Most states have invested in fiber optic networks that connect regions and cities to one another. South Dakota is said to have more fiber optic cable than any other state in the country. Its Rural Development Telecommunications Network operates 16 fully interactive sites and 85 satellite receiver sites. In Minnesota, construction is under way of a 1,800-mile fiber optic network that is using the state's freeway rights-of-way as the network's backbone. The state complemented this with a $15 million program called the Telecommunications Access Grant, which connected 470 schools, libraries, hospitals and non-profit organizations to broadband services for free.
The illusive last mile
But even with fiber networks in place, the biggest obstacle facing rural communities is the so-called "last mile"—the connection of individual houses or businesses to the larger network. The existing infrastructure of phone wires is owned by local telephone companies, and it can be cost-prohibitive for other telecom carriers to duplicate that infrastructure in hopes of competing in individual communities and regions.
Estimates put the cost of replicating the existing local phone network at $3,000 to $5,000 per household in urban areas. The federal Rural Utility Service estimated that a new rural line is three times more expensive to install than an urban line, mostly because of longer distances and lack of existing conduits like telephone poles or sewer systems where wire networks are more easily installed.
Rates of return on capital investments can be anemic because revenue is based mostly on system use and not access. Telecom carriers earn money based on the number of times their lines are "rented," and low-density rural populations are rarely able to maximize a network's peak capacity.
Averaging only 1.2 customers per mile, Valley Telecommunications Co-op in Hereid, S. D., serves 3,500 subscribers in nine high-cost exchange service areas. To upgrade to high-speed digital lines—at $4,000 per line—"will take a great deal of infrastructure investment, which our rural subscribers cannot afford," says Valley general manager Dianna Quaschnick.
Another critical factor influencing rural telecom is government subsidies and regulation. In 1934, revenue sharing between long-distance companies and local companies—dubbed "universal service"—was established to subsidize phone connections in high-cost areas. Fifty years later, a separate universal service fund based on carrier access charges replaced this system. (See graph.)
SPEED OF DIFFERENT TECHNOLOGIES
Traditional phone line access: 28,000 to 33,600 bits per second (bps)
Satellite (DirectDuo): estimated at 12 times faster than phone lines; however, it sends data at 28,800 bps (outgoing messages also use phone lines and block incoming calls)
Satellite (Teledesic): 4 megabits per second (mbps) download, 2 mbps upload
Integrated Services Digital Network (ISDN): 128,000 bps
T-1 line: 1.54 mbps
Cable modems: 1.5 mbps to 3 mbps download, 128,000 bps upload
High-hit-rate digital subscriber line: works over normal phone lines (costs ranging from about $40 to $125 per month; also installation costs up to $300); uses existing phone wire infrastructure and can transmit data 2 to 27 times faster than conventional phone modems
Telephone Company High Cost Support Contributions and Payments 1998 1/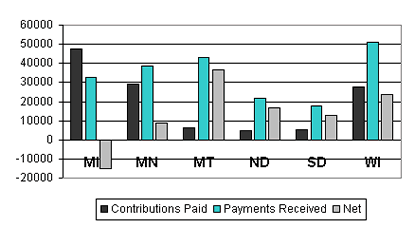 Payment Per Rural Resident2/

$ 11.92

MI

29.12

MN

113.78

MT

72.17

ND

51.43

SD

30.53

WI
Today, for example, Clark Fork (a subsidiary of Blackfoot Telephone Cooperative in Montana) charges a residential customer about $18 per month for local service, and receives about $34 a month per line in universal service support, says Joan Mandeville, assistant manager with Blackfoot.
Rural carriers also generate a large portion of their budget through access fees on long-distance and exchange carriers. Average monthly line costs for Clark Fork are about $100, Mandeville says, and it recoups almost half that cost through these access charges.
Telecom Act—for better or worse
Government and private industry are debating how to bring advanced telecom services into the mix. Significant changes were initiated with passage of the Telecom Act of 1996. The landmark law promised to introduce greater competition to the telecom industry, while calling for additional universal funding for an "evolving" level of telecom service—goals that are seemingly at odds with each other, and have created considerable controversy.
The law enacted a new universal service fee—called an "e-rate"—that is levied against long-distance carriers. These funds subsidize telecom projects for schools, libraries and hospitals in rural and inner-city areas. Last year, for example, about 30,000 schools and libraries applied for about $2 billion in funding. In Montana, almost $3 million has been committed for schools and libraries through the e-rate program, according to Wendy Fuller, a staff economist with the Montana Public Service Commission.
Already there has been a backlash. When the Federal Communications Commission (FCC) started collecting e-rate fees early last year, long-distance companies like MCI and AT&T passed that cost on to consumers, who balked at the new charges. Hearings were held on the matter, but Congress took no action.
The FCC is also leaning toward fees against all telecom carriers based on their interstate revenue, which will be used to underwrite general telecom service to high-cost areas and to low-income people. The FCC is expected to make final decisions regarding these fees in the spring, including ways for carriers to recoup expenditures in high-cost areas.
To complement federal fees, the FCC has encouraged states to create their own "explicit" funds from which carriers would draw direct reimbursements, rather than implicitly cross-subsidizing high-cost areas through such things as higher rates for urban areas and businesses.
Although a number of states have moved to explicit reimbursement for serving high-cost areas (including Wyoming and Colorado), the states in the Federal Reserve's Ninth District have lagged behind, according to Diane Wells of the Minnesota Public Utilities Commission.
Many states are monitoring the FCC's own action on the matter. Wendy Fuller noted that Montana PSC has been given the authority to establish a high-cost fund "upon determination of need," but to date "no party has requested that the PSC initiate a proceeding to determine a need."
Universal service financing is complicated by different reimbursement rules for nonrural and rural carriers. New support mechanisms for nonrural carriers are expected to be in place by July of this year, but changes in universal support for rural telecom companies will not be reviewed until at least 2001. Universal service support is also tied fairly closely to access charges, which the FCC has been changing.
All of these changes have created a moving budgetary target for rural carriers. "I can't even begin to estimate any impacts" of recent and future changes, says Mandeville. Such uncertainty can make companies skittish on new investments in rural areas, because decisions are based on a predictable rate of return. Most rural carriers are small companies that "cannot afford to make the wrong choices when they are selecting the appropriate technologies (and) services," according to Bill Coleman, manager of integrated community networks for MEANS Telecom, a consortium of independent telephone companies.
These scenarios run counter to the Telecom Act's intent of encouraging greater competition. But many believe that increased telecom competition is neither realistic nor good for rural areas.
"The FCC, in its wisdom, says competition is the answer," says Bernie Arcand, marketing representative for Northwest Communications Cooperative of Ray, N.D. "In rural North Dakota, there are just barely enough subscribers to keep one telephone company together. If competition came in and decided to 'cherry pick' the local hospitals, schools, businesses and gas plant, we as a telephone company could not survive, and neither could they."
"What occurred was exactly what the incumbents predicted would occur," says Bill Cobb of Infinitec. "New entrants would show up in the most attractive markets seeking the most attractive customers."
Briana Gowing, media relations manager of GTE Service Corp., says their competitors "are going straight for the fat embedded in the system"—mainly urban markets. As a result, rural areas are seeing little competition because there is no fat in these markets.
But Messere of the National Experts Panel says more time was needed to gauge the law's effectiveness, and noted that there are indications that rural areas might yet be well-served by the law. "While some say consolidation in the industry is making a mockery of what the Telecom Act was supposed to accomplish, I think that the current consolidation was exactly what we should have expected," Messere says. "But, and this is a big one, getting services to the rural areas may become more enticing as the consolidation process makes it necessary to compete in the last mile."
Despite all of the potential disincentives, activity to overcome the "rural last mile" appears to be heating up. Much of this activity stems from bandwidth inadequacies of existing phone lines, which typically transmit 28,800 bits per second - significantly slower than the capacity needs of data-hogs like videoconferencing and high-speed Internet access.
New technology and competition
Competition is producing innovative technology—like digital subscriber lines—that expands the capacity of existing phone wires. But a diverse array of companies and technology is creating new entry points into homes and businesses, even in rural areas.
In Hibbing, Minn., Befera Interactive spent $1.65 million on a "second last mile" of fiber to individual businesses and residents and another $2 million on research and equipment purchases. The company has about 300 subscribers who receive cable access to the Internet, and video-on-demand services are expected to follow soon.
Industry experts believe cable companies are well-positioned to compete with phone companies for providing advanced telecom services. Like phone lines, existing cable networks must be upgraded because they were not designed for two-way communication or for tracking phone calls. Costs for upgrading cable lines are also lower than for phone lines, and many rural towns offer an eager, if small, customer base.
Wireless technology also has made significant strides in the last decade, and offers significant service potential for rural areas, particularly for remote residences outside small towns. For instance, wireless local loops (a.k.a. fixed wireless) use a common phone jack inside a home or business. But instead of copper wires leading to the larger network, the jack is connected to an on-site transmitter that sends calls via cellular-radio frequencies to scattered antennae. Such systems are competitive because they have relatively fixed capital costs, and each new customer makes the system more cost-effective. Once antennae are installed, new customers can subscribe from anywhere within the service area.
Difficulties remain with fixed wireless systems, however. Antennae demand clear sight lines to broadcast, and government must regularly approved new radio signal frequencies, which are prone to interference and disruptions from rainfall and other radio frequencies. There are also frequent battles over antennae placements.
Wireless technology might also have greater potential were it not for multiple technology platforms. Unlike in Europe, where there is one technology standard, the United States has no uniformity standard that might otherwise contribute to a broad wireless network that all users could benefit from. Instead of basing competition on price and service within a common standard, wireless companies are competing on standards themselves (ours is better than theirs), which has created a confusing and even perverse array of "choices" to consumers.
Utility companies offer intriguing possibilities. Nationwide, they have the third largest existing telecom infrastructure behind phone and cable with an estimated 40,000 miles of fiber. In some cases, power companies overbuilt distribution networks because these costs could be recouped through higher rates, which are set by regulators according to a company's physical asset base. This is often referred to as "dark" fiber because it is a dormant asset.
Competing head-to-head with telephone companies is not very likely due to the cost of wiring more homes with high-capacity fiber. But utilities have existing capacity, as well as "use-based" billing and service systems already in place. Most importantly, they have a huge customer base to which they already provide power services. It is estimated that about 100 electric utility companies are providing Internet services today.
Satellite services are also making inroads. Teledesic LLC, backed by such giants as Motorola and Boeing, is using a network of more than 200 satellites to build a global "Internet-in-the-sky." The company promises to bring "affordable access to interactive broadband communication to all areas of the Earth, including those areas that could not be served economically by any other means." Other satellite-based carriers are available, but costs can be prohibitive - several hundred dollars each for equipment purchase and installation, and monthly access bills well over $100 for unlimited access.
But like past innovations, rural areas might have to wait impatiently for the latest telecom technology to come to town. Consequently, it's hard to predict the full impact that advanced telecom will have on rural areas. Many believe that it could bring a rural rebirth and repopulation.
"The urban areas are full of people who have moved into the city for economic opportunity and would like to return" to rural areas, says Bill Coleman of MEANS. "The development of large lots on the edge of the metro is some indication of this desire. There are probably some urban residents who desire the rural lifestyle and would move to a smaller community if it were economically possible."
And by most indications, the doors to rural America are wide open. As Bernie Arcand, who worked with Wayne Johnson at a TV station early in their respective careers in Ray, N.D., noted, "North Dakota is the last best place on earth, and someday someone will discover it."
---
1/ Contributions are the amounts paid to telephone companies by telephone customers to support the universal service mechanisms. Payments, or "support," are received by telephone companies in each state from universal service mechanisms.
2/ Based on 1990 rural population figures and 1998 high cost payments received.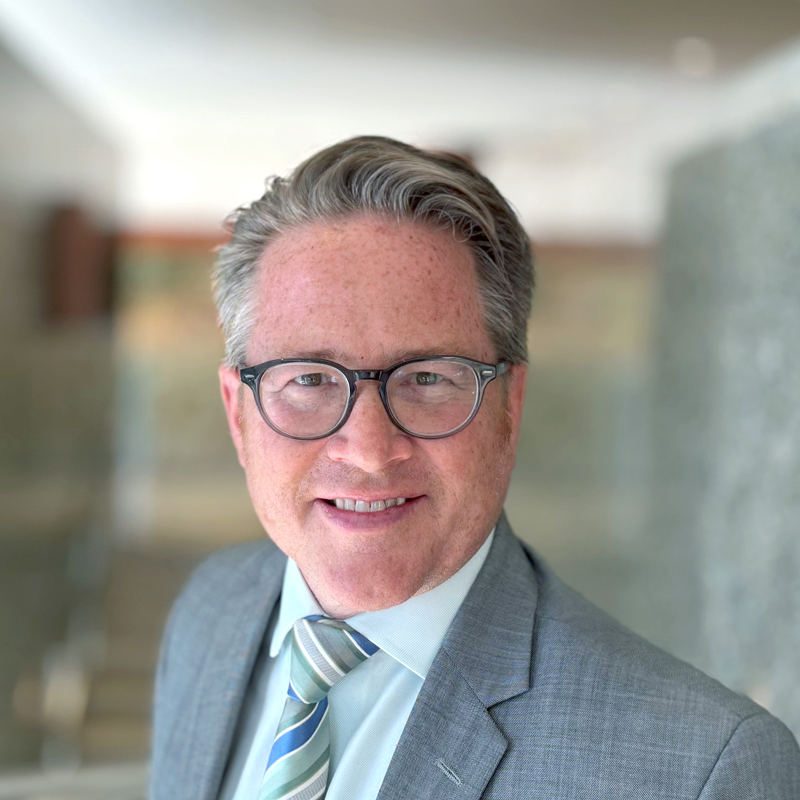 Request as a speaker
Ron Wirtz
Contributing Writer
Ron Wirtz is a Minneapolis Fed regional outreach director. Ron tracks current business conditions, with a focus on employment and wages, construction, real estate, consumer spending, and tourism. In this role, he networks with businesses in the Bank's six-state region and gives frequent speeches on economic conditions. Follow him on Twitter @RonWirtz.