Note to the ethanol industry: If you're looking for a poster city and spokesperson for a marketing campaign, call city hall in Walhalla, N.D., and ask for Mayor Pat Hardy.
The city of about 1,000 is home to an ethanol plant owned by agribusiness giant Archer-Daniels-Midland. The plant was shut down for about a year and recently came back into production. "As far as our community's concerned, it's a real big deal," Hardy said. "It's just been wonderful."
The plant provides good-paying jobs that attract and keep younger workers, he said, and has had a much larger ripple effect in the small town, which is just five miles from the Canadian border. The local car dealership sold six cars in November alone to plant employees, Hardy said, and local farmers are getting higher prices for the corn used to make ethanol.
"It all filters down. ... It helps schools, the housing market, main street. Everything you can think of in a small community, [the ethanol plant] has been a benefit to. I can't think of one negative," Hardy said. With the plant located on the southeastern edge of town, regular northwesterly winds even keep the notorious smell of the plant out of the city most days. "It sure has helped people's frame of mind."
Assisted by clean-air mandates and a handful of government subsidies that have made it price-competitive with conventional gasoline, ethanol appears to be well positioned for growth. Long-term demand for ethanol will be determined, to different degrees, by future environmental policy and the industry's ability to attract users in areas where ethanol and other clean-burning fuels are not required.
Ethanol currently supplies just 1.3 percent of the nation's motor fuel but has grown from just 50 million gallons in 1980 to an estimated 1.6 billion gallons in 2000. Most ethanol is sold as a gasoline-blended product having about 10 percent of the alcohol-based fuel. Ethanol can be made from a variety of inputs, but today about 95 percent of ethanol is made from corn, and four-fifths of all ethanol production comes from Illinois, Iowa, Nebraska and Minnesota—the heart of the so-called Corn Belt.
Minnesota spits out almost 220 million gallons of ethanol annually from 15 plants. Ethanol production is much lower in other Ninth District states; Montana has no ethanol plants, Wisconsin has one and North Dakota two, including the Walhalla plant.
South Dakota has three ethanol plants making about 25 million gallons of ethanol, but significant expansion is under way there. Two new plants under construction will add about 55 million gallons, and three more are in development stages that are expected to add yet another 120 million gallons, according to the American Coalition for Ethanol (ACE), located in Sioux Falls, S.D.
"This is an area with a lot of corn, and the idea is to make enough [ethanol] to be a net exporter," said Ron Lamberty, ACE market development director.
An environmental base
Ethanol has a growing fan base, especially in rural Midwestern areas, mostly because of the new jobs and income it is injecting into sagging farm and rural economies. But more fundamentally, the ethanol market exists largely because of federal environmental laws seeking clean-fuel alternatives to gasoline.
Ethanol itself has some pollution baggage, having evaporative tendencies in warm weather that release harmful compounds, which partially offset ethanol's lower tailpipe emissions. But the federal government recognizes ethanol as a cleaner, more environmentally benevolent fuel than gasoline, which brings with it the rationalization and justification for a variety of federal and state subsidies for alcohol-based fuel.
Some proponents argue that ethanol subsidies are useful in accomplishing other goals, and, in fact, ethanol does have some complementary benefits. As Walhalla shows, new plants have brought income stability to some struggling farmers and hope to rural communities in the form of local investment and good-paying jobs.
But absent the federal mandate for cleaner fuels, most pro-ethanol arguments would not fare well on the cold scale of economics. For example, ethanol is not price competitive with gasoline without the subsidies it currently enjoys. Minus ethanol's environmental benefits, efforts to help struggling farmers and rural communities would likely be targeted very differently, rather than subsidizing ethanol plants and fuel retailers (and by extension, corn farmers) for a fuel few will buy on price alone.
Proponents also argue that ethanol subsidies are justified because they increase the nation's energy independence from oil. Yet ethanol provides much less than 1 percent of the nation's energy. Far from providing energy security, some have argued that a confluence of ethanol factors—blending mandates, tight supply and distribution difficulties—exacerbated last year's run-up on gas prices.
Keys to the gas tank
Much of ethanol's market base has come courtesy of two federal clean-air laws in the last 10 years, which gave it a direct opening into the nation's gas tank.
The first came in 1992 when "oxygenated" gasoline was required in 39 cities to reduce carbon monoxide emissions during winter months. (Conventional gasoline contains no oxygen. Ethanol and other "oxygenate" additives are used to increase the oxygen content of gasoline to make it burn cleaner.) The Twin Cities, Duluth (Minn.) and Missoula (Mont.) were originally designated to participate. The Twin Cities and Duluth have since met attainment standards, and the Twin Cities now participates voluntarily.
The second clean-air boost came in 1995, when a year-round reformulated gasoline program (with oxygenate requirements) went into effect. Today, the program includes 24 polluted urban areas (none in the Ninth District) covering all or parts of 174 counties, mostly in California and the eastern seaboard from New Hampshire to Maryland.
About 85 percent of the market for oxygenated and reformulated gasoline is controlled by methyl-tertiary-butyl-ether (MBTE, an oil derivative). Or at least it was, until MBTE was found to pollute groundwater. Ethanol holds the other 15 percent of the market, but that slice equals more than half of all ethanol demand, according to a consultant's report to the Governors' Ethanol Coalition, an advocacy group of two dozen governors from predominantly Midwestern states.
Although proposals to ban MBTE nationwide have stalled, several states have banned the additive and some pollution-control areas, like Milwaukee and Chicago, have switched from MBTE to ethanol as the additive of choice. If existing oxygenate requirements remain and MBTE is phased out—both of which the oil industry is fighting—ethanol demand would likely double in just a few years to more than 3 billion gallons, the governors' consultant report said.
"The $64 million question is whether ethanol will be the primary substitute" for MBTE, said David Morris, vice president of the Institute for Local Self-Reliance (ILSR), an environmental organization with offices in Minneapolis and Washington, D.C. "If it is, that's a major export market for the Upper Midwest." Several bills have been introduced in Congress seeking the nationwide phase-out of MBTE, but Morris said "everything was dead" as of mid-November.
Many in the industry are not waiting for a formal government edict on MBTE. As many as five plants in Minnesota alone are undergoing or considering expansion that could bring upwards of 80 million gallons of new capacity in the next year or two. "Most plants are trying to figure out how they can expand production to meet the needs of California and the East Coast when they drop MTBE," said Al Groschen, senior marketing specialist and ethanol expert with the Minnesota Department of Agriculture.
Roadside assistance
Armed with the environmental rationale, various state and federal subsidies have helped make ethanol more affordable at the pump.
The cornerstone subsidy is a waiver of 5.4 cents of federal excise tax for every gallon of gas with 10 percent ethanol, meaning that a full gallon of ethanol receives a 54-cent subsidy. Initially set in law in 1978, the tax waiver was scheduled for sunset last year but was extended to 2007 by Congress.
The federal government also offers a 10-cent per gallon tax credit for producers with less than 30 million gallons of capacity. An ethanol industry source said few producers claim the credit due to its complexity, but a group of Midwestern legislators is nonetheless attempting to raise the capacity limit on the credit to 60 million gallons. In November, the U.S. Department of Agriculture announced a new program that will pay renewable fuel producers—largely ethanol—$150 million in each of the next two years for increasing their consumption of crop commodities used in fuel production.
Ethanol proponents point out that oil has received subsidies that dwarf ethanol by comparison. A recent report by the General Accounting Office (GAO) calculated subsidies of $120 billion to $150 billion (in inflation adjusted dollars) to the oil industry since the late 1960s, mostly in the form of tax credits or deductions for asset depletion, exploration and development. Ethanol subsidies over this time were significantly less at about $8 billion to $10 billion.
The GAO noted, however, that oil incentives "have generally been scaled back" and are roughly 80 percent lower today than in 1968 (inflation-adjusted), while ethanol subsidies were on the increase. GAO figures indicate that, on a per-gallon basis, the ethanol industry currently receives proportionately more in federal subsidies than the oil industry.
States have also supplemented federal ethanol subsidies in hopes of encouraging the industry within state borders. Trevor Guthmiller, ACE executive director, said the availability and cost of corn are important siting factors for new ethanol plants. With cheap corn widely available in the Midwest, "growth tends to go where the incentives are," he said.
Among Ninth District states, Minnesota has given ethanol the proverbial red carpet treatment. It offers a producer payment and various loan programs, and local communities often pitch in additional incentives for new plants. The state also had a tax credit-worth over $20 million annually to ethanol plants in the mid-1990s-before being fully phased out by 1999 in favor of higher producer payments.
Equally important for the industry was a state law passed in 1996—and still the only one of its kind in the nation—that required year-round oxygenated gasoline for the entire state. "A very clear reason [for passing the law] was to incent the ethanol industry," said Randy Doyal, chief executive officer of Al-Corn Clean Fuels of Claremont, Minn. Eight of 15 ethanol plants in the state have started up since 1996, and production has since tripled (see chart).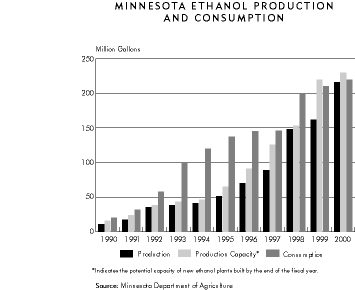 Source: Minnesota Department of Agriculture
Minnesota, South Dakota and Wisconsin all provide 20-cent per gallon production incentives to ethanol producers, typically capping the per-plant subsidy at $1 million to $3 million annually for five to 10 years. North Dakota also passed a production incentive in 1999, good for 40 cents per gallon for ethanol that is both produced and sold in the state (for which affidavits are required). But the state budgeted just $750,000 per year for all payments.
Guthmiller said incentives have played an important role in growing the industry. "If you got rid of [incentives], I don't think [plants] would get built as fast as they have in the past. But I don't think states are doing it just for goodwill. They understand the economics and how [states] benefit" from developing the industry within state borders.
While most of the direct subsidies go to ethanol producers, a fair portion appears to trickle down to corn farmers. About 80 percent of the existing and planned ethanol plants in the Ninth District are owned as farm cooperatives, including 12 of Minnesota's 15 plants, which have a combined membership of 8,750 corn farmers, according to the state Ag Department.
Ethanol cooperatives have attached substantial "value-added" payments—plant profits paid out to farmer shareholders—on top of the market price farmers are paid for their corn. Over the last four years, Doyal of Al-Corn said that value-added returns to co-op members have averaged 50 cents to 60 cents per bushel. This year the value-added payments would be closer to $1 per bushel, he said, adding that farmer members also received a small premium for their corn as well.
"I'm 100 percent certain members are getting more for corn than if they were delivering [and selling] it themselves," Doyal said, acknowledging that some co-op members might disagree. "Farmers always think they can get more."
Supply and demand lessons
The outlook for the ethanol industry is good, given the extension of the federal tax waiver for blended gasoline for at least the next six years, and if clean-air laws are preserved in their current form. Additional subsidies, low corn prices and production improvements have also made ethanol price competitive with gasoline (see chart), which has created growth opportunities beyond where government mandates ethanol use for environmental reasons.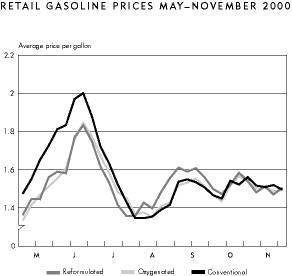 Prices are the average retail price per gallon in Petroleum Administration Defense District (PADD) 2, a group of 15 Midwestern states including Michigan, Wisconsin, Minnesota, North Dakota and South Dakota.
"Conventional" is regular gasoline sold in areas not under clean-air fuel requirements; the entire state of Minnesota and Missoula, Mont., are the only "oxygenated" areas in the Ninth District, Milwaukee and Chicago are the closest "reformulated" areas to the Ninth District.
Source: Energy Information Office, U.S. Department of Energy
---
Over the last 12 years, research by the Minnesota Department of Agriculture shows that the average annual wholesale price of ethanol in Minnesota (after subtracting the federal excise tax waiver and a now-defunct state tax credit) has been 8 cents cheaper per gallon than 87-octane gasoline. At retail fuel pumps, ethanol-blended gasoline tends to be more expensive than regular gasoline by 3 cents to 5 cents per gallon because of added costs for blending and transportation. But when gas prices go up, as they did last year, blending lower-cost ethanol can provide retailers better profit margins.
"What's driving ethanol right now is the price of gasoline," Doyal said. "We saw ethanol work into markets it was not in previously," like Wisconsin, which "is very much a price-oriented marketplace."
Edward Hoffman, director of petroleum marketing for Holiday Cos., which has gas stations throughout the Ninth District, said the company was selling ethanol-blended gasoline in some Wisconsin stores because it provided a price advantage over conventional gasoline.
Blenders have also started using ethanol as an octane enhancer—a 10-percent blend of ethanol in 87-octane gasoline creates a gallon of 89-octane, which commands a higher price. Last year, about 45 percent of ethanol demand came from its use as a fuel enhancer (higher octane) or extender (when gas prices are high), according to the Governors' Ethanol Coalition report.
But increasing demand led to an ethanol supply shock—an aftershock of sorts on the heels of rising gas prices—that pushed ethanol prices up significantly in the latter half of 2000. Hoffman of Holiday said the increase forced the company to take ethanol blends out where it wasn't required by law. "A penny or two is important in our business."
Last year's supply shock wasn't the industry's first. In 1996, low corn supplies drove up ethanol prices dramatically and led to a 60 percent decline in annual production. According to the Minnesota Ag Department, average ethanol wholesale prices in the state were 18 cents higher than gasoline even after factoring in direct federal and state subsidies of 61 cents per gallon that year.
Some argue such growing pains should be expected as the industry becomes bigger, more efficient and competitive. "Demand is out there. But at this point, at times there is a bit of a supply problem," said Lamberty of ACE. "The industry is growing, and as it does you're not going to see those [price] spikes."
Wooing the fickle consumer
With conventional gas still comparatively cheap, ethanol's biggest challenge—and its biggest potential market—will be to convince fill-'er-uppers outside of polluted urban areas to freely choose ethanol at the pump. With its current price parity to gasoline, that's already taking place to a degree.
Neither South Dakota nor Iowa has urban control areas that require oxygenated gasoline. Nonetheless, about 60 percent to 70 percent of the gallons sold in those states are ethanol blends, which gives ethanol about 6 percent of fuel market in the two states, according to ACE's Guthmiller.
But the industry faces a number of real and imagined hurdles in increasing its market share. Given the long-term uncertainty of subsidy programs, ethanol's price parity with gasoline could vanish overnight, along with most of its users.
The industry also faces significant public relations issues. Foremost is educating the fickle consumer who "doesn't give a damn." Groschen said. "Gas is a commodity. [Consumers] don't know what's in it and they don't care. ... They want to put it in so you can get to soccer or church."
Many consumers are nervous about ethanol's perceived side effects on a car's performance, despite assurances from car manufacturers and the ethanol industry that gasoline blends containing as much as 15 percent ethanol will not harm a vehicle's engine. Ironically, ethanol consumption in Minnesota rose significantly in the early 1990s "after we got rid of the ethanol labeling requirement on the gas pumps," Groschen said. At the time, it was profitable for blenders to use ethanol as a gasoline extender, and "as long as dealers didn't have to deal with consumers frightened by ethanol horror stories, they were happy to reap the profits," he said.
Ethanol also faces some distribution challenges, given that retail and wholesale fuel networks are largely controlled by the oil industry. "I don't know how to do it [increase ethanol consumption] from a market standpoint," said Groschen. "The gloves and balls and bats all belong to the company [for which ethanol] is not its core business." Guthmiller agreed. "It's like trying to sell Pepsi through a Coke machine."
But several sources also acknowledged that the ethanol industry has not done a good job of selling itself. Lance Gaebe, executive director of the North Dakota Agricultural Products Utilization Commission (APUC), said the effort to get consumers to buy ethanol on their own "has been substandard," he said. "It may be starting, but it's been weak to this point, in my opinion."
APUC recently gave the North Dakota Corn Growers Association a $10,000 grant for a marketing program designed to increase consumer use of ethanol blends in a state that currently consumes just a half-million gallons annually. While such a grant might seem a pittance, efforts have been successful. A small cafe about 40 miles west of Fargo offered free slices of pecan pie for anyone filling up on ethanol-blended gasoline, and Gaebe said it was a "resounding success."
Part of the marketing problem is a matter of issue and geographic focus, some said. Morris of ILSR said that ethanol is "clearly sold as an economic benefit to farmers," particularly in times of agricultural recession like the current one. As a result, he said, "ethanol has never been embraced as an environmental alternative. ... On the coasts, the environmental community is very ambivalent about ethanol."
Doyal agreed. "I'm not sure how effective marketing has been. ... For the rest of the United States outside the grain belt, you don't hear very much" about ethanol. Doyal took matters into his own hands, creating a marketing consortium with four other ethanol plants in Minnesota to reach outside the region.
"Ethanol is tiny. We're a little pipsqueak." Doyal said. "You have to just keep nibbling away."
Tobias C. Madden, Minneapolis Fed regional economist, contributed research and interviews to this article.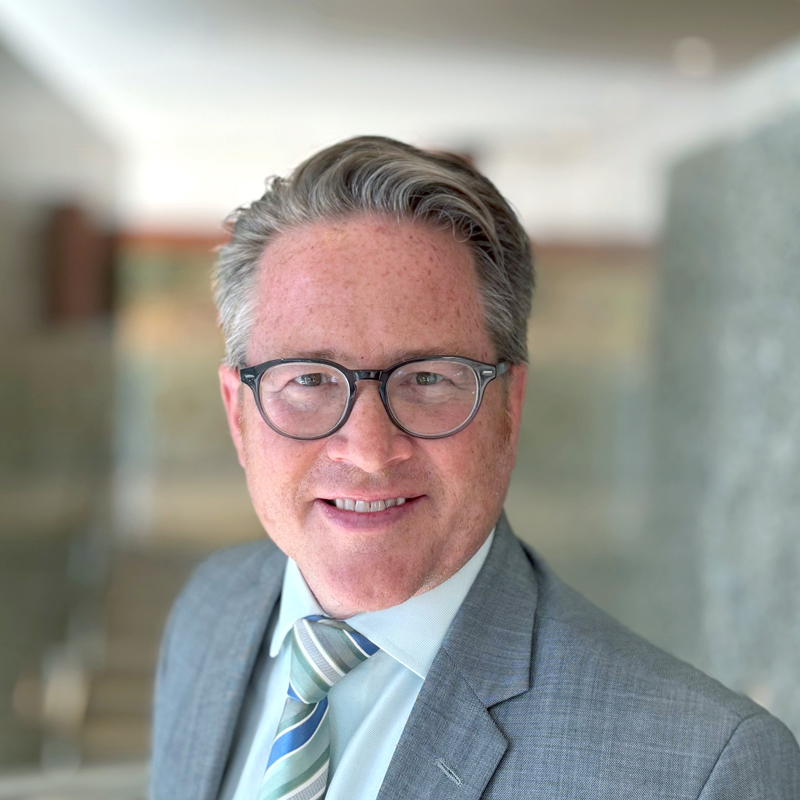 Request as a speaker
Ron Wirtz
Editor, fedgazette
Ron Wirtz is a Minneapolis Fed regional outreach director. Ron tracks current business conditions, with a focus on employment and wages, construction, real estate, consumer spending, and tourism. In this role, he networks with businesses in the Bank's six-state region and gives frequent speeches on economic conditions. Follow him on Twitter @RonWirtz.