In the steady pursuit of finding ways to supplement farm income, the most popular "new thing" has diverse backing and a decidedly green flavor: money for improving environmental outcomes on farmland.
Advocates see it as an easy win-win; more income support trickles down to farmers, and the environment is better off in the long run. What's not to like?
Not much on the surface, at least. But like other income-support programs, conservation and environmental payments to farmers tote some of their own baggage, to say nothing of the design oddity of rewarding farmers for not farming, which is how most of the current money is spent.
What's more, the level of benefits derived from these programs depends on the counterweight of comparison. The nation's agri-political complex has itself created or exacerbated some of the conditions that make enviro-farm payments attractive in the first place, and some environmental improvements could likely be achieved through other methods with less public money.
Stewards, polluters
The current push for more enviro-farm programs is the result of a somewhat awkward shift in the public's perception regarding farmers' impact on the land. Though farmers have been long viewed as stewards of the land, research is finding clear links between troubled waterways and agriculture.
States report that agriculture remains the leading source of pollution in 57 percent of river miles and 30 percent of lake acres found to be impaired. Nonpoint source pollution is estimated to contribute 65 percent of the nitrogen increase in the Mississippi Basin, which in turn has created a hypoxic "dead zone" in the Gulf of Mexico that covers 8,000 square miles.
Environmental groups and the general public are turning up the pressure, and many farmers are getting frustrated. "If there is one thing that irks me, it's that ag is portrayed [as if farmers] are on bulldozers and earthmovers and pushing [dirt] into the river," said Brad Mathson, general manager of an agricultural consulting service and farmer of about 1,100 acres of corn and soybeans in Whitehall, Wis. "Most farmers go out of the way to preserve the environment."
When low prices reign as they have of late, farmers face constant pressure to increase yields and decrease costs. Both tend to have a negative impact on farmland as fertilizer use increases (among other things) and time-consuming conservation practices get pushed to the next growing season. Enviro-farm programs offer a policy double-dip of strengthening the farm safety net with more income support and providing incentives for farmers to produce better environmental outcomes.
Direct spending on farm conservation and environmental programs is about $2 billion annually. Both major farm bills in Congress are proposing to increase spending on conservation programs by at least 80 percent—$16 billion—over the next 10 years to add more programs and pump up existing ones. Many environmental groups are saying it's still not enough.
Grass huggers
The roots of modern enviro-farm programs trace to the mid-1980s. For decades previous to this, the federal government rented acreage—called set asides—from farmers and pulled it from production in an effort to keep a lid on supplies and boost prices. In 1985, Congress created the Conservation Reserve Program (CRP), which paid farmers to idle farmland but introduced the concept of reaping some environmental benefits along the way by keeping the same land out of production for a period of 10 to 15 years and growing "cover" rather than crops. About 80 percent of all direct enviro-farm spending today is on CRP, essentially paying farmers to watch the grass grow.
"Programs like the CRP and Wetland Reserve have allowed farmers to take acreages out of production that should not have been brought into production in the first place."
—Wisconsin Farmer
CRP targets highly erodible or environmentally sensitive land, and better than half of all farmland acreage is eligible for enrollment, according to the U.S. Department of Agriculture (USDA). But enrollment criteria favor the drier Plains states susceptible to erosion, so logically, CRP participation is also the highest in these regions.
Montana, the Dakotas and Minnesota all ranked in the top nine states in CRP enrollment last year, while Wisconsin ranks in the middle of states; combined, district states (not including Michigan) had more than 10 million acres enrolled last year, or about 30 percent of the nation's 34 million acres.
To enroll acreage, farmers must make a bid to the government to take land out of production. Bids are ranked and selected based on potential benefits and associated costs. The government pays farmers according to the relative productivity of soils and the three-year average of local rents. Average CRP payments in North Dakota are $33 an acre, but are $50 in some counties. Montana and South Dakota average $40 an acre, while farmers in Minnesota and Wisconsin receive $55 and $60, respectively. Such "idle" money adds up. Last year, 17,000 CRP contracts earned Montana farmers $113 million. In North Dakota, more than 32,000 contracts brought in almost $110 million.
CRP is a politically popular program because it is one of the few farm programs where small family farmers (those with sales under $250,000) receive the majority of payments. Lawmakers are looking to leverage that popularity by increasing CRP's 36 million-acre cap by about 10 percent in the next farm bill and expanding numerous other programs designed to preserve or restore wildlife and wetlands habitat or pay farmers for good conservation practices on working land.
But like other well-meaning farm programs, policy designed to double as both farm income support and environmental protector is a leaky pot of good intentions. For starters, there is the matter of targeting. While most CRP payments go to small farmers—which seems to be the public's desire—much of it ends up in the hands of retired farmers or so-called residential-lifestyle households whose main occupation isn't farming—in both cases, part-time farmers at best.
A small but notable amount of CRP funding also goes to nonoperators, or owners of farmland who rent their land to other farmers. No current data are available on CRP contracts with nonoperators, according to a source with the Farm Service Agency, the USDA branch that manages CRP contracts. One earlier USDA report found that 16 percent of CRP contracts (and 15 percent of CRP acres) were controlled by nonoperators in 1993.
Tipping the benefits scale
It's well established that CRP and other environmental farm programs have had positive and wide-reaching results that include reduced soil erosion, increased wetland restoration and protection, and improved wildlife habitat in farm country. Soil erosion on cropland, for example, fell nearly 40 percent from 1982 to 1997, most of which the USDA's Economic Research Service (ERS attributes to conservation compliance and CRP. Total public benefit just from erosion reduction (which keeps waterways cleaner) was "conservatively estimated" at more than $1 billion.
Source: U.S. Department of Agriculture
Maybe more visibly, CRP contributed to a 30 percent improvement in duck population in the prairie pothole region of the Dakotas and Minnesota. Many also credit CRP for burgeoning pheasant numbers.
But in some cases, enviro-farm programs are merely covering the unintended consequences of other farm programs that induce excess and often economically marginal acreage into production that would have otherwise remained untilled and natural. One Wisconsin farmer, maybe unintentionally, pointed out, "Programs like the CRP and Wetland Reserve have allowed farmers to take acreages out of production that should not have been brought into production in the first place."
Research has shown that government programs—direct payments, marketing loans, crop insurance programs and conservation payments—have induced additional cropland into production. The ERS has also found evidence that payments for good conservation practices on active cropland give farmers the incentive or profit margin necessary to bring previously uncropped land into production. When this happens, government is paying twice for excess acreage: once to bring it into production, and again to remove it.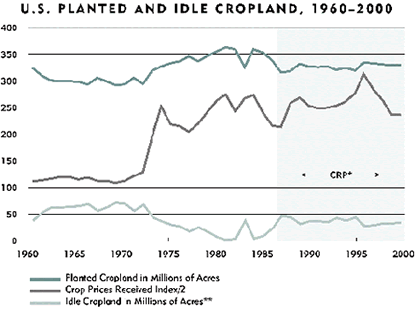 Source: U.S. Department of Agriculture
*CRP enrollment began in 1986 at 2 million acres, increasing to 15.4 million in 1987 and 24 million in 1988. From 1989 to 1996, an annual average of 33.6 million acres were held in CRP. After the set-aside program ended in 1996, an annual average of 31 million acres were held in CRP from 1997 to 2000.
** Idle cropland from 1960 to 2000 is calculated by subtracting planted cropland in a given year from the peak year (1981 at 363 million acres). For example, in 1960, 324 million acres were planted; idle cropland in 1960 equals 39 million acres (363 million -324 million = 39 million).
One ERS report estimated that various government programs bring 5 million to 7 million additional acres into production annually, or about 2 percent of planted cropland. But others believe the number is several times higher. At a USDA conference in 2000, agricultural economist Jerry Skees of the University of Kentucky presented research that suggested that crop insurance programs alone might bring an additional 25 million acres into production—a figure he acknowledged was "controversial," and said might be "closer to the influence of the entire package of government programs."
Ralph Heimlich, deputy director of analysis for ERS, said that current cropland acreage is "probably 30 million acres above" a more natural supply-and-demand equilibrium, which happens to be about the same number of acres in CRP. "The implication is that [CRP acreage] would have found some other nonfarm use" without government having to pay farmers to keep it out of production, Heimlich said.
As a land retirement program, one might expect that CRP would have a clear downward effect on the net number of acres in production. During the 1990s, planted acreage plateaued around 325 million acres, and CRP acreage hovered around 30 million acres. Together, they roughly equal the all-time high in planted acres in the last 40 years. On the surface, then, it appears that CRP has retired land from production.
But planted acreage since 1960 has fluctuated widely between a low of 290 million acres and a peak of about 360 million acres, and generally ebbs and flows with average prices (much as economists would predict), particularly before the onset of CRP in 1985 (see chart on previous page). In fact, it appears that CRP has eliminated some of the price sensitivity and volatility of planted acreage, without necessarily removing net acreage from production.
"We don't take the gloves off" when it comes to farms and their impact on the environment, probably for deep-seated cultural reasons.... "It's hard to explain in any rational way."
—Ralph Heimlich, ERS
Put it on my tab
Even taking the current farm structure at face value, enviro-farm programs assume that good results can only be achieved if farmers are paid to produce the desired outcomes. While that might be the easiest method politically, it is by no means the only avenue available.
For example, positive environmental outcomes on farmland could also be realized by regulating harmful practices or establishing environmental benchmarks that do not dictate farming practices outright, but require farmers to consider farming techniques that will produce positive outcomes (or at least lessen negative ones) for their own farms and the larger society. That's how government treats most other industries. Emission standards, for example, have forced manufacturing companies to internalize more of the costs of the pollution they create.
Agriculture, on the other hand, is unique in that government is proposing to pay the source to lessen or stop polluting—and neither is there much debate over it. Said an ERS report last year, "Regulatory requirements are rare within traditional agri-environmental policy."
That's not to say farmers face no environmental regulation—the Clean Water Act is particularly notable. Wisconsin is also considering additional regulations to reduce runoff on farms as well as golf courses, construction sites and other sources that would be among the most comprehensive in the country.
But Heimlich acknowledged that farmers are generally not asked to bear the costs of their pollution or habitat destruction. "We don't take the gloves off" when it comes to farms and their impact on the environment, probably for deep-seated cultural reasons, Heimlich said. "It's hard to explain in any rational way."
For example, rather than restrict farming immediately along water bodies and allow narrow bands of grass and other vegetation to grow naturally to reduce sediment and other runoff, new programs like the Conservation Reserve Enhancement Program (CREP) are paying farmers for similar outcomes. Wisconsin's proposal for stricter runoff regulations reportedly dropped a requirement for 10-foot buffers between farmland and water bodies in part because it could jeopardize federal funding already in place to do the same thing.
Minnesota, North Dakota and Wisconsin are three of just 15 states eligible for CREP, which often averages about $100 or more per acre, or about twice regular CRP payments. As one of the first states to become eligible for CREP enrollments, Minnesota has easily the largest CREP participation in the district. Enrollments went from 56 contracts in 1999 to 458 for 2002. All told, about 1,200 Minnesota contract holders are paid annual rents of $3.7 million for idling 35,000 acres (about two-tenths of 1 percent of state cropland), or better than $3,000 for the average 30-acre contract.
To many, that's a good deal, at least for farmers and the environment. And while such programs might not be perfect, conservation reserve and other enviro-farm programs offer many more benefits than do other potential uses—like housing or commercial development—on land that is not being farmed, said Heimlich. "It all tends to be relativistic."
In the real world that involves the give-and-take of politics, enviro-farm programs are justified because if they were all taken away, Heimlich said, "there would still be farming ... and you'd get lower [environmental] outcomes without the incentives."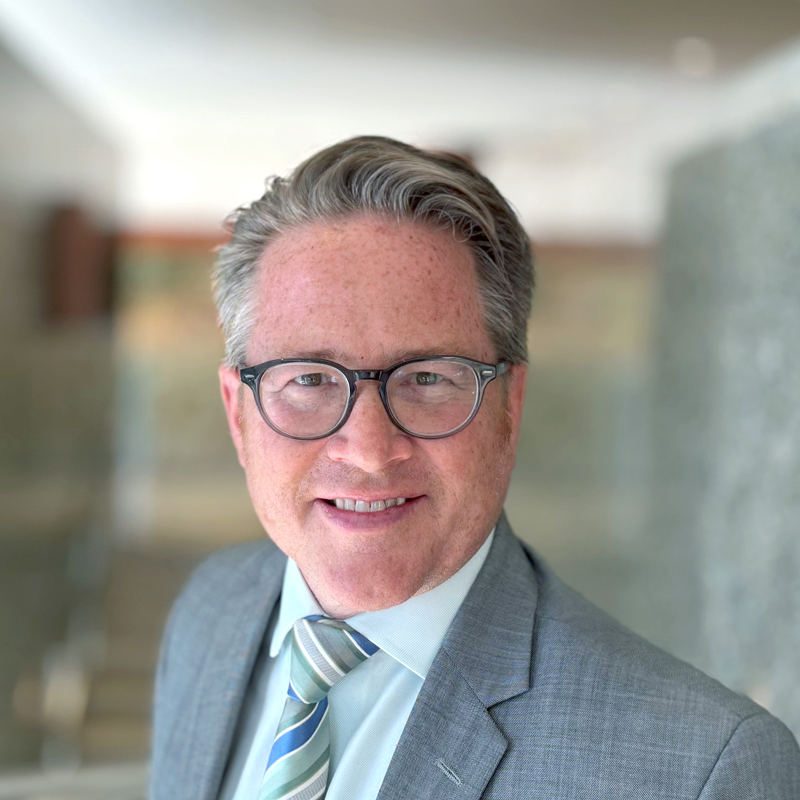 Request as a speaker
Ron Wirtz
Editor, fedgazette
Ron Wirtz is a Minneapolis Fed regional outreach director. Ron tracks current business conditions, with a focus on employment and wages, construction, real estate, consumer spending, and tourism. In this role, he networks with businesses in the Bank's six-state region and gives frequent speeches on economic conditions. Follow him on Twitter @RonWirtz.