Is there a consumer in the house?
If you're looking for bigger bang for your health care buck, that greenback needs to be coming out of your pocket—not the government's and not your employer's. Look down. Yep,that one.
That's the message behind a movement called consumer-driven health care that wants to put purchasing power back in the hands of patients, along with the concomitant financial responsibility that many believe is lacking in today's health care system and, not coincidentally, the source of runaway medical costs. Insured by either employers or government programs, most people have no incentive to shop judiciously for health care or be concerned about the cost of care at the doctor's office.
"When we paid (for doctor visits) with chickens, we understood the cost. In the current environment, we give providers the equivalent of a credit card, in the form of an employee ID card, and tell them to go ahead," said Tina Frontera, a senior director at Medica, a Twin Cities-based health plan organization.
Enter consumer-directed health plans (CDHPs), an umbrella term for health insurance plans that combine a high deductible (often $2,000 or more) with an individual savings account that is tapped to pay a policyholder's medical bills.
When consumers have more skin in the game, the argument goes, they'll pay more attention to both the amount and price of health care they consume. As consumers investigate the cost and quality of care more closely, providers will have to develop simpler, more transparent answers. This, in turn, will kick-start greater competition and efficiency among providers, who will no longer have patients funneled to them by health plans and their costs footed by employers. In the long run, this competition will generate better value and better treatment for the same health care dollar.
"Everyone stands to benefit from a competitive marketplace," said Terry Hauer, a co-founder of MedCare Compare, a Web start-up hoping to become an online price clearinghouse for health care services. But it's not going to be providers or health plans that will drive change, Hauer said. "Consumers are going to be the ones to change the health care marketplace."
Sounds good in theory, but does it stand a chance in today's health care environment? Maybe. The pressure of steadily rising costs has pushed more employers to offer CDHPs, workers and individuals are choosing them more often, and early evidence suggests they are having a slowing effect on medical costs. But the total number of people involved in CDHPs is still just a sliver of the total health care market, and future growth will be an uphill battle because enrollee sentiment for these health policies is not particularly flattering.
ABCs of CDHPs
Consumer-driven health plans got their start in 2003 with the federal creation of medical spending accounts (MSAs), which are special accounts owned by individuals, whose funds are used to pay for medical expenses. Originally, these financial vehicles were intended only for small-business employees or the self-employed.
As the rationale for health spending accounts caught on, legislation broadened their accessibility and eligibility. Today, health reimbursement accounts (HRAs) and health savings accounts (HSAs) are offered by companies of all sizes. The major difference between the two is that HRAs are employer funded, while HSAs are worker funded.
Baseline data on CDHPs are a bit sketchy, but the plans appear to be catching on. In terms of policyholders, an April 2006 report by the U.S. Government Accountability Office (GAO) said CDHP enrollments increased from about 3 million in 2005 to between 5 million and 6 million a year later. The report noted that the primary factor responsible for the growth of CDHPs is the rising cost of health care coverage. That's still a tiny fraction of the 177 million covered by private insurance. But CDHPs are expected to grow so long as medical costs continue rising. The U.S. Treasury Department projects CDHP numbers will hit 14 million by 2010 under current laws.
In 2007, 10 percent of firms with employer-sponsored health care coverage offered an HRA, HSA or other high-deductible health policy—up from 4 percent in 2005, according to a September health survey by the Kaiser Family Foundation. But larger firms are much more likely to offer such plans—18 percent of those with 1,000 or more workers offered such a health plan in 2007, and these firms employ a disproportionately large share of the nation's workers.
Employers are using CDHPs to slow the growing costs of insuring employees. CDHPs are part of the menu of plans that an insurer makes available to employers buying health care plans for employees. Medica, according to Frontera, is receiving "more inquiries and interest" in HSAs and HRAs from employers, and the number of employers looking at full replacement of their traditional insurance plans has gradually increased. But takeup rates are still low—just 5 percent of all workers with employer-sponsored insurance are enrolled in a CDHP. "The jury is still out on the effectiveness of changing people's health care consumption," Frontera said.
Early evidence, however, shows that CDHPs have at least been able to take some of the edge off medical cost increases. The rise in CDHPs, for instance, runs parallel to a trend of steadily declining medical cost inflation since 2003 (see charts).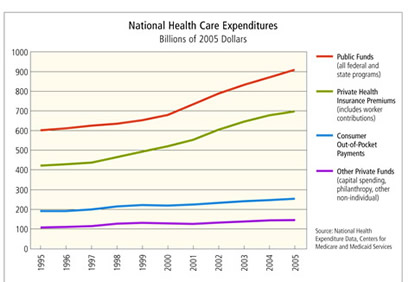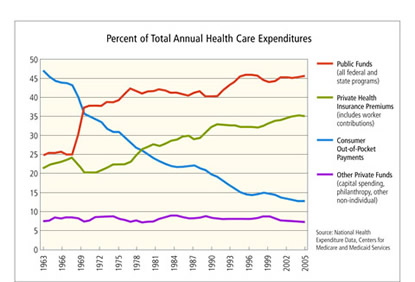 For two years running, the Health Research Institute at Pricewaterhouse-Coopers has found (through surveys with large insurance carriers) that medical costs are rising more slowly for consumer-driven health plans than traditional health plans. Said an HRI report this year on health care cost trends, "The causes for the current (cost) deceleration are complex, but it's clear that the movement into consumerism is real and is affecting medical costs."
There is one notable caveat in the cost-inflation trend: Many estimates of annual cost inflation focus on insurance premiums. By design, consumer-driven plans use high deductibles and co-pays. So while total premium costs for CDHPs may indeed be rising more slowly, workers are likely experiencing higher out-of-pocket costs, and employers may be the beneficiaries of this subtle cost shift. If this is indeed the case, the steady inflation of insurance premiums may be ebbing, but overall health care spending might still be on the rise.
Regardless, to some that cost shift is exactly the point. Only a closer connection between consumers and health care spending will ever rope in medical costs that have regularly risen several times the rate of inflation. Once consumers start paying for things out of their own pocket, the veil of obscure medical prices and the high cost of employer-based insurance will become more obvious, and people will start demanding change, according to Twila Brase, president of the Citizens' Council on Health Care in the Twin Cities (CCHC), who corresponded via e-mail.
The lack of price transparency in health care today exposes the fact that we do not have a market in medicine. A market is not three or four large health plans vying for large groups of employee benefits contracts, and controlling payments for medical services, said Brase. "A market is 5 million Minnesotans with dollars in their hands looking at and choosing from all the different insurance options and medical delivery choices available in Minnesota. It's voting with their feet and their private funds."
Satisfied customers?
Though familiarity with CDHPs has jumped significantly over just the past few years, the trajectory of CDHP takeups is a bit harder to predict. To put it plainly, people think CDHPs are a good idea for everyone else; most people enrolled in CDHPs are not particularly fond of them.
A 2007 report by Towers Perrin, a Stamford, Conn., consulting firm, said CDHP enrollees "are significantly less satisfied with many elements compared to those enrolled in traditional health benefit plans." It pointed out that CDHPs have to fight the perception among workers that employers are trying to pass off cheaper, inferior health plans to save a few bucks. A September 2006 GAO report found that HSA participants "reported positive experiences, but most would not recommend the plans to all consumers."
Evidence suggests that consumers tend to be more cost-conscious under CDHP plans, though only marginally so, and that attitude sometimes transfers into action and sometimes not. The GAO report, for instance, said that most CDHP enrollees reported that they did not research health care costs before obtaining services.
A 2005 study by McKinsey & Company found differently. It conducted an in-depth study of 1,000 consumers in a full-replacement CDHP, along with a control group of traditionally insured consumers. The report said that CDHP enrollees "displayed heightened engagement even when financial incentives had been exhausted." Enrollees also appeared more value-conscious. But as later reports have also found, enrollees were less satisfied with CDHP plans compared with their previous traditional insurance, which they viewed as more generous.
A survey of CDHP enrollees released about one year ago by the Kaiser Family Foundation found that participants reported higher levels of some cost-conscious attitudes and behaviors. But, the report added, participants do not report behaving as more informed, better shoppers than those in more traditional plans. CDHP enrollees reported having difficulty finding trustworthy information regarding cost and quality; 62 percent of enrollees said their plan had a Web site that provided information, yet the report said CDHP participants "are not more likely than others to use these information resources."
CDHP enrollees also reported more rationing of care than those in the traditional-plan control group, such as not filling a prescription, skipping recommended treatment and forgoing needed medical care. But if overconsumption of health care is part of the problem, as some argue, then some self-imposed rationing is not necessarily a bad thing. The difficulty is drawing the fine line between the discipline of avoiding unnecessary care and the penny-wise, pound-foolish approach of putting off necessary care.
Consumer, heal thyself
Almost regardless of whether consumers "like" high-deductible health care plans, the elevated and rising cost of care is likely to make them a more visible fixture in the health care landscape going forward.
According to industry sources and available data, more employers are likely to offer CDHPs as a health care option in the future, and more are likely to situate CDHPs as a preferred option. For the self-employed or workers in small firms, high-deductible plans may be the only option, unless cost is of no concern. More individuals and workers with families are likely to try them in efforts to save money on health insurance as well.
Underneath it all, the momentum is unmistakable: With steadily rising costs, consumers will have to bear a larger share of the health care burden. Yes, health care expenses have been rising for consumers: Insurance premiums, co-pays and other out-of-pocket costs have all increased significantly in the past decade. But cost-share increases for consumers with traditional health insurance coverage have been incremental and appear to have done nothing to change consumption patterns.
High-deductible CDHPs represent a dramatic break from traditional, all-you-can-use health care insurance. They put the "first dollar" onus on consumers, rather than having consumers pay a small fraction of every health care dollar spent. Most health care studies and sources contacted for this article see such an approach only gaining traction among employers going forward. One source from a major provider said of CDHPs, "I think it's a movement away from employer-based insurance. I truly believe that."
Others believe—indeed, hope—that CDHPs will lead to a shift away from full-coverage insurance itself as a way to finance health care. CCHC's Brase said that as consumers become more educated about the health care market, they will begin to see that insurance is an inefficient and expensive way to buy medical services. Once employees realize that wages are sacrificed for health care coverage—which might go unused—"they will be more amenable to changing the type of health insurance coverage they buy, and more amenable to getting insurance outside of employment ... and paying cash for a better deal," Brase said. "Insurance should be for medical catastrophes only. Anything else is just a very expensive way to purchase medical services ... one that is rapidly becoming unaffordable."
Employers that continue to offer more traditional health insurance plans are also finding ways to bring workers into the conversation regarding rising costs. The Twin City Pipe Trades Service Association (TCPT) is self-insured and administers its own health plan.
It's the job of Executive Administrator James Hynes to put the plans together, crunch their financial costs and make recommendations on various out-of-pocket costs for members. But union members vote on and ultimately approve or reject those recommendations. That power gives union members an incentive to understand health care plans, their medical consumption and its effect on plan costs because "there is a much clearer connection to their own wallet," Hynes said. If medical costs rise 8 percent, that might rob 30 cents an hour from members' paychecks, he added.
So when it comes time for renewing health care plans, the TCPT shares information about medical costs, usage and other matters with members, helping them to understand the trade-offs between cost and health care usage. "Our members understand (health care spending)," Hynes said. "It's a pool of money. They believe this is their fund, their money. And it is."
That's part of the reason that TCPT has historically seen its medical insurance costs rise "slightly less" than others, Hynes said. "Lately, it's been more than slightly less."
Hynes pointed out that, over time, consumers have shouldered a smaller share of health care bills. In the 1960s, for example, consumers' out-of-pocket share of health care was almost 50 percent, according to CMS. Slowly and steadily, that percentage has dropped into the low teens, as health coverage by both employers and government health care programs became more generous.
That trend, said Hynes, "is based on the false premise that if we cover more things (through health insurance), the healthier we'll be, and the less money we'll spend. And that hasn't happened."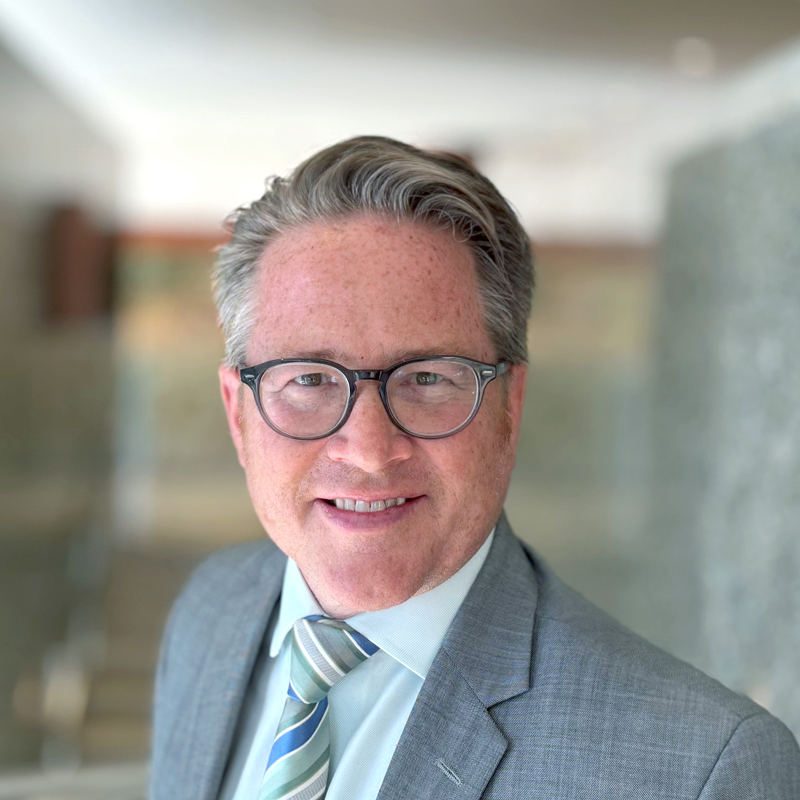 Request as a speaker
Ron Wirtz
Editor, fedgazette
Ron Wirtz is a Minneapolis Fed regional outreach director. Ron tracks current business conditions, with a focus on employment and wages, construction, real estate, consumer spending, and tourism. In this role, he networks with businesses in the Bank's six-state region and gives frequent speeches on economic conditions. Follow him on Twitter @RonWirtz.