Sing sweetly (please), employment canary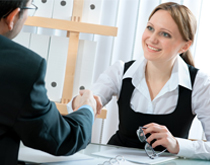 Before the recession, employment growth was not a matter many paid particularly close attention to. But with deep, scarring job losses across the country, job growth has become a closely watched, slow-motion race.
Through the first half of this year, employment levels appear to have at least found stable ground again. Some increases in employment are forecast through the remainder of this year and into next year. (See the most recent forecast from the Federal Reserve Bank of Minneapolis.)
Many policymakers, unemployed workers and others look to the temporary employment market (also referred to by the industry as staffing services) as a leading indicator for traditional employment. Said one official with a Minnesota staffing company, which operates six offices in Minnesota and Wisconsin, "We are the first to start the recovery" as business and industry get more comfortable with permanent hiring. Many firms "are unwilling to add [jobs] until they are more assured of long-term recovery. We are the way (in) to work and have been for the last 10 years."
So with the help of statewide associations in three states, the fedgazette surveyed staffing services firms in Minnesota, North Dakota and Wisconsin to see how their businesses were faring coming out of the recession, what trends could be gleaned from recent activity and what the future holds for the traditional employment market.
The survey suggests both positive and not-so-positive news. Staffing services firms report that their business is picking up—aggressively in some cases. Business has been up across most sectors in the economy served by these firms. The unpleasant news is that with an ample supply of available workers, client firms are picky about whom they choose to accept for temporary work, and pay rates generally have been flat, or worse. As for prospects for growth in traditional employment in the near term, opinions vary widely.
Tweet, tweet
The good news, especially if you're in the staffing services sector, is that business is looking up—way up for some. Among 42 responding firms, those seeing a year-to-date increase in clients over the same period last year outnumbered all other responses by a 3-to-1 margin (see Chart 1); close to half of respondents said client volumes grew by at least 10 percent.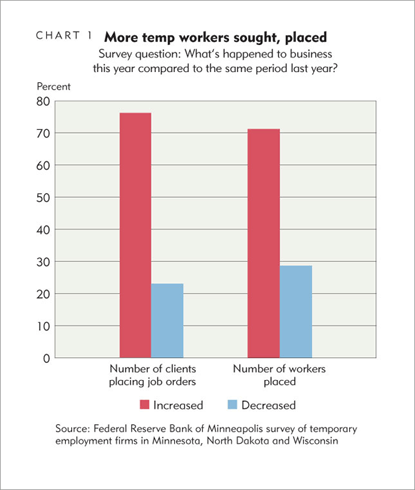 More clients generally mean more contract workers: As a group, a large majority of firms saw an increase in the number of workers placed with clients, and close to half said total assigned workers grew by 10 percent or more. This finding also matches government data that suggest—after a steep decline—that temporary and contract employment may be on the rebound in three district states (see Chart 2).
Those gains were spread fairly evenly among the employment sectors served by temporary staffing firms. Respondents reported net gains in staffing requests in every area of temporary employment, led by the industrial sector (see Chart 3).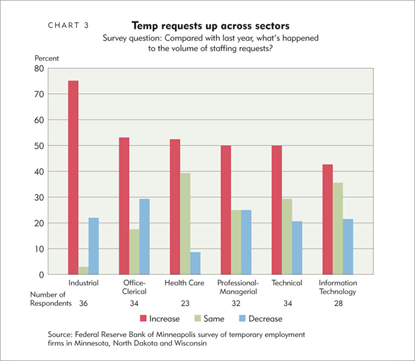 Though more openings appear available, not everything is bright for workers. It probably comes as no surprise, but respondents said the supply of virtually all types of workers had risen, including those with higher skills.
That appears to have affected pay rates, as slightly more staffing firms reported a net decline (rather than an increase) in pay rates over the same period last year. A medium-sized staffing agency in Wisconsin commented that office and administrative professionals used to earn between $12 and $14 per hour, but "now, $10 with no flex." Reported increases in pay rates were typically small; reported decreases were typically larger (5 percent of more).
An ample labor supply also gives clients the pick of the litter so to speak, and they are being choosier; respondents reported that client companies were asking for more educated, skilled and experienced workers. Worker standards, said one Wisconsin firm, "are much higher by the employer. [Clients] want more employee for less money."
One might think a tough employment market would make job hunters more pliant and eager to please. But job-related expectations range widely among temporary or contract workers. Some workers are very cooperative and eager, staffing firms reported. One Wisconsin company said, "There has definitely been an increase to not only accept temporary assignments, but there has also been an increase in our assignment retention. The employee pool is less likely to walk off or quit a job than they previously had been."
But other firms reported that some workers remained demanding. A different Wisconsin agency said, "We are amazed at how many unemployed applicants will not budge on shift or wage, as if the economy was robust."
There's some evidence that extended unemployment benefits have made low-wage workers choosy. When unemployment checks rival what economists call the reservation wage—the lowest wage that a worker will accept to take a job—finding employment can seem less urgent. A medium-sized staffing agency in North Dakota reported that entry-level temporary or seasonal positions were a "challenge" to fill because job and unemployment income were similar. A medium-sized agency in the Twin Cities commented, "We do see a lot of people that just want to say they are applying for a job, but they really do not want it. They just want to collect their unemployment."
And a third agency serving a small market in Wisconsin said that "workers are more selective in accepting positions if they are receiving [unemployment] benefits."
A traditional outlook
Many economy watchers are interested in what trends in temporary and contract employment might mean for permanent employment in the near and intermediate future. Here the news is mixed; indeed, it might be more accurate to say it's on hold.
For example, staffing firms overall reported a slight increase in the ratio of assignments becoming permanent compared with the previous year. A small placement firm in the Twin Cities said it "sees an upward trend—very slow, but upward" for the traditional employment market.
However, despite the pickup in their own business, staffing companies said their clients are still taking a wait-and-see approach to full-time permanent hiring, preferring to stay as lean and flexible as possible by depending on temporary and contract workers for long periods. According to one large Wisconsin staffing firm located in a major metro region, "Customers are looking for long-term employees, but making few commitments to hiring the employees."
That's good news for staffing firms, and many anticipate continued growth. A Wisconsin firm said it sees healthy business ahead in an improving economy, and also because clients are trying to avoid health care and other rising labor costs by sticking with contract workers. Another firm in that state was seeing more companies use workers "on a per-project basis and utilizing temporary staffing to remain flexible" in an unstable economy.
One staffing company in the Twin Cities reported that business was up 200 percent over the same period a year earlier. "We've started to see some permanent business for higher-level positions happening. I do feel that there won't be a great improvement in permanent placements until next year providing the economy doesn't stall out. Many of our customers have said that they intend to keep people on as temporaries for longer terms than they used to."
---
See full survey results [xls]
---
Methodology: This survey was conducted with the assistance of the Minnesota Recruiting & Staffing Association, the North Dakota Staffing Association and the Wisconsin Association of Staffing Services. An e-mail alert was sent to about 400 contacts identified by these three organizations. The e-mail informed members about the survey, its intent and where it could be taken online. The survey was conducted from April 21 through April 30. A total of 42 responses were received. The three organizations have a combined membership of 121, but their contact lists included nonmember firms as well as multiple contacts at a single firm.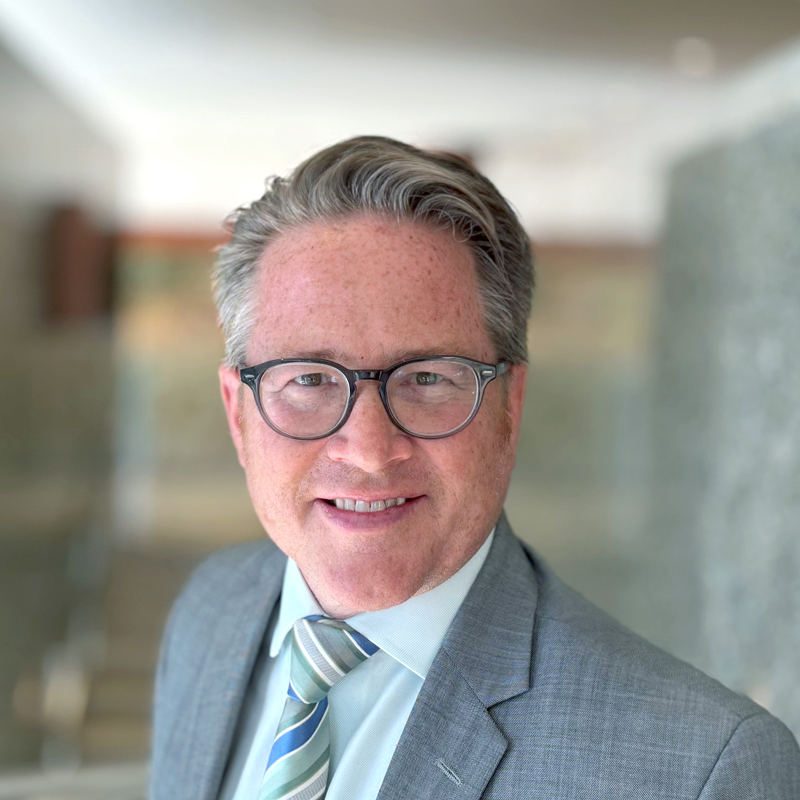 Request as a speaker
Ron Wirtz
Editor, fedgazette
Ron Wirtz is a Minneapolis Fed regional outreach director. Ron tracks current business conditions, with a focus on employment and wages, construction, real estate, consumer spending, and tourism. In this role, he networks with businesses in the Bank's six-state region and gives frequent speeches on economic conditions. Follow him on Twitter @RonWirtz.