Base hits, but not a lot of runs
At a time when employment remains uncomfortably high, it can be easy to discount baby steps. Like a baseball team down a bunch of runs, people prefer one big, grand-slam swing to get back to even-steven. Singles are so … incremental.
But the staffing services industry, which places workers with firms in need of temporary labor, has been swinging a pretty good—if light—bat of late. The net effect on overall employment is not quite the boost many would like, but it nonetheless provides some positive news in a labor market still trying to shake off the recession.
A fedgazette survey of staffing services firms in Minnesota, North Dakota and Wisconsin, completed in early May, shows that this industry continues to see rising demand. (An estimated 200 staffing companies in the three states received an email notice of the survey through their state industry association; 38 responded. In a geographic sense, responses overrepresent staffing firms in larger cities in the district, particularly the Twin Cities. At the same time, these locations are responsible for a larger share of employment, and staffing services firms logically tend to congregate in larger markets.)
More than 85 percent of respondents reported an increase in the number of firms placing orders for temporary workers over the same period last year. Two-thirds of those saw clients increase more than 10 percent. A staffing firm in the Twin Cities with placements in the professional, industrial and office sectors said that client orders "are also of a longer duration, and many are asking about our hiring policy."
Better than 70 percent of respondents also said the total number of workers placed rose compared with last year. Most firms reported that placements increased by at least 10 percent; one firm reported increases of more than 40 percent. That demand was spread fairly evenly among industry sectors served by staffing services firms (see Chart 1). Industrial workers were reported to be in very high demand, which is consistent with reports of rising manufacturing activity across the Ninth District and the nation.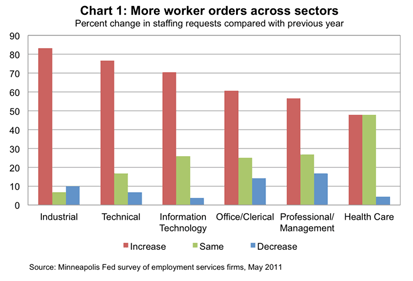 Tight supply, loose skills
Rising demand for temporary workers is also putting a crimp in the supply line of workers, and particularly those with the skills sought by employers. Two of three respondents reported a decrease in available workers (see Chart 2). While that's seemingly good news on the employment front, it's not necessarily great news for staffing firms or their clients.
One North Dakota firm that has experienced strong growth in clients and worker placements said it is "seeing a less experienced [and] educated worker now than we did last year at this time," adding that remaining workers are harder to place either due to poor skills or because "they are less willing to accept some work that they would have last year." A Twin Cities firm with global operations said, "I see clients struggling with the talent match. Although there are plenty of workers to fill positions, many do not have the right skills to perform the job."
Strong demand for industrial placements, combined with a reportedly shrinking pool of qualified applicants, has meant that some open positions for skilled workers go begging. One staffing company in a mid-size Wisconsin market reported increases of more than 25 percent in clients and worker placements. The side effect is "extreme shortages of skilled workers. We already are seeing many companies asking for skill sets that don't exist in available applicants." A peer in the southern part of the state said the lack of skilled workers "is holding up expansion of many manufacturers." A staffing firm in a smaller Minnesota market serving industrial, technical and office markets said that highly skilled technical workers, welders and machinists were in high demand and "all very difficult positions to [fill]."
As a result, it appears that once employers find qualified labor, such workers are hired full time. Seventy percent of respondents said they have seen an increase in temporary work assignments that are made permanent—though most reported the rise was small. Strong demand for and a tighter supply of workers also appear to be contributing to modest wage increases; 45 percent reported paying higher wages, but most said the hike was 2 percent or less (see Chart 2).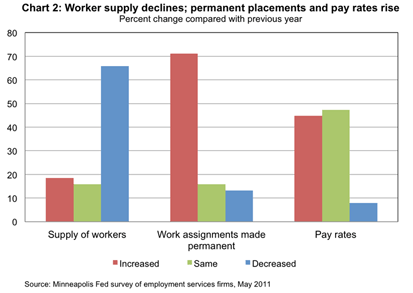 A very healthy North Dakota economy might seem to skew overall results, but that does not appear to be the case. Responses from Minnesota and Wisconsin staffing companies were similar in terms of direction, if less positive overall than those from North Dakota. Response rates from Wisconsin staffing firms were also very low, with only five responses. The only category where results clearly broke rank was in pay; in Minnesota and Wisconsin, the number of firms reporting pay increases was roughly the same as those reporting decreases. Every North Dakota respondent reported wage increases, but only one saw an increase of more than 2 percent.
The temporary outlook
The results of this survey generally coincide with other evidence regarding the industry's recent growth. For example, the total number of workers in the employment services sector (75 percent of which is temporary employment, according to the Bureau of Labor Statistics) dropped steeply during the recession in Minnesota and Wisconsin, but has rebounded with zest. Employment growth was significant in the first quarter of this year compared with the same period in 2010 (see Chart 3).
Unfortunately, that growth doesn't necessarily translate into big employment swings, because employment services make up only between 1 percent and 2 percent of total employment in district states. But the industry's impact on employment growth has been disproportionately large. Earlier research by the Federal Reserve Bank of Minneapolis found that temporary employment made up a larger share of total employment growth nationwide than in previous recessions. In Minnesota, for example, about half of all employment growth from December 2009 to September 2010 came from the employment services sector.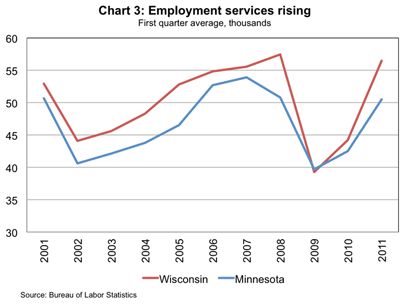 Some might not see that as particularly positive employment news, given the temporary nature of these job gains. And, in fact, the industry's outsized share of recent employment growth stems mostly from a slow employment market overall.
A cautious approach toward direct hiring happens to square with respondent views in this survey; the industry outlook is generally positive, though many are still cautious about the overall employment market. A staffing firm in greater Minnesota said that permanent job opportunities "are on the rise. However, employers are entering an agreement with us on a temp-to-hire status rather than direct hire." A respondent with a Twin Cities staffing company, in this industry for over 25 years, believed the staffing services industry is "the leading indicator of the economy, and we expect to have a very good year." But there is still a lot of caution. "The employer-client is still very shy about hiring, and we do not expect any great increase in that."
Another small Twin Cities firm has seen modest increases in clients and worker placements over last year. It reported that "things are slowly getting better. Still very up [and] down—not long-term, strong growth just yet."
Baby steps, anyone?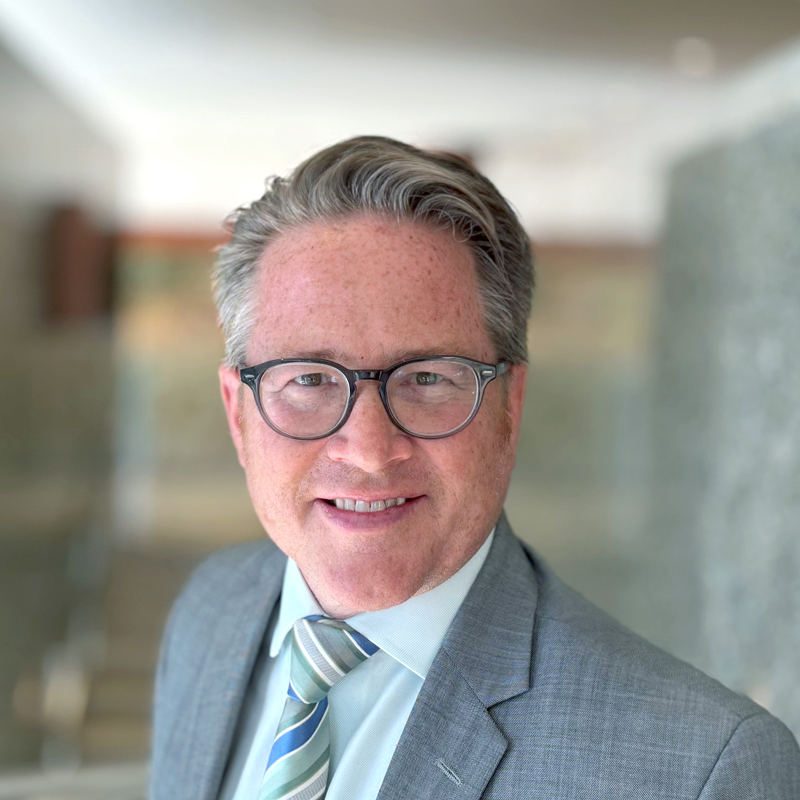 Request as a speaker
Ron Wirtz
Editor, fedgazette
Ron Wirtz is a Minneapolis Fed regional outreach director. Ron tracks current business conditions, with a focus on employment and wages, construction, real estate, consumer spending, and tourism. In this role, he networks with businesses in the Bank's six-state region and gives frequent speeches on economic conditions. Follow him on Twitter @RonWirtz.