In North Dakota's oil patch, a housing gusher
Housing contractors in northwestern North Dakota can't pour concrete and pound nails fast enough to keep up with demand—a stark contrast with the slow pace of housing construction nationwide.
Rapid oil and natural gas development in the region has created thousands of jobs in oilfields and related industries such as construction and trucking. Those new workers, many of them migrants from elsewhere, need places to live—hence, the housing boom.
Since 2009, when a global drop in oil prices caused a marked slowdown in oil activity and housing starts, the number of permits issued for new housing has surged in the oil patch. In Williston, a bustling oilfield service center, city permits for new single-family homes and townhouses increased more than 10-fold between 2009 and 2011 (see chart). Through November of this year, more than 400 homes were permitted.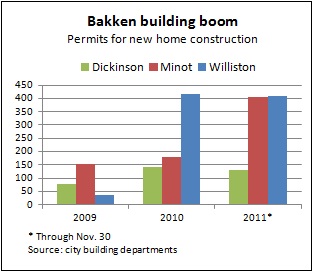 Minot and Dickinson, communities on the fringes of the Bakken shale-oil formation that have become bases for oil exploration and engineering firms, have also seen marked increases in home construction since 2009. In Minot, the region's largest city, new home approvals doubled from 2010 to 2011 as developers rushed to provide shelter for oil industry workers and replace about 3,000 homes destroyed or badly damaged in last summer's flooding (see October 2011 fedgazette). In Dickinson, new home permits increased sharply from 2009 to 2010 before falling slightly this year.
Approvals for apartments—the most efficient way to build housing on quickly appreciating land—surged in the oil patch as well. Apartment units permitted in Williston tripled from 2010 through November of this year, to about 750. Dickinson approved only 14 multifamily units in 2009; since then, over 140 have been slated for construction.
In comparison with western North Dakota, the pace of home building in the eastern part of the state, while steady, has not increased over the past two years. In Grand Forks, for example, annual permits for new homes fell from 2009 to 2011.
This post, including the accompanying chart, was updated on Feb. 8, 2012.