Video: fedgazette Editor Ron Wirtz on Ninth District flooding in 2011
---
It's rare in today's media-soaked world for things to be understated. Small, even trivial, events are sensationalized, framed as epic, over the top, bigger than life.
But for the floods of 2011, it might be the opposite: too widespread, torrential and destructive to overstate their imprint across the Ninth District.
If you haven't heard much about them, you live either on very high ground or nowhere near water, for it's hard to ignore lazy rivers and streams that turn into property vandals seemingly everywhere. Floods are also tragically photogenic; they make for great news stories expressly because they are visible, personal, indiscriminating and utterly heartless.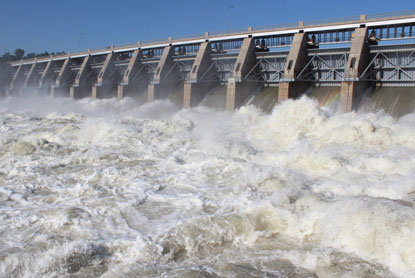 Gavins Point Dam in July, where 165,000 cubic feet of water was discharged per second, 50 percent more than Niagara Falls.
That's what brought the national media to Minot, N.D., in late June when a biblical surge of water in the Souris River pushed through the middle of town. The spotlight also came to Billings, Mont., when a burst oil pipeline underneath a raging Yellowstone River put a slick spin on an all-too-common disaster.
In the end, however, the national media acted like a flood of their own: right here, right now and gone tomorrow. The real floods, on the other hand, stayed like an old college roommate, hanging around until everyone prayed for them to leave. While many people might have heard about the plight of Minot, few can appreciate the flood's duration in the city, said Mayor Curt Zimbelman in mid-July. Three weeks after the initial flood, "houses are still up to the middle of the picture window. It has been devastation. And that's the good areas," he said.
As such, the floods of 2011 can be hard to appreciate as a headline news story. They were so widespread, so huge in volume and so long in duration that they read more like a novel in their scale. They forced thousands of people to flee their homes, sometimes for months. They inundated homes, damaged businesses, ruined roads and bridges, turned parks into messy swimming pools and swamped local budgets. They interrupted and upended life for entire communities as never before. Flood costs will likely run into the hundreds of millions of dollars in district states—and those are just the public funds that are relatively easy to track; the loss of private wealth is mostly unknown and may run even higher than public losses.
Somewhat overlooked in the chaos of floods is a backhanded feel-good story. Were it not for aggressive, protective actions on the part of communities—including private individuals, but also numerous federal, state and local government agencies—the floods of 2011 would have been much worse, inflicting devastation far beyond hard-hit communities such as Minot and its immediate neighbors. Cities like Bismarck and Mandan (N.D.) and Pierre and Dakota Dunes (S.D.) faced significant peril from floods, but advance warning, heavy levee fortifying, community bootstrapping and even a little bit of luck helped these communities avoid catastrophe.
"A torrent of water everywhere"
Flooding is not unusual in Ninth District states. Flooding of some rivers—like the Red River, which flows north between Minnesota and North Dakota—is almost an annual ritual. This year, Fargo, N.D., saw the Red River rise 21 feet over flood stage, which sounds dramatic until you learn that this is the third year running that the river has threatened to inundate the city. Two years ago, the river crested 23 feet over flood stage and left behind an estimated $70 million in damage.
One of the big differences this year was that so much water filled so many rivers and streams, reaching so many places in the district, many of which hadn't seen significant flooding for 50 years or longer. Although historical comparisons are difficult, the floods of 2011 appear unprecedented in their breadth, depth and duration.
Ed Tinsley, administrator of Montana Disaster and Emergency Services, knows something about nature's fury. He noted that the state has "had its share of catastrophic disasters," whether flood, drought, wildfire, even earthquake. While they take a toll, "the disastrous flooding of 2011 was an unprecedented series of events. ... As we look back, and even as we look ahead, it has been an adventure on many levels."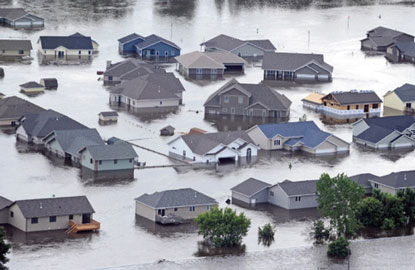 In Minot, N.D., dikes built for a 100-year flood were no match for the Souris River, which inundated 4,100 homes and businesses.
Andy Peterson travels the neighboring state widely as head of the North Dakota Chamber of Commerce: "I get into every corner of the state. What I have witnessed is a torrent of water everywhere you go."
The U.S. Geological Survey (USGS) constantly monitors thousands of streamgages—depth sticks—to measure levels across the country, including the Ninth District. Data from these gages show the widespread nature of flooding, especially in Montana and North Dakota (see map). Between April 1 and July 31, streamgages in 74 unique rivers, streams and other tributaries in Minnesota, the Dakotas and Montana hit flood stage—the point at which a river overtops its banks and spreads onto its flood plain. These torrents affected 150 unique locations—cities large and small, as well as unpopulated rural areas.
(The northwestern portion of Wisconsin and the Upper Peninsula of Michigan, both part of the district, were not included in this analysis because these areas had comparatively fewer floods, especially large, unseasonal ones.)
Nor do these figures represent the full extent of flooding because not every river and tributary is tracked by the USGS, and even major rivers are staked only intermittently, which means that "the number of locations that have had flooding issues is actually higher than what is reflected by our gage data," according to Ryan Thompson, a hydrologist in the South Dakota USGS office.
These floods were exceptionally three-dimensional, often coming at great height and velocity, and enduring for weeks, even months (see "A long, tall slap of water").
Regions of the Dakotas and Minnesota are also experiencing basin flooding—a type of slow-motion flooding of glacial lakes that have no natural or significant outlets to release large inflows from rain and snowmelt. (These lakes were not included in the above flood counts and will be the subject of a future fedgazette article.)
Not so nice to meet you, Mr. Flood
As one might imagine, such widespread, intensive flooding puts much life and property in harm's way. There were few firm estimates of flood costs by the end of summer, especially from Montana or South Dakota, mostly because damage was widespread, and floodwaters were slow to recede and allow for assessments.
As of early September, the state of North Dakota had identified more than $500 million in flood-related costs, including $305 million in public infrastructure damage; earlier in the summer, it estimated that total public and private damages could exceed $1 billion. Almost 8,800 individuals have been approved to receive $90 million in grant assistance from the Federal Emergency Management Agency (FEMA) for temporary housing and essential home repairs. The U.S. Small Business Administration has also approved $210 million in low-interest disaster loans to residents and businesses. (Those figures will also change, given late-September deadlines for assistance.)
Suffice to say that where water invaded, most everything was affected—homes, businesses, roads, parks, water and sewer infrastructure, schools—life in general. (For more detail on the economic impact of floods, see "After the flood.")
Minot was flood-zero. Despite a rush to build up existing levees to ward off rapidly rising water, the city watched helplessly as the Souris River filled the valley and with it the oldest portions of the town that had grown up around it. Some 4,100 structures—mostly homes and businesses—were inundated, about 80 percent of which took at least six feet of water on their main floor. An analysis by Job Service North Dakota identified 283 businesses located in the flood zone. Affected businesses included "hotels to insurance companies to Dairy Queen. It runs the gamut," said David Waind, the city's administrator. He noted that "even Red Cross is flooded out" and had to shift its daily office operations to the municipal auditorium, the same building from where it was coordinating relief help and emergency shelter for residents. (See "Minot: Reeling but resilient.")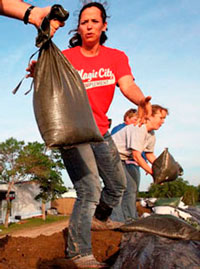 But while Minot received the lion's share of media attention, many other places also suffered significant flood damage. In Montana, the Dakotas and Minnesota, two-thirds of all counties (193 in total) and 12 tribal reservations have been declared flood disaster areas this year, making governments in those counties and reservations eligible for federal assistance to help pay for flood-related damages and other costs.
As of September, 45 counties and five reservations in Montana and the Dakotas were also eligible for individual federal disaster assistance, which signifies much more extensive damage. The program offers up to $30,200 in individual grant assistance to households and makes low-interest loans available to homeowners and businesses, but eligibility is much stricter than assistance for public infrastructure damage.
In Montana, 70 percent of the state, local and tribal jurisdictions declared emergencies in response to flooding. But even the counties that didn't declare local emergencies still reported some flooding, said Monique Lay, a spokesperson for the state Disaster and Emergency Services Division. "So, truly, the flooding was statewide." She added that the state hasn't had an individual assistance declaration in over 20 years, "so this has been quite an adventure for us. It certainly would have been easier to address had the disaster been more concentrated. The vastness of it has made it a much lengthier and more complicated response and recovery—very similar to the hurricanes that traveled all the way up the East Coast."
The hardest hit areas included Crow Agency about 60 miles east of Billings (which itself saw flooding and national news coverage when a gushing Yellowstone River carved out enough of its bottom to expose and break an oil pipeline). At Crow Agency, the home of the Crow Tribe, late-May flooding of the Little Bighorn River killed two people. About 300 people had to be evacuated, and water reached the main floor of 60 homes; 23 saw major damage. The flood also knocked out the reservation's water and sewer systems and closed 70 miles of Interstate 90 for five days. In June, the tribe was forced to lay off 150 workers—about a fifth of its workforce—due to flooding.
About 20 miles west of Great Falls, the Sun River flooded 55 homes in its namesake city in June. Yet by mid-July, many still did not have drinking water—some wells had tested positive for coli-form bacteria—and portable toilets and showers had to be brought in for residents.
In the Dakotas, aside from Minot and its immediate small-town neighbors (like Burlington, which reportedly lost about one-third of its 320 homes), the flood appears to have done its worst to low-density residential areas without the capacity or resources to mount a defense against rising waters. In Burleigh County, home to Bismarck, a marauding Missouri River damaged 450 homes; 75 were severely damaged or destroyed. Virtually all of them lay outside the city.
Across the river in Morton County, another 75 or so homes were ravaged, mostly in township developments along the river north of the city of Mandan, according to Bruce Strinden, chairman of the Morton County Board of Commissioners. While the county would like to have offered residents more protection, it could only provide sandbags and fill. The rest was up to residents. "It's extremely difficult for government entities to protect rural residences. We don't have enough people to sandbag" all the property that would have been necessary to protect rural developments, said Strinden.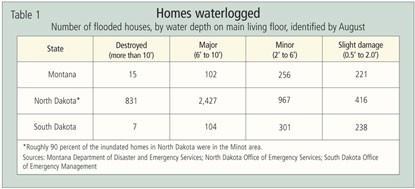 The Missouri River found similar low-lying victims as it flowed southward, near Pierre and Fort Pierre and in rural developments in southeastern counties. At Riv-R-Land Estates, a private subdivision at the southeastern tip of South Dakota, 52 of the 56 homes flooded and 42 sustained major water damage, according to local officials.
Only grazed by the bullet
Amid the widespread flooding and severe damage to some areas, many people and communities were fortunate, narrowly avoiding disaster.
In South Dakota, for example, roughly 2,800 homes were under voluntary evacuation orders, and untold numbers of others were in the flood's path, mostly on the Missouri River. But floods ultimately hit about 650 homes, according to August estimates. Outside the Minot catastrophe, about 500 homes were inundated elsewhere in North Dakota—less than 10 percent of the (non-Minot) homes originally believed to be in the flood's path. About 600 homes were inundated in Montana.
In the southeastern South Dakota county of Yankton, some 400 homes were believed to be in the Missouri's floodway, according to Carmen Schramm of the Yankton Chamber of Commerce. But "actual water invaded about 20-some (homes). … Not to minimize [those affected], but we have a lot to be thankful for."
Part of the reason for the lesser impact was the nature of these floods. For one, the Missouri's flow was so large and swift that the river scoured itself deeper, allowing its expanded channel to hold more water. In some places, this scouring reportedly took almost a foot off the river's eventual crest.
But probably more important, the floods announced themselves well in advance—thanks to close tracking by the USGS and the U.S. Army Corps of Engineers—which helped mobilize private individuals and governments, either to protect assets or to move people and property to higher ground.
(It should be noted that the Army Corps has taken blistering criticism for its management of the Missouri River before and during the flood, as well as its subsequent predictions of flood crests, which were frequently revised upward during critical planning and mobilization stages in late May and early June. These matters deal with, among other things, the Corps' multiheaded and often conflicting missions and are outside the scope of this article. Irrespective of the Corps' performance in helping to mitigate the floods themselves, or accurately predicting the timing and size of crests, numerous community officials lauded the agency for its help and expertise in building protective levees.)
Trace a route down the Missouri River—which overwhelmed virtually every water level and flow rate on record since the dam-and-reservoir system was completed more than half a century ago—and the potential for catastrophic loss was palpable. For example, when the Corps released final projections of flood peaks along the Missouri, Bismarck faced the likelihood that an estimated 5,550 structures, mostly homes but also 70 commercial buildings, would be inundated, according to Gloria David, the city's public information officer.
Those projections jarred residents and local governments into action. Over the next week or so, a total of 8 million sandbags were filled in Bismarck and the surrounding area. Businesses and residents—often aided by higher-ground community members—walled off their properties as best they could, not knowing if the city could build more substantial levees in time or whether they would be on the dry side of the levees if they were built.
In the span of a week, with major help from the Corps, about nine miles of levees in the city and county were thrown up to protect everything possible, given the time and material available. Based on 2000 Census data and inundation estimates, the homes of 14,000 people were shielded by these levees and dikes. Thanks to the levees and river crests that were a foot lower than predicted, no homes or businesses within the city limits of Bismarck were inundated, David said.
Across the river in Mandan, city administrator Jim Neubauer said roughly 420 homes were in harm's way. But not a single home or business was damaged by overland flood waters, "mainly due to protective measures that were put in place."
Float down to Pierre, and community development coordinator Scott Carbonneau estimated that 400 to 500 homes were initially at risk. The Corps built two levees protecting most of the city's southern flank and the wastewater treatment plant, and the city reinforced those by tying them together with a third levee. In all, about three and a half miles of levee were built. As a result, the city "was largely unscathed in a direct sense. I believe we have only seen one or two homes with actual floodwater," Carbonneau said.
In Fort Pierre, across the Big Muddy, an estimated 600 homes—in other words, most of them—"would have been inundated and received substantial damage" given the river's predicted crest, said Mayor Sam Tidball. The Corps installed a dike protecting the older, eastern portion of the city, where most of the city's commerce takes place, but left unprotected most residential areas, located to the north along the river.
But Corps policy is to build levees only where significant public infrastructure—water and sewer plants, roads, schools and other public buildings—are at risk. So the Corps did not act to protect all areas of a given city, even if homes were clearly in danger. As happened in other cities, Fort Pierre hired a private contractor to build a second dike two feet above projected flood stage to protect as many homes as possible, Tidball said. After all the work, Tidball estimated that 25 homes were inundated with water. "There was not a terrific amount of damage, which is amazing given the height of the river," he said. "There wasn't more major damage because we got the dikes built."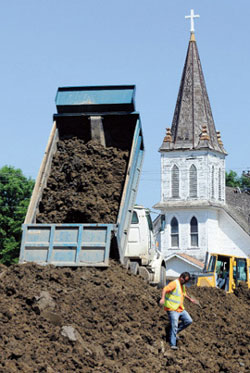 Even where cities got involved in levee building, difficult decisions had to be made, because the exigencies of levee placement often do not conform to the jagged boundaries of cities. "You hate to see people unprotected, but that's the nature of dikes," said Bill Wocken, Bismarck city administrator.
In that city, despite intensive levee building and sandbag filling, pockets of homes went unprotected, like the well-to-do Southport neighborhood on the banks of the Missouri, which the city controversially decided to leave on the wrong side of the levees. Southport residents reportedly spent upward of $3 million of their own money to erect private levees and pump out groundwater, successfully protecting 226 homes from flooding.
Earthen fences make good neighbors
No single location probably benefited more from Army Corps levees than Dakota Dunes, S.D., a town of 2,500 situated a stone's throw from Nebraska and Iowa in the southeastern corner of the state. About 460 homes in this upscale bedroom community would have filled to the rafters without a massive, four-mile levee built over the course of about a week in June.
Ray Roggow is the emergency services director for Union County, home to Dakota Dunes. Ironically, Roggow was fishing on an upstream stretch of the Missouri River when he received word that the Corps planned releases from Gavins Point Dam near Yankton that would ultimately inundate Dakota Dunes downstream.
"I said, 'Roll up your reels; we gotta go' because I knew we were in big trouble." At the time, the Corps was predicting discharges of 85,000 cubic feet per second, a record amount at the time. A few days later, Roggow said, "85,000 went to a whole lot more"—eventually 165,000 cfs—and the wheels of flood protection went from first to fifth gear with little shifting in between. "Over the first two or three weeks, it was a panic" to get the dikes built, and then praying they would hold, Roggow said.
With dump trucks unloading every 45 seconds, 300,000 cubic yards of fill was spilled and graded as a sodden barrier between the river and threatened homes, up to 12 feet high in places. As of August, not a single home behind the levee had taken floodwater.
Among other heartaches, the flood "shut down one of the most unique golf courses in South Dakota," with its signature hole number 18 and others underwater or bisected by the levee, Roggow said. "But had we not got the levees up, we would have had devastation."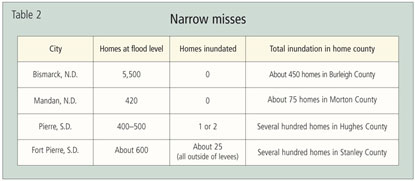 Something in the water
But make no mistake, there is misery, and it will linger. Homes and businesses inundated with water have months of dreary, backbreaking cleanup ahead of them; tens of thousands of others, including those in Dakota Dunes, are coping with groundwater in basements and crawl spaces. Some rivers and streams remained above flood stage well into August, and where water lingers, mold takes hold.
The duration of floods also leaves scant time for critical cleanup before frost and snow freeze the mess in a cold time capsule until next year's thaw. And if water tables don't drop before the freeze, the aftermath of the floods will wreak additional havoc on public and private water and septic systems.
Local governments spent many millions preparing for the flood and protecting residents from it. But it will take many more millions to repair the damage to roads, bridges and other public infrastructure once things dry out, though the financial strain is cushioned by federal and state disaster reimbursement programs.
The same is not true for homeowners and businesses, whose properties were generally not covered by insurance. Officials in Minot estimate that only 10 percent of inundated homes were insured for flood, and anecdotes from elsewhere suggest similarly low coverage. Most people didn't buy insurance because they believed that flooding was unlikely; and if it did occur, existing levees and other measures would protect them. Now, only the most egregiously damaged areas will receive grant assistance from federal disaster programs, and it won't come close to covering private losses.
The floods have also imposed myriad small indignities on community life. The North Dakota State Fair in Minot had to be canceled this year because of damage to the fairgrounds and the city's general state of emergency. "For the city, it's a difficult thing to lose," said Waind, city administrator. But he admitted (and other local sources concurred), "I think there was a little bit of relief."
Many people spoke of stress and depression, and of a grieving process similar to that experienced with the loss of a loved one. Some of that grief is over trees—millions upon millions—that are feared drowned because roots have been submerged for weeks on end, starved of oxygen.
Communities likely will have to rebuild with less help from the outside compared with previous major disasters. In the 1997 flood that devastated Grand Forks, the city received a pile of federal money from a variety of agencies to help affected homeowners, businesses and local governments, with grant money for home buyouts, new flood protections, even new home building. Said one North Dakota state official: "Grand Forks was made whole."
While Minot will receive significant reimbursement for the money spent preparing for and cleaning up after the flood, fiscal realities at the federal level mean the city and its residents will bear more of the costs of flooding—including improvements to existing flood protections—than Grand Forks. "We're telling them that. You might as well tell them the facts," said the state official.
In Pierre, Mayor Laurie Gill was asked if the city expected any additional support beyond FEMA assistance. "I'm not getting my hopes up," she said.
At the same time, Gill and other local sources repeatedly expressed pride at the can-do mentality of their communities. Residents across the district played an integral role in efforts to protect the property of family, friends and complete strangers, particularly early on when communities were scrambling to develop and execute broader safeguards. An estimated 15 million to 18 million sandbags, and possibly more, were filled by local government workers, residents and even nonresidents looking to help.
Gill insisted on that bootstrapping early on. Once it was known how severe the flooding would be, the city told residents "to prepare as if there is no government [flood] protection. We didn't want to get into that pickle." City engineers, with the help of private contractors, went neighborhood to neighborhood measuring property elevations and scratching lines on homes to show people how high the flood would get and telling them where they could find sandbags.
After the floods, Pierre is facing steep costs—upward of $13 million, according to the city—for myriad repairs to roads, water systems, parks, a municipal golf course and other items. "It would be easy to get sucked into the gloom and doom, the oh-woe-is-us," said Gill. "But there's a [recovery] plan, and we're organized." She pointed to recent efforts to oversee cleanup and debris management, a recovery group that includes community stakeholders and a public facilities committee that is focusing on long-term restoration of the city.
The city is also sitting on a healthy fund balance of $11 million, or about 25 percent of the city's annual budget. Said Gill: "We've done everything we could over the years to save money, and now everybody sees why we do that."
—Aaron Richins, research assistant, contributed flood data and other research to this article.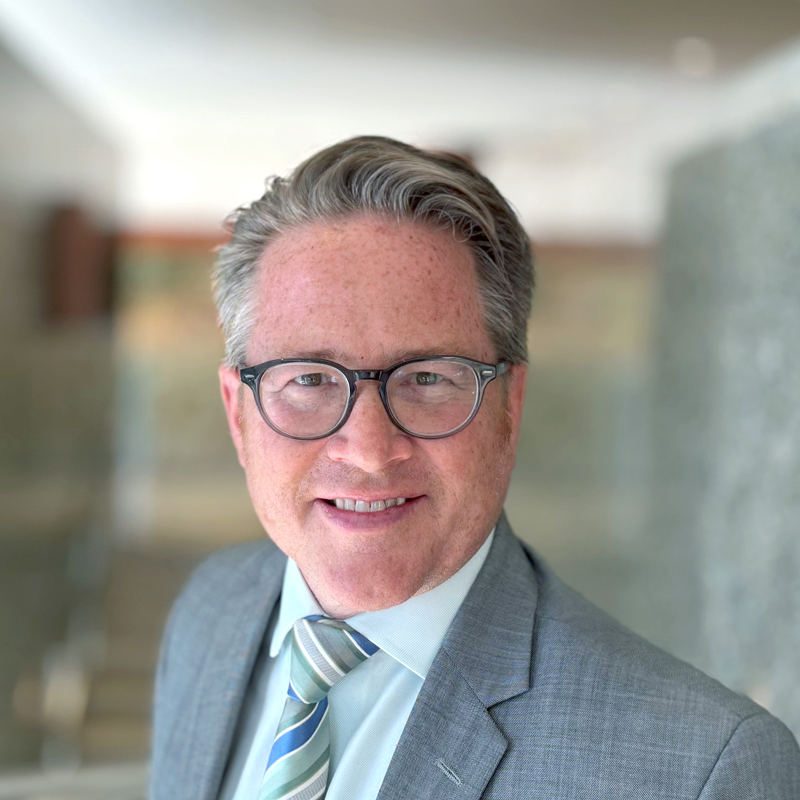 Request as a speaker
Ron Wirtz
Editor, fedgazette
Ron Wirtz is a Minneapolis Fed regional outreach director. Ron tracks current business conditions, with a focus on employment and wages, construction, real estate, consumer spending, and tourism. In this role, he networks with businesses in the Bank's six-state region and gives frequent speeches on economic conditions. Follow him on Twitter @RonWirtz.