Minot: Reeling but resilient
They saw it coming. They just didn't see this coming.
Minot, N.D., captured the nation's attention for a few days in late June when the city discovered that a quarter of its homes would get flushed by a lazy-turned-raging Souris River, which flows south from Canada, meanders through the heart of Minot and eventually makes its way back up to Canada.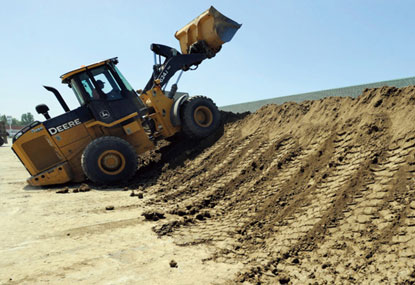 On a normal summer day last year, the Souris flowed at a couple hundred cubic feet per second (cfs), a rate that would fill an Olympic-sized swimming pool in about four minutes. By May, major flooding was predicted, but existing levees were believed sufficient to avert severe damage. Built after a disastrous 1969 flood, the dikes were designed to protect the city against a 100-year flood in which the Souris was expected to reach 5,000 cfs, a fill rate of about 20 seconds for that same Olympic-sized pool.
"It worked as designed every year since it was built," said David Waind, city administrator.
But record rain fell in May in northern Canada and flowed southward in the Souris. Based on early warning and river crest estimates, the city twice hired contractors to raise dikes to withstand 11,000 cfs—the river's record flow during the 1969 flood.
It wouldn't be enough to stop the Souris. Final estimates of river crests were cartoonishly large—the type of deluge that occurs once every 500 years. A late warning made matters worse; Minot received just three days' notice of the eventual river crest, in part because heavy rains came in remote parts of Canada where the government doesn't maintain streamgages. In contrast, most cities on the Missouri River received seven to 10 days' notice of historic river crests—advance warning that can make a world of difference in flood preparation. Said Waind, "If we [had] had early warning, it might have taken the edge off of [damage] because we would have had three or more [extra] days to prepare. It gave us very little time to react."
On June 23, the river also known as the Little Mouse roared to 29,000 cfs (see chart), almost three times its previous peak flow. Enough water to fill that Olympic pool in three seconds swamped all man-made defenses; more than 10,000 people were evacuated ahead of the flood, as the Souris eventually rose 4 feet higher than ever recorded.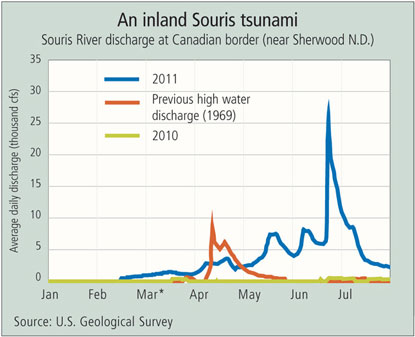 The flood gutted the valley, the oldest and most heavily developed portion of the city. Roughly 4,100 homes and businesses were inundated, most of them catastrophically. The Souris remained at flood stage for weeks, wreaking havoc on efforts to clean up and assess damage.
Sudden impact
Whenever the flood's final tally is tabulated and underlined, it will be large. The city's infrastructure has been hit hard. Twelve of its 27 lift stations used to pump water were down this summer, and officials suspect that some water mains have been crushed. Others simply are not operating. Sinkholes have eroded some city roads from the bottom, and heavy equipment has trashed others from the top. The zoo was closed and the animals moved to safer ground. Parks turned into fouled and debris-strewn lakes, and some 60 park buildings were damaged. In late August, Ron Merritt, the city's parks director, put damage to the city's parks system, including zoo, golf course and swimming pools, at $25 million to $50 million.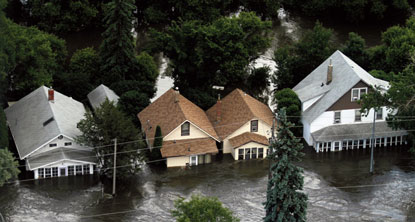 Six Minot school buildings, serving about 1,200 students and 50 adult learners, suffered major damage. None will be usable this fall, according to Scott Moum, district business manager. Moum said in July that damage estimates were uncertain, "but could run upwards of $50 million," and that doesn't include the cost of bringing in 60 temporary modular units. Though federal and state government will cover most of these recovery costs, Moum said the city's property tax base—which provides the bulk of school revenue—is expected to drop by 15 percent, denying the district about $2 million in funds for the coming year "and possibly twice that [amount] in 2012-13."
But thanks to Minot's proximity to the booming oil patch in western North Dakota, the city has seen strong growth in recent years, which has given it the wherewithal to deal with the flood. For example, the city plans to reduce property assessments for flooded homes and businesses to zero for the remainder of the year, halving annual tax bills of those affected. That's a big budgetary hit, but Minot has been growing so fast that higher revenue from local sales tax and higher property values in nonflooded areas will largely offset the property tax reduction for flooded areas, according to Waind.
But the flood has also compounded growth-related problems. The city's infrastructure needed upgrading before the flood because of torrid oil-related growth, Waind said. Before the flood, the city had identified $120 million in sewer, water, road and other infrastructure improvements needed simply to accommodate a burgeoning population. Now the flood has pushed that cost much higher. "We gotta do what we gotta do," he said.
Similarly, the flood has exacerbated a long-standing housing shortage. Val Bruels, a real estate agent with Prudential Minot, said monthly average rents have doubled in the past few years, with the rate for smaller or lower-end apartments increasing to about $700. Bruels did a citywide search in July and found 41 available properties (home, condo, apartment) for sale or rent. But 26 were either flooded or not ready for occupancy, leaving just 15 available housing units in a city of 40,000. Some landlords are taking advantage of very tight supply to increase rents further, Bruels said. "People are getting gouged."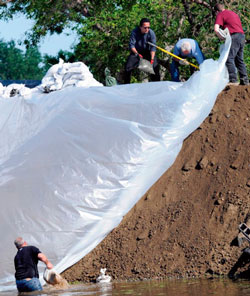 Work proceeeds on a dike , privately built
to protect small businesses.
Business as unusual
Not surprisingly, the flood disrupted any notion of normal business.
In mid-July, when officials closed Broadway Avenue—the main north-south route over the river and through the city—"luckily we didn't have to worry about any customers," joked Charles Kramer, president of I. Keating Furniture. The business saw orders canceled by people who no longer had homes or apartments to put furniture in and by those who considered such expenditures ill-advised, given the circumstances.
Kathleen Gaddie, president of Ryan Family Dealerships, said none of the firm's three car dealerships around town flooded directly, "but nobody wanted to buy a car" in a community in crisis. Most companies also sustained productivity losses because employees were flooded out of their homes. At Ryan, 31 of 130 employees lost their homes. "There's a lot of people that don't know what to do," Gaddie said.
Richard Campbell, executive vice president of First Western Bank and Trust in Minot, said 22 of 100 employees were affected by the flood. Of these 22 homes, 18 "were flooded up to the rafters," and only three had flood insurance. So the bank went into flex mode. "Whoever needed time off or wanted to help out, we let off. … A lot of them were very appreciative."
The outlook for the business community is uncertain because so many people face an uncertain future. Several sources speculated that many fixed-income residents will leave because they have no good reason to stay. Elderly people, for example, have little incentive to slog through the hassle and expense of rebuilding or finding a new place to live in a very tight housing market.
Jon Backes is a partner at the law firm McGee, Hankla, Backes & Dobrovolny. He said one client, a 79-year-old retiree, "was flooded up to the rafters, and he said, 'I'll either go to California or Minneapolis (where his two kids live). I see no reason to rebuild here.'"
For businesses, "people don't know where they should invest," said Kramer, pointing out that discretionary income is going into home repair and other things considered more essential. For businesses selling more discretionary goods and services, "it's going to be a problem for a while."
It's all part of the weary rebuilding process, said Kramer. "Everyone is seeking the new normal … This is almost like a death. They are going through that process of grieving for their home. You have to be sensitive. There's a lot of standing around the coffee pot. They have to do that."
In many ways, affected city residents got an early start on the grieving process by leaning on others in the community for support. The flood displaced between 10,000 and 12,000 people. Yet the number in three emergency shelters for homeless residents numbered only about 350 at the height of the flooding. Of the rest, "the vast majority are with family and friends," said Waind—evident by the many campers, RVs and tents around town this summer; entire neighborhoods were camped out as though they were gathered for family reunions or Fourth of July celebrations.
Wendy Howe heads the city's convention and visitor's office and was one of thousands forced out of their homes—her basement swamped and 5 feet of water on the main floor. When she was finally able to get into her house to assess the damage, mold had already spread to the ceiling, "and everything has to come out down to the studs."
Like most, her home was not insured against flood. She inquired about it earlier in the spring, but decided against it because more than 40 years had passed since the valley had flooded, before the construction of the dikes and dams to control the Souris. She expected to receive assistance from the federal government to help pay for rental accommodation.
But Howe has every intention of rebuilding, whatever it takes. She expects nothing less of the city. "We can't pretend there won't be an impact," she said. "But Minot is called the magic city, and the magic is its resilience."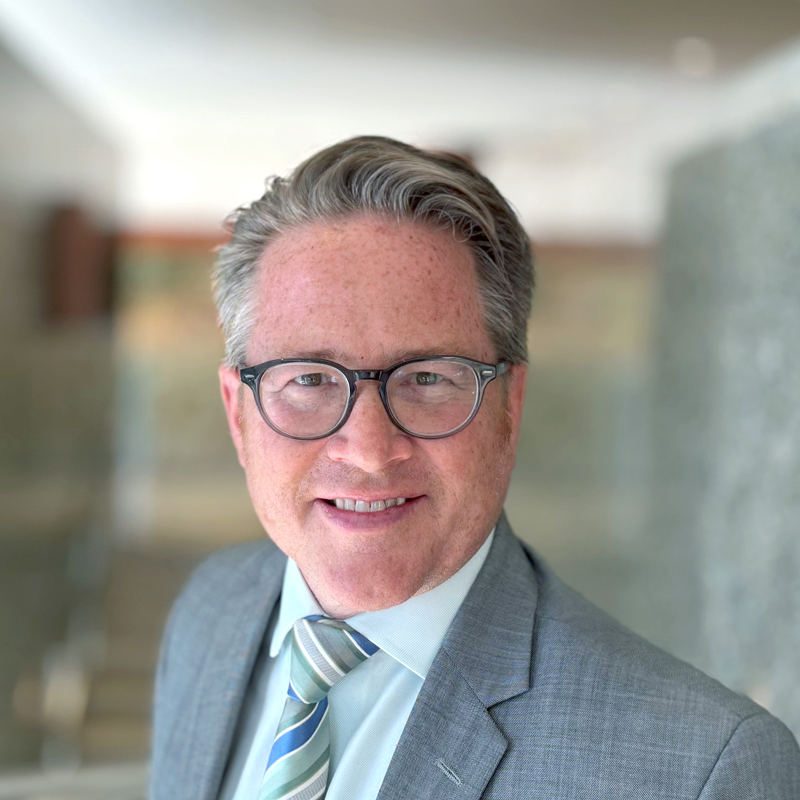 Request as a speaker
Ron Wirtz
Editor, fedgazette
Ron Wirtz is a Minneapolis Fed regional outreach director. Ron tracks current business conditions, with a focus on employment and wages, construction, real estate, consumer spending, and tourism. In this role, he networks with businesses in the Bank's six-state region and gives frequent speeches on economic conditions. Follow him on Twitter @RonWirtz.