Try it. You might like it.
That philosophy might explain the success district manufacturers are having in international markets: More firms are exporting and, as a result, total exports have helped many manufacturers grow since the recession.
"We've seen a lot of changes" among businesses that export, said Bob Kill, CEO and president of Enterprise Minnesota. Companies today have greater market savvy, regardless of size, Kill said. "Companies used to think you had to be big to export."
Save for a brief but hellacious drop in 2009, exports have been flying off the shelves of district manufacturers for the past decade (see Chart 1). Exports were particularly strong in 2010 and 2011, rising 17 percent and 10 percent, respectively. That's due in large part to rising numbers of manufacturers looking elsewhere for new markets. Again, except for the drop in 2009, the number of Minnesota firms exporting some product has steadily increased and is currently at record levels, according to the Minnesota Trade Office (see Chart 2).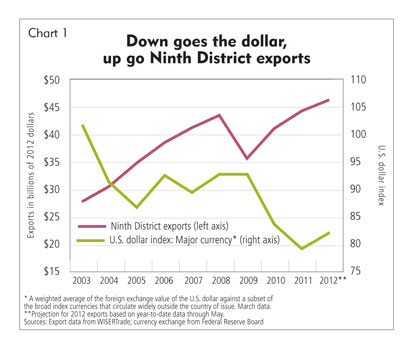 Many of those firms have moved into international markets because of the weak dollar against most currencies, which makes U.S.-made products more competitive (a.k.a. cheaper) in other countries. For the past decade, the dollar has been persistently falling in value, except for a spike during the financial crisis and a recent uptick during the first half of 2012 in response to the European debt crisis (see Chart 1).
By far the biggest—and often first—destination for district exports is Canada, thanks to a common border as well as similar language and culture. Exports there grew by more than 40 percent from 2009 to 2011 (to $14 billion) and are up about 10 percent through the first half of this year.
As firms get a feel for the procedure—and potential—of exporting, they also start to spread product wings, so to speak. "As companies grow, they get more sophisticated, and they realize where growth is," often leading them to Latin and South America, and later into China and other parts of Asia, according to Kill. Mexico and China round out the top three destinations for district exports; each exceeds $3 billion in exports, a 50 percent rise since 2007.
Some believe there is great potential for still more export growth. In July, Minneapolis became home to a new branch of the Export-Import Bank of the United States, an independent federal agency that supports exports by doing things like insuring payments from foreign buyers. Given a "wealth of export-related assets" in the Twin Cities and statewide—including 19 Fortune 500 companies and high visibility in many industries—"we believe that Ex-Im Bank can help this area increase exports at a faster rate in the coming years," said Denis Griffin, the bank's Minneapolis regional office director.
While the most obvious markets for local exports are Canada, China and Mexico, "we want to encourage companies to seek out opportunities across the globe." The bank has a presence in 175 countries and, based on internal research, it believes countries like Brazil, India, Indonesia, Nigeria, South Africa, Turkey and a few others are well positioned to become larger importers of U.S. goods, according to Griffin.
Slower, but still growing
This year, exports to all destinations have continued to increase, but at a more modified pace, rising 6 percent through May of this year compared with the same period a year ago. Sources attributed some of the pullback to nervousness over the sovereign debt crisis in the European Union and its effect on the global economy. But to date, that nervousness has not translated to lost sales.
The Minnesota Trade Office, for example, typically helps small to medium-sized manufacturers export their goods. "They may have nervousness regarding what is taking place in the EU, but haven't indicated that things have changed dramatically, and not enough to alter their outlook on this market," said Jeffrey Phillips, an MTO international trade representative, via email.
In fact, EU exports appear to have stabilized since the recession. From 2007 to 2009, exports to the 27-country EU fell by close to $1 billion and have since been flat. Most of that drop came from the 17 countries in the single-currency eurozone (see Chart 3).
Phillips pointed out that Europe still has 10 of Minnesota's top 25 export markets, and "there remains huge opportunities for manufacturers to enter or expand their sales in the EU." In fact, the agency has seen an increase in manufacturers asking for assistance or attending training seminars related to so-called CE marking—consumer safety certification that allows products such as machinery, medical devices and telecomm equipment to be sold within the EU.
But while things play out in the EU, firms are looking elsewhere for growth. In 2009, the EU represented 27 percent of Minnesota's overall exports. By 2011, it had fallen to 20 percent.
"Europe is not on the minds" of exporting businesses because there are many other burgeoning markets on the radar, said Kill. "China, South America, Asia clearly are larger [export targets] because they are growing."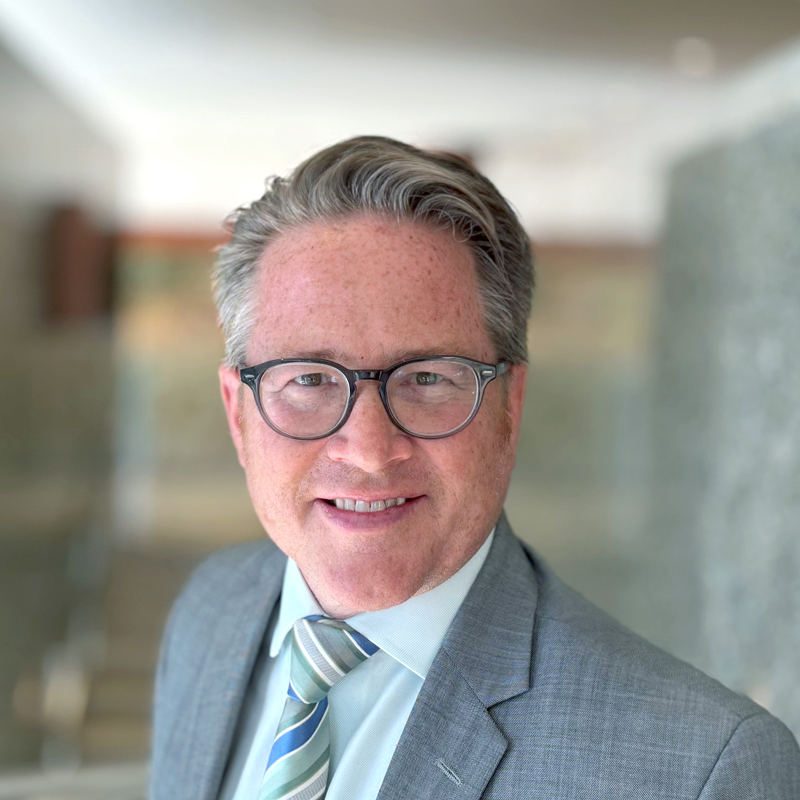 Request as a speaker
Ron Wirtz
Editor, fedgazette
Ron Wirtz is a Minneapolis Fed regional outreach director. Ron tracks current business conditions, with a focus on employment and wages, construction, real estate, consumer spending, and tourism. In this role, he networks with businesses in the Bank's six-state region and gives frequent speeches on economic conditions. Follow him on Twitter @RonWirtz.