Newborn businesses crawling again, jobs not following in tow
It's well known that starting a business is tough. New data on establishments suggest that entrepreneurs are starting to regain their appetite for risk after getting scared to the sidelines during the recession and slow recovery.
According to figures from the U.S. Census Bureau, the annual number of establishments that are less than one year old has been slowly rising. While still not above prerecession levels across Ninth District states, all states saw positive growth in 2012; for most, it was the second consecutive year (see Chart 1). For North Dakota, it was the second straight year of record new establishments.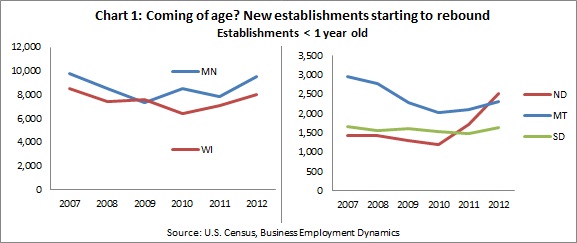 It's also well known that these young businesses are an important source of employment because young companies tend to be growing and thus require more labor compared with older companies (for those who need convincing, see the July 2011 fedgazette).Jobs have been rising at these young establishments, but the overall track record is a little less consistent and upbeat. For most district states, last year was the first real year of solid job growth (see Chart 2). These jobs declined last year in Wisconsin, its trend line zig-zagging since 2009 along with Minnesota's.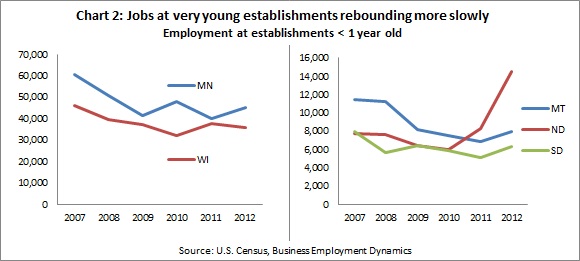 Annual job levels are still well below prerecession levels in four states. That's because average employment at these young establishments has been going down steadily (see Chart 3). Minnesota's average employment has gone down by one and a half workers since 2007; Wisconsin and South Dakota saw a drop of almost one worker.
The exception to all the job trends is North Dakota, whose economy is the best in the country and comparable to almost no other state right now. Last year, both new establishments and total jobs at these businesses outstripped those of Montana, whose population is more than 40 percent larger. North Dakota even saw small growth in the average number of jobs per young establishment between 2007 and 2012.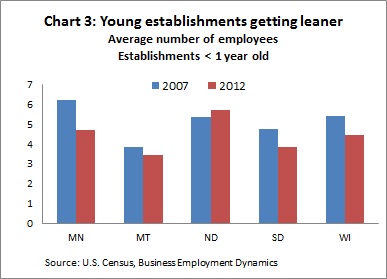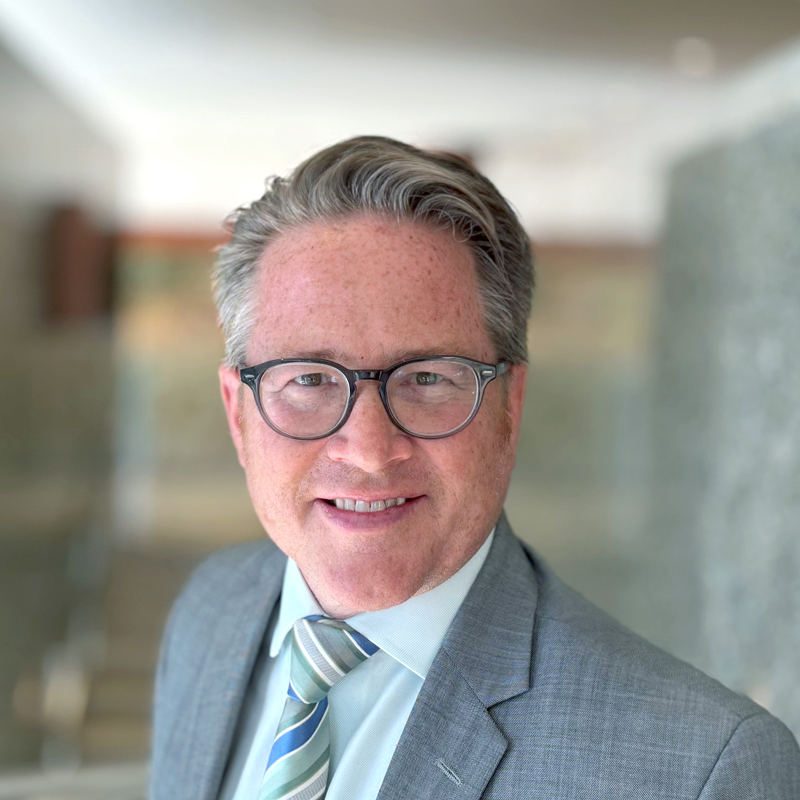 Request as a speaker
Ron Wirtz
Editor, fedgazette
Ron Wirtz is a Minneapolis Fed regional outreach director. Ron tracks current business conditions, with a focus on employment and wages, construction, real estate, consumer spending, and tourism. In this role, he networks with businesses in the Bank's six-state region and gives frequent speeches on economic conditions. Follow him on Twitter @RonWirtz.