District crop production suffered in 2013
It's no secret that last year was a tough one for district farmers. As discussed in the Minneapolis Fed's most recent Survey of Agricultural Credit Conditions, the weather last year was difficult, beginning with heavy rains that delayed or prevented planting in some areas and giving way to drought later in the summer.
Earlier reports from the USDA gave indications that the weather had taken a substantial toll. The agency recently released its annual crop production summary, and final numbers show that while the weather did have an impact, it wasn't the same across Ninth District states.
Take corn, for example. While overall production fell slightly from a year earlier as expected in Minnesota and North Dakota, it increased in Wisconsin and especially in South Dakota, though the increase is due more to a drought-ravaged 2012 than stellar production in 2013 (see Chart 1).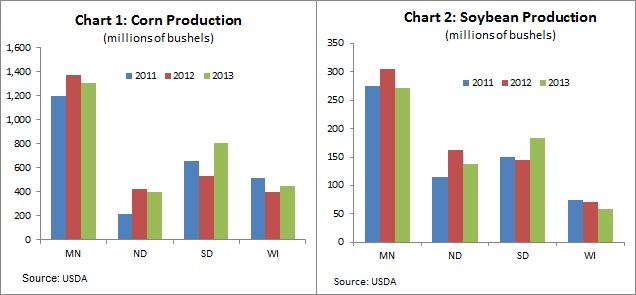 That wasn't the case for soybeans or wheat, however, both of which saw lower overall production in the district, although South Dakota also had a strong year in soybeans compared with 2012 (see Charts 2). While crop acreage shifted somewhat, output changes among district states (both higher and lower) were due mostly to changes in yields. For example, corn acres harvested increased slightly last year in North Dakota, but production declined because yields fell about 10 percent. Conversely, higher corn production in South Dakota and Wisconsin was due to higher yields. For soybeans, both acreage and yields were down.
Wheat is a different story altogether (see Chart 3). The drop in wheat output was due almost entirely to lower acreage, thanks in part to the lingering effects of the 2012 drought, which led to a dramatic decrease in winter wheat plantings (which occur in the fall of the year prior to harvest).
It was also a tougher year for crop prices. For example, the price farmers received for corn at the end of 2013 was 37 percent lower than a year earlier, according to the USDA. Lower prices and poorer yields have meant lower income for many farmers. USDA data on state farm income will not be released until next month, but 48 percent of respondents to the ag credit survey expected lower farm income in the fourth quarter of 2013, compared with 16 percent expecting an increase.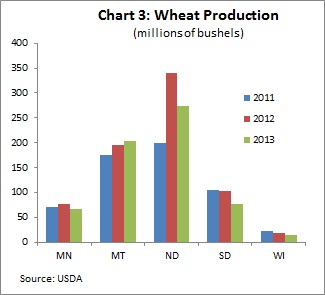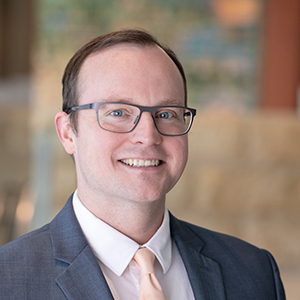 Request as a speaker
Joe Mahon
Director, Regional Outreach
Joe Mahon is a Minneapolis Fed regional outreach director. Joe's primary responsibilities involve tracking several sectors of the Ninth District economy, including agriculture, manufacturing, energy, and mining.