Rising cost of materials means fewer contracts, smaller profits for builders, survey says
The rising cost of building materials is hurting demand for projects and profits for the construction industry, according to a Minneapolis Fed survey conducted in late May.
Sixty-five percent of survey respondents said high input costs had negatively affected demand, and 70 percent said profits were also negatively affected. This includes higher labor costs, but most of the industry identified material costs as a greater challenge.
"Lumber pricing has cut 40 percent of the contracts we expected to sign," said a Wisconsin home builder. Home buyers are canceling projects either because they don't want to pay more or because the loans they qualify for aren't enough, he said.
And it's not just residential construction that's affected.
"Projects are being canceled as owners hope to 'wait it out,'" said a Twin Cities mechanical contractor working in commercial and nonresidential construction.
"It's easy for clients to hire us and just as easy for them to quit at any time, which they are doing."
Most respondents said the price of building materials has increased by 10 percent or more in just the past three months. This is on top of price increases in prior months.
This has led to construction costs rising so quickly that many are reporting some unusual disruptions. For example, some respondents said appraisers are unable to confirm the higher home prices using comparable homes, a problem for home builders nationwide. Some said suppliers are unwilling to lock in prices for more than a week, if at all, resulting in a great deal of uncertainty.
More than 400 respondents from the Ninth District states of Minnesota, Montana, North and South Dakota, northwestern Wisconsin, and Michigan's Upper Peninsula took part in the survey, which was not a random sample and may not be representative of the industry.
Extreme price increases
Wood products, especially lumber and plywood, saw the most extreme price increases affecting the most respondents, with more than 80 percent reporting prices increasing by more than 25 percent from March to May (Chart 1).
Loading chart 1...
Metal products, especially copper wire and structural steel, also had many respondents reporting extreme price increases.
Over all, material costs have risen for every respondent who dealt with material purchasing in some form, with few reports of flat or falling prices. (This excludes "not applicable" responses.) A quarter said the increase was more than 25 percent.
"Projects were bid in previous quarters assuming lower materials costs. We now have to eat these costs."
"Twenty-five percent doesn't even come close to some of the price increases I am seeing," said a Twin Cities home builder.
These extreme prices, which affect builders nationwide, have varied causes, depending on the building material.
For example, lumber prices are high because U.S. housing starts have increased significantly, outpacing lumber supplies despite sawmills increasing production beyond pre-pandemic levels. (Despite anecdotes of pandemic-related disruptions slowing down lumber mills in 2020, this was not the case nationwide. Production in 2020 surpassed 2019, and less was exported, which suggests that rising demand rather than shrinking supply was responsible for price increases.)
It's a similar story with steel, except that it took much longer for steel mills to return to pre-pandemic levels. High steel tariffs making imports more expensive didn't help either.
The price of plastic products, however, is high primarily because plastic resin plants along the Gulf Coast, where the industry is concentrated, were forced offline for weeks following a punishing February storm. They are still playing catch-up.
Costs passed on to customers
Most respondents indicated that they passed on the material cost increases to customers. For example, among respondents who said their price increases were 10 percent to 25 percent, 66 percent said they increased costs for customers in the same range. But many passed on less, and some passed on more.
A Twin Cities subcontractor who works in residential and commercial construction said she signed most of her contracts in late 2020, before the extreme price increases.
This is normal in the industry, and building-material vendors usually agree to help by locking in prices for contracted work, she said, but not anymore.
Those who increased prices to customers beyond their actual material costs didn't comment on the matter in the survey. But given complaints about the inability to use escalation clauses, it may be that some are asking customers to pay more in anticipation of even higher material costs in the future.
Demand, profits down
Faced with higher project prices, which included both high material costs and rising labor costs as the construction industry struggled with hiring, many customers postponed or canceled projects.
Loading chart 2...
This happened the most in residential construction, with a quarter of respondents reporting demand for projects declining by "significant" levels. That's compared with 15 percent in commercial construction and 12 percent in infrastructure construction (Chart 2).
"It's easy for clients to hire us and just as easy for them to quit at any time, which they are doing," said a Greater Minnesota architect specializing in residential construction. She said demand was huge earlier in the pandemic but went away as the price of materials grew.
In general, price hikes are correlated with higher project cancellations, as might be expected. But the same price hikes also increased demand for some respondents.
"People are scared home prices will be unreachable. They are scrambling to buy now," said a North Dakota home builder, who reported "somewhat" positive effects on demand.
The higher prices for building materials also affected the bottom line, with a majority of respondents across industry segments and business activities reporting negative effects on profits.
Loading chart 3...
Those involved in the actual construction of structures—including general contractors and subcontractors—suffered the most, with 35 percent reporting "significant" negative effect (Chart 3). In contrast, this significant impact affected less than 20 percent of those involved in planning, design, and finance—including architects and engineers—as well as suppliers and others.
"Projects were bid in previous quarters assuming lower materials costs," said a Twin Cities subcontractor involved in commercial and nonresidential construction. "We now have to eat these costs. It will have significant impacts on the bottom line for 2021."
Downturn feared
Many respondents wondered how long the price of building materials can continue to rise before a downturn occurs. At some point, projects will cost so much that customers can't afford them, or the shortage of material will become so bad that customers will put off new projects.
"Material pricing is going to price the average home buyer out of the traditional market if increases don't stop soon."
"We're on the verge of a giant blowout in our industry," a Twin Cities subcontractor specializing in commercial and nonresidential construction said. "Payments are becoming an issue for completed projects, similar to the recession. [Subcontractors] will soon start going under due to the inability to get increases for material prices for work already under contract."
But despite a majority reporting lower demand and lower profits, optimists in the May survey still outnumber pessimists when asked about their firms' outlook over the next six months. This was true even among those involved in construction activities, who have taken the brunt of the material cost increases.
But there is some indication that this is a reflection of work already under contract, and new contracts will be harder to get.
"Work is already scheduled for six months; it's a year out we are concerned about," said a Montana home builder. "Material pricing is going to price the average home buyer out of the traditional market if increases don't stop soon."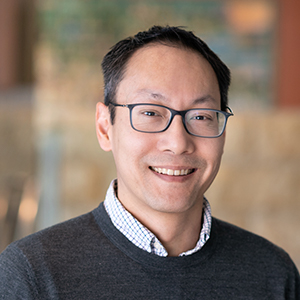 Tu-Uyen Tran
Senior Writer
Tu-Uyen Tran is the senior writer in the Minneapolis Fed's Public Affairs department. He specializes in deeply reported, data-driven articles. Before joining the Bank in 2018, Tu-Uyen was an editor and reporter in Fargo, Grand Forks, and Seattle.