Moving beyond the 13th grade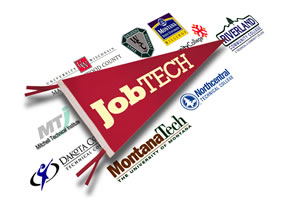 When it came to college options after high school, Nate Lee had plenty. Graduating in the top 10 percent of his high school class in White Bear Lake, Minn., he watched his friends trot off to East Coast universities or to the University of Minnesota.
Undecided about exactly what he wanted to study, Lee decided to attend, full time, the two-year Century College in his hometown.
"I could have chosen almost any other college in the country," Lee said, adding that "very, very few close friends" went to two-year programs.
Lee, who was the student senate president this past year, graduated in May with an associate degree and is headed in the fall to Hamline University in St. Paul on a full scholarship. Reflecting on his experience at Century, he doesn't regret it. He's complimentary while not sugar coating the experience, even describing it as a "love-hate relationship."
"It's impossible to see [the quality] from the outside. You don't hear about how great Century is. That's left to those that actually step into the classroom," Lee said. That's exactly what he did during his senior year in high school when he started taking college-level courses there.
"I was really impressed," Lee said about his first reaction once inside the college, noting that the teacher of his first Spanish class there was a native speaker—something he previously had never experienced in the classroom. Had he not taken the Spanish class, he said, "I would have never considered doing Century."
Lee acknowledged that "people take [classes] less seriously ... it's not the 'real deal' you'd get at a four-year [college]," he said. "I joke with my friends at four-year schools that I'm graduating with a degree at Century with high distinction, and we laugh about it. ... Is anyone going to care about it?"
But Lee is also quick to point out that Century was the right fit for him. He had to pay his own way through school and thought seriously about the lifestyle he wanted to live, "and I went the cheap route" going to Century and living at home. That enabled him to afford out-of-classroom opportunities, like taking a semester in Colombia, South America, and doing winter break in Mexico City. "I think I'd definitely do it again. The priority was to save money and put it toward equally valuable experiences outside of the classroom."
Whether Lee is representative of any trends depends on which trends you want to focus on, because community and technical colleges have become the catchall for a multitude of education and training missions for students of every variety, from high school graduates to 50-somethings looking for new careers, from full-time students to one-class-at-a-time students juggling family and job obligations, from short-term occupational training to university prep.
Where once Lee might have been seen as something of an oddball—freely choosing what is commonly derided as "13th grade" over a four-year college—he is one of a growing pool of young and older adults that sees the flexibility, cost savings and job-getting utility of attending a two-year college.
"I think [two-year] colleges are increasingly gaining in stature," said Dennis Jones, president of the National Association for Higher Education Management Systems, a consulting firm in Boulder, Colo. "They're no longer considered not real colleges ... despite the fact that they don't have football teams."
Gary Williams, director or the Lake Area Technical College in Watertown, S.D., said the school goes all the way to Singapore and China to deliver its highly regarded aviation training program to students there. "When any national accrediting bodies by profession visit our campuses, [they] are always amazed at what is going on at the four tech schools" in South Dakota.
That's not to say two-year programs have reached parity with four-year colleges. For workers, there is no arguing that the education premium earned by a bachelor's degree (or more) outstrips that of an associate degree or vocational training. A 2002 Census report found—as have others—that a bachelor's degree earns the average 25- to 64-year-old worker a wage premium of better than 70 percent over those with only a high school diploma. The wage premium related to an associate degree is about 27 percent.
And it's easy to end the discussion there. Bachelor's or bust. But that would also ignore an interesting collision of push-pull factors that appear to be giving two-year schools renewed relevance and a higher educational profile.
Along with the economy's continued emphasis on skills and postsecondary education, the population of college-age children has been growing as the so-called echo or millennium generation (the offspring of baby boomers) comes of age. Stagnant public support for higher education has driven tuition up steeply across the board, but particularly at four-year colleges. Some four-year systems have also ratcheted up admission standards or otherwise limited admissions because of resource problems. Enrollments suggest that these factors are pushing more students toward two-year colleges.
But there are pull factors involved as well. For one, today's economy stresses rapid and continuous upgrading of worker skills. This puts community and technical colleges—and their many programs of varied lengths and delivery modes—on the front lines as a first responder of sorts for virtually any worker, whether coming out of high school, already in a job or having just lost a job and looking for a new one.
Data on job placement also show that workers tend to find work in their field at a higher rate than those with bachelor's degrees—a useful trade-off in terms of the education premium. And job projections suggest that demand will be strong for graduates in occupations whose education and training typically comes from two-year colleges.
Enrollment? "Here"
As the market for adult education expands and matures, it is becoming more segmented, with pockets of students having particular needs. Oftentimes, community and technical colleges offer the most convenient or flexible program to fit a growing and changing demand for higher education. Last year, for example, close to 5,000 laid-off workers were enrolled in two-year colleges in Minnesota—a 20 percent increase over the previous year—many of them in the northern part of the state, where five colleges there created or adapted programs in carpentry, masonry, nursing and other areas expressly to train displaced mine and paper mill workers in the region.
Such adaptation is one reason why enrollment in two-year colleges has been steadily increasing. Though college enrollment typically increases during slow economies—and did so in the recent recession—the biggest enrollment gains went to two-year programs. North Dakota, for example, saw steady growth of 34 percent in its public two-year programs from 1994 to 2003-double the head count growth rate at state universities. South Dakota's two-year enrollment surged 42 percent over the last decade while four-year public enrollments inched up just 5 percent over this period, and full-time equivalents actually fell.
In Minnesota, enrollment in public two-year campuses grew by 17 percent from 1999 to 2003, adding more than 15,000 students. That growth rate outpaced that of state universities, the four University of Minnesota campuses and private universities (though this is something of a trend reversal from five years earlier, when two-year colleges lost enrollment while University of Minnesota enrollment surged).
Enrollment in the University of Wisconsin's 13 two-year colleges increased 44 percent from 1996 to 2003. Wisconsin's technical colleges—16 in all, run separately from UW community colleges—saw a 20 percent increase in full-time equivalent students over roughly the same period. Contrast that with enrollment increases of 4 percent among 13 four-year colleges in the UW System during the same period.
According to Teri Venker, director of marketing and university relations for UW Colleges, much of the jump can be attributed to a concerted marketing and recruitment effort starting a half dozen years ago "and you can see our enrollments took off after that."
"Some of [the two-year enrollment growth] is a shift on return on investment," said Janet Washbon, a Wisconsin Technical College System assistant vice president. According to WTCS data, the cost of postsecondary or vocational credit in Wisconsin's tech schools has risen by 5 percent annually over the last decade. Still, a 15-credit load costs about $1,000 per semester for the average tech student, a bit more than half the comparable cost at a state university, and well less than half at UW-Madison.
Washbon conceded that two-year graduates won't earn as much as they would if they had a bachelor's degree, but they won't owe as much "and they'll earn a decent living when they get out." Students can also continue working toward a bachelor's degree if they so choose. "Getting a [bachelor's degree] longer term is probably better. But not all of them get it," Washbon said, noting that as few as 50 percent of students in four-year programs end up completing their degree.
Tech school enrollments are also attracting more nontraditional students, a market that universities struggle to serve. Over the last decade, Wisconsin tech schools have doubled the percentage of students who are at least three years removed from high school—from 12 percent to 25 percent. Washbon said the growth was not complicated to figure out. "Nobody was targeting [the noncollege bound] ... and a huge emphasis was put on serving this population."
Well placed
Probably no statistic is a better seller for two-year programs than graduate job placements, because more two-year graduates are typically employed in their field of study one year later than those with a bachelor's degree. According to a source at the North Dakota State College of Science, a two-year college in Wahpeton, "There are many employers who call us and want to hire entire graduating classes for employment."
Two-year graduates from the University of Montana-Helena College of Technology seeking work (rather than continuing their education) had an in-field placement rate of 81 percent in 2002. For university graduates with bachelor's degrees, the rate was 59 percent, according to a university report.
From 2001 to 2003, graduates from the Minnesota System of Colleges and Universities (MnSCU, which includes both two-year and four-year colleges, but not the University of Minnesota) had job placements in their field of study that were uniformly higher (by 3 to 12 percentage points) at the associate, diploma and certificate levels compared with bachelor's degrees.
Not surprisingly, the recession has affected placement rates at two-year programs. In Wisconsin, technical college graduates saw their in-field placement rate drop five years straight from 83 percent in 1999 (the start of the manufacturing recession there) to 75 percent in 2003, according to system data. Certain fields were particularly hard hit, including business majors earning an associate degree, where in-field employment dropped from 76 percent in 2001 to 65 percent in 2003, and average salary dropped 2 percent. But many health fields were largely recession-proof. Employment for those with associate health degrees stayed above 95 percent, and wages increased better than 10 percent over the two-year period.
Indeed, the economic downturn might have hit four-year degree holders even harder, at least in some cases. In Minnesota, median wages earned the following year by MnSCU graduates with an associate degree rose 16 percent from 1999 to 2003. Graduates with a bachelor's degree saw a modest 3 percent increase over the same period. By 2003 the difference in median wages for MnSCU grads with associate or bachelor's degrees was only 26 cents an hour ($14.93 to $15.19, respectively). Last year, average wages earned by associate degree holders in the third quartile (in other words, the quartile that earns more than half but less than one-quarter of their peers) were actually $1.30 an hour higher than those with bachelor's degrees.
Too many, too few or just right?
High placement suggests that demand from employers is strong, and a look at future job projections suggests demand for two-year graduates will increase.
In the Upper Peninsula of Michigan, the state Labor Department projects that annual job openings (new and replacement) will be fastest among jobs needing an associate degree, about 13 percent. Job growth for those with vocational training (about 8 percent) is expected to grow slightly more slowly than for jobs requiring bachelor's degrees (10 percent). Projections in North Dakota and Wisconsin indicate stronger growth in jobs requiring associate degrees or vocational training than for those requiring bachelor's degrees.
In South Dakota, the number of openings for jobs needing an associate degree is slated to increase by 23 percent from 2000 to 2010, compared with growth of 13 percent for jobs needing a bachelor's degree. The state's Labor Market Information Center (LMIC) also calculated the projected supply-demand ratio (total graduates by education level divided by annual openings by education level) and found that job openings requiring an associate degree or vocational training had the smallest ratios (and therefore the tightest labor supply), while openings requiring a bachelor's degree had the highest ratio, or largest labor supply. (Technically, professional occupations had the smallest ratio, mostly because the state doesn't offer education programs for some professional occupations, and total openings number fewer than 350 a year.)
There is a host of complicating factors in getting a stable read on supply and demand for college graduates. In the South Dakota supply-demand ratio, for example, the LMIC was not able to adjust numbers for graduates who leave the state, something that likely would have affected the ratios of bachelor's degrees (or higher) the most. Also, in all states, the number of jobs that are categorized as requiring either an associate degree or vocational training is comparatively small. Combined, these two categories made up just 7 percent of all jobs in Wisconsin in 2000, making strong growth rates somewhat misleading, at least in the context of the educational supply necessary to sustain job growth in these areas.
But possibly even more misleading, according to several state labor economists, are the vagaries of matching projected job openings with their proper educational requirements, which might significantly undercount future demand for students coming out of a variety of programs offered at two-year colleges.
Today, the typology, or framework, used most often to make estimates for future job demand and education requirements comes from the Bureau of Labor Statistics. According to BLS estimates, some 63 percent of occupation titles and 71 percent of jobs are classified as requiring no more than a high school diploma. BLS job projections through 2012 state that only 8 percent of job openings will require an associate degree or vocational training from a two-year program, and about 21 percent will need a bachelor's degree or higher (see chart).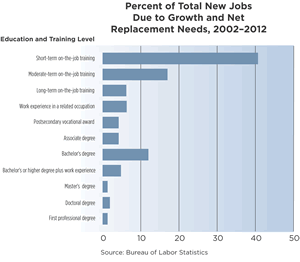 While this BLS typology is certainly useful—it's still in use because no one's come up with a better model—it cannot account for significant crossover among categories, where a job might require both on-the-job training and college coursework. For example, Karen Wells from the Wisconsin Department of Workforce Development said that many jobs that require long-term training often coordinate at least part of that training with technical colleges.
This is not a small accounting issue either, because it affects a large number of annual job openings that are implied and reported to have little or no need for postsecondary education; and if such positions do indeed demand postsecondary training or education, it comes most likely from technical and community colleges. If one adds only those jobs with long-term, on-the-job training requirements to the demand curve in Wisconsin—as Wells suggested—the number of job openings requiring a two-year or shorter-term award would move past those needing a bachelor's degree.
Todd Graham, a labor economist with the Minnesota Department of Employment and Economic Development (DEED), also pointed out that the BLS job-education typology is based on bureau assumptions about what education is required, rather than on any specific polling of employers. This might seem nitpicky, but some evidence suggests that asking employers about educational requirements could change estimates considerably.
For example, DEED asks employers about educational requirements in open-for-hire positions in its quarterly job vacancy survey—and is the only such job poll found that did so. According to Graham, employers say about 12 percent of current openings require postsecondary certification, 10 percent require an associate degree, and 15 percent require a bachelor's degree or higher—a significant flip-flop of what the BLS says employers need in terms of worker education levels.
The DEED model also comes with caveats, however. Graham noted that job vacancies are always "heavily loaded" with positions that have high turnover, which typically are those with lower levels of education and training. This would tend to inflate the average number of openings requiring an associate degree or less because the same opening might show up on multiple polls.
The PR battle over 13th grade
Enrollment and graduate placements argue that demand for two-year degrees and shorter-term awards is strong among both prospective students and employers. But community and technical schools still battle image demons.
For example, Montana's two-year system is comparatively small in terms of enrollment and awards compared with most states (see related article). It's an issue that was highlighted eight years ago in a report commissioned by the University of Montana, which suggested that would-be students were pushed "rather routinely" to four-year schools, the report stated, "even though some of the programs in these institutions may not fit their career aspirations. ... It cannot be proved that two-year education would have greater prominence in the educational plans of Montanans if it existed in greater supply, but the experiences of states with more expansive and comprehensive two-year systems suggests it would."
While there are clear personal and societywide benefits to Montanans getting bachelor's degrees, the report noted there also were added costs to be borne, including higher dropout rates, longer terms to completion, increased costs (for the public, students and students' families) and "graduates who either may be overly qualified for the available jobs or who must leave for careers in other states."
At eight years old, the report might seem dated, but its conclusions largely still hold true, according to both system data and sources in Montana higher education. In May, the state Board of Regents issued a report acknowledging the shortcomings of the state's two-year programs and asked for a $100,000 commission to recommend systemwide improvements.
According to Steven Hoyle, the CEO and dean of the two-year University of Montana-Helena College of Technology, the average Montanan still equates higher education with a bachelor's degree. "Little credence and financial support are given to two-year and regional colleges," he wrote via e-mail. "Technical colleges remain the orphan of the postsecondary system, much as they were as vo-techs [in the K-12 system] until the early 1990s."
"The biggest challenge is the image issue here—seeing [two-year college] as a viable option" for career planning and enhancement, according to Arlene Parisot, director of workforce development for Montana Office of the Commissioner of Higher Education. The strong bias for four-year colleges still exists. "I think in Montana that is an expectation of parents," Parisot said. They believe that two-year programs "are not for my child. It's for those who can't make it" in four-year programs.
That sentiment is still more the rule than the exception, according to numerous sources. "No one debates the value of getting a four-year degree," said Dan Marrs, program administrator for the North Dakota Career Resource Network. Parents play a critical role in their children's choice of career and college, which inevitably lean toward four-year colleges, he said. "Your most important goal [as a parent] is for [children] to get their four-year college degree."
Marrs mentioned an anecdote where a local school district superintendent investigated employment opportunities and concluded that "the real opportunities are in one- to two-year programs." A subsequent report was written on the matter, to which the superintendent's wife promptly retorted, "That's nice, but don't let our kids see it," Marrs said.
But the reality, Marrs pointed out, is that a fair portion of four-year graduates are likely to be filling slots below their educational qualification. He said about 25 percent of North Dakotans have at least a bachelor's degree, but Job Service figures indicate that fewer than 20 percent of existing positions demand that level of education.
Over the last decade, the state has been attempting to convert two-year programs to the community college model "in concept and reality," according to Eddie Dunn, a vice chancellor with the North Dakota University System and executive director of the College Education Technical Council, a subgroup of the state's five two-year campuses. That has meant more focus on workforce training, economic development service for communities and adult education. "There's just a lot of opportunities in occupations that are matched with associate and technical degrees" and many of those occupations lack qualified applicants, he said.
Marrs and others are not dismissing the four-year degree. Rather, they argue that two-year degrees and other short-term college awards are undervalued.
"We have to have engineers and people like that" with four-year degrees, because these are the types to start businesses and occupy front-office positions, Marrs said. "But are you going to get anyplace if they don't have anyone to run the plant?"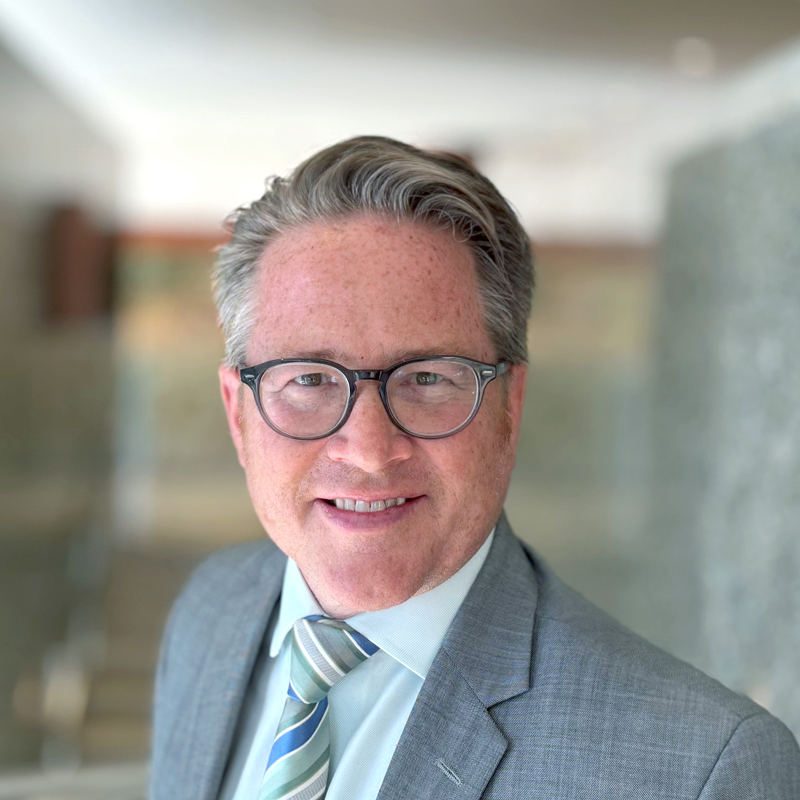 Request as a speaker
Ron Wirtz
Editor, fedgazette
Ron Wirtz is a Minneapolis Fed regional outreach director. Ron tracks current business conditions, with a focus on employment and wages, construction, real estate, consumer spending, and tourism. In this role, he networks with businesses in the Bank's six-state region and gives frequent speeches on economic conditions. Follow him on Twitter @RonWirtz.