Last fall a new $45 million cheese plant opened in Lake Norden, a town of 450 people near Watertown in eastern South Dakota. By April its owners, Davisco Foods International of Le Seuer, Minn., expect the plant to churn 2.5 million pounds of milk into 250,000 pounds of mozzarella daily and employ about 150 people. The plant is the largest single, free-enterprise investment in state history and a statement of faith in the region for family-owned Davisco.
Ultimately, Davisco hopes to double its cheese production in Lake Norden, processing the milk from 65,000 South Dakota cows. Right now the area doesn't produce enough milk to fill the plant's huge cheese vats; Davisco supplements local milk with shipments from Idaho and western Minnesota.
But Mitch Davis, general manager of Davis Family Dairies, a Davisco subsidiary, predicts that dairy farmers across the country will be drawn to the plant, speckling the surrounding countryside with Holsteins and eventually transforming eastern South Dakota into a dairyland to rival California and Wisconsin.
"We're confident that they'll come because we think economics will drive people that are producing milk to that area of the country," he said. The state, which assisted Davisco with road and wastewater treatment improvements, shares Davis' vision; the agriculture department has been busy recruiting dairy farmers from the Netherlands, Britain and Canada as well as other parts of the United States.
Davisco's bold investment exemplifies the resilience and tenacity of the food processing industry, an underappreciated, oft-maligned industry that produces more than $124 billion in goods annually and employs 1.5 million Americans. This broad sector, encompassing everything from pizza topping to corn syrup to bison burgers, has taken some licks of late; adjusted for inflation, gross state product (GSP) in food manufacturing shrank 12 percent between 1999 and 2001, according to the U.S. Bureau of Economic Analysis. Food processing revenues have buckled under tremendous pressure from cost-conscious consumers, ultra-efficient supermarket chains and aggressive competitors in overseas markets.
But there's no indication that food processing is destined for oblivion, either nationally or in the Ninth District, a region that contributes so much grist—wheat, corn, soybeans, sugar beets, milk, hogs, turkeys-to the mill. "People have to eat," observed Bob Price, a principal with Lockwood Greene, a national consulting firm specializing in site selection for food processors and other manufacturers.
The pattern of development in food processing over the past decade suggests that the industry is holding its own in the district by expanding, albeit spottily, in small cities and towns. That holds out hope for job growth in beleaguered rural areas—but not necessarily a surge in wealth, because wages in food manufacturing are low in comparison with other manufacturing industries. So-called value-added agriculture—food manufacturing by farmers fed up with low commodity prices, from soy milk co-ops, to independent cereal makers and all-things organic—is part of this rural movement, although it's probably not as significant as the many media reports imply. (See sidebar.)
Macroeconomic forces that run much deeper than the recent economic downturn underlie slow shifts in food processing in the district-which industries are growing, which are slumping, which states appear to be gaining market share and employment at the expense of others within and beyond the district. The same forces—not apparent to the average shopper at Albertson's or Sam's Club—determine the size and location of plants, workforce demographics, the market prospects of niche producers and the prices we all pay for a necessity of life.
The nation's larder
Food manufacturing is huge business in the agriculturally rich and diverse Ninth District. In 2001, the latest year for which figures are available, processing in Minnesota, Wisconsin, Montana and the Dakotas generated $8.8 billion in GSP. The economy has struggled since then, but that doesn't alter the district's status as a leading food purveyor in several important categories.
Nine of the country's top 40 swine operations, including Hormel Foods of Spam fame and Cargill, are based in Minnesota, and the state is the top U.S. turkey producer. Wisconsin comes in first in cheese processing, and—thanks to numerous marshes in northwestern counties—produces about half of the cranberries consumed in the country. Ranked by employment, district states also lead the nation in the processing of corn, soybeans, wheat and sugar beets. Only the rocky, forested Upper Peninsula of Michigan and semiarid Montana (perennially near the bottom of state rankings in food manufacturing) have no processing bragging rights at the district's dinner table.
Compared with other manufacturing sectors such as telecommunications, computers and textiles, food manufacturing in the district has withstood the economic shocks of the last three years quite well (see chart). Mirroring national trends, output has dropped since the boom years of the mid-1990s. Wisconsin, by far the biggest food manufacturer in the district, saw 17.7 percent of its inflation-adjusted output from food processing evaporate between 1995 and 2001. But despite relentless automation of mechanical operations, process control and packaging that has steadily raised productivity in food processing, employment has remained fairly stable—an indication that new jobs are being created to replace most of those eliminated in consolidating segments of the industry.
The 5,200 food processing jobs lost districtwide between 2000 and 2003 pale in comparison with the more than 150,000 jobs that have evaporated in general manufacturing since 1998 (see the November 2003 fedgazette). And when food processing employment is measured over a decade, some district states are still ahead of the game, according to Bureau of Labor Statistics (BLS) figures.
Wisconsin, for instance, lost 4.7 percent of its food manufacturing employment between 2000 and 2003—but since 1993 it has gained 2.4 percent. North Dakota's 2003 employment numbers regressed to 1995 levels, which still represented a net gain of 500 jobs for the decade. Only Minnesota and South Dakota have suffered a net loss of jobs since 1993 (see chart).
NINTH DISTRICT NONFARM EMPLOYMENT
November Percent Change from a Year Earlier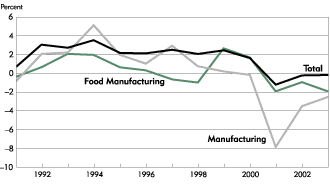 Source: Bureau of Labor Statistics
Certainly, plants have closed, to the consternation of working families. Last year General Mills Inc. sold a frozen bakery goods plant in Eden Prairie, Minn., putting 324 people out of work, and the Jennie-O Turkey Store shuttered its Heartland Foods turkey processing plant in Marshall, Minn., idling 300 workers. But facilities have also opened and expanded as food manufacturers seek to increase their market share and exploit niche markets.
In addition to the Davisco plant—essentially a bigger, modernized replacement for a Land O'Lakes dairy facility that closed in nearby Volga, N.D.—new investments by food companies in the district in the past year include a $7.9 million expansion at Minot Milling, one of North Dakota's largest producers of semolina for pasta; an organic beef processing plant in Howard. S.D., slated to start production this spring; and a new Froedtert Malt plant under construction near Great Falls, Mont., dedicated to the production of the main ingredient in beer.
Yes, folks gotta eat—and drink. Weakened but still slowly growing consumer demand continues to sustain food manufacturing. But the real drivers of food processing development in the region are supply, labor and other structural issues that have dramatically altered the way food is produced over the last 25 years.
A race to the bottom
Openings and closings and shifting employee head counts in the district are the outward signs of creative destruction within an industry bent on cutting costs to the bone. Faced with a stagnant global market, mega processors such as General Mills, Tyson Foods, Unilever and Kraft compete primarily by gaining economies of scale through consolidation and acquisition, and by striving for greater efficiency on the plant floor.
Consolidation (euphemistically referred to as "rationalization") over the past 20 years has resulted in fewer and larger processing plants, churning out more food at lower cost. It's one reason that Americans spend only 10 percent of their personal disposable income on food (compared with 15 percent in 1985)-—a welfare benefit of the gastro-industrial complex.
"The drive to cut costs is enormous in this industry ... some are calling it a race to the bottom," said Jean Kinsey, co-director of the Food Industry Center, a retail-food think tank on the University of Minnesota's St. Paul campus.
Food processors build or expand where they can operate most efficiently—where raw materials are the cheapest, where transport and land costs are the lowest, where workers are most productive and where the local regulatory climate is most amenable to the business at hand. Often that means a small town or city surrounded by lots of open space—the type of locale that the district has in abundance.
In modern meat processing, proximity to raw input is crucial. Shipping boxed meat to distributors in refrigerated containers is much cheaper than transporting live animals to a slaughterhouse halfway across the country. Over the past 35 years meatpacking has migrated from cities like Chicago ("hog butcher for the world" in the famous poem by Carl Sandburg) and South St. Paul to small cities and towns in the hinterland where beef cattle, pigs, turkeys and chickens live—communities like Willmar, Minn., where Jennie-O operates another turkey processing plant, and Sioux Falls, S.D., home to the John Morrell & Co. pork-packing plant owned by Virginia-based Smithfield Foods. During the 1990s meat processing employment in sparsely populated southwest Minnesota grew by 1,130 workers, according to the BLS.
A recent study by the University of Minnesota indicates that southern Minnesota continues to capitalize on its natural assets for hog and turkey processing—dirt-cheap coarse grains for feed and plentiful water for plant operations. Despite flat consumer demand for turkey since the late 1990s, the value of Minnesota gobbler production and processing increased 35 percent between 1994 and 2002, according to the 2003 Livestock Industry Benchmark Report, the first of its kind conducted in the state. Processors such as Cargill Turkey and Jennie-O Turkey Store, owned by Austin-based Hormel Foods, derived $138 million in revenue from processing Minnesota turkeys in 2002. Minnesota also apparently is hog heaven; in 2002, 1.4 million more pigs were slaughtered in the state than in 1993, demonstrating that Minnesota is holding its own in the battle for processing market share with other states such as North Carolina, Oklahoma and Kansas.
A nearby, reliable commodity supply is also crucial in dairy processing. Milk accounts for about 85 percent of the cost of a pound of cheese, which is why it made sense for Davisco to build its mozzarella plant in eastern South Dakota, an area that is beginning to attract dairy farmers driven from California by encroaching urbanization. "We want to locate our factories close to the raw material because milk is very expensive to ship, much more expensive than cheese," Davis said. The company has operated a whey processing plant adjacent to the Lake Norden site for 20 years.
Minnesota, in contrast, has become less appealing to dairy processors because its cows are departing for the slaughterhouse or greener pastures elsewhere. Since 2000, according to the Benchmark Report, Minnesota has lost 47,000 cows, or 1 billion pounds of milk, accelerating a 10-year slide in dairy processing revenues.
Wisconsin has suffered similar losses in milk production and processing market share, although it still holds a slim lead over California in cheese output. Large California dairies of 3,000 or more cows are more efficient and more likely to invest in productivity-enhancing technologies than their smaller Midwestern counterparts, said Brian Buhr, an agricultural economist at the University of Minnesota and author of the report. "When we surveyed dairy industry participants, they identified modernization of facilities as the key issue for Minnesota dairy competitiveness."
In other sectors, such as grain milling, sharing a zip code with commodity producers is less vital than being within a few hours truck haul of sizable consumer markets. Because shipping grains via boxcar or truck is fairly inexpensive, Minneapolis-based General Mills can profitably manufacture breakfast cereal, cake mixes, snacks and other products just about anywhere in the lower 48. Company plant locations include Buffalo, N.Y., Toledo, Ohio, West Chicago and Los Angeles. Three years ago, Missouri-based American Italian Pasta Co. opened a $36 million plant in Kenosha, Wis., far from the durum fields of the Dakotas and northeastern Montana—but within 200 miles of most of its pasta buyers, including General Mills and Kraft.
Shopping around
Food manufacturing executives charged with finding a favorable location to can hams, roast barley or whip up cake mixes consider other factors that have nothing to do with access to supplies or markets. In their cost-benefit analyses, companies also weigh issues such as labor quality and supply, wage rates,land costs, state and local taxes, and environmental regulations. In certain food sectors these secondary factors favor predominantly rural states that processors perceive as gentle on their bottom line.
Cheap labor is attractive to meat processors, a slice of the food industry that hasn't invested as much in automation. The typical disassembly line is a low-tech affair, manned by ranks of workers wielding cleavers and knives. Conditions are harsh, and turnover high. In southern Minnesota, meat processors not only have a ready supply of hogs and turkeys in their backyards; they also have a workforce hard-hit by troubles on the farm and willing to work for less than $12 an hour.
In the late 1980s, Minnesota processors began supplementing homegrown line workers with immigrants from Mexico, Central America, East Africa and Southeast Asia. A number of labor studies have concluded that large-scale meat processing in this country couldn't be sustained without an influx of low-paid immigrants, who have greatly diversified the ethnic profile of Austin, Worthington and Faribault (all in Minnesota) and other towns like them throughout the district.
When it comes to taxes, size matters; the bigger a processing plant is, the more land it requires, and the more it pays in property tax as well as corporate income tax. So food companies take note of tax-structure disparities among states. "Even if other factors are not equal, location decisions are swayed by the value of [tax and other] incentives," Price of Lockwood Greene said.
How much—or even whether—tax incentives influence the plant-siting decisions is debatable, however. North Dakota courts large-scale food manufacturing with a tax package that includes a 10-year property tax exemption for new or expanding processing facilities, and a sales and use tax abatement on plant construction supplies as well as equipment. Economic development officials maintain that the state's salubrious tax climate helped persuade several companies, including Minot Milling and Cargill, which operates a corn milling facility near Wahpeton, to expand in North Dakota rather than elsewhere in the Upper Midwest. But according to the U.S. Census, the state actually lost 13 food-manufacturing businesses between 1998 and 2001, while total employment remained virtually unchanged.
Tightening belts
A corollary to the maxim that people have to eat is that people can eat only so much. Analysts expect the combination of steady-state domestic demand and intense competition in faster-growing overseas markets to limit the prospects of U.S. food processors, even after the overall economy recovers. Some industry observers speculate that further consolidation in manufacturing and distribution will eventually strangle competition, raising prices at the grocery checkout. But Kinsey of the Food Industry Center believes that a countervailing force will keep exerting downward pressure on grocery prices: the massive buying power of grocery chains such as Wal-Mart and The Kroger Co. In the last eight years consolidation has also rippled through the retail end of the food supply chain, leaving fewer companies commanding ever-larger shares of the market.
If Kinsey is right, consumers will pay less and less in real income for basic foods, while turning to more expensive specialty products from value-added and other niche suppliers to add spice to their diets. But staking out space on the shelf and piquing the appetite of consumers will be a challenge for small food manufacturers competing in a food distribution system built by and for multibillion-dollar conglomerates. "A hundred farmers are not going to be able to compete with Tyson or the likes of them," said Mark Drabenstott, director of the Fed's Center for the Study of Rural America in Kansas City, Mo.
U.S. FOOD EXPENDITURES AS A PERCENT
OF DISPOSABLE PERSONAL INCOME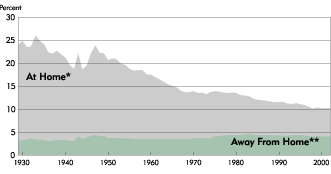 * Food purchases from grocery stores and other retail outlets.
Includes food produced and consumed on farms.
** Purchases of meals and snacks by families and individuals.
Excludes food paid for by government and business.

Source: U.S. Department of Agriculture,
Economic Research Service
In the district, food processing employment will almost certainly drop, even if economic output rebounds to pre-2000 levels; the drive to reduce head count through automation is inexorable, even in labor-intensive industries such as meatpacking. But the pattern of plant openings, expansions and closings will be uneven, with states and regions gaining capacity in some sectors and losing it in others.
Dairy processing appears destined to slowly decline in Minnesota and Wisconsin as processors like Davisco move west to where the cows are, or where they think they'll be in the future. South Dakota has lost more than 35,000 cows since 1992, and that trend continues, according to last summer's nose count by the state Agricultural Statistics Service. But milk production per cow is up, an indication that dairy farmers are investing in new equipment and high-tech breeding. Demand from Davisco's plant may, as Mitch Davis believes, stabilize or even rebuild the herd and increase milk flow in the state, attracting further investment in dairy processing.
Locally milled pasta will remain a staple for durum growers in the Dakotas, providing an alternative to selling bulk wheat to giant grain merchandisers such as Cargill and Cenex Harvest States. In addition to an expanded Minot Milling, North Dakota's pasta cluster gained a new member last fall: La Rinascente Pasta, a former New Jersey company that a group of 32 state investors bought (assisted by a $50,000 state grant) and moved to Hope, a small town southwest of Grand Forks. Fifteen employees were scheduled to begin making fideo, a type of folded pasta popular in the Caribbean, in February.
But the cluster may not have much more growing room. Transporting pasta from durum country to fast-growing urban markets in the South and West is expensive for national processors with plants in the region. And due in part to the low-carb/high-protein diet craze, Americans are eating less pasta; for the year ended last September, supermarket pasta sales fell 3.7 percent.
Prospects for turkey and hog processing are good in southern Minnesota, boosted in the short term by the national furor over mad cow disease. (Most of the nation's beef is processed in Kansas and Nebraska.) In the long term, environmental issues may constrain the growth of Big Meat in the district. Confinement barns housing thousands of animals go with the territory in pork and poultry processing. The resulting manure tends to seep into lakes, streams and groundwater, and pungent odors waft into the nostrils of nearby residents and passing motorists.
Buhr, of the University of Minnesota, believes that tighter regulation of large hog farms in Minnesota and the Dakotas may drive pig farmers—and the companies that rely on their output—to less environmentally squeamish states such as Oklahoma and Kansas. Hogs can still be raised and slaughtered cheaply in the Upper Midwest, he said, but the industry is at a "tipping point" where environmental concerns are becoming an impediment to further development.
In Minnesota, several townships and counties have imposed moratoria on large-scale hog operations while state regulators and the livestock industry lock horns over environmental rules. In North Dakota, the efforts of a Canadian firm to raise tens of thousands more hogs in the state's northeast corner for slaughter at an expanding plant in Brandon, Manitoba, have encountered resistance from citizen groups that object to potential pollution and fallout for tourism near scenic Pembina Gorge.
Manna for small towns
What if a food manufacturer announced plans to build a plant in a small town—and the community told the company to go can peas or eviscerate chickens someplace else? The potential downside of large-scale food processing in small towns has been well documented: environmental degradation, high turnover in schools, substandard or scarce housing, stress on public services such as health care, police and fire prevention.
The economic spillover effect of a new or expanded food processing facility is modest, because wages for line workers in food plants are modest at best. Small, value-added processors don't pay much more than the big, national plants; at La Rinascente Pasta, workers on the processing and packaging lines start at $9 an hour. That doesn't leave much discretionary income to spend at businesses on Main Street and in nearby towns. And there's always the threat of closure and layoffs when the parent company decides to consolidate production elsewhere, or the market for a particular food sours. What Tyson giveth ...
But given the alternative—few jobs and a tottering tax base—many small communities seem willing to welcome food processing companies with open mouths. After all, $9 an hour—up to $14 for more senior positions—is "pretty good for Hope," said La Rinascente Plant Manager Todd Benedict. The only other significant private employer in the town of 300 people is Micada, a manufacturer of grain handling equipment.
Many small cities and towns in the rural reaches of the district are still in transition, waiting for telecommunications, the Internet or some other new-economy revolution to spur economic growth. Meanwhile, there's food processing. On the outskirts of Lake Norden this spring, Davisco's new cheese plant is getting up to full speed. Jon Davis, head of Davisco Cheese Operations, said that the facility may need another 40-odd workers if processing capacity increases to 5 million pounds of milk per day as planned. It all depends on the cows.
Back in 2002, when Davisco broke ground for the plant, Davis entreated dairy farmers across the country to take a chance on Davisco and the Coyote State. "South Dakota wants you, your family and your cows," he said.