Is there an animal doctor in the house?
It's a familiar, Norman Rockwell-type scene: A pastoral farm in rural America has a sick animal. A man arrives, and by his looks and mannerisms, he's not a farmer, but he belongs there. He doesn't have the day's chores all over his clothes, but he's willing to get his hands dirty. Everyone is glad to see him because he's the veterinarian. He makes sick animals well, which translates to economic health on the farm.
Familiar, yes. Maybe circa 1970. Call it Marcus Welby, DVM.
Not that this nostalgic picture of animal doctoring is extinct today. Throughout the Ninth District, many veterinarians still make barn calls to care for cows, horses and other farm animals. But the industry of veterinary medicine has changed, in both practice and practitioner, over the past several decades.
In regions across the district, ranchers are finding veterinary care hard to find, at least close by. As the executive vice president of the North Dakota Stockmen's Association for two and a half decades, Wade Moser has seen the vet problem gradually grow over time. "We are running into a problem, and have for some time," Moser said.
That's not to say veterinary medicine is dying out as a profession. Quite the opposite, in fact: Demand for veterinarians has been steadily growing, thanks to an expanding global food chain, an increasing love of pets and the growing presence and sophistication of human—yes, human—health care in the economy (see "Not for pet's sake, but yours"). At the same time, there has been a shift in the veterinary workforce itself. Once a male-dominated profession, the industry's practitioners, particularly young ones, are overwhelming female today. Part of this workforce transition is believed to be half chicken, half egg, both springing from and being a catalyst for other changes in the field of veterinary medicine.
Trends in veterinary demand and supply have tended to be bad news for traditional rural vet practices and the isolated ranchers they serve; both often struggle to find professionals willing to take on the lifestyle of a rural farm vet. That might sound like an isolated problem, but everybody has to eat, and some are warning that a shortage of the folks who help maintain a healthy food supply has broader implications beyond farm economics. Indeed, veterinarians are playing a bigger role in the food chain and health care systems, and some evidence suggests that the vet workforce in these areas will be pressed as well.
Oh, give me a home?
The field of veterinary medicine has never been limited to farm-animal vets, of course (what the industry variously calls large-animal, food-animal or food-supply vets). But in rural America, it's a critical part of the farm economy, and many rural areas in the Ninth District are feeling the pinch of a shortage of these veterinarians.
Research from the American Veterinary Medicine Association (AVMA) shows that 77 counties in the district—about one of every four—have no large-animal veterinarian (based on residence). In Minnesota, the Dakotas and Montana—where a majority of commercial animal raising takes place in the district—48 of 61 counties with no large-animal vet had large-animal populations of at least 10,000; 20 counties had populations exceeding 40,000. Many other counties also struggle with too few vets. For example, 46 additional counties have animal-to-vet ratios exceeding 40,000 per vet.
There are no hard-and-fast rules about such densities, in part because labor markets don't adhere well to county borders, and rural farm vets are used to driving long distances between clients. The AVMA's figures also don't factor in the "care ratio" of various farm animals. A single vet, for example, can care for many more chickens or turkeys than hogs, which in turn are less time-consuming than cattle or horses.
But insights from a host of industry sources—including more than a dozen practicing vets, ranchers, academics and industry sources who responded at length via e-mail—suggest a shortage is very real in some places. South Dakota ranchers appear to face the most widespread shortages. AVMA data show 15 counties there with roughly 60,000 to 125,000 animals and one or fewer vets; seven of those counties have no resident large-animal vets. Barry Jennings, executive director of the South Dakota Beef Industry Council, called the vet shortage "quite bad" in that state, especially for cattle.
Patrick Lunemann runs Twin Eagle Dairy, a 500-head farm near the 600-person town of Clarissa in central Minnesota. By e-mail, Lunemann said vet availability in the region is "just barely adequate. If one of our vets retired or got hurt, the remaining vets would be working themselves ragged."
Ranchers can still find veterinary care, but many rural vets can no longer afford to travel for single cases because it takes too much time, several sources said. That has consequences for animals and ranchers.
According to Moser, from the NDSA, "What happens in a case of emergency is you load the animal up and drive twice as far, or it ends up being a fatality." A drive of 30 miles to the nearest vet might seem like a long way, but was manageable in the past, Moser said. Now a rancher might have to drive 100 miles, "and you're just going to lose."
Say "aaaarf"
The shortage of food-animal veterinarians offers an interesting case study on labor dynamics. Aside from what the anecdotes might suggest about vet supply, the number of licensed veterinarians has grown steadily—particularly in Minnesota and North Dakota—since the late 1990s in four district states (see charts).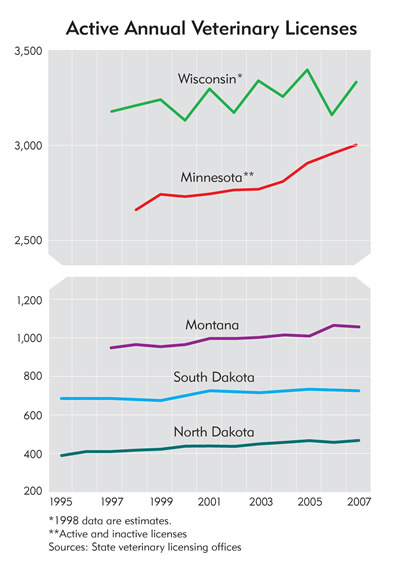 (Editor's note: Minnesota's licensing office could not differentiate active and inactive licenses. So that state's figures include active and inactive licenses, which introduces some uncertainty regarding trends among practicing vets in Minnesota and possibly elsewhere. For example, including inactive licenses in the total count for Wisconsin gives that state almost twice as many licenses as Minnesota—a seeming anomaly given comparable populations and economies in the two states. But licensing officials in neither state could reconcile the difference.)
What the broader data don't show, however, is a steady shift in terms of veterinary practice. The most obvious is growth of small-animal or companion-animal practices—what most people know as pet vets. In a nutshell, vets are more likely to practice their craft in an urban office than in rural barns, caring for cats rather than cattle. According to the AVMA, only about 17 percent of vets work in food-animal science, while 70 percent work with companion animals.
That split is likely to be smaller in district states because they raise more food animals than urban coastal states. But district sources universally agreed this shift is very real in the district.
Leslie Grendahl, executive director of the Wisconsin Veterinary Medical Association, said that evolution is evident in the organization's membership. From 1997 to 2007, the number of member vets who were exclusive bovine or food-animal practitioners increased by about 15 percent. Not bad, but by contrast, membership among companion-animal vets doubled over the same period, according to Grendahl, and virtually all of the net increase in new vet practices in the state is among companion-, small- and exotic-animal practices.
The reasons aren't hard to discern. Some of them are pull; some are push. The growing environmental movement has made wildlife care a popular career choice, though the number of jobs is still limited. The real underlying driver is pet care: People own more pets today, and they're more affluent and can thus afford more professional care when pets are sick.
Numerous sources pointed out that pets are now considered family, and owners see pet health care in more emotional terms. Moser, from the NDSA, said that dog owners charged $500 "don't grumble over it. But for a rancher, he would have a fit about it."
Equally important, when new vets are considering their professional options, the lifestyle of a rural farm vet doesn't necessarily make for a great marketing brochure. Consider this characterization from Lunemann, who is also the current president of the Minnesota Milk Producers Association: "The hours are miserable, the work is in all types of elements and the price they can charge per hour is less than one could for a pet that is considered family by their owners."
That's not to say that those with rural farm practices hate their jobs. A major national survey commissioned by the AVMA in 2006 looked at job satisfaction and turnover. It found that practicing food-animal vets "reported a high degree of satisfaction" with their jobs, reinforced by a low turnover rate despite many desirable alternatives. The problem, according to the report and many sources, is convincing new vets that it's the right career choice.
"It's hard to attract vets to rural areas," said Moser, who piled on by noting that on-call frequency is much higher—often nights and weekends—while companion-animal vets simply refer after-hours calls to emergency clinics and often have weekends off. Not surprisingly, as vets reach retirement age, younger vets have not been eager to take their place in rural practices. In some cases, Moser said, retiring vets "couldn't even sell the practice. ... It's easier (for new vets) to go to Fargo."
Gary Cassel is owner—and would rather not be—of the Northern Veterinary Clinic in Cut Bank, Mont. He's been trying to sell his practice "going on three years now," he said by e-mail. Cassel has been a rural vet for the better part of four decades and is a past president of the Montana Veterinary Medical Association. "I know of other practices for sale, and they are getting the same results ... very few responses." He could have sold the practice twice, Cassel said, "but the spouse did not want to live far away from shopping (and) family."
Sam Holland is the executive secretary with the South Dakota Animal Industry Board. He said via e-mail that a "moderate shortage" of vets in that state was primarily concentrated in the food-animal sector, in part because of lifestyle issues. "Vet medicine is like other professions. Newer generations—and rightfully so, perhaps—have tipped the balance to 'working to live' rather than 'living to work.'"
Though starting pay is reportedly pretty similar in large-animal and companion-animal practices—about $60,000, depending on the market—most sources said the earning potential is much higher in companion-animal and other types of veterinary practices. That's not a small matter when many graduates leave vet school $100,000 or more in debt, according to the AVMA.
He, she, it
Demographic and other changes also influence the career choices of student vets. For example, fewer children are growing up on farms and ranches, and more vet students are coming from urban areas. As a result, most vet students have little or no exposure to large animals, a crucial factor in choosing a veterinary focus.
An even more notable trend is the gender shift. Only a few decades ago, veterinarians were predominately male. But women have been storming the profession. Membership in the Wisconsin Veterinary Medical Association is still majority male (58 percent), but that won't likely hold for long. More than 80 percent of student members are female. Of the 1,000 or so applicants for the class of 2011 to the University of Minnesota's College of Veterinary Medicine, 77 percent were female. Nationwide, 79 percent of applicants to vet schools were female, according to the AVMA.
That matters on the farm. Daryl Buss, dean of the University of Wisconsin's School of Veterinary Medicine, said via e-mail that female graduates from that program choose careers in companion-animal practice "to a significantly greater extent" than careers in food-animal practice. John King, executive director of the Minnesota Board of Veterinary Medicine added (also via e-mail) that in his experience, "fewer female veterinarians have interest in food-animal veterinary medicine."
Not that women don't ever choose the field, or can't do the work involved. Scott Jones is president of the South Dakota Cattlemen's Association and runs a 700-head cow-calf operation with his father and brother on an 18,000-acre ranch near Midland, S.D. He said via e-mail that female vets can do "anything a male vet does, although where brute strength is required, this may be an issue." Some have questioned the level of respect and reputation that female vets receive from farmers used to dealing with male vets. Jones said he doesn't see it. "I believe the female veterinarians in our area are well received and respected."
According to Lunemann, from Twin Eagle Dairy, "Most livestock producers I know will not be concerned about whether the vet is male or female, as long as they can perform on the job." Sometimes, a taller person might have an advantage for certain procedures—like a difficult calving, he said. "It's not a gender issue, but more of a height and strength issue, which females more often would have a disadvantage. ... The female vets we have had practice for us were marvelous. Unfortunately, they all moved away."
That gets back to lifestyle issues, and the gender shift does appear to present additional challenges to the shortage of large-animal vets. Grendahl, from WVMA, said via e-mail that the profession "allows people who want to work part time to do so." Many female veterinarians are raising families and choose to stay at home part of the week. "This is happening quite frequently and was hardly done, if at all, 20 years ago."
Holland, from the South Dakota vet board, agreed that female vets tend to provide fewer hours of service, which "sometimes is misinterpreted as an overall increase (in) demand for service" because a rancher might have difficulty finding an available vet. Instead, Holland pointed out, "it is really a shift in the supply" because female vets are forgoing the long hours that male vets typically scheduled in the past.
Take two horse pills, and call me in the a.m.
It all adds up to steadily building demand for a limited labor pool. Enrollments in veterinary schools have seen a modest but steady climb nationwide—about 2 percent per year from 2004 to 2007, according to data from the Association of American Veterinary Medical Colleges (AAVMC). Enrollment expansions are typically predicated on lab and faculty expansions. Those tend to be expensive, and often not the first priority for either legislatures or big-pocket donors.
The only two veterinary colleges in or near the district are at the universities of Minnesota and Wisconsin. Minnesota has about 360 vet students; Wisconsin, about 320. Total enrollment at both institutions has been flat of late, according to the AAVMC.
Buss, the UW dean, acknowledged that demand for veterinarians is projected to increase across all disciplines. But he pointed out the school's enrollment "is dictated by the capacity of our lecture halls and teaching laboratories, as well as by the size of our faculty." The result, according to Buss, is that each area of veterinary medicine will be "in competition for the services of a too-small national supply of veterinarians."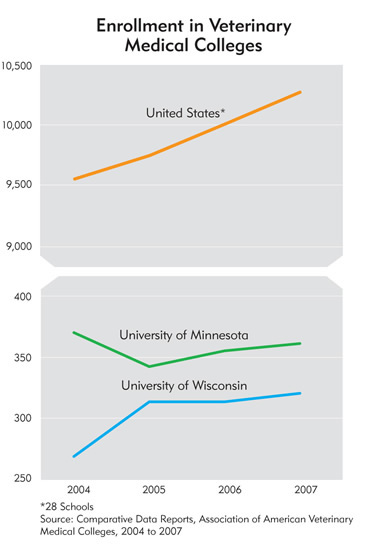 That sentiment is borne out in the major study that AVMA commissioned in 2006. Focused on the food-supply industry—from large-animal to poultry and small ruminants, federal and other government food and public health regulators, and the university faculty needed to train them all—the study surveyed veterinarians in academia, industry, government and private practice, as well as vet students. It found that forecasted demand for the coming decade for food-animal veterinarians was increasing about 1 percent per year.
"The bigger story," the study said, was about "the likelihood of shortages of food-supply veterinarians"—estimated as high as 5 percent—because many in the field were expected to leave their place in the food chain "due to career changes, including retirements."
It's hard to say exactly what the effects of any shortage are, but it's clear they go beyond the rural farmer waiting longer or paying more for a barn visit. The AVMA study said gaps between supply and demand "leave both the profession and society vulnerable to shocks that will come in animal disease or bioterrorism/agro-terrorism threats," while exposing vulnerabilities in food safety, public health and economic well-being.
Already producers face large risks from disease, and a shortage of vets to diagnose and stem the spread of disease will only exacerbate this thorny problem. In 2006, for example, five cattle herds in northwestern Minnesota tested positive for tuberculosis and had to be culled. Minnesota lost its tuberculosis-free status in the process, which means ranchers cannot sell their animals out of state without expensive testing to ensure the disease does not spread beyond state borders. Montana faces the same prospect when a cattle herd near Bridger was diagnosed last May with brucellosis. If another case shows up in the state within 18 months—roughly through the end of this year—the state will lose its brucellosis-free designation.
Now add in other animal diseases like mad cow, foot and mouth, anthrax, pseudorabies and avian flu, along with food-borne diseases (E. coli, salmonella) and other public health threats that can involve animals (cryptosporidium, even the recent pet food recalls), and you start to get an idea of the public health role of veterinarians. In testimony last May, WVMA president and dairy farmer Ray Pawlisch told the Wisconsin Legislature, "The further removed animals are from veterinary supervision, the greater the risk is to the animal, owner and public."
How now, brown cow?
Economic theory posits that there is really no such thing as a labor shortage. There might be short-term mismatches, mostly because the market is not willing to pay what it takes to get the veterinary services it demands. But over the long run, markets adapt, especially if they are forewarned. And, in fact, that appears to be happening.
For example, increased on-the-job training by medical device firms is a perfect example of companies doing what they might have preferred universities to handle, but could not wait for schools to tackle. Some firms are also helping vet schools expand their offerings.
Even on the farm, things are changing. Moser, from NDSA, said there are 1 million cows in the state, and the insemination period is packed into a two-month period. "We don't have enough vets to cover" the necessary pregnancy testing. As a result, "more lay people are doing the work themselves," Moser said, which isn't against the law, so long as farmers are performing the tests on their own herds, or otherwise receive no compensation.
Jones, the South Dakota rancher, said his brother does pregnancy tests on their herd, "and we perform some procedures and treatments that many producers rely on a veterinarian for," including castration, dehorning, vaccinations and prolapse treatment.
Some believe a system of veterinary paraprofessionals would help alleviate the supply crunch. Under such an arrangement, less sophisticated tasks of animal care would be handled by other technicians and would require less schooling than a veterinary degree. This would free up vets to apply their specialized skills where they are needed most. Such arrangements are common in human health settings, where nurses and other technicians handle many common tasks.
Moser said the NDSA has proposed changes so that certain tasks, such as pregnancy tests, could be legally administered for a fee by someone without a veterinary medical degree. "When we try to do that, we run into a big roadblock with the veterinarians." But he said he also understands the dilemma; many rural practices are struggling, and they don't want to lose that portion of their business.
Other efforts to goose the supply of vets have long been afoot at various government levels. In July 2007, the U.S. Senate approved the Veterinary Public Health Workforce Expansion Act, authorizing a competitive grants program to increase capacity at the nation's veterinary medical schools "and alleviate the critical shortage of veterinarians."
But if the past is any indicator, don't expect a big splash. Back in December 2003, Congress passed a law authorizing the U.S. Department of Agriculture to provide incentives for veterinarians who choose to take vet jobs in underserved areas, but attached no funding to the program, and the USDA committed none either. Finally last year, the USDA allocated $750,000 to help 25 vet students repay their loans. So far, according to one USDA official, there have been six eligible candidates and "two confirmed takers."
Many are trying to get their home states to create similar programs, including Wisconsin, where Grendahl said her organization is attempting to pass a loan forgiveness bill "to encourage new veterinarians to go into food-animal medicine."
Whether these and other efforts are enough will only be known after the fact. Indeed, even if supply of vets does not increase, it will likely match demand eventually, if maybe not in the way most would hope. Said Holland, the South Dakota vet official, "Ultimately, declining supply will lead to declining demand, through whatever means."
See: Not for pet's sake, but yours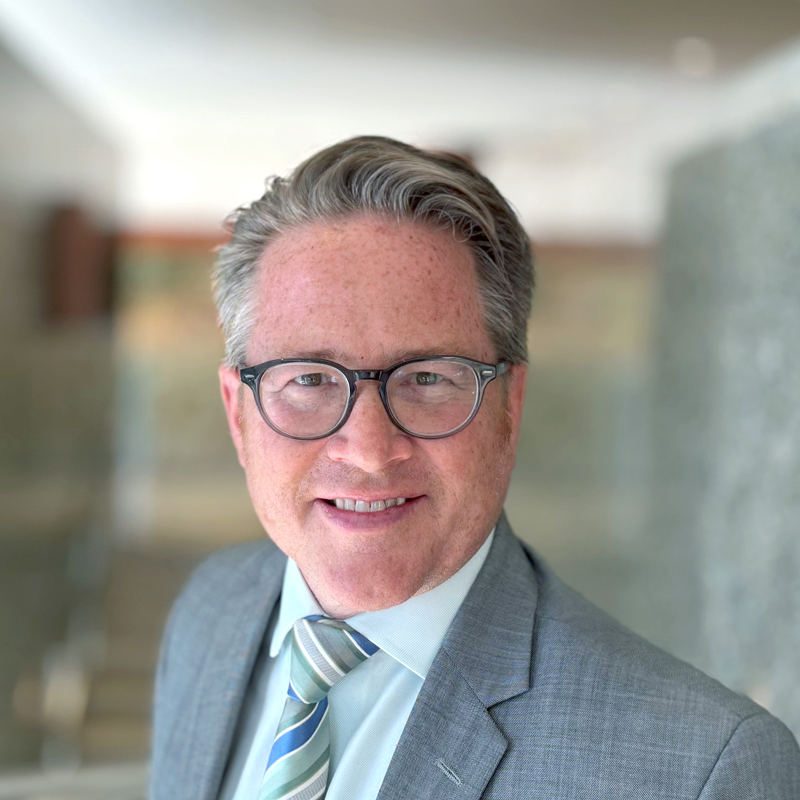 Request as a speaker
Ron Wirtz
Editor, fedgazette
Ron Wirtz is a Minneapolis Fed regional outreach director. Ron tracks current business conditions, with a focus on employment and wages, construction, real estate, consumer spending, and tourism. In this role, he networks with businesses in the Bank's six-state region and gives frequent speeches on economic conditions. Follow him on Twitter @RonWirtz.