North Dakota oil boom squeezes seniors who rent
Ask Deeann Long to describe the recent changes that her area of North Dakota has undergone and she'll sum up the situation this way: "If you want an economics lesson in supply and demand, come to Williston."
As the client services director for the Williston/Dickinson, N.D., branch of the national anti-poverty organization Community Action, Long is a daily witness to the effect that the frenzied energy industry has had on the residents of her North Dakota region. Much of it is positive and comes in the form of employment. But for some residents, the negative repercussions, such as skyrocketing housing costs, deteriorating quality of life, and increasing food prices, are dulling the sheen of this economic surge. For segments of the population that are not fully engaged in the workforce, such as the elderly, the boom's effects may be making life harder.
Long knows these people well, as her organization serves them every day. "For seniors on fixed incomes," she says, "particularly those who rent, times are definitely more challenging."
Boom leads to booming population
Over the past three years, the once-calm economy of western North Dakota and eastern Montana has exploded due to the emergence of energy-extraction activity in the Bakken oil field.1/ Scores of oil derricks and pumpjacks now dot this patch of northern plain, and thousands of people from across the country continue to stream into the area seeking—and readily finding—employment. The oil boom, with its offer of financial well-being in exchange for long hours of hard toil, dangles a promise of economic opportunity not available in most parts of the country.
The majority of the Ninth Federal Reserve District's Bakken extraction area sits in five North Dakota counties: Dunn, McKenzie, Mountrail, Stark, and Williams. The number of people employed in these counties jumped by 60 percent between 2007—just before the boom began—and 2011, from 33,632 to 53,954.2/ With increasing numbers of workers needed to fill not just the new oil field positions but also the service-level jobs that have sprung up to support the oil workers and their families, it's no surprise that the population of these counties increased by 10 percent between 2000 and 2010, from 58,365 to 64,166.3/ And based on estimates of billions of barrels of recoverable oil left in the formation, the oil patch's energy-related activity—and the attendant changes to the economic and physical environment—will likely continue for decades.4/
Ballooning rental costs
For thousands of longtime residents and out-of-state transplants, the energy-extraction activity offers an enormous opportunity for economic advancement. Yet the influx of people appears to have precipitated a housing shortage and other problems that are inflating costs and diminishing the quality of life for some residents, especially seniors who are on fixed, low to moderate incomes and rent their homes. Hard data on these trends are difficult to come by, since the affected population is relatively small and economic conditions in the area are still evolving. But government leaders and social service providers attest to the changes.
"Elderly residents generally fall in one of two categories," says Shawn Kessel, city administrator for Dickinson, the county seat of Stark County, N.D. "Either they own their home and have benefited from the economic activity, or they rent and have had to deal with rapidly increasing rents."
In Stark County, which has nearly 3,900 residents aged 65 or older, approximately 21 percent of the county's 3,225 rental units are leased to seniors, or 685 units. With similar proportions in the other four core oil patch counties in North Dakota, a significant chunk of the population aged 65 or older is likely feeling squeezed by increasing rents.
"Rent costs have more than doubled over a very short period of time," Kessel explains. "Landlords have generally shortened their lease periods to as little as three months for the purpose of resetting rent rates. It's very rare to see a one-year lease now."
In Williston, which is the unofficial hub of the regional energy industry, many seniors face the increasingly daunting task of writing larger and larger checks to keep up with swelling rental rates. "If a senior is in a market-rate apartment, they should be very nervous," warns Long. "The $400 monthly rent they paid a few years ago is now $2,000 a month."
For a retiree living on Social Security retirement benefits alone, which pay an average of $1,229 a month,5/ spending anything more than 30 percent of that income, or $368, on rent is difficult. But paying market rates is practically impossible. Long suggests that some fixed-income seniors living in market-rate apartments may receive help from family. For those who don't receive help, "that situation just isn't sustainable."
The area has some income-restricted and senior housing, but much, if not most, of it is occupied. Recognizing the need for additional affordable housing, developers in Dickinson added 36 units of low-income rental housing in 2010, with plans to add more, according to Kessel. Similar efforts to increase the inventory of affordable apartments are in the works in other oil patch counties. (See the sidebar below on North Dakota's Housing Incentive Fund). And although some seniors, based on their annual incomes, would qualify for federally subsidized housing through the Department of Housing and Urban Development (HUD) Section 8 voucher program, rents for many of the available market-rate apartments far exceed the maximum allowable payment standards established by HUD and various public housing authorities.
Colleen Rodakowski, executive director of Elder Care in Dickinson, an organization that provides meals to people aged 60 or older and transportation services to the general public, describes the housing situation succinctly: "When you have people with good-paying jobs living in pickup trucks, you know that you have a housing shortage."
Increased traffic, crime, and prices stress residents
While seniors contend with scarcer and more expensive housing, they must also cope with quality-of-life detriments, such as increased traffic and crime, and further financial stresses in the form of higher food costs.
"Our traffic is unbelievable," Rodakowski says. "Semis are driving through our towns and breaking up the streets. It's been difficult for a lot of people, particularly elderly people who may not be comfortable with driving in so much congestion."
As a case in point of the surge in traffic, some stretches of State Highway 22, which runs north-south through Dickinson, experienced a near doubling of average daily traffic volume between 2007 and 2011, from 4,000 to 7,155. Moreover, the average daily number of heavy commercial trucks during the same time frame quadrupled, from 405 to 1,620. Increases are similar, if not worse, in Williston.6/
"The heavy traffic and congestion in town are really discouraging some people from driving," says Long in Williston. "You're endangering yourself if you make a left turn across the constant stream of oncoming traffic."
While the increase in traffic has instilled some residents with a sense of hesitancy about leaving home and driving, Rodakowski says that many people, including the elderly, have expressed a fear for their safety at home, going so far as to install alarm systems. The fear reflects the fact that the number of felony cases in the Southwest Judicial District, which includes Dickinson, increased 85 percent between 2006 and 2011.7/
Increasing food costs are another cause for concern.
"Everything has gone up in price, and everyone is seeing it," explains Rodakowski. "We're not used to this, but sometimes you go to the store to buy food and the item you want is already sold out, even at places like Wal-Mart."
Although the number of meals her organization provides to people aged 60 or older is slightly declining, a fact she attributes to fewer younger elderly replacing the older recipients who move out of the area or pass away, the cost to provide each meal is steadily growing, from $9.08 in 2010 to $9.45 in 2011, and then to $10.83 as of June 2012.8/ Elder Care provides meals for a small recommended donation, which is unenforced, as the primary funding comes from government assistance through the Older Americans Act.
Kessel, Dickinson's city administrator, explains that the cost of living in Dickinson has increased largely as a function of wage inflation. "You can't hire a bag boy at the grocery store for $8 an hour anymore," he says. "You're going to have to pay $12. At a fast food restaurant, you're going to pay $12 to $15 an hour. This is going to drive up prices. In my observation, all sundries cost more here than in other cities in North Dakota that are not experiencing the oil boom."
A win-win … or not
Anecdotal evidence suggests that some seniors, given the economic circumstances of their area, are taking advantage of the employment opportunities the oil boom provides. For a variety of reasons—extra time on their hands, the need for additional income, the desire to be in social environments—some seniors are trading full-time retirement for full- or part-time work. Rodakowski, in fact, knows one man who decided to come out of retirement to work as a construction site supervisor and has heard of others taking clerical jobs.
"Finding good, qualified people to work for you can be challenging," Rodakowski says. "Some business owners are asking retirees they may know to come out of retirement and work for them. The businesses get good workers, and the retirees earn some money. It's a beneficial arrangement for both parties."
At this point, it's not clear exactly how many seniors are benefiting from win-win arrangements with area employers and how many are struggling with increasingly dire financial circumstances as rents and other costs rise. What is clear is that the economy and quality of life in the heart of North Dakota's oil patch have been profoundly altered. As the supply-and-demand cycle continues to play out in the Bakken region, the long-term effects on the senior population remain to be seen.
North Dakota establishes Housing Incentive Fund
Recognizing that the oil patch area has a severe shortage of housing options for people of modest means, the North Dakota legislature recently authorized establishing a $15 million fund that is dedicated to the creation of affordable housing. The Housing Incentive Fund (HIF) is available to builders who construct or rehabilitate multifamily developments containing units designated for low- to moderate-income households. The projects must contain a minimum of four units, and 30 percent or more of the units must be rented to qualifying households at affordable rates over a 15-year period.

The fund is being financed through voluntary contributions made by taxpayers, who can specify where their dollars should be spent. For every dollar that an individual or corporation contributes, a dollar tax credit will be issued to the contributor. As of August 2012, nearly $7.1 million had been raised and $11 million had already been committed.

One project drawing funding from the HIF is the conversion to rental housing of a historic junior high school in Williston. The project, which will use $200,000 from the HIF, will ultimately provide 28 one-bedroom and 16 two-bedroom affordable apartments for people aged 62 years or older. The refurbishing started in September 2012 and is expected to be completed by October 2013.

According to Lutheran Social Services Housing, a nonprofit provider of affordable housing and one of the project's sponsors, the new development will enable seniors who live in the complex to stay in their communities for the duration of their retirement years.

Sources: Lutheran Social Services of North Dakota and North Dakota State Housing Finance Agency.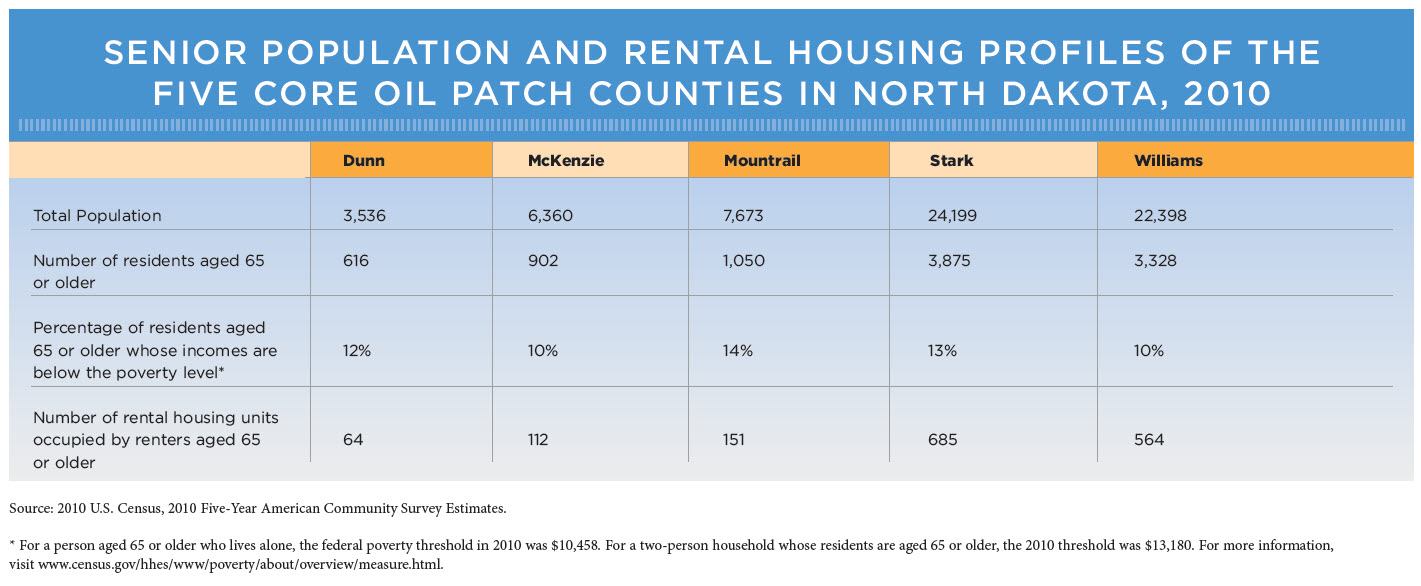 click to view larger image
---
1/ The Bakken is a 200,000-square-mile, oil-rich, shale rock formation located a mile beneath portions of North Dakota, Montana, and the Canadian provinces of Saskatchewan and Manitoba. "Bakken" refers to Henry Bakken, who owned property atop the formation at the time of the discovery.
2/ Figures drawn from the Bureau of Labor Statistics, Local Area Unemployment Statistics, labor force data for 2007 and 2011. See http://www.bls.gov/lau/#tables.
3/ Data drawn from the 2000 and 2010 U.S. Census. Because of the continued demand for workers since the 2010 Census figures were recorded, the population increase is likely higher.
4/ For more on trends in the Bakken region, visit the Minneapolis Fed's Bakken Oil Boom web page located at www.minneapolisfed.org/publications_papers/fedgazette/oil. The page tracks data from eastern Montana as well as western North Dakota and thus may feature different figures from those listed here.
5/ Figure taken from the Social Security Administration, www.ssa.gov/policy/docs/statcomps/supplement/2012/5a.html#table5.a1.
6/ In Williston, along Route 85, average daily traffic volume in the southwestern part of town increased from 8,455 to 21,355 between 2007 and 2011. Daily commercial vehicle traffic volume, meanwhile, quintupled from 1,265 to 6,620. These figures are drawn from Historical State Traffic Count maps available from the North Dakota Department of Transportation, 2007 and 2011, at www.dot.nd.gov/road-map/traffic.
7/ The Dickinson Press, June 20, 2012. The Southwest Judicial District includes Adams, Billings, Bowman, Dunn, Golden Valley, Hettinger, Slope, and Stark counties.
8/ Elder Care provides both home-delivered meals and congregate meals. The dollar figures listed here reflect averages of both services.