Protecting Tenants at Foreclosure Act guarantees renters a baseline of legal rights
Most of the phone calls housing attorney Matt Eichenlaub fields from his office at HOME Line, a tenant advocacy organization in Minnesota, involve complaints about rental property owners who fail to return security deposits or neglect to make necessary repairs to their buildings. But some of the calls Eichenlaub and his colleagues receive involve renters who are living in properties facing foreclosure. These callers aren't worried about security deposits or leaky roofs; they're concerned about coming home from work one day in the near future and discovering that the locks have been changed and their belongings are sitting in the front yard.
"Most of those tenants I talk to are within a week or two of the sheriff sale," he says, referring to an event in the foreclosure process wherein the house in question is auctioned to a new owner. "They don't know how long they are allowed to stay."
The issue of tenants' rights in foreclosed homes has gained prominence over the past several years as the number of foreclosures of both owner-occupied and renter-occupied properties across the country has reached historic highs.1/ While losing a home is an unnerving prospect for any type of resident, it can be particularly frustrating for renters because, historically, they have had virtually no legal recourse to avoid eventual eviction—even if, since the beginning of their leases, they have demonstrated landlord-friendly habits and made timely rent payments.
Yet thanks to a recently enacted federal law, renters nationwide now have a baseline of legal protection. The Protecting Tenants at Foreclosure Act (PTFA) of 2009 guarantees a minimum amount of time for renters to continue to reside in foreclosed single-family or multifamily homes. The provisions enumerated in the PTFA provide an added layer of security to a segment of the population that makes up approximately one-third of U.S residents.2/ Just over a million of the nation's renters live in the Ninth Federal Reserve District,3/ where nearly 40,000 mortgages were in foreclosure or seriously delinquent as of December 2011.4/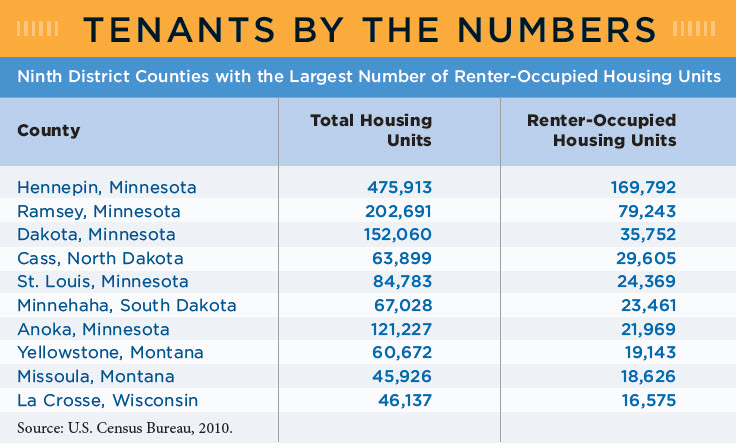 click to view larger image
Protective provisions
The PTFA's provisions guarantee only base-level protections, meaning the act does not supersede state laws that may provide stronger renter security. And unless it is extended, the act will expire December 31, 2014. The PTFA guarantees the following:
Renters who have valid month-to-month leases may remain in their rented homes for 90 days from the date the property changes ownership—specifically, from the date when the title to the property is transferred to a new owner.
Renters who have valid leases (including Section 8 leases5/) that terminate after the date when a foreclosed property's title transfers to a new owner may remain in their rented homes until the end of the lease term. For example, if a renter has a lease that ends September 30, 2012, and a new owner takes possession of the property May 1, 2012, the renter may remain in the home until September 30, 2012. The exception to this provision is when the new owner intends to move into the property. In that case, the renter may live in his or her rented home for 90 days from the date the property changes ownership. In the above example, that would be July 30, 2012.
The PTFA does not protect tenants in the following scenarios: when renters are not current on rental payments at the time their rented property is auctioned at a sheriff sale, when renters have fraudulent leases, and when renters enter into lease agreements after the sheriff sale.
State-to-state differences
Although the guarantees of the PTFA are uniform nationwide, state foreclosure laws vary and may create confusion regarding how long tenants are allowed to remain in their rented homes. Exactly when the guarantees take effect is largely dependent on the date that the new owners receive title to the property, and that differs from state to state. For example, in Minnesota, the sheriff sale is followed by a six-month "redemption period" during which the original owners may negotiate with their mortgage-holding financial institutions to regain ownership of their homes. Transfer of title to the new owner occurs after this redemption period. In many other states, such as Montana, the title transfers at the sheriff sale and there is no such buy-back time frame.
No matter what state a foreclosed rental property is located in, it appears that a prudent course of action for tenants is to continue making timely rental payments. According to the Tenant Resource Center, a Wisconsin-based organization that offers free housing counseling, tenants should continue to pay rent to the original landlord until they receive written notice of a change in ownership. After that, tenants should make rent payments to the new owner or a receiver that is appointed in court proceedings. By continuing to pay rent, tenants will avoid the possibility of eviction on grounds that they breached their leases, and the PTFA will continue to apply to them. The Tenant Resource Center also suggests keeping written records of all rent payments.
While new owners are responsible for informing tenants of their move-out dates, tenants may wish to know more about their legal rights or the status of their rented homes throughout the foreclosure process. For a list of legal centers in the Ninth District that are available to answer questions related to tenants' rights in foreclosure, see the table below.

click to view larger image
Links to Legal Centers in the Ninth District
---
1/ According to Foreclosure to Homelessness 2009, a study published by the National Low Income Housing Coalition and six other housing-oriented nonprofit organizations, nearly 40 percent of families facing foreclosure are renters. For more on the study, visit www.nationalhomeless.org/advocacy/ForeclosuretoHomelessness0609.pdf.
2/ According to 2010 U.S. Census Bureau data, more than 99 million people lived in rental units. Of all occupied housing units, 34.9 percent were renter-occupied.
3/ U.S. Census Bureau, 2010.
4/ Author's calculation based on data provided by LPS (Lender Processing Services) Applied Analytics. This figure includes mortgage foreclosures and mortgages that are more than 90 days delinquent.
5/ The Section 8 housing program, which is funded by the U.S. Department of Housing and Urban Development, provides vouchers to low-income families to subsidize the rent they pay in the private rental housing market. For more information, see portal.hud.gov/hudportal/HUD?src=/topics/housing_choice_voucher_program_section_8.