Contract for deed emerges as a tool for affordable housing organizations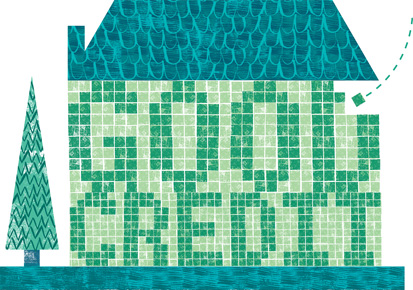 Over the past several years, contracts for deed have emerged as increasingly popular home-purchase arrangements for prospective buyers in the Minneapolis-St. Paul area, particularly for those who lack the ability to obtain traditional financing. In a contract-for-deed transaction, the seller rather than a third-party lender finances the purchase of a property. The terms of the sale are spelled out in an agreed-upon home-purchase contract that lists the selling price, interest rate, time frame, amount of principal and interest applied with each payment, etc. And rather than cutting a monthly mortgage check to a bank or other financial institution, the buyer pays the seller directly. Most contracts for deed require the buyer to make installment payments—on a monthly basis, typically—until the end of the contract term and then make one large "balloon" payment to pay off the remainder of what is owed. To cover the balloon payment, buyers typically pursue traditional mortgages from third-party lenders.
Recent media coverage has exposed the negative side of contract-for-deed arrangements. Unlike traditional mortgages, contracts for deed are not subject to an array of regulations, underwriting standards, and disclosure requirements. The lack of standards and oversight can lead to abuses, such as those described in an article in the Twin Cities' Star Tribune newspaper about landlords using contracts for deed to bypass rental property laws and sell subpar houses directly to their tenants.1/ However, contracts for deed have emerged as a useful vehicle for a few Twin Cities-based nonprofits to pursue their housing stabilization missions. One such organization is the Greater Metropolitan Housing Corporation (GMHC), a Minneapolis-based nonprofit that works to preserve, improve, and increase affordable housing for low- and moderate-income people. Through its Sustainable Home Ownership Program (SHOP), which was launched in 2008 in partnership with a housing stabilization organization in St. Paul called Dayton's Bluff Neighborhood Housing Services, GMHC operates Bridge to Success, a contract-for-deed program that provides an affordable home-buying option for individuals who cannot yet qualify for a traditional mortgage.
The Bridge to Success contract-for-deed program has financed the sale of more than 60 homes through its current funding pool and pilot programs.2/ Once SHOP meets a goal of increasing the Bridge to Success loan pool to $50 million, it should have the capacity to finance the purchase of 400 homes. To be eligible for purchase through the program, homes must be priced no higher than $225,000 and located in areas of the Twin Cities that are in moderate to high need of stabilization.3/ So far, the average sticker price is $126,000.
In a Bridge to Success purchase, there are two back-to-back transactions. First, after finding a home to buy and negotiating a sales price with the seller, a SHOP-approved buyer signs a purchase agreement that assigns the seller's rights in the agreement to SHOP and places SHOP in possession of the home's title. Next, SHOP completes the sale by executing a contract for deed with the buyer. The seller, who is typically an individual or a developer that rehabs foreclosed properties, is paid according to the terms of the purchase agreement.
Bridge to Success buyers build equity over time and can deduct their interest payments and real estate taxes, just as a mortgage holder can. Although the contract term is 10 years, the contracts are amortized as if they lasted 30 years. That makes the monthly interest payments more affordable. Eighty percent of the homes sold through SHOP's Bridge to Success program must be to households that earn less than 115 percent of the area median household income, or approximately $96,000.4/ No minimum credit score is required, but all buyers must invest a minimum of $2,000 or 2 percent of the sale price, whichever is less. Once buyers succeed in removing the barriers to credit that prevented them from obtaining a conventional or FHA (Federal Housing Administration) loan, they are strongly encouraged to refinance to a traditional mortgage.
Community Dividend spoke with Gary Beatty, vice president of GMHC's SHOP Home Mortgage division, to discuss other details of the Bridge to Success program and to learn more about how contracts for deed can be a tool for making homeownership a reality.
Community Dividend: Bridge to Success encourages its homeowners to refinance to a traditional mortgage once their creditworthiness improves. How does the program increase the chances that home purchasers will eventually transition to a conventional or FHA loan?
Gary Beatty: We do this in a few ways. First, we require prospective buyers to attend standard home buyer education classes, called Home Stretch, that are sponsored by the Minnesota Homeownership Center [www.hocmn.org]. The classes teach people the ins and outs of owning a home, from issues related to credit to the full home-buying process. Second, we require people to meet with a financial counselor so they can gain a better understanding of their financial situation. We want home buyers to succeed and own their homes without any problems along the way, so during these meetings we also help prospective buyers establish a household budget that will put them on the path to a healthier relationship with their finances and repair their credit. Third, we meet about twice a year with the people who end up purchasing a home through us, to check in on their situation. Ultimately, when the time comes for them to get a loan from a bank, we expect that they'll have their credit repaired and their finances in order.
CD: Let's say during one of the check-ins you discover a problem with a homeowner's finances. What happens next?
GB: If we catch the problem early enough, we can modify their payment to match their current capacity until they can get back on their feet. That's not something we're looking to do, but we want people to stay in their homes, so we'll work with them. In this respect, we have more flexibility than a typical conventional mortgage company because we can react more quickly to a problem. To give you an example, a month and a half after one of our home buyers moved into her home, she needed to replace her car. When we had initially processed her home purchase and helped her develop a household budget, she had a $250 car payment. Instead of keeping to that budgeted amount, she bought a replacement car that required a $500 monthly payment, and then she ended up missing a few house payments to us. But when we sat down with her we were able to help her work out a revised budget and add her missed payments onto the end of her contract. She had to make some tough financial choices in order to keep her car and her house, but she did.
CD: In some circles, contracts for deed have a reputation for being problematic. Why is that?
GB: Mostly, it's the balloon payment. There are many instances where the balloon payment comes due and the homeowner can't secure a loan. Poor credit is a big reason for that. Fortunately, our contracts with buyers are for ten years, so they have a lot of time to repair their credit scores. And if they continue to meet with our financial counselors and adhere to their budgets, their credit scores will almost certainly improve. Then they'll be better positioned to secure a mortgage from a financial institution to make their balloon payment. To that end, we work with a local organization to service our contracts—the Community Reinvestment Fund [www.crfusa.com]—and they report the payments to the different credit bureaus, which is the primary way our home buyers repair their credit.
CD: In regard to your contract terms, SHOP currently offers home buyers ten-year financing terms with a 7.5 percent interest rate. That's about double the current interest rates on conventional loans. Why is it so much higher?
GB: The issue is that these loans involve higher risk, and we have to set aside funds for loss reserves because we don't require mortgage insurance. This is what gives us the capacity to work with the buyer when they have financial issues. Also, the investors of our loan fund expect, rightly, to be paid back. But I should point out that even though the interest rate is high, the values of the homes are still really low, and that's where the affordability comes in. Houses that reflected 2006 prices would be too expensive, but the houses we're selling today are considerably less expensive. Furthermore—and this is critical—almost all of our buyers are paying less or the same for their mortgage than they were for their rent. People who buy from us typically end up paying less than 30 percent of their income on housing.
CD: There have been some calls to establish more laws governing contracts for deed, to make these arrangements more transparent and less prone to abuse. If more laws are put in place, what do you think they should entail?
GB: One of the biggest issues around contracts for deed is simply ignorance about what they are and how they work, so more and better information is needed. There should also be more disclosures to the buyer about the actual value of the property, if it has any underlying liens, and about the property's condition, done through a truth-in-housing report. And doing something to make sure contracts for deed get recorded at a registrar of deeds office is crucial. We close ours at a title company, so they're recorded right away, but some other contracts for deed never get recorded.
CD: Where do you see the Bridge to Success program heading over the next several years?
GB: Ideally, I'd like to see it evolve into a mortgage-type product that fills the void that was created by the loss of the subprime lending market. It would focus not just on lending people the funds they need to buy a house but also on helping them move back into the financial mainstream.
For more on the Bridge to Success program, visit www.shop-mortgage.org/financing/bridge-to-success.
Two other Twin Cities nonprofits offer up contract-for-deed options
In addition to the options available through SHOP's Bridge to Success program, two other Twin Cities-based contract-for-deed programs offer eligible households the opportunity to own a home: the MCASA Homes program and the Project: Reclaim program.
Taking it six months at a time
Established in 2004, the St. Paul-based MCASA Homes program is operated by the Model Cities Community Development Corporation (Model Cities) and the Aurora St. Anthony Neighborhood Development Corporation. As part of its housing stabilization efforts, the program has sold six homes under contract-for-deed terms. (Ten additional homes have been purchased through a lease-to-purchase option that the program also offers).
Like the SHOP program, the MCASA program uses financial counselors to help low- and moderate-income home buyers repair their credit and financial standing so they can successfully transition to a standard bank mortgage. But unlike the set ten-year time frame in SHOP's contract terms, the MCASA program establishes its contracts without fixed end dates.
"We contract with the home buyers six months at a time," says Model Cities Project Manager Dale Cooney. "If they're meeting the terms of the contract and therefore taking the steps to improve their credit and debt standing, then we'll extend the contract for another six months. We continue to do this until they have everything required to qualify for a traditional 30-year mortgage."
The typical contract length has ranged from 12 to 24 months, with all six of the contract-for-deed homes having been purchased outright by homeowners who have successfully transitioned to traditional mortgages. (Six of the ten lease-to-purchase properties have been purchased outright by their owners as well). During the contract-for-deed period, the interest rate averages 6 percent. Buyers are incentivized to complete the program in order to qualify for the much lower 30-year interest rates that are available. The average home price so far is around $130,000—a price that reflects reductions made possible through private and government grants, which offset some of each home's acquisition, rehabilitation, and financing costs. To be eligible for the program, participants must be first-time home buyers, complete Home Stretch classes (the same homeownership classes required by SHOP's program), and have a household income of up to 80 percent of the area median household income. Furthermore, eligible participants must have been employed continuously over the previous 24 months.
For more on the MCASA Homes program, visit the MCASA Homes tab at www.modelcities.org.
An incredible carrot
Operated through a partnership between The City of Lakes Community Land Trust*/ (CLCLT) and Urban HomeWorks (UHW), the Project: Reclaim program made its first contract-for-deed transaction in 2009 and has since entered into 16 more. The home buyers in this initial phase of the program agreed to two-year contracts at 3.5 percent interest, with a $2,000 minimum down payment.
"This requires them to have some skin in the game," says Jeff Washburne, CLCLT's executive director.
CLCLT and UHW are acquiring and rehabbing 20 additional houses for the next phase of Project: Reclaim, with the same purchase conditions in place except that the interest rate will be higher, at 6 percent.
While Project: Reclaim's homeownership goals and eligibility requirements are similar to those of the other two contract-for-deed programs in the Twin Cities, the program has a couple of features that set it apart: a financial incentive for home buyers who successfully transition to a traditional mortgage and a "soft landing" for those who are unable to do so.
According to Washburne, in order to help defray the cost of the home, Project: Reclaim will provide a $30,000 grant to people who successfully complete their contracts and ultimately obtain a traditional mortgage.
"It's a pretty incredible carrot," he says, noting that one household so far has successfully transitioned to a standard mortgage. "If they've followed their contract, cleaned up their finances, and built up their credit scores, we can lop off a relatively large portion of the cost of their home."
Embedded in each Project: Reclaim contract is a "credit enhancement plan," which allows financial counselors from CLCLT and UHW to thoroughly monitor the financial condition of each program participant. The counselors meet once a month for this review process.
For those who are unable to work through their financial difficulties, even after a contract extension, CLCLT and UHW will help them transition back into a rental property. That situation has not occurred to date. In the event that it does, the transition will be made easier because part of UHW's programming outside of Project: Reclaim is helping low- to moderate-income people secure affordable housing, including rental.
"We're definitely not going to let people go homeless," says Washburne, explaining that the houses in Project: Reclaim are intended for ownership. "But for a lot of people, homeownership simply may not be a good fit at this time."
For more on Project: Reclaim, visit www.urbanhomeworks.org/housing/buy-a-home.
*/Community land trusts are nonprofit organizations that seek to provide affordable housing opportunities for qualified home buyers. In a land trust arrangement, the homeowner owns the physical house while the land trust owns the land on which the house sits. For more information, see "Community land trusts strive for permanent housing affordability," Community Dividend Issue 3, 2007, available at www.minneapolisfed.org.
To learn more
For more information about contract-for-deed arrangements, see the article "Risks and realities of the contract for deed" from the January 2009 issue of Community Dividend, available via the Publications & Papers tab at www.minneapolisfed.org.
---
1/ "Contract for deed can be house of horror for buyers," January 14, 2013.
2/ Current funders include the Family Housing Fund, Minnesota Housing (the State of Minnesota's agency for promoting and advancing affordable housing), the cities of Minneapolis and St. Paul, Hennepin County, and NeighborWorks America. During the pilot phase of the program, University Bank, Anchor Bank, and the Family Housing Fund provided a line of credit that enabled SHOP to make 45 contracts for deed.
3/ Minnesota Housing is responsible for determining the level of need for stabilization.
4/ Area median household income as established by Minnesota Housing.