Service providers retool and collaborate to address increase in suburban poverty
The food shelf at Community Emergency Assistance Programs (CEAP) is big. With a storage capacity of 6,000 square feet and ceilings reaching 13 feet high, the room, which is part of the emergency service organization's newly constructed and recently opened Northwest Family Service Center in Hennepin County, Minn., can accommodate enough food to feed thousands of people.
"You can literally park a truck in there," says Byron Laher, CEAP president and chief champion of the 44-year-old organization's new facility. "And that doesn't include the food packing area or the refrigerator and freezer space."
One of Laher's goals is to ensure that all needy people who visit CEAP's offices leave with better prospects than when they entered. If they're behind on rent, they'll speak to a housing counselor; if they're in need of clothing, they'll visit the clothing closet; if they're hungry, they'll access the food shelf.
"We don't want anyone to walk away hungry," says Laher. "If you come here with an empty stomach, you'll leave with a bag of food."
Moreover, CEAP shares this new building with more than 200 staff members from Hennepin County's Human Services and Public Health Department (HSPHD). After a CEAP staff member interviews a client and determines, for example, that he or she would qualify for the federally funded, county-administered food stamps program—otherwise known as the Supplemental Nutrition Assistance Program, or SNAP—the screener directs the client from the food shelf to a member of Hennepin County's assessment staff.
Says Laher: "We just send them up a flight of stairs. It's very convenient to have all of these services in one place."
Two decades ago, this veritable one-stop shop for human services would have been built, presumably, in a central city—the locus of need and poverty for most metropolitan areas. But need and poverty are no longer confined to city centers. The new building—three stories in height, 63,500 square feet in size, staffed by more than 275 people from both CEAP and the county—is connected to the Osseo Area Adult Basic Education and Enrollment Center in Brooklyn Center, Minn. The location is a ten-mile drive from downtown Minneapolis, where HSPHD is headquartered. This suburb, with houses on curvilinear roads and a population density less than half that of Minneapolis, has become the area's new frontier of poverty, along with dozens of other suburbs across the seven-county Twin Cities region. Minneapolis and St. Paul, encompassing just under 120 square miles, are still home to the majority of the poor; but the suburbs, spread out across more than 2,600 square miles, are now home to an almost equal number of the area's impoverished.
"There's a lot of poverty out here," says Laher, "and it's dispersed."
The geographic dispersion makes service delivery a challenge in the suburbs, but county social workers and emergency service organizations like CEAP are operating a spectrum of programs—often in collaborative arrangements—to assist impoverished people wherever they reside.
A national phenomenon experienced regionally
Since the start of the new millennium, the percentage of poor in the United States has slowly crept upwards. In 1999, nearly 12.4 percent of the country's population lived in poverty; ten years later, that percentage increased to 13.8.1/ Over the same period, the nation's 95 largest metropolitan areas saw the number of suburbanites living in poverty overtake the number of city dwellers living in poverty.2/ The underlying causes of this statistical shift include a weak economy, employment sprawl, and changes in affordable housing options.
While still elevated, the percentage of people living below the poverty line in the Twin Cities region has remained lower over the past decade than the national average. In 1999, a little more than 175,000 people in the seven-county area lived in poverty, or 7 percent of the population. By 2010, the percentage increased to 10.2, or nearly 273,000 people. While just under half of those people, or 129,163, resided in the suburbs in 2010, the number of impoverished suburbanites grew 81 percent between 1999 and 2010, a rate that far surpassed the 36 percent increase in poverty that Minneapolis and St. Paul experienced during the same period. Bottom line: Poverty is a reality in the Twin Cities suburbs, and it has grown quickly.3/
This doesn't come as a surprise to Amy Lopez, community impact partnership manager at Greater Twin Cities United Way. Lopez's expertise is in hunger relief, and she notes that trends in food shelf usage are typically correlated to the broader economy.
"It's a good way to determine if families are moving into or out of poverty. A large percentage of the people using food shelves now had never used them before, nor had they ever used any social service," she says, noting that food shelf usage in Minnesota has increased 64 percent since 2000. "We've never seen growth like this before."
Use of CEAP's own food shelf is a case in point. In 2007, during the month of August, 429 families visited the emergency service provider's old food shelf; five years later, during the same month, 1,028 families visited it.
"We've made this jump, but we're not gaining any market share," says Laher, "because other suburban poverty organizations are seeing increases like we're seeing."
Other indicators of poverty corroborate an increase in demand for assistance. For example, the number of households that received SNAP benefits increased 41.3 percent in the suburbs from 2007 to 2010; in Minneapolis and St. Paul, household SNAP usage increased 30.7 percent. As a percentage of all households, some specific suburbs had relatively high rates of SNAP usage in 2010: 14.4 percent in Brooklyn Center, up from 9.3 percent in 2007; 11.1 percent in Brooklyn Park, up from 7.5 percent; and 7.4 percent in Richfield, up from 4.4 percent.4/
Moreover, the Minnesota Family Investment Program (MFIP), the state's primary welfare program that provides cash and food assistance to low-income families with children, saw a 20 percent increase in its caseload between December 2006 and December 2010 in suburban Hennepin County, which has the largest suburban population in the state; in Minneapolis, the number of MFIP cases increased by 10 percent during the same timeframe.5/
Finally, redemptions of U.S. Department of Housing and Urban Development housing choice vouchers (HCVs), which enable qualified low-income families to rent homes anywhere—suburb or city—also increased in the suburbs: from 8,104 in 2000 to 10,119 in 2009, a 25 percent rise. Although Minneapolis and St. Paul experienced a 46 percent increase during the same timeframe, from 5,912 to 8,615, the suburbs contained the majority of HCV redemptions—1,500 more than the central cities.6/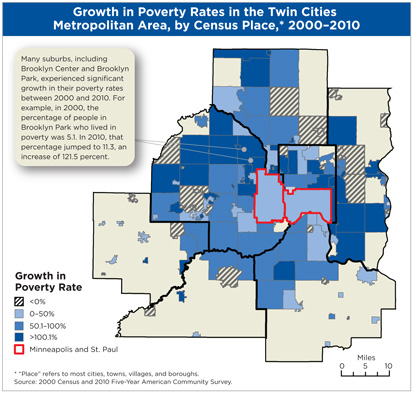 click to view larger image
Nonprofits, counties work together to address need
Recognizing the dispersed geographic reality of poverty, HSPHD is in the process of expanding its presence by opening "hubs" and "satellites" throughout the suburbs. At these offices, clients will be able to access multiple programs, such as financial assistance, social services, and public health services, in one building.
"We're becoming less centralized," says Rex Holzemer, workforce resources and regional development area director for HSPHD. "In the past, if you wanted services, you had to come to us downtown, which is a real imposition on people who are often struggling financially."
Already HSPHD has one suburban service hub in operation—in Brooklyn Center, the recently opened building it shares with CEAP. By 2014, HSPHD plans to open five additional hubs throughout the county, including one in Hopkins, a western suburb; and one in Bloomington, a southern suburb. Each of these offices will have additional, smaller satellite sites throughout the surrounding community.
Operating suburban service offices, particularly in partnership with nonprofits, is a strategy that is catching the attention of United Way's Lopez. She believes clustering services to make them easily accessible is an effective means of delivering aid.
"Nonprofits are having to become more creative in how they work together, and the expansion of services through this collaborative model is a promising practice," she says.
As an example, Lopez cites a partnership between Interfaith Outreach and Community Partners (IOCP), an emergency services organization in western Hennepin County; HSPHD; and Wayzata Community Education, the adult education agency that serves a western suburb of Minneapolis. "The needs of clients are becoming more complex, more intense, and more frequent, and organizations are adopting some really unique partnerships," she explains. "Because of partnerships like the one IOCP has, clients are able to receive a more comprehensive set of services more quickly and conveniently."
Anoka County, located more than ten miles north of downtown St. Paul, has also developed partnerships with area nonprofits to address poverty needs. For example, the Anoka County Community Action Program works with nonprofits to administer its childcare assistance program, which provides childcare services to low-income adults while they work, search for work, or go to school.
"The partnerships we've developed have been critical in strengthening the safety net beneath our most vulnerable people," says Martha Weaver, public information manager for Anoka County. "Demand for services has never been greater, and these collaborative arrangements have been even more important in these difficult economic times."
In cases where agencies don't share physical space, collaborative relationships often rely on referrals and regular interagency communication. For example, when a person walks into CEAP seeking services related to workforce development—a service that CEAP doesn't offer—an employee will refer the person to HIRED, a job-skills training organization that operates out of a separate location. The referrals go both ways: other agencies often send clients to CEAP for specific services.
"In fact, Osseo Schools sends a lot of people to us from adult ed," explains Laher, referring to the Osseo Adult Basic Education program and how school administrative staff will interview adult students to learn about their needs and advise them of their human service options.
Moreover, when CEAP receives more perishable food than it can distribute in a timely manner, such as pallets of yogurt or sweet corn, Laher will contact other food shelves to see if they have a need for the excess food. Other food shelves will contact him under the same circumstances, he says, and "no one is keeping score."
Getting creative to meet demand
Some organizations are recruiting more unpaid help to cope with the increase in client demand. Valley Outreach, an emergency services organization in Stillwater, Minn., which is about 20 miles east of St. Paul, has grown its stable of volunteers from 30 a week in 2006 to 50 a week in 2012.
"We also added a volunteer coordinator," says Cynthia Frederick, Valley Outreach's emergency fund co-director. "We've been fortunate that as need has grown, we've been able to respond."
Volunteers are a critical component of most human service organizations. At Valley Outreach, they help with everything from operating the food shelf to organizing the clothing closet. They perform similar functions at CEAP, too, but there they also perform yard maintenance for needy elderly and help at the organization's youth-oriented food shelf, a collaborative operation run by CEAP and two other organizations. As the Twin Cities suburb with the second-highest share of poor minors, at 47 percent, Brooklyn Center has a dire need for services geared toward youths.7/
"This program is going gangbusters," says Laher, describing how the youth food shelf expanded its operating time from one day a week in 2011 to two days a week in 2012 and is on its way to operating three days a week this year. "We provide the food and the space, and the other organizations perform the program's administrative functions, supply the volunteers, and work with the kids. It's been a really successful joint effort."
For CEAP, finding ways to accommodate new people—either clients, by making clustered services available; or volunteers, by making workspace available—is a central part of adapting to the changing socioeconomic circumstances of the surrounding suburban communities.
"We've gotten creative. We're using more volunteers, changing our hours, partnering with other organizations and agencies," says Laher. "There's a lot of demand for services out here now, and we want to make sure we meet it."
Defining poverty
Each year the federal government issues two poverty measures: one by the U.S. Census Bureau, called "poverty thresholds," and the other by the Department of Health and Human Services (HHS), called "poverty guidelines." The Census Bureau's poverty thresholds are used primarily for statistical purposes, such as determining the number of people in poverty in a given area. HHS's poverty guidelines are used primarily for administrative purposes—for instance, to determine if someone is eligible for a poverty-relief program, such as the Supplemental Nutrition Assistance Program. In discussing the number of people in poverty, this article uses the poverty threshold definition established by the U.S. Census Bureau. Per the Office of Management and Budget's Statistical Policy Directive 14, the U.S. Census Bureau uses 48 different income thresholds, corresponding to family composition, to determine poverty status. For example, in 2010, the official income threshold for a family of four (two parents and two children) was $22,811*/. All members of families of the same composition that earned less than $22,811 were considered impoverished. For more information, visit http://aspe.hhs.gov/poverty/faq.shtml#differences.
*/"How the Census Bureau Measures Poverty," U.S. Census Bureau, www.census.gov/hhes/www/poverty/about/overview/measure.html.
---
1/ Percentages derived from 2000 U.S. Census data and the 2010 Five-Year American Community Survey. In 2000, 34 million people out of 274 million people lived below the poverty line. In 2010, 41 million people out of 296 million people lived below the poverty line.
2/ See the Brookings Institution's report The Suburbanization of Poverty: Trends in Metropolitan America, 2000 to 2008. In 2008, 12.5 million poor resided in the suburbs while 11 million poor lived in central cities.
3/ For the purposes of this analysis, the suburbs included any Place, as defined by the Census Bureau, in Anoka, Carver, Dakota, Hennepin, Ramsey, Scott, and Washington counties, excluding Minneapolis and St. Paul. "Place" refers to most cities, towns, villages, and boroughs. Percentages derived from 2000 U.S. Census data and the 2010 Five-Year American Community Survey.
4/ Data on households that receive SNAP benefits is available from the 2007 and 2010 Three-Year American Community Survey.
5/ Data from HSPHD.
6/ Data on HCVs and other Section 8 categories of subsidized housing are available by viewing HUD's "A Picture of Subsidized Housing" at www.huduser.org/portal/datasets/assthsg.html.
7/ Brooklyn Park, which is adjacent to Brooklyn Center to the north, has the highest share of poor minors, at 49 percent.