More big farms, but not everywhere
The United States has been losing farms for the better part of 90 years, the result of slow, steady consolidation of farms into bigger operations thanks to increased mechanization and other productivity enhancements that bring increasing returns to scale. The most recent agricultural census shows that this consolidation is still ongoing, but comes with some interesting caveats.
The census, done every five years and most recently in 2012 (with data just now coming available), shows that the overall number of farms declined by almost 5 percent nationwide, or about 95,000 farms, since 2007. However, total farm acreage dropped by less than 1 percent.
The drop in farm numbers was even more accelerated in Minnesota and Wisconsin, where farms declined by about 9 percent and 13 percent, respectively. The two states also lost a combined 3.5 percent of farmland acreage. Farms were lost in virtually all categories of size, from very small to quite large. However, there is growth among the very largest farms—those over 2,000 acres—both in the United States and in Minnesota and Wisconsin (see Chart 1).
The Dakotas and Montana, on the other hand, are seeing very different farm trends; overall loss of farms is much smaller, ranging from 5.4 percent in Montana to a 3.3 percent drop in North Dakota. South Dakota actually saw total farms increase by 2.6 percent. Total farm acreage in these states dropped by 1.6 percent—more than the national average, but less than half the rate in Minnesota and Wisconsin. The Dakotas and Montana are also seeing growth in very small farms—those under 100 acres—and a decline in large farms (with a small exception of South Dakota's largest farms; see Chart 2).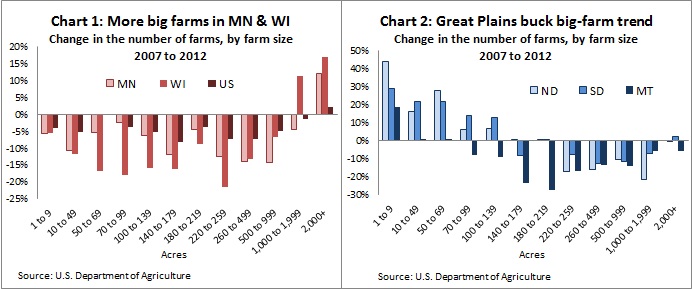 It's difficult to say exactly what's behind this trend. While organic and other small-farm operations are growing, this is also likely a function of more small hobby-farm residences, as well as an increase in hunting properties being bought with growing income in the region, but kept (and rented out) as farm property.
While the number of small farms grew in Montana and the Dakotas, all three states are nonetheless dominated by large-revenue farms, where between 32 percent (Montana) and 42 percent (South Dakota) of farms have revenues exceeding $1 million. That compares with about 20 percent nationwide, and just 18 percent in Wisconsin and 29 percent in Minnesota (see Chart 3).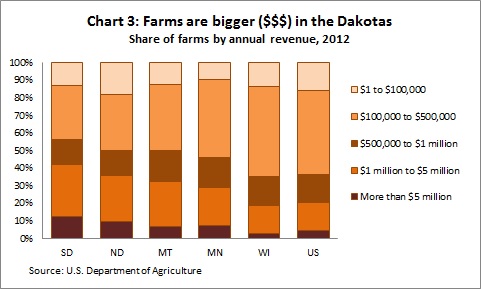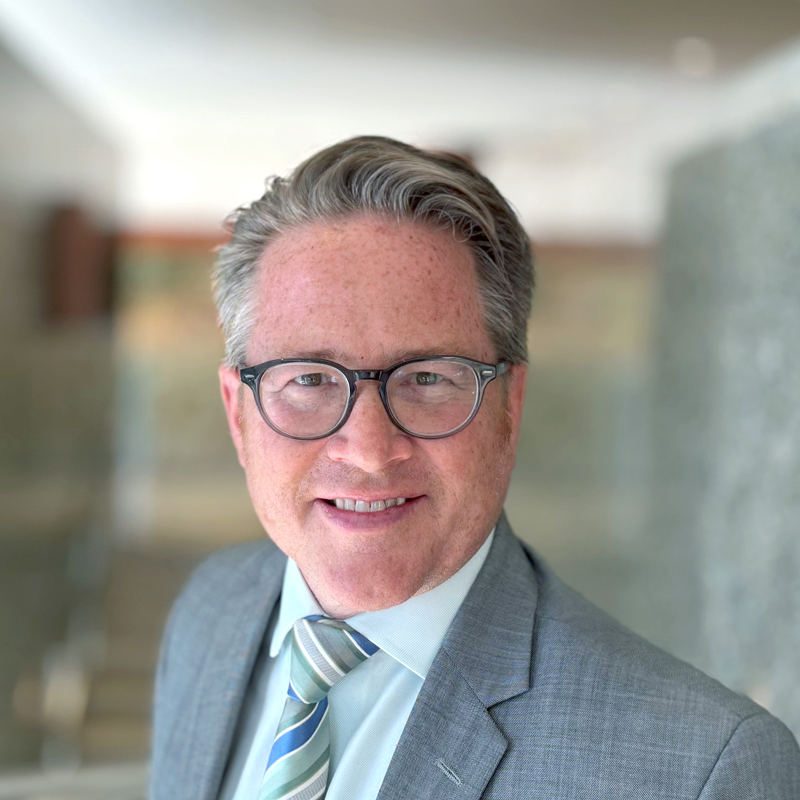 Request as a speaker
Ron Wirtz
Editor, fedgazette
Ron Wirtz is a Minneapolis Fed regional outreach director. Ron tracks current business conditions, with a focus on employment and wages, construction, real estate, consumer spending, and tourism. In this role, he networks with businesses in the Bank's six-state region and gives frequent speeches on economic conditions. Follow him on Twitter @RonWirtz.