Scholar Spotlight: Chelda Smith
The research community at the Institute includes visiting scholars, consultants, economists, research analysts, and research assistants. These scholars bring a diversity of backgrounds, interests, and expertise to research that deepens our understanding of economic opportunity and inclusion as well as policies that work to improve both. We talked with four of them about their work.
---
When Chelda Smith immigrated to the United States from Haiti, one of her first lessons was about how to succeed in America. Her father explained the country's race-based structures that placed Black people at the bottom. To achieve upward mobility, she would need to learn to navigate them.
"[Many of] us understand the social hierarchy and how we're supposed to interact with one another," Smith said. This understanding informs our interactions and results in particular outcomes. Smith is focused on one context: the classroom.
"When people have a sense of agency, they are more ambitious all around."
Efforts to diversify teacher ranks and embrace multicultural curriculums are important, but Smith says a major piece of the puzzle is missing. Most of us—educators included—don't understand or haven't reconciled our own relationships to oppression, privilege, or marginalization.
How then can teachers effectively model or instruct cultural understanding?
As an associate professor in the College of Education at Georgia Southern University, Smith is working to highlight counternarratives—perspectives outside the dominant culture—to empower marginalized students. Counternarratives provide sources of truth beyond the dominant/ White male view adopted by national curriculums.
As an example, Smith offers the disputed story of the Alamo and Texas independence taught across the country. If teachers understand their own biases, they can elevate counternarratives— such as those of the enslaved, women, Indigenous people, and Mexicans.
"It is bad for everyone to learn [the false history of Texas independence], but it is especially problematic for Latinos to learn it," Smith said. "Where is your agency if you're learning false history about your people that denigrates you?"
Elevating counternarratives gives children an opportunity to see themselves in the curriculum in an appreciative—as opposed to deficit-based—way. Without these perspectives, teachers are missing opportunities to educate students toward empowerment.
"When people have a sense of agency, they are more ambitious all around," Smith said. Also, research shows that teacher efficacy is a key to student success. For Smith, it is vital that teachers and teacher educators have "asset-based dispositions" toward marginalized groups.
Using counternarratives, teachers can pave the way to better economic outcomes for all students.
"We can give children an education that allows them to feel they can achieve their goals," Smith said. "But, more importantly, they can use it to help solve the problems of their own communities."
---
More Scholar Spotlights from this issue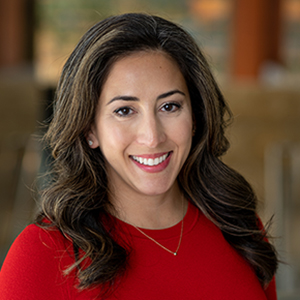 Alyssa Augustine
Content Strategy and Engagement Supervisor
Alyssa Augustine oversees social media and digital engagement, leads the Bank's content strategy, and manages media relations for President Neel Kashkari and other Bank leaders. An experienced TV journalist, Alyssa also contributes articles to the Bank's website and publications.