Casey Winn Lozar named vice president, director for the Center for Indian Country Development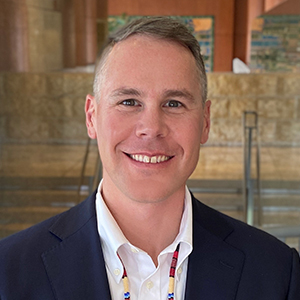 The Federal Reserve Bank of Minneapolis has named Casey Winn Lozar as a vice president and director of its Center for Indian Country Development, a research center focused on economic development and prosperity of Native Nations across the United States.
"Casey brings significant experience developing effective collaborations in Indian Country and promoting community economic development," said Alene Tchourumoff, senior vice president, Minneapolis Fed. "With his leadership, we are poised to make an even greater positive impact in Indian Country through research and policy."
The Minneapolis Fed established the Center for Indian Country Development in 2015 to address disparities in economic outcomes in Indian Country. It is the premier center within the Federal Reserve System working on these issues. To date, its work has largely been focused on promoting homeownership in Indian Country, but it has researched diverse issues impacting Indian Country: labor force participation, returns on higher education, manufactured housing, credit scores, and mortgage lending, among other topics.
"I couldn't be more honored to join the Center for Indian Country Development, and I look forward to working with our many collaborators and partners both within the Federal Reserve System and across the nation in Indian Country," said Lozar. "For too long, Indian Country has been invisible when it comes to economic development and research. With our partners, we hope to illuminate challenges, bring analytical insights, and build cross-sector partnerships to address them."
Since November 2018, Lozar served as assistant vice president and Regional Outreach executive at the Federal Reserve Bank of Minneapolis. He joined the Bank from the Montana Department of Commerce, where he served as division administrator and tribal policy adviser. He previously ran the State Tribal Economic Development Commission and served as the chief marketing and development officer for the Notah Begay III Foundation, which champions Native children's health. He also served as vice president at the American Indian College Fund, where he led resource development efforts. He started his career as a social studies and history teacher. Lozar currently serves as the chair of the Montana Board of Regents of Higher Education.
A Montana native, who will continue to be based in Helena, Mont., Lozar was raised on the Flathead Indian Reservation and is an enrolled member of the Confederated Salish and Kootenai tribes. He holds a B.A. from Dartmouth College, an M.Ed. from Harvard University, and an MBA from the University of Colorado-Denver.
---
The Federal Reserve Bank of Minneapolis is one of 12 regional Reserve Banks that, with the Board of Governors in Washington, D.C., make up the Federal Reserve System, the nation's central bank. The Federal Reserve Bank of Minneapolis is responsible for the Ninth Federal Reserve District, which includes Montana, North and South Dakota, Minnesota, northwestern Wisconsin, and the Upper Peninsula of Michigan. The Federal Reserve Bank of Minneapolis participates in setting national monetary policy, supervises numerous banking organizations, and provides a variety of payments services to financial institutions and the U.S. government.
Media Contact
Alyssa Augustine

Content Strategy and Engagement Supervisor (612) 204-5175 alyssa.augustine@mpls.frb.org