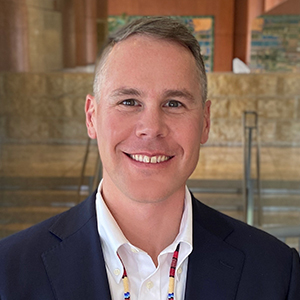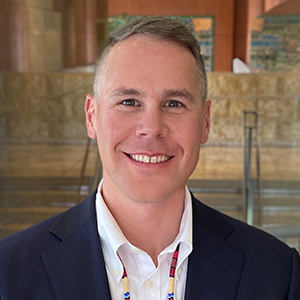 Casey Lozar Vice President, Director of Center for Indian Country Development
Confederated Salish and Kootenai Tribes
Helena, Montana
Casey Lozar is a vice president at the Federal Reserve Bank of Minneapolis and director of the Center for Indian Country Development (CICD), a research and policy institute that works to advance the economic self-determination and prosperity of Native nations and Indigenous communities.
Before assuming leadership of CICD, Casey was assistant vice president/outreach executive in the Bank's department of Public Affairs, and the leader of our Helena Branch.
Prior to joining the Minneapolis Fed in 2018, Casey served in economic development and higher education roles for the State of Montana. Additionally, he held executive leadership positions in national Native American nonprofits, including the American Indian College Fund and the Notah Begay III Foundation.
Casey received degrees from Dartmouth College and Harvard University and an MBA from the University of Colorado-Denver. He serves on the Montana Board of Regents of Higher Education (past chair).
Casey is the 2021 recipient of the Janet L. Yellen Award for Excellence in Community Development and a 2022 recipient of the Honorary Leadership Award from the Native American Finance Officers Association.
A Montana native, Casey was raised on the Flathead Indian Reservation and is an enrolled member of the Confederated Salish and Kootenai Tribes.
April 2023