Rise in smartphones puts more financial tools in the hands of the unbanked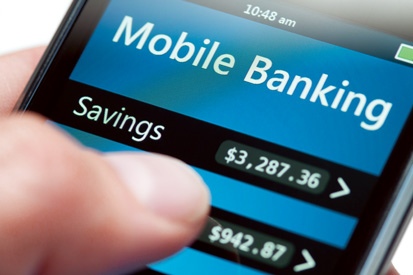 Arthur, a 20-year-old high school dropout, wanted out of the high fees he was paying to conduct routine financial transactions at the check-cashing outlet in his neighborhood. Getting a bank account would address the problem, but it wouldn't be easy, because Arthur's financial record showed that he once had a previous bank account closed for account-management issues.
Fortunately, Arthur found a path to affordable financial services. A volunteer personal finance mentor persuaded him to try opening a bank account and helped him navigate the process. At first, Arthur struggled to manage his account, just as he had before. But this time, he got additional help that his mentor recommended: an app that enables him to check his account balance on his smartphone. Now Arthur is maintaining his bank account and beginning to move into the lower-cost world of mainstream financial transactions.
"Arthur" is actually a composite and not a real individual, but according to a report based on the latest release of an annual financial survey by the Board of Governors of the Federal Reserve System (Board), his story fits a couple of real-world profiles. The Board's 2012 Consumers and Mobile Financial Services survey found that the 9.5 percent of American adults, or almost 23 million individuals, who are unbanked tend to have some traits in common.1/ Like Arthur, they are typically young; have low incomes, low wealth, and low education levels (high school or less), and are minorities. According to Digital Differences, a recent Pew Research Center report on Americans' Internet access, these same characteristics—apart from youth—are also associated with adults who, like Arthur, are on the have-not side of the so-called digital divide, which separates those with easy access to computers and the Internet from those without.2/
However, smartphones have become a means of bridging the divide. The Digital Differences report indicates that compared to the overall population, smartphone ownership is lower among individuals with low income and low education, but it is already significant and growing quickly. For example, 34 percent of low-income households (those earning less than $30,000 a year) and 25 percent of low-education households owned a smartphone in February 2012, up from 22 percent and 18 percent, respectively, in May 2011. Furthermore, smartphone ownership is roughly equal across racial and ethnic groups, at nearly 50 percent.
When age is factored in, the trend toward smartphones is even more striking. Smartphone ownership is now more common among low-income or low-education young adults (those under age 50) than among older adults with more income or education. Among teens, smartphone ownership is now almost as common in low-income households as in high-income households.3/ Young, low-income, less educated, and minority smartphone owners are also relatively likely to report that their phone is their primary or only means of accessing the Internet. 4/ In short, smartphones have become a promising vehicle for providing many low-income, low-education, and minority youths and adults—and thus, many unbanked and underbanked individuals—with tools that will enable them to access mainstream financial services.
Results of the Board's 2012 mobile banking survey suggest some of that potential is already being realized. Among unbanked adults in 2012, 6 out of 10 had a cell phone of some kind, and 3 of those 6 phones were smartphones. For the underbanked, the figures are about 9 out of 10 individuals and over 5 out of 9 phones, respectively. Of the underbanked adults, almost half were already using some form of mobile banking—that is, using a mobile phone to access a bank account, credit card account, or other financial account—and almost one-third were making purchases or payments via their mobile devices. Those proportions will likely swell as today's smartphone-owning teens enter adulthood. The most commonly used mobile banking service is the same one that helped Arthur become successfully banked: checking the balance in an account.
Mobile banking faces many challenges, such as the ever-increasing need for online security, and is not a panacea for the issues unbanked and underbanked adults face. However, as indicated by the reports cited here, there is notable demographic overlap between individuals who are unbanked or underbanked and individuals who are increasingly turning to smartphones for Internet access. Accordingly, the potential for mobile banking and payments to serve Arthur and the millions of other American adults who fit the unbanked or underbanked profile is significant and likely to grow.
---
1/ To read the survey report, which was published in March 2013, visit www.federalreserve.gov/econresdata/mobile-devices/2012-preface.htm. The survey defines adults as unbanked if neither they nor their spouses/partners had a checking account, savings account, or money market account. Underbanked individuals, who make up an additional 9.9 percent of American adults, are defined as having a banking account but using an alternative financial service such as a payroll card, payday lender, check casher, or auto title loan in the past 12 months. For more on the demographics of the unbanked, see Matthew B. Gross, Jeanne M. Hogarth, and Maximillian D. Schmeiser's summary of the Board's 2011 Consumers and Mobile Financial Services survey, titled "Use of Financial Services by the Unbanked and Underbanked and the Potential for Mobile Financial Services Adoption," in Federal Reserve Bulletin, v. 98, #4, September 2012, available at www.federalreserve.gov/pubs/bulletin.
2/ Kathryn Zickuhr and Aaron Smith, Pew Internet and American Life Project, April 13, 2012. Available at pewinternet.org/Reports/2012/Digital-differences.aspx.
3/ High income is defined here as more than $75,000 a year. See Mary Madden, Amanda Lenhart, Maeve Duggan, Sandra Cortesi, and Urs Gasser, Teens and Technology 2013, Pew Internet and American Life Project, March 13, 2013. Available at pewinternet.org/Reports/2013/Teens-and-Tech.aspx.
4/ See footnote 2.