Part-time work falling since recession
There has been a fair amount of angst over the uptick in part-time jobs during and immediately after the recession, both nationally and in the Ninth District (see Chart 1 for district trend). This was particularly the case because all of the increase came from people holding part-time jobs for economic reasons, which is data-speak for "because they couldn't find full-time work."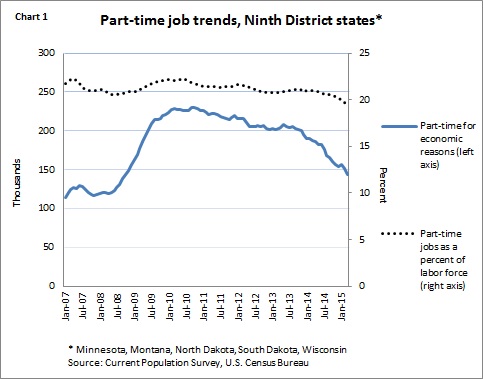 Although these are a small minority of all part-time jobs (most people working part-time prefer to do so), the share of part-time jobs for economic reasons doubled from 2007 to 2010, to almost 6 percent of the total labor force, and 20 percent of part-time labor.
But over the past five years or so, the total number of part-time jobs has been dropping. So too have part-time jobs as a share of total jobs and the share of part-time jobs for economic reasons, though the latter measure remains elevated compared with precrisis levels.
The same trends are broadly applicable by race in Ninth District states, but their paths have been considerably different, according to data from the Current Population Survey, gathered monthly by the U.S. Census Bureau.
CPS data show that until about 2010, black workers had fairly low rates of part-time work, but those rates then spiked well above the rates of whites and other minority groups (see Chart 2). (Because of sample sizes and comparatively small minority populations through much of the Ninth District, all other minority groups had to be combined.) Virtually all of this increase came from those working part-time for economic reasons, which also rose more for other minority groups than for whites (see Chart 3).
The good news is that part-time work, especially for economic reasons, has been in retreat, including a steep decline for black workers since mid-2013, though this measure also remains elevated compared with prerecession levels.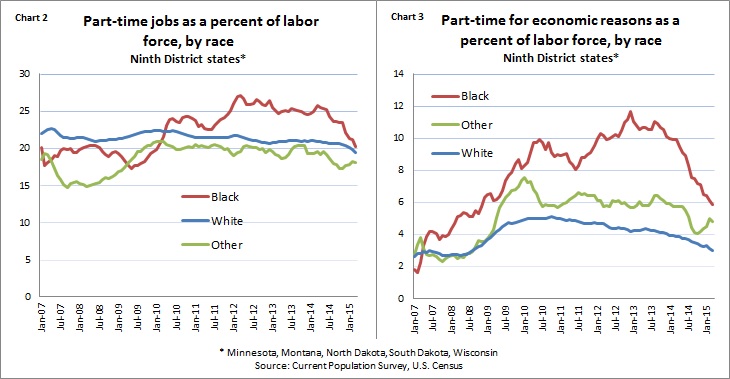 Look for future fedgazette Roundup posts on more part-time job trends in Ninth District states, as well as an in-depth look at Ninth District job growth since the recession in the July issue of the fedgazette.
Claire Hou, research assistant, contributed to this article.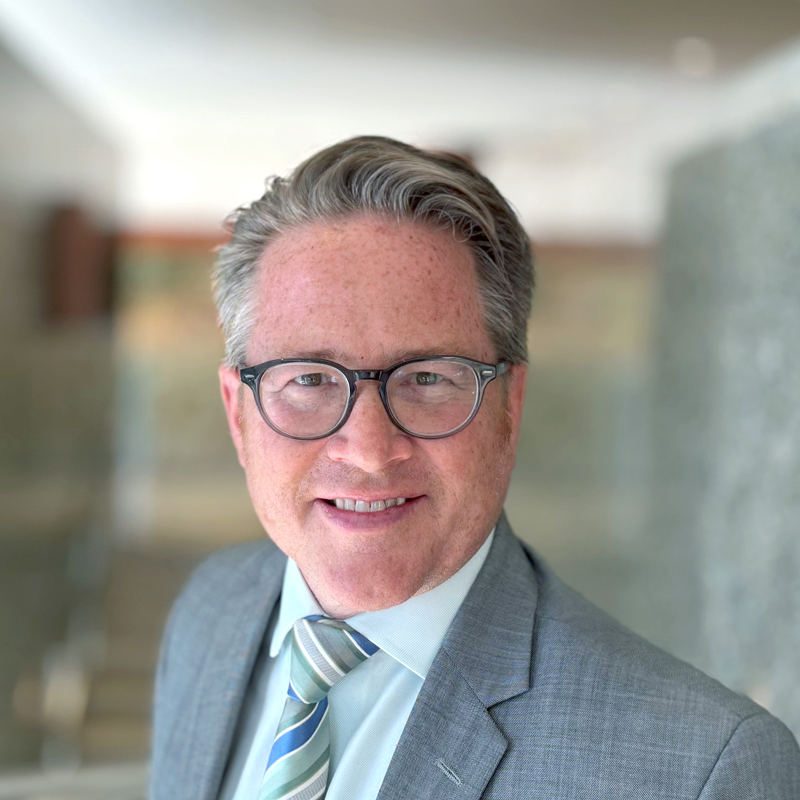 Request as a speaker
Ron Wirtz
Editor, fedgazette
Ron Wirtz is a Minneapolis Fed regional outreach director. Ron tracks current business conditions, with a focus on employment and wages, construction, real estate, consumer spending, and tourism. In this role, he networks with businesses in the Bank's six-state region and gives frequent speeches on economic conditions. Follow him on Twitter @RonWirtz.