An opportunity that no one saw … and then they did
Tawney Brunsch was in for a surprise.
The executive director of Lakota Funds, a Native Community Development Financial Institution (CDFI) based on the Pine Ridge Reservation, was driving to Wanblee, S.D., a town 100 miles southeast of Rapid City. She was headed to meet with tenants of Eagle Nest, an affordable housing development that Lakota Funds owned and had managed for more than a decade.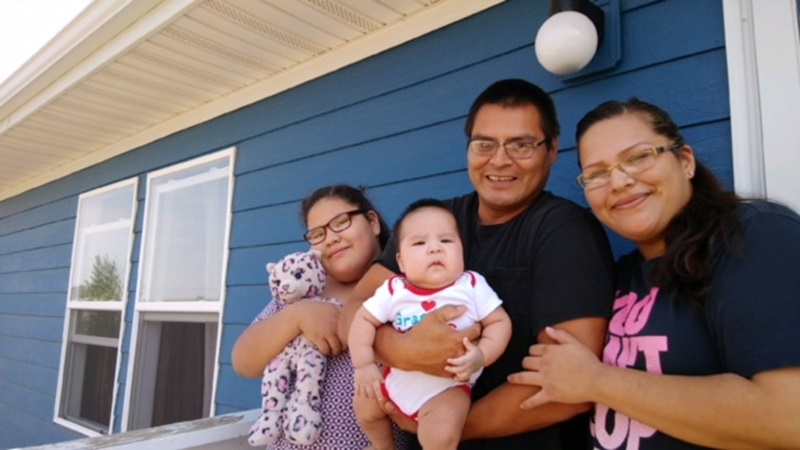 With the help of Lakota Funds, Kateri Edwards and Royce Gone bought their home last May. They're joined here with their children, Summer and Royce, Jr.Minneapolis Fed
On a gray Saturday morning in April 2012, Brunsch was excited to share some good news: She could help Eagle Nest residents purchase their homes. The development included 30 single-family detached homes, and they would be very affordable to the generally low- to moderate-income residents—$15,000 for a two-bedroom, $20,000 for a three-bedroom, and $25,000 for a four-bedroom home.
As she drove to the meeting, Brunsch, widely experienced in lending to tribal community residents, envisioned an enthusiastic response from her audience, with cheers and tears of joy. Finally, after years of paying rent, they could actually own a real asset, build equity, and hold the deed to their very own homes.
Brunsch arrived at the development and walked to building number 23, the unoccupied but staged model home in Eagle Nest that doubled as Lakota Funds' residential meeting venue. About half of the development's residents showed up. After greeting everyone and getting settled, she delivered the news.
The reaction wasn't exactly what she anticipated.
"They weren't happy," she said of the residents. "In fact, they were angry. They wanted nothing to do with what I was saying."
Brunsch tried explaining the benefits of homeownership, but Eagle Nest residents weren't buying it. Her experience revealed the complicated issue of housing in Indian Country. Since the establishment of Indian reservations in the 1900s, housing was typically government built and subsidized, with low monthly rents. The quality varied, and the quantity of houses was never sufficient to meet the needs of the community, with overcrowding still a common occurrence on most reservations. In fact, a 2017 analysis found that 17 percent of households in Indian Country had people—relatives and nonrelatives—staying with them for lack of available housing.1
What's the rationale for homeownership in Indian Country? What value should one place in owning versus renting? At least on the Pine Ridge Reservation, Brunsch needed to examine these questions to understand and overcome the initial adverse reaction of the development's residents.
"This was a great opportunity," Brunsch said. "But no one else saw it that way."
Building homes for a better future
Flash back to 1997, a full 15 years before that awkward meeting. That's when Lakota Funds unveiled plans for the Eagle Nest Housing Development. The intention was to build a rent-to-own community for the mostly Lakota residents of Wanblee, located near the eastern border of the Pine Ridge Reservation. At the time, nearly three-quarters of the town's total population of 650 lived in rental homes. Lakota Funds sought to address this imbalance in housing tenure by helping tribal members attain an endurable asset through homeownership.
The Native CDFI had seen other developers successfully create homeownership opportunities off the reservation for non-Native populations using a rent-to-own model. Lakota Funds thought this was a good model to emulate on Pine Ridge. Since the 1980s, Lakota Funds had been offering personal wealth-building and small-business services, so expanding its programming into the affordable housing realm seemed in line with its mission to help tribal members achieve financial independence. Owning a home, with its potential to appreciate in value and unlock economic opportunity on the reservation, seemed to be a way to move in that direction.
And Lakota Funds wasn't going to build just any kind of home; the plan was to construct site-built homes—permanent structures on fee simple land. The owner of fee simple land holds legal title to the land and can sell it without approval from the federal government. In contrast, trust land, which is the most common form of land tenure in Indian Country, is held individually or in common by either tribes or a group of individuals with legal title being held by the federal government. Trust land cannot be conveyed without permission from the federal government.
Across the Pine Ridge Reservation, homeownership rates are currently lower than the national average—55 percent on the reservation compared with 64 percent nationally, according to the American Community Survey. Of those owned on Pine Ridge, a great deal are manufactured houses owned separately from the land beneath them and don't appreciate in value like a home attached to a plot of land. If Lakota Funds sought to create homes for families to purchase with a primary goal of longer-term financial gain, then permanent structures—affixed to the land with poured foundations—would be the type of homes needed.
Moreover, Lakota Funds intended for very low-income tenants to occupy and eventually own the homes. The organization planned to use Low Income Housing Tax Credits (LIHTC) to finance part of the development. (To learn about the mechanics of LIHTC and how it is allocated, see LIHTC priorities capture state affordable housing needs.)
Only households making less than 50 percent of the area median income—or about $17,250 for a family of four in 1997—would be allowed to live in the homes at Eagle Nest. After 15 years, when the tax credits would expire and Lakota Funds would be free to sell the homes, the Native CDFI envisioned that the tenants would use savings from an Individual Development Account, a special matched-savings account available to many tribal members, to use as down payments on their home purchases.
On paper, the plan looked feasible. Soon after unveiling its development plan, Lakota Funds secured the $1.65 million needed to build Eagle Nest and was ready to move forward.
The transformation to homeownership
By 1999, when the last nail was hammered home, all 30 houses were available for occupancy. Tribal members started moving in, and Lakota Funds' dream of creating a community of future homeowners began to take shape.
But within a year, it became clear that many of the residents didn't consider themselves homeowners, or even future owners of their homes. Perhaps due to this sense of impermanence or lack of investment, many residents treated their homes roughly.
"Historically, owning things hasn't been a priority to many of our Native families," Brunsch said, describing that owning large possessions, such as a house, is a concept in conflict with traditional reservation life.
So Lakota Funds found property management, and teaching residents how to maintain their homes, challenging. Requests for repairs were frequent—broken and malfunctioning appliances, damage to walls and doors, and so on—and missed rent payments were common.
Plus, because the original project financing relied on LIHTC, a layer of regulatory compliance was added to the management, including enforcing a maximum on the number of people living in each home, a problem related to the persistent overcrowding on the reservation.
From 1999 to 2017, Lakota Funds spent an additional $2.5 million on keeping Eagle Nest's homes functional and in good repair. From this pool of money, Lakota Funds could afford to hire only one staff member to manage the entire development. Eagle Nest quickly became an ongoing management and financial challenge.
"We learned the hard way that we didn't have the capacity to own and manage this development very well," Brunsch admitted, particularly when the residents were not attuned to the responsibilities of homeownership.
Reframing the opportunity
Back to that gray day in 2012 and Brunsch's initial disappointing meeting about the possibilities of homeownership. Now, Brunsch can reflect on her missteps. She still believed owning a home was net positive—it taught financial accountability and provided an opportunity to own an appreciable asset. But she realized that framing the opportunity as primarily financial was the wrong way to go about it.
"A lot of people here are not thinking about material wealth or assets," she explained. "That's not the most important thing in life. What's important is family."
Brunsch came to this conclusion after subsequent conversations with colleagues and residents. Instead of focusing on a house as a financial investment, she began to talk about homes as a means of stability, where parents would be able to make sure their kids had a safe place to live now and into the future. This reconfigured message began to resonate with some of the tenants, and Lakota Funds, harnessing this interest, decided to hire a staff person to work with interested residents on the various aspects of purchasing a home. (Lakota Funds received a Rural Innovation Fund grant from the Department of Housing and Urban Development to support this position.)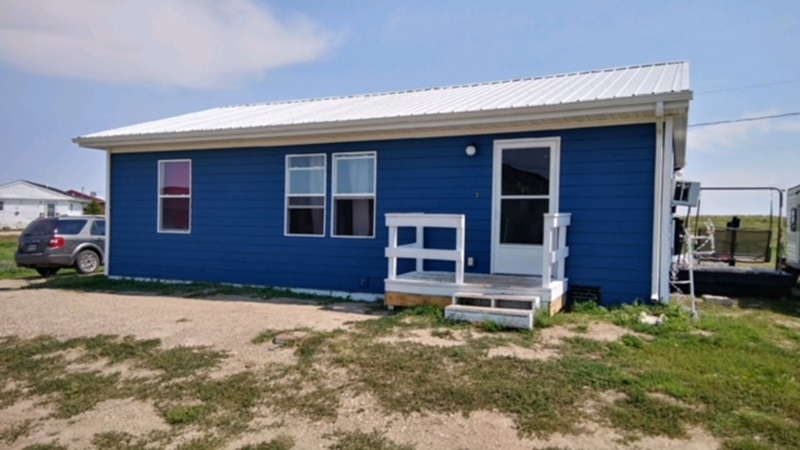 Finally, in December 2017, five years after Brunsch convened the residents of Eagle Nest to tell them about the ownership opportunity, the resident of unit number 4 purchased her home. Since then, three more houses have been purchased, with three more expected to be completed by the end of 2018.
One such purchaser is Carrie Sitting Up. In September 2018, she finalized the paperwork to buy the two-bedroom house she had been living in for a little over a year. When she originally moved in, she recognized that there was a lot of deferred maintenance. But that didn't cloud her vision of owning it. She applied for a grant to install a new roof, siding, doors, and windows.
Then she secured the home mortgage loan she needed to buy the house from another Pine Ridge-based Native CDFI called Mazaska Owecaso Otipi Financial. Almost immediately, she painted the house's exterior maroon, with black trim, and she plans to paint the interior soon. In a few years, she thinks she'll replace the floor.
"Buying a house is permanent," she said, relating to the unsettled living circumstances some people experience on the reservation. "I was telling my friend that if she bought her house, it would be there for her daughters. Nobody will get kicked out—that's what motivated me. You can have something of your own and stay there."
Colleen Steele, the executive director of Mazaska, which has made the mortgage loans for all of the home purchases in Eagle Nest, said that her organization offers several services to help make homeownership a reality for interested tribal members. For example, Mazaska offers a credit-building loan program. Credit issues are a major obstacle to getting a home loan, Steele said, and Mazaska's program, which makes loans up to $2,500, can help repair a participant's credit standing enough to qualify for a larger mortgage.
(Much like Mazaska, Lakota Funds offers a credit-building service, providing loans of up to $5,000; Sitting Up said that she participated in Lakota Funds' program.)
Another thing Mazaska does is look for ways to lower the home acquisition costs as much as possible.
A recent purchase of a two-bedroom home illustrates the benefit of applying different subsidies. The sale price of the home was listed at $15,000. The prospective buyer sought $30,000 worth of improvements, bringing the total cost up to $45,000. But Mazaska was able to secure $19,000 worth of grants, bringing the total to $26,000—a savings of 42 percent.
"What's super important," said Brunsch, of Lakota Funds, which worked closely with Mazaska on the home purchases, "was keeping the mortgage payment around $250 per month. That's key. That's what the tenant was paying in rent, so it was like she just flipped a switch and started paying off principal instead."
A model for other tribes
Brunsch believes that her experience using family independence and stability to convey the appeal of homeownership can be useful for other organizations working on home-purchasing initiatives in other parts of Indian Country.
More than 750 LIHTC-financed affordable housing developments exist on reservations across the country, with approximately 330 of them having tax credits issued before 2005.2 That puts them past or approaching the 15-year mark when the tax credit restrictions may expire. Many of the developments, such as multifamily structures, may be unsuitable for conversion to privately owned properties, and some may not be legally permitted because of ongoing restrictions from the state housing agencies that granted the tax credits. But developments that are free and clear and that are suitable for homeownership, such as the single-family detached homes at Eagle Nest, might be ideal for conversion to private ownership.
It's how to approach the discussion about the ownership opportunity that should be carefully considered, Brunsch said.
"In talking to Native communities, there's value in knowing an effective way to frame homeownership," she said. "It's OK to build up a savings account and to save for college, for being more financially responsible. But we can also take care of our families by being a homeowner and having a stable place of our own. It's OK to own a home."
Jacob Wascalus is a Minneapolis-based writer who focuses on community and economic vitality issues.
---
Endnotes
1 Housing Needs of American Indians and Alaska Natives in Tribal Areas: A Report From the Assessment of American Indian, Alaska Native, and Native Hawaiian Housing Needs, p. 85. See the full report.
2 According to the LIHTC database administered by the Department of Housing and Urban Development, 46,554 projects received tax credits between 1987 and 2016. According to Minneapolis Fed calculations, 755 of those developments are located on Native American reservations across the United States. Roughly 3,000 of the total number of projects receiving tax credits did not include adequate location information and were therefore excluded from the calculations. Access to the database of LIHTC projects is available here.