There's more to the story
Alexander Hamilton and the Central Bank
Alexander Hamilton's life and achievements are celebrated in
Hamilton The Musical

. Join us at the Minneapolis Fed in honoring him and this remarkable theater event.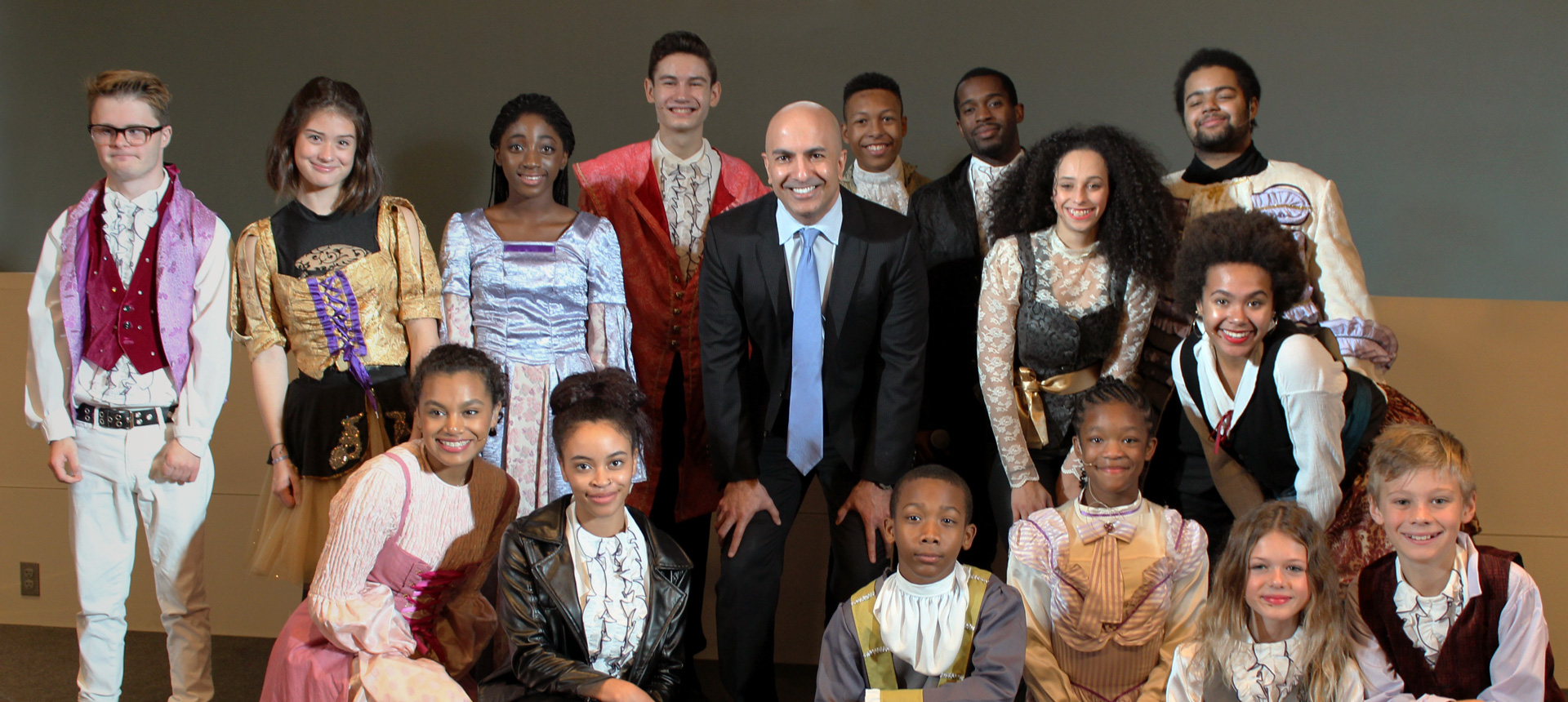 President Neel Kashkari smiles with students from Lundstrum Performing Arts Center after they performed the opening number from "Hamilton" at the Minneapolis Fed. Also in the audience were three cast members from the musical: Ta'Rea Campbell, Marcus Choi, and Kyle Scatliffe—who play Angelica Schuyler, George Washington, and Thomas Jefferson, respectively.
Bet you an Alexander Hamilton you don't know what's unique about him on that $10 bill.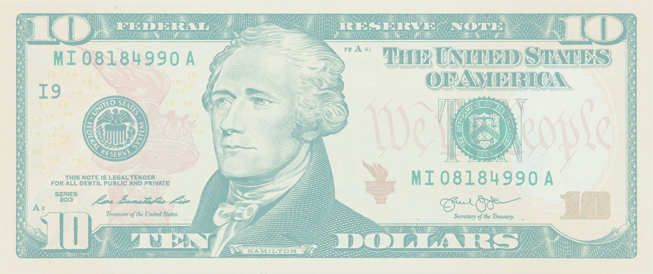 The answer? His portrait is the only one on U.S. currency that faces left.
Prove your Alexander Hamilton knowledge!
Take this quiz to see how much you know about Alexander Hamilton.
Washington was on Hamilton's side
Despite his youth—he was in his early 20s—Alexander Hamilton became a close aide to the general, who would become our first U.S. president. George Washington admired Hamilton for his brains and for his military heroism during the War for Independence.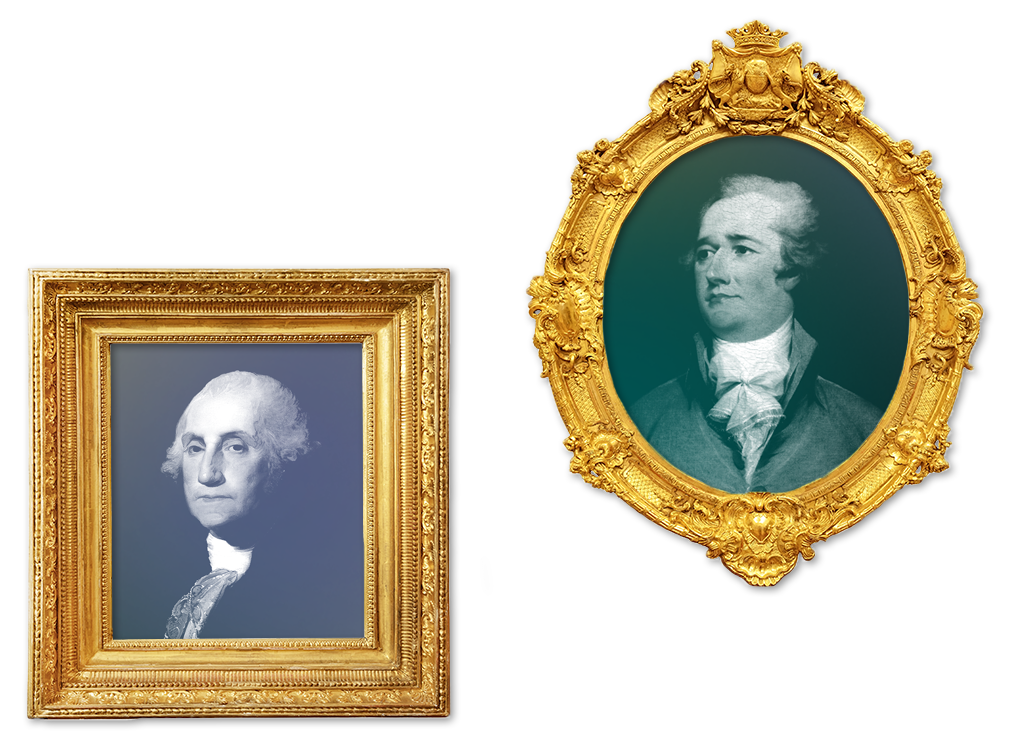 A vision that's endured
Alexander Hamilton's vision created our nation's first central bank. No wonder President George Washington appointed him to be the first Secretary of the Treasury in 1789. Today, the Federal Reserve, including the Minneapolis Fed, is independent of the U.S. government, but our profits go back to U.S. Treasury and to taxpayers.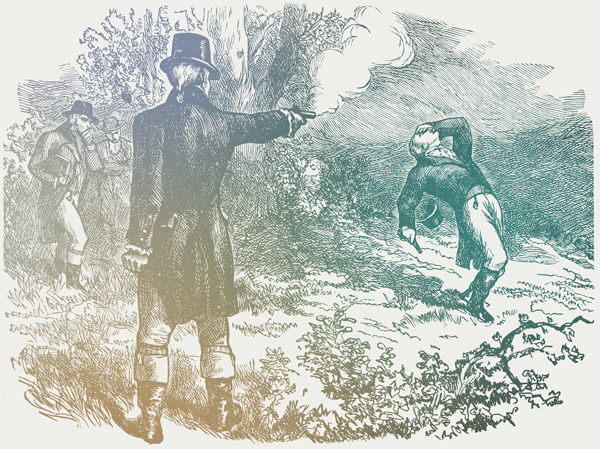 Final duel
It was personal. It was political. It was tragic. And it's at the heart of the narrative of Hamilton. On July 11, 1804, a decades-long rivalry between Alexander Hamilton and U.S. Vice President Aaron Burr ended in a deadly duel in Weehawken, New Jersey. Spoiler alert: Hamilton was shot and killed.
We don't do theater
We absolutely love Hamilton. On the other hand, fiscal and monetary policy isn't show biz. It's serious business, and that's what the Minneapolis Fed and our 1,000 employees are doing every day. We regulate banks. We conduct groundbreaking research to aid policymakers. We work with and educate communities in our Ninth Federal Reserve District. We help maintain a stable and growing economy.
Did you know?
The Minneapolis Fed offers free tours. Due to the popularity of our Hamilton-themed Bank tours, we have decided to revive them in 2021. Get a behind-the-scenes look at the Bank and see our Hamilton exhibit.
Tours are temporarily closed due to COVID-19.
Student social media contest: #Hamilton4All
To celebrate Alexander Hamilton's story and his role in establishing our nation's first central bank, we held a social media contest for high school and college students from the Ninth District. Using #Hamilton4All, we encouraged students to submit their own bold ideas to improve lives and the economy. At stake were two tickets to the Oct. 4 showing of "Hamilton" and a paid internship at the Minneapolis Fed.
Watch Henry Long's winning submission and see some other standout entries ›
October 4, 2018 | Kare 11
September 19, 2018 | Star Tribune
September 18, 2018 | FOX 9
August 30, 2018 | WJON Radio
August 30, 2018 | Star Tribune
August 29, 2018 | WCCO TV
August 28, 2018 | KARE 11
August 28, 2018 | WCCO Radio
August 24, 2018 | Star Tribune
August 21, 2018 | Star Tribune
More Hamilton from the Minneapolis Fed
UPcoming Conversations with the Fed
Niel Willardson, senior vice president and general counsel of the Federal Reserve Bank of Minneapolis, will explore Hamilton's life, legacy, and influence on the Federal Reserve. Watch a preview of this digital event.
In-Depth Article
At the dawn of the Republic, the First Bank of the United States created a model for American financial markets and monetary policy that endures to this day.
2007-08 Essay Contest Winner
Alexander Hamilton and Thomas Jefferson have both been hailed as "founding fathers" to the United States, but through the centuries, many history books have judged their parenting tactics quite differently.