S. Rao Aiyagari - 1951-1997
Researchers at the Federal Reserve Bank of Minneapolis and throughout the economics profession lost a friend, a colleague and a careful, prolific scholar when S. Rao Aiyagari died unexpectedly May 20.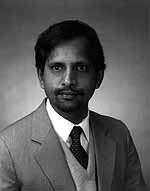 Between 1986 and 1996, Aiyagari was a research economist and officer at the Minneapolis Fed. Before joining the Fed, he taught economics at the University of Wisconsin, Madison, and Carnegie-Mellon University, Pittsburgh. Last fall he fulfilled a dream of returning to academia when he accepted a position as a full professor at the University of Rochester, New York.
Aiyagari made significant contributions to the economics literature, primarily in the areas of macroeconomics, monetary theory and intertemporal general equilibrium theory. He published a large number of papers in professional academic journals and was a major contributor to the Minneapolis Fed's Quarterly Review. From 1992 to 1996 he was an associate editor of that publication.
The idea for the Minneapolis Fed's 1995 conference to honor the work of Robert E. Lucas, Jr.—before Lucas won the Nobel Prize in economics later that year—was Aiyagari's (The Region, December 1995). Lucas has said that the conference Aiyagari organized "ranks high among the professional pleasures and honors I have received."
Aiyagari held a doctorate in economics from the University of Minnesota and master's degrees in economics and physics from Jawaharlal Nehru University and the Indian Institute of Technology, New Delhi, India.