Business poll reflects cautious optimism
Most of the 149 Ninth District business leaders responding to the November business poll are less optimistic about the national economy than they were last year and expect slightly higher inflation. Business leaders also indicated some concern for their community's economy and their own business operations.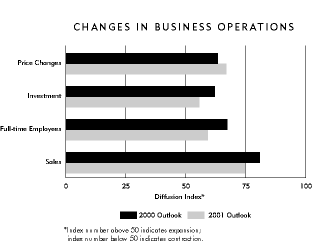 Business leaders expect slower growth and higher inflation in the national economy. Nearly half the poll respondents expect real gross domestic product in 2001 to increase by 2 percent or less, compared with over 80 percent of business leaders last year who expected growth of 3 percent or more. In addition, nearly half of survey respondents expect the consumer price index to be around 4 percent or higher compared with only 25 percent of last year's respondents.
Over a quarter of the business leaders are pessimistic about the outlook for their community, almost twice as many as a year ago. Respondents predict business investment and employment to grow, but foresee consumer spending and housing starts to decrease. And they expect wages in their community to creep up.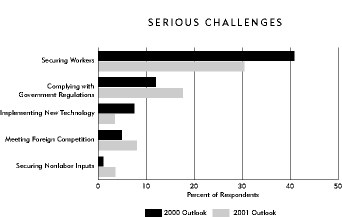 Nonetheless, business leaders expect to increase sales revenue and add more employees. They also plan to make larger investments in plant and equipment and charge higher prices for their goods and services. Leaders expect a challenge to find workers and to comply with government regulations, but less of a challenge to implement new technology and secure nonlabor inputs.
Respondents reported increased productivity at their companies. Over 25 percent had productivity gains of 3 percent to 5 percent, while 17 percent noted productivity gains of over 5 percent. The poll results mirrored national rates of productivity growth, which increased 2.8 percent in the third quarter. Internet sales are also creeping up. In this year's survey, 29 percent of the respondents reported sales over the Internet compared with 21 percent of respondents in last year's survey.