District activity echoes slow national growth
News reports of company layoffs, higher unemployment rates and soft consumer confidence have suggested slower growth in the national economy during the past nine months. And as the nation has gone, so has the district economy.
In the Ninth District, heavy construction and homebuilding are at lower levels than a year ago. Employment growth has slowed, and unemployment rates have increased. As labor market conditions have loosened, wage rate increases have slowed. And the outlook for district agriculture is somewhat bleak as farmers face higher input costs, low prices and potentially diminished harvests due to adverse weather conditions.
However, while the Minneapolis Fed's forecast model predicts overall slower growth in 2001, employment and homebuilding are expected to pick up by 2002.
One of the high spots in the district economy in the past has been construction activity, but even there signs of slowing growth can be seen. Overall construction of buildings and large projects, such as highways and sewer systems, grew at an annual rate of about 8 percent from 1996 to 2000 in Minnesota and the Dakotas. However, during the first four months of 2001, contracts awarded for construction projects were flat compared with the same period a year ago, according to the Construction Bulletin. Some commercial real estate markets reached higher supply levels as vacancy rates increased relative to the late 1990s. For the first time in eight years, in 2000 the Minneapolis/St. Paul area vacancy rates for office buildings edged higher than the national average.
As heavy construction has slowed, homebuilding levels are down. Housing units authorized were off 13 percent during the first four months of 2001 compared with a year ago. Nevertheless, the forecast model predicts homebuilding to finish 2001 above last year's levels in all states except Minnesota. In 2002 homebuilding is predicted to grow higher than historical averages in Montana, North Dakota and Wisconsin.
Many companies reported layoffs during the early months of 2001. Nationally, the number of mass layoffs of 50 or more workers for the first four months of 2001 was over 20 percent higher than a year ago. Consequently, growth in net new jobs has dropped. District nonfarm employment grew 1 percent during the first four months of 2001, slower than the 2.4 percent increase during the same period in 2000, largely mirroring the national trend.
The district's employment picture, however, varied by sector. Mining and manufacturing lost jobs overall from a year ago, while the service sector showed the strongest gains in job growth. Total mining and manufacturing jobs dropped 2 percent and 1.4 percent, respectively, during the first four months of 2001 compared with a year ago. The service sector, which includes business, health and social services, increased 2.7 percent. The overall slowing of job growth coincided with an increase in the district's unemployment rate, which rose to 4 percent in April, up from 3.1 percent a year ago. The Minneapolis Fed's regional forecast models expect employment growth to remain slower in 2001, compared with last year, but pick up in 2002, while unemployment rates are expected to increase during the upcoming 18 months (see charts).

As companies lay off workers, the rate of wage increases is declining because more workers are available for current job openings. District manufacturing wages for the first four months of 2001 were 2.8 percent higher than a year earlier, slower than the 3.1 percent increase a year ago. Construction wages in Minnesota, which grew 6 percent during the same period last year, dropped to a 2.6 percent increase in 2001.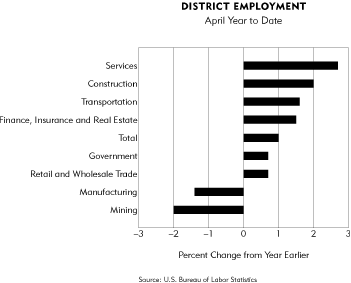 While overall inflation remains low, higher energy prices during the winter raised heating and electrical costs for businesses and households. This spring, higher gasoline prices pushed up costs for shipping and leisure travel. As of May 28, 2001, U.S. gasoline prices were over 10 percent higher than a year earlier and over 50 percent higher than in 1999. According to the U.S. Department of Energy, Midwest drivers saw some of the largest increases.
Late spring and poor conditions have farmers worried
The long winter, severe weather, low projected prices and higher input costs are negatively affecting district farmers and ranchers. Winter wheat output was dismal, and the cold winter hurt livestock production. Spring planting delays due to excess moisture were reported in many parts of the district. Meanwhile, in Montana a lack of moisture is hampering farmers and ranchers. Not only is Mother Nature wreaking havoc with district agricultural producers, but higher costs of fuel and fertilizers are hurting profits.
Farmers and ranchers had a tough, long winter. In South Dakota winter wheat production is off by 66 percent, as both harvested areas and yields are down 57 percent and 21 percent, respectively. The harvested-to-planted ratio is at an extremely low 42, the lowest since 1936, according to the U.S. Department of Agriculture (USDA). Meanwhile, Montana ranchers are running out of hay and having a hard time meeting water requirements. Ranchers are facing difficult choices. It is reported that some are shipping their livestock to market early, while others are choosing to hold out for rain.
Higher fertilizer expenses and late plantings caused some farmers to alter their crop mix. Fertilizer prices are up significantly from a year ago. Nearly all the corn acres in 2000 used fertilizer, while only about one in five soybean acres was treated with fertilizer. In addition, spring plantings were delayed in Minnesota and the Dakotas because of wet soil conditions. The USDA reported spring plantings for most district states and crops were later than both last year's planting and the five-year average. Because soybeans use less fertilizer and a shorter growing cycle than corn, some farmers decided to switch crops.
The outlook for district cash crop farmers is bleak, while ranchers are hoping for continued strong prices this year. Crop prices are projected to be low again this year for corn and soybeans, while wheat prices are expected to increase (see table below). Meanwhile, cattle and milk prices are expected to remain at healthy levels.
The situation is well summarized by a Minnesota agricultural lender responding to the Minneapolis Fed's second quarter agricultural credit conditions survey: "In this area the weather has caused planting problems. The prices for crops are not at profitable levels and future prices do not look like things will improve. Rents are stable with land values increasing. Stress will continue in the farm sector, and the equity of farmers continues to fall."
AVERAGE FARM PRICES
1998/
1999
1999/
2000
Estimated 2000/2001
Estimated 2001/2002
Corn (Current $ per bushel)

1.94

1.82

1.80-1.90

1.70-2.10

Soybeans (Current $ per bushel)

4.93

4.63

4.45

3.90-4.70

Wheat (Current $ per bushel)

2.65

2.48

2.63

2.75-3.35
1999
2000
Estimated 2001
Estimated 2002
All Milk (Current $ per cwt)

15.38

14.36

15.05-15.45

13.20-14.20

Choice Steers (Current $ per cwt)

65.56

69.65

75.00-78.00

77.00-83.00

Barrows & Gilts (Current $ per cwt)

34.00

44.70

44.00-46.00

41.00-45.00

Source: U.S. Department of Agriculture, estimates as of June 2001