Dividing the Country into Federal Reserve Districts
Figure 1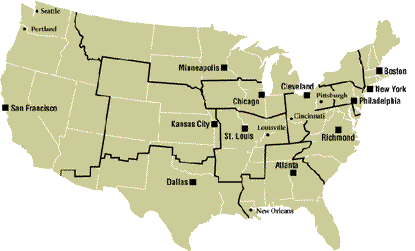 The Reserve Bank Organization Committee announced its final decision on the location of 12 Federal Reserve districts April 1914.
Note: Headquarters cities are in bold type. The final districting plan, as determined by the committee, appeared first as a pamphlet issued April 2, 1914, reprinted in both U.S. Senate (1914, pps. 361-364) and Willis (1923, PPS 589-597). This configuration is reasonably close to the modern-day System. Some minor adjustments and revisions were made on appeal (see Willis, 1923, PPS 736-750; Nelson, 1964, PPS 18-29).
Figure 2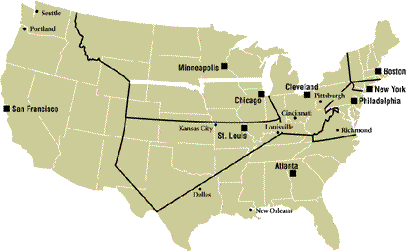 H. Parker Willis offered eight- and nine-district plans. His nine-district plan breaks up the Chicago district, adding Minneapolis as the ninth district headquarters.
Figure 3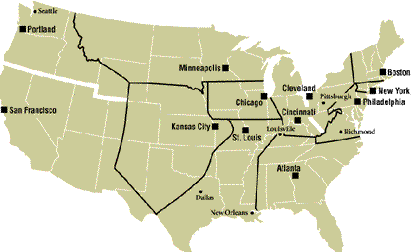 Willis also suggested 10- 11- and 12-district plans. The 11-district plan divides the San Francisco district and adds Portland as a headquarters city, while the 12-district plan splits the Cleveland territory and makes Cincinnati a Federal Reserve City.
Return to: Locating Federal Reserve Districts and Headquarters Cities