Fishing for diversity: aquaculture in the Ninth District
Picture yourself as a Midwestern dairy farmer 100 years ago, and a neighbor farmer tells you she's going to stop raising cows and start raising fish. You think she's insane since you can walk to the local stream and score a half-dozen crappies with a flimsy net. You observe her endeavors but refrain from saying, "I told you so," when she can't find a market for "farmed fish" and her plan fails miserably.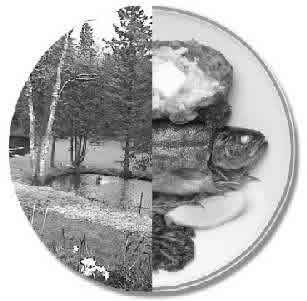 Fast-forward a century, and such a plan doesn't seem so outlandish. There are more people who fish, more concerns over lake pollution, more health-conscious fish eaters and a number of other factors creating opportunities in markets that never before seemed promising. Your neighbor was a woman ahead of her time.
Fish food for thought
People have been raising fish for the past few decades, usually bait fish or fish for stocking lakes and rivers. But true "aquaculture"—the raising of fish for human consumption—is spawning nationwide and in the district.
The industry is still small in the Ninth District compared with the likes of Idaho—which raises some 40 million pounds of rainbow trout, or about 90 percent of the nation's commercial production—but is expanding. Idaho's advantage is a gigantic underground aquifer that naturally bubbles up water at a constant 58 degrees Fahrenheit—ideal for rainbow trout—on the northern side of the Snake River in southern Idaho. On the river's south side, geothermal 200-degree water is available, which, when mixed with cooler spring water, provides a very inexpensive way to breed warm water fish like tilapia, the state's second most popular farmed fish, which originates in Africa and Israel.
Bigger fish to fry
The fish farm industry in the district is located predominantly in Wisconsin and Minnesota, which are homes, respectively, to 230 and 200 commercial bait, stocking and fish food farms.
According to a 1998 Wisconsin aquaculture producer survey prepared by the Department of Agriculture, Trade and Consumer Protection (DATCP), the industry grew about 3 percent annually from 1993 to 1998, vs. 6 percent growth for the nation. Gross sales from Wisconsin fish farms totaled $10.5 million in 1998, and average sales per farm were $74,660.
At the time of the survey, food fish comprised 35 percent of total gross sales, bait fish 33 percent and stocking fish 22 percent. (Nonfish, such as frogs and water plants, held 10 percent of gross sales.) It is estimated that Wisconsin aquaculture generates roughly 2,600 jobs and $80 million annually in total economic impact.
Much of the current growth in Wisconsin can be attributed to the decline of wild fish harvest, favorable overall demand conditions for fish and seafood, and strong federal government funding for aquaculture research and education. The federal government invested $121 million in aquaculture support alone in 1996, states a 1998 report to the Wisconsin Legislature by the Agriculture Department. Diversification of species and markets is increasing, while Wisconsin's historically strong trout sector continues to be the largest fish farm group.
An experienced fish farmer, Ruby Kettula, secretary and treasurer of the Wisconsin Aquaculture Association, has been in the business in Frederic, Wis., since 1956. "When we first got into the business, the only type of fish people raised was trout, because that was the only type of fish domesticated enough that we could get eggs from. ... Since then people have gotten into other types of fish—yellow perch, walleye, muskie, bass, blue-gilled sunfish." Kettula added, "No one dreamed that anyone would pay money for those kinds of fish because the lakes had a lot of them. Since then the lakes have had a lot of pressure with all of the fishing. It's changed."
Kettula and her family sell fingerlings mainly to hatcheries. From there they go to various lake associations, sportsmen's clubs and other hatcheries. They also sell fish for stocking purposes to lakes in Wisconsin, Illinois, Indiana, Michigan and Minnesota. The Kettulas produce primarily rainbow and brown trout, hatching 1 million eggs a year or about 75,000 pounds of trout, but also some walleye and bass.
Meeting demand
A strong economy for the past decade has increased overall demand for fish and other comparatively higher-priced seafood items, said Myron Kebus, state veterinarian for the Wisconsin DATCP. But Kebus and Kettula are concerned that greater regulation is slowing industry growth.
"The only thing that keeps us from becoming larger producers are the regulations on water use and discharge. ... You need a permit for everything, to dig a pond, to discharge and pump water," Kettula said. Because of the regulations, Kettula doesn't think fish farming is as easy as it used to be.
Ten years ago, fish farmers could expand where they wanted without worrying too much about runoff into a nearby lake, but now, farmers face a whole gamut of regulations and environmental issues, Kebus said.
"As aquaculture began to promote itself, it also attracted the attention of regulators," said Kebus. For example, spring-fed ponds, once freely used, are now off-limits to new fish farmers. Fish farmers face more regulations when drilling wells for water. Wetland issues have also surfaced, forcing fish farmers to deal with more restrictions if their property has developed growth of wetland plants and animals, Kebus added. Due to tighter health codes, and to restrict invasive species, stricter requirements have also been placed on farmers who import or export fish.
But Kebus sees additional potential, despite increased regulation. "The market is strong in Wisconsin because there have been producers who began the development of their businesses decades ago, so it's established. In terms of food, there's a market for a wholesome, clean product. People who do like to eat fish have certain concerns." Kebus added, "We have statewide mercury advisories of all fish. We've discovered the levels of mercury are 50 times lower than nonfarm fish, virtually nondetectable."
Someone who has his line in more than one pond is fish farmer Ron Johnson, also vice president of the Wisconsin Aquaculture Association. Johnson, a wildlife biologist, not only runs a trout farm in Iron River, Wis., but also owns a bed and breakfast, where guests can catch their own breakfast. He raises 5,000 to 8,000 rainbow trout each year in spring-fed ponds and sells them locally through his Internet and espresso cafe. He also sells fish nationally via his Web site. "I'm small compared to most people. ... I can't raise enough to keep up with the demand."
Johnson is also chairman of a joint project to build a $3 million, 40-acre aquaculture demonstration facility in Red Cliff, Wis. The University of Wisconsin-Superior and Red Cliff Band of Lake Superior Chippewa will jointly operate the state-funded facility. The center will be used for applied research and dedicated to teaching people how to raise cold-water fish, such as trout and salmon, for human consumption. Construction is set to begin in May 2002, and the facility is scheduled for completion in the spring of 2003. The project represents a push for technology that may help with industry production, Johnson said.
Catching up
In Minnesota, the land of 10,000 lakes, fish farmers don't have as much to brag about as Wisconsin farmers, but markets there are also expanding. Half of the aquaculture license holders are hobby farmers, and the other 100 are serious commercial fish farmers, estimated Richard Ying Ji, aquaculture specialist with the Minnesota Department of Agriculture. That number doesn't take into consideration the roughly three dozen bait farmers in the state—a $2 million industry, said Ying Ji. He estimates fingerling farming is a $1 million to $1.5 million industry for the state.
For Minnesota fish farmers, the biggest moneymaker is raising fish for human consumption. In fact, the production of the state's largest fish farm, MinAqua Fisheries of Renville, is about equal to the production of the other 11 fisheries in the state. The fishery, a cooperative organization run by soybean farmers, purchases fingerlings and raises them to market size in a $4 million facility, and has annual sales of about $2.5 million. The co-op is the second largest tilapia producer in North America.
Mel Stocks, president of MinAqua Fisheries, said they've been selling tilapia since May 1998, "It's been a struggle until now. ... There was an oversupply of fish from mid-1998 until late 2000. It's very much like any other commodity business—corn, soy or hogs. The law of supply and demand rules," Stocks said.
Tilapia need 85-degree water to survive, and heat from the Southern Minnesota Beet Co-op's wastewater is used to keep 1 million gallons of water in the indoor tanks at a stable temperature.
The secret to MinAqua's success is that it sells tilapia live, primarily to Asian markets in Toronto, Calgary, Vancouver, Chicago, Minneapolis and New York City. The fishery justifies spending extra money to deliver a live fish because the value of a dead tilapia is 40 percent lower. "Tilapia has just surpassed trout as the third largest farm-raised fish in North America," said Stocks, "Catfish is first, followed by salmon."
Stocks does not foresee a lot of growth in the live tilapia market, but he does for the processed market. Imports of processed tilapia filets and whole frozen tilapia are growing at the rate of 30 percent to 40 percent each year, Stocks said.
Stocks predicts that "all aquaculture species raised on farms will increase due to the decrease in the wild catch from the waters throughout the world." Stocks also believes "there'll be consolidation because of supply. The cost of production is lower when you raise more. Smaller guys won't be able to compete. It's happening now."
Not all the Ninth District states have gotten their feet wet, although some are testing the water. Jerry Mills, South Dakota's aquaculture extension contact said, "The industry is not very darn big. I could count on one hand the number of producers we have." Actually, it would take just two fingers. And North Dakota had eight fish farms as of the 1997 agricultural census.
The industry is a bit bigger in Michigan's Upper Peninsula, home to nine licensed commercial fish farms, said Ron Kinnunen, district extension sea grant agent for the U.P. Kinnunen said the industry hasn't taken off there because of the cold water temperatures and the high electricity costs to pump water. But there is some potential for expansion, he said, adding that the region's looking into using heated water from a power plant to raise yellow perch.
With 23 licensed commercial fish ponds, Montana appears to have a larger industry. But sources there said Montanans are too busy raising cattle and grain to worry about aquaculture. Angelin Stonebraker, aquaculture specialist with the Montana Department of Agriculture, said 10 of the 23 ponds are fee-fishing operations, which is not considered true aquaculture.
In many cases, it appears the industry will get hooked where the main ingredient—water—is readily available. In the district, that means Wisconsin, Minnesota and possibly Michigan's Upper Peninsula, although none has the natural resources of Idaho to tap into.
Researchers are looking at innovative approaches to fish farming, but with limited success. Stonebraker, for example, said the department is looking into diversifying the state's ag sector by using farm wastewater to grow fish, but existing farms are not faring very well. Jim Peterson, the fish health coordinator with Montana's Fish Wildlife and Parks said, "I think the water supply for commercial facilities is limited, and it's not the right market in Montana."