Ninth District states—by the numbers
Poverty rates vary in district states
Wisconsin, Minnesota and South Dakota finished with poverty rates below the national average during 1997-1999, while North Dakota and Montana registered poverty rates higher than the national average. Officially, poverty is measured by the percent of persons living below a defined income level that counts money income before taxes, but does not include capital gains and noncash benefits (such as public housing, Medicaid and food stamps). For example, in 1999 a family of four earning below $17,029 was considered to be living in poverty by the U.S. Bureau of the Census.
Strong economic growth during the 1990s resulted in more jobs and higher incomes, which helped bring poverty rates down nationwide from 14.2 percent in 1990-92 to 12.6 percent in 1997-99. In contrast, slower employment and income growth in North Dakota and Montana correlated with a higher percent of people living in poverty. For instance, during the 1990s employment grew slower in North Dakota (1.2 percent) than in the nation (2.3 percent), and personal income grew slower in Montana (4.3 percent) than in the nation (5.5 percent).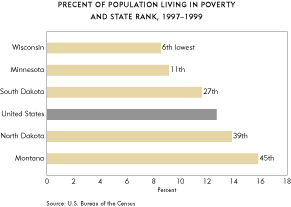 Public welfare spending lower than national average
State government expenditures on public welfare are lower overall on a per capita basis in the district than the national average of $771. The exception is Minnesota, which ranks sixth in the nation at $965. Montana has the lowest per capita expenditure on public welfare in the district at $529, ranking 44th nationally. Expenditures on public welfare include child-care, medical and housing assistance.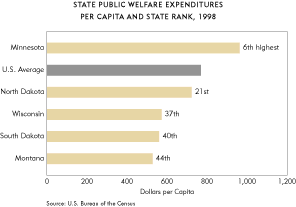 For more information, visit the U.S. Census Bureau.
Homeowner vacancy rates echo tight housing market
Homeowner vacancy rates—the percent of nonrental housing units unoccupied—for district states finished at or below the U.S. average of 1.7 percent in 1999.
Minnesota and Wisconsin had the first and second lowest homeowner vacancy rates in the nation at 0.8 percent and 0.9 percent respectively. Montana had the highest district homeowner vacancy rate at 1.7 percent.

From 1986 to 1999 rates in Wisconsin and Minnesota remained below the national average, while rates in South Dakota stayed relatively close to the national average. From 1986 until about 1992, homeowner vacancy rates in Montana and North Dakota were above the national average, but have remained about average since.

During the third quarter of 2000, homeowner units comprised 67.7 percent of the 119.8 million housing units in the United States, the highest level of homeownership recorded in the survey, which the U.S. Census Bureau began in 1956.

U.S. vacancy rates for nonrental housing units were highest outside metropolitan areas, at 2.4 percent, and lowest in the suburbs, at 1.2 percent. See the back page map for U.S. homeowner vacancy rates by state.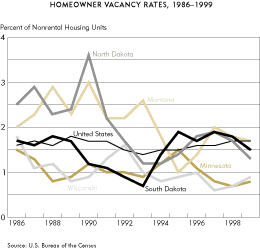 Source: U.S. Bureau of the Census