Pulling the plug on electricity deregulation?
On a brisk October evening, 40 people have gathered in a government building in downtown Minneapolis to do the hard work of democracy. At the front of the room, Minnesota Department of Commerce policy analyst Mike Bull is sucking lozenges, hoping not to lose his voice as he gives his presentation for the third time today "and maybe the billionth" in the last few months.
"I'm going to rely on you all to keep me awake," jokes Bull, beginning his talk. No problem there: This audience is vocal and diverse. In the back of the room sit two well-dressed officials from Xcel Energy, the nation's 10th largest electric utility. Directly in front of them, distributing leaflets, is a young man in a jumpsuit, yellow hard hat and red cape with yellow letters proclaiming him "Captain POWER," as in "People Organizing for Workers, the Environment and Ratepayers." Elsewhere sit senior citizens, business owners, union members, environmentalists and policy wonks.
What is Deregulation?
Under the regulatory framework in place since the 1930s, electric utilities—viewed as natural monopolies providing generation, long-distance transmission and short-distance distribution of power—have been granted exclusive rights to all customers within designated geographical areas, with guaranteed rates of return. In exchange, the utilities accepted the obligation to serve those customers at prices set by state regulators, based on production costs.
Under deregulation, the utilities would be broken apart into generation, transmission and distribution operations. The latter two—still seen as natural monopolies—would continue to be regulated by the government, but generation would be spun free. Theoretically, deregulation would bring market efficiencies to power generation, allowing companies the right to sell electricity wherever they could, at whatever price the market would bear. Consumers would pick the electrical supplier of their choice, much as we now choose long-distance phone service. The endpoint would be retail competition in electricity.
For two hours, they debate the future of Minnesota electricity, a future that might be dark. Regional planners project a 5,400-megawatt shortfall in the Upper Midwest by 2008, says Bull, the equivalent of "five Prairie Islands," referring to an Xcel nuclear power plant.
A gray-haired man asks if the department's plan to deal with the power shortage has been endorsed by AARP and wonders whether electricity prices will rise or fall. An Xcel executive fishes for—and receives—a compliment on Xcel's environmental programs, but Captain POWER isn't pleased. A business lobbyist doubts the plan provides enough incentive for utilities to build new power plants. A recent transplant from Massachusetts says electricity deregulation hasn't worked there and won't here.
The Minneapolis meeting—polite, but divided—is a microcosm of the national debate over electric power. Across the country, including the Ninth District, policymakers and utility officials are worried we're running short of power. Americans are demanding more electricity, thanks to a growing economy and increased use of electrical appliances.
But supply has not kept up. For a variety of reasons, including environmental restrictions, uncertainty over the future regulatory environment and inaccurate demand forecasts in light of the unanticipated economic growth in the 1990s, utilities have built few power plants in the last decade. Largely for the same reasons, the transmission grid was not greatly strengthened over the same period. So as demand has increased, utilities have struggled to meet it (see chart). The result: blackouts, brownouts and price spikes, and an increasingly loud debate over what should be done.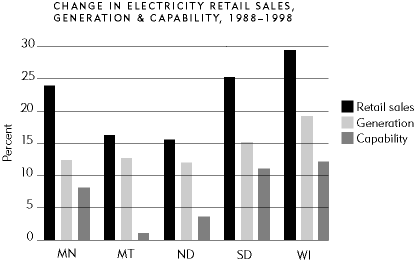 At the epicenter of this debate is deregulation, the idea that the electric power industry should be freed of regulatory oversight that has controlled it virtually since its birth. Until quite recently, both friends and foes of electricity deregulation have viewed it as pretty much inevitable, part of the wave of deregulation that has transformed trucking, banking, telecommunications, airlines and railroads in the past two decades. People began to refer to electricity deregulation as the "Big Bang," an expression that suggested unstoppable power. But recently, policymakers and even some electric utilities have begun to wonder if deregulation promised too much, if the Big Bang might be premature.
Chastened by apparent breakdowns in the market and regulatory processes on both East and West coasts—as well as England and other countries that have moved toward deregulation of their electricity industries—state governments have slowed down, even backtracked. Many states, including most in the Ninth District, are now pursuing more gradual paths which suggest not an unfettered industry operating under the invisible hand of the free market, but an electrical power system that, while significantly changed, will still remain subject to many layers of government regulation.
Most economists argue that deregulation of generation makes sense in the long run, because it brings a competitive environment to a formerly regulated industry, resulting in more efficient allocation of resources. They also warn that California has not experienced true deregulation—a variety of price caps and other regulatory controls have remained in place—so judging electricity deregulation by looking at the California experience is not a fair test of deregulation's long-term promise. But policymakers remain highly sensitive to the short-term disruptions that arise during any transition from regulation to deregulation, and they're becoming increasingly reluctant to test the waters.
Deregulation in the Ninth District
In the Ninth District, states have embraced deregulation with varying levels of ardor (see table). Montana jumped at it, passing a deregulation law in 1997. But the passion has recently cooled. Michigan's Legislature has mandated retail competition by January 2002, but concerns have now arisen about market power and a proposed 48 percent increase in transmission charges. Wisconsin started fast, but made a hasty retreat when blackouts revealed an inadequate infrastructure. Minnesota has proceeded very slowly, and the Dakotas, too, are playing it cool. The main reason for this varied, but generally slow movement in the Ninth District? In a word, price.
According to most analysts, the primary driver behind the electricity deregulation movement is the dramatic difference in electricity prices nationwide. In 1998, when the average national price of electricity was 6.7 cents per kilowatt hour, New Hampshire had the nation's highest price: 11.9 cents, while Idaho residents paid just 4 cents (see data map).
Natural access to coal or hydroelectric power accounts for some of the differential in electricity prices among states. Two other key factors are the long-term contracts some utilities entered into with small generators following federal legislation in 1978 to encourage alternative energy, and the amortization of expensive nuclear plants. Not all states entered into high-cost generator contracts, and states also differed in their pursuit of nuclear power, so by the 1990s, electricity prices varied widely among the states.
Big electricity users took notice. "Large industrial consumers, located in states where electricity prices are significantly higher than those in other states, have used their considerable influence to convince state legislators and regulators to take actions that will lower electricity prices," according to the Energy Information Administration, U.S. Department of Energy. Or in the words of Massachusetts Institute of Technology economist Paul Joskow, a leading authority on the electric power industry, "Electricity sector reform efforts ... have been concentrated in the states where the gap [between local retail prices and projected wholesale prices] is largest. They have been led by large industrial customers interested in lower electricity prices."
So the states that have moved most quickly toward deregulation tend to be those with the highest prices, those with the most to gain by going after cheaper electricity in low-price states. Almost all Ninth District states have cheap power, so the price motivation has been low. The exception is Michigan, where consumers paid 7.1 cents per kilowatt-hour in 1998, which is above the national average. The Upper Peninsula (U.P.)—accounting for just 6 percent of the state's electricity sales—is an electrical odd fish, being served by Wisconsin utilities.
The U.P. aside, discussion of deregulation tends to follow state borders, since state regulatory bodies have jurisdiction over utilities serving their residents. While each of the Ninth District's states has a unique tale to tell, Montana, Minnesota and Wisconsin have stories that best illustrate the three most critical issues: price, production and delivery of electric power. Montana has deregulated but price volatility is forcing a partial retreat. Minnesota lawmakers won't even think about deregulation until they get a handle on generation. And Wisconsin, having partially addressed generation, is being tripped up by too few wires.
Montana: Big skies, high prices
Ironically, in the Ninth District, the first state to push through deregulation was the one with by far the cheapest electricity: Montana. Because of the peculiarities of the American power grid, Montana electricity is connected most closely not with the Upper Plains states, but with the Western Interconnected System, consisting of states west of the Rocky Mountains. So while Montana's average electricity price of 4.8 cents per kilowatt-hour compares very favorably with prices elsewhere in the Ninth District, the state's large power users—copper and aluminum producers as well as paper mills—recognized that they could reduce costs significantly if they had access to still cheaper power from either Washington (4 cents), Idaho (4 cents) or Wyoming (4.3 cents).
In April 1997, with full support from the Montana Power Co. (MPC), the state's largest utility, the Montana Legislature adopted the Electric Utility Industry Restructuring and Customer Choice Act. The bill allowed large industrial consumers retail access by July 1998 and mandated retail access for all consumers by July 2002.
Initially, Montana deregulation worked like a charm. Businesses sought out new energy contracts, breaking their ties with regulated utilities. Even smaller businesses like the Meadow Gold Dairy in Great Falls found better deals. "We've seen significant savings," Ella Mae Howard, Meadow Gold's plant manager, told the Great Falls Tribune in June 1999. The company had switched from Montana Power to Commercial Energy and found not only lower prices, said Howard, but better customer service. Large companies saved even more money.
But the drought of 2000, combined with the diversion of water from hydroelectric power plants in the Northwest to allow salmon to spawn upstream, decreased power supplies in the Northwest at the exact time that Californians—newly deregulated and also connected to the Western grid—turned on their air conditioners. Electricity marketers saw they could make more money in California, and power flowed south on the Western Interconnection. Local demand met supply at a very high price.
"Prices have gone up a lot, just outlandish," said Meadow Gold's Howard in a recent interview. "We suffered a couple of very difficult months." In fact, power costs skyrocketed for many Montana businesses and forced closures at several. Louisiana Pacific temporarily closed its fiberboard plant in Missoula in August when its $25-a-megawatt contract expired and the daily spot price reached $457 per megawatt. Production was suspended at the Continental copper mine in Butte, and 365 workers were laid off, when power prices surged. The mine's owner, Montana Resources, had been Montana Power Co.'s second or third largest customer prior to deregulation. "We had power until the 30th of June at about $32 a megawatt hour," said Russ Ritter, director of government and corporate affairs for Montana Resources. "It went up to $600 the next day."
Prices have dropped some since then, and are lower still on long-term contracts, but with no control over the price of copper, Ritter isn't interested in contracts longer than 18 months. "Hindsight is 20/20," reflects Ritter. "We'd have probably been better off to stay on the Montana Power grid instead of getting off, because [we'd] still be buying power somewhere around $38 or $40 a megawatt hour."
"Industrial customers actually saved money on the order of 5 percent to 15 percent for the first couple of years [of deregulation]," observed Bob Anderson, a Montana Public Service Commission (PSC) commissioner. "But this summer, they lost all their savings and more, so they're much worse off now than they would have been had they stayed on a tariffed rate."
Despite the rocky start, many Montana businesses continue to support deregulation, and they say the solution to high prices is to bring in more power plants. "We're still positive about deregulation," said Howard. "It's a question of not enough generation capacity."
Ritter agreed: "We are fully in favor of deregulation because we feel the only way that there's going to be real competition in Montana for power is through the building of new electrical generation."
The fear of too little local generating capacity seems unfounded given Montana's status as the nation's fourth largest electricity producing state, on a per capita basis. But the anxiety was no doubt exacerbated by a summer which added California demand to Montana's own.
Another source of energy insecurity was Montana Power's decision to sell—in the midst of deregulation—both its generation and transmission assets, and to concentrate on telecommunications instead. MPC's dams and coal plants were sold to a Pennsylvania firm for well above book value, and, pending regulatory approval, its transmission network will be bought for $1.1 billion by NorthWestern Corp., based in Sioux Falls, S.D.
Regardless of who owns the generators and transmission lines, Anderson says Montana moved too fast in deregulating its electric utilities. "I don't expect anybody to follow us. In fact, I'd advise them not to," he said, noting that while deregulation may work for Montana in the long run, the state should have proceeded more cautiously. "Look before you leap," he would advise policymakers elsewhere. "[And] look at a couple of things. One, is the wholesale market working well, and the other, is having sufficient capacity."
After reviewing this summer's experience, the Montana PSC has proposed stepping back from its quick transition to retail competition. Instead of switching residents and small businesses to retail electric markets in July 2002, Montana's Big Bang may be delayed until 2004.
Minnesota: Too little power?
Advice to move slowly on deregulation has been heeded with a vengeance in Minnesota. State legislators have studied and discussed the matter since 1992. But even its staunchest legislative advocate, Rep. Ken Wolf, is doubtful of passing anything substantive in the near-term, and fearful that if he tried, he'd end up with a legacy like that of Steve Peace, "the guy who authored the California [deregulation] bill and now wants to go back to socialism."
1998 Electricity Statistics for Ninth District States
MN
MT
ND
SD
WI
Average electricity price,
in cents per kilowatt-hour
(U.S. rank)

5.71
(17)

4.80
(5)

5.70
(16)

6.26
(27)

5.44
(12)

Primary generating fuel

Coal

Hydro

Coal

Hydro

Coal

Retail sales of electricity,
in millions of megawatt-hours

56.7

13.8

8.2

7.8

62.1

Generation of electricity,
in millions of megawatt-hours

47.4

28.5

30.7

9.1

56.4

Generation per capita,
in megawatt-hours (U.S. Rank)

10.03
(37)

32.36
(4)

48.09
(3)

12.44
(31)

10.29
(34)

Generation capability,
in megawatts

10,118

5,065

4,691

2,923

12,759

Data are not available for Michigan's Upper Peninsula.
Source: Energy Information Administration, U.S. Department of Energy.
Xcel Energy, the state's largest utility, also concedes that a deregulation bill is probably not in the cards for Minnesota this legislative session. "[When] you've got an attorney general and leadership of state agencies saying 'we don't want this to happen yet,' you've got quite an uphill battle," said Judy Poferl, director of regulatory administration for Xcel. [Xcel's chief executive officer, James J. Howard, is chairman of the Minneapolis Federal Reserve bank board.]
Linda Taylor, deputy commissioner of the Department of Commerce, agreed. "I don't think there's a policymaker in Minnesota who's really interested in restructuring right now."
What has caught people's attention, though, is the Upper Midwest's looming power shortage. While the exact size of the shortage and the date it will appear depend on whom you're talking to, everyone seems to agree that Minnesota—and the regional power grid to which it belongs, the Mid-continent Area Power Pool (MAPP)—will have greater electrical demand than supply within the next decade.
People do not agree, however, on how to address the shortage. The Commerce Department plan proposes several steps to both dampen demand and increase supply: increasing conservation measures, improving demand-side management, strengthening transmission capacity and streamlining power plant siting procedures. But Xcel, other Minnesota power providers and business leaders say the proposal doesn't get to the heart of the matter.
"What we question is whether those pieces are really going to add up to enough to address this looming issue," said Xcel's Poferl. "You've got to get at the underlying, fundamental things that are disincenting generation from coming here." Poferl says that if you look at where generating capacity is being built nationally, "it's a very striking correlation between the markets that have gone through restructuring and where the generation is going."
Bill Blazar, senior vice president for government affairs for the Minnesota Chamber of Commerce, agrees with Poferl and suggests that the Chamber is likely to push for deregulation this year, though he, too, views it as a tough fight. "If you pass a bill," said Blazar, "that says the new structure of this industry is going to be one where customers have the opportunity to choose their source of electricity, and here's how it's going to work, and here's the date its going to begin, I think it'll give the investment community and the power producing community, not only the certainty that they want, to know the rules of the road, but also it will tell them that this is a market where they can deal directly with customers."
Customers like IBM in Rochester, with an annual electricity bill close to $10 million, agree that deregulation is the way to go. With retail choice, IBM could opt out of its regulated municipal supplier, Rochester Public Utilities, and might save 20 percent to 25 percent on its electric costs, according to Dave Reichert, manager of environmental, chemical and energy services for IBM's Rochester facility. "We believe we suffer a penalty under the present system because we're not able to shop," Reichert said. Like Blazar and Poferl, Reichert believes the Department of Commerce plan has its good points, but doesn't go far enough. "They talk about streamlining the permitting process [for a power plant], and that's fine," he said. "But first you have to have somebody who wants to build one."
State regulators respond that the rules of the road are quite clear without deregulation and suggest that if investment in generation doesn't materialize on its own, "you would do it in the old-fashioned way, through the regulatory process," said Thomas Bailey, assistant attorney general. "Come out here, propose your plant, we'll do a rate case, you get to put the costs into rates, and you'll get a guaranteed rate of return."
Commerce's Taylor is even more blunt: "The rules are clear. The rule is that individual utilities are obligated to provide service to the customers in their exclusive service territories. The rule is that if you don't have enough power, you go get it. I don't know how much more clear the rule can be."
It sounds like a staring contest. Utilities seem to be threatening not to build generation unless the state makes concessions, and regulators say they'll use the force of law to get their way. Who will blink first?
A broader question is whether the premise is accurate: Will corporations building power plants elsewhere in the country not build (or build only at a premium) in the Upper Midwest if states don't promise retail competition? And if deregulation is necessary, is it sufficient? Will it guarantee greater supply? The questions remain to be answered.
"How retail competition is going to get supply built is a mystery to me," said Taylor. "I think what retail competition gives us is chaos. Eventually the market will figure itself out, and eventually we will get new supply, but in the meantime, there are going to be big losers. And our role here is to try to protect the public interest. ... We can have chaos happen in lots of different areas of the market that don't involve people's survival. But electricity is a survival issue in Minnesota."
While IBM has nothing but praise for RPU's service, it, too, sees reliable electricity as a matter of financial survival and doesn't see that state regulators are doing much to ensure reliability. "We're concerned right now about where is the power going to come from in three or four years," said IBM's Reichert. "It takes a long time to build one of these plants. There are those who would say its already too late. ... So I'm a little frustrated to hear that first we have to fix the system and then we can change ... to something else. The logic just kind of escapes me."
Wisconsin: Fast track derailed
Wisconsin has moved faster than Minnesota. It was on the Big Bang fast track, in fact, with a comprehensive 32-point plan to bring about retail competition by 2001.
But a heat wave in summer 1997, combined with shutdowns of Point Beach nuclear power plant as well as several Illinois generators forced Wisconsin utilities to shut off power to 80 businesses and call on other customers to cut back.
A year later, another chance event further underlined the fragility of the grid. On June 25, 1998, lightning hit the major power line between Minnesota and Iowa; minutes later, another bolt hit the King-Eau Claire line, the main link from Minnesota to Wisconsin. Within seconds, parts of northern Minnesota, Wisconsin, Manitoba, and Ontario were blacked out.
Reliability—long the Holy Grail of the industry—was seriously in doubt. Transmission engineers, utility presidents and Wisconsin's Gov. Tommy Thompson began to question whether the state was ready for deregulation, and they directed their attention instead toward infrastructure improvement. "Restructuring, at least as it relates to implementing retail competition, has been put on hold," concluded the Public Service Commission (PSC) of Wisconsin, on its electricity restructuring Web site.
The first concern—as in Minnesota—was generation. "Our focus changed [from deregulation] to getting some stuff built," said Mark Williamson, executive vice president at Madison Gas and Electric (MG&E).
Experts predicted that Wisconsin electricity needs, growing at about 2 percent a year, would soon exceed capacity. Wisconsin Electric Corp., the state's largest utility, estimated a shortfall of 4,000 megawatts by 2010. So in 1998, the Legislature passed an act that streamlined the approval process for building merchant power plants, basically issuing an invitation to independent power producers (IPPs) to come to Wisconsin and build.
Results have been promising. "Right now we're looking at what appears to be a generation building boom, at least if you look at the proposed projects on the blueprints these days," said commissioner Joe Metner of the PSC. "It seems like every couple of weeks some new company announces its intention to pursue certification for a plant somewhere in Wisconsin." As much as 6,000 megawatts, "depends which week it is," has been proposed, according to Metner, representing nearly half of Wisconsin's peak load.
Metner and others caution that not all proposed plants will actually be built; nonetheless, he said, "I think the level of investment that the IPPs want to put into our state is very positive ... a good response to legalizing merchant plants and making their status clear."
Local utilities have also built or proposed significant generating capacity. MG&E just completed an 83-megawatt facility. In September 2000, Wisconsin Electric announced a $2 billion program to build 1,700 megawatts of new generation by 2010, and $1.3 billion to upgrade existing plants.
To some degree, the Wisconsin "building boom" contradicts Minnesota and Montana voices that say deregulation is a necessary incentive to power plant builders: Wisconsin regulators have made no promises about retail competition. But they have clarified merchant plant ownership laws, sped up the permit process and, in October 1999, loosened limitations on nonutility investments by electric utilities, allowing regulated electric companies to broaden their business horizons.
Still, before Wisconsin Electric breaks ground on new power plants, it wants a stronger quid pro quo from the state. "We don't propose retail competition," said Bill John, a Wisconsin Electric spokesman. But they do want a 20-year power purchase agreement with the PSC and permission to move their generating assets, at book value, to a "sister company." The company may not get everything it's asking for, say observers, but they hold a strong position: Wisconsin wants the electricity.
"This is going to negotiate out," predicted MG&E's Williamson. "I think they'll get things like accelerated depreciation, perhaps a little more aggressive leveraging ... and probably some long-term assurances by the regulators. ... But with those tweaks, it's going to be more of a price-control regime than any kind of deregulated competitive regime."
"The regulators can make deals with them, and say, if you build this, then it's part of your obligation to serve, we'll guarantee you'll get your money back," observed MIT's Joskow. "But if [regulators] don't do that, why would [they build]? You have to have a clear regulatory framework and it has to be one that satisfies the investment viability constraint."
Transmission constraints
More problematic, it seems, is the grid itself. While Minnesota has 18 major interstate transmission lines, and Illinois has 25 connections to other states, Wisconsin currently has just four links to the outside electrical world. "We have some unique problems in Wisconsin," said Jeff Butson, PSC spokesman. "We're bordered on the north by Lake Superior, on the east by Lake Michigan. We're sort of a bottleneck."
Moreover, in its most recent assessment of transmission capacity in the Upper Midwest, including much of Wisconsin, MAPP said the "tremendous increase" in wholesale market trading across transmission lines originally built for local use "has stretched the existing transmission system to its reliability limits."
Transmission capacity (measured as megawatt-miles of transmission line per megawatts of summer peak demand) declined 14 percent from 1989 to 1998, according to national transmission expert Eric Hirst. Hirst expects to see a further 17 percent capacity decline from 1998 to 2008, the second largest decline of the 10 regions that comprise the U.S. power grid. In MAIN, the other power pool that serves Wisconsin, capacity declined 16 percent from 1989 to 1998 and is projected to fall another 10 percent by 2008.
That paucity of transmission makes Wisconsin vulnerable not only to lightning strikes, but to the exercise of market power-the ability of one or two major suppliers to raise prices above competitive levels. In a regulated environment, market leaders can't raise prices and have no incentive to restrict supply. But if deregulation were to take place, Wisconsin would be particularly susceptible to price manipulation by just a few firms. Because power plants take so long to build, competitors can't quickly enter the market. Because electricity can't be stored cheaply, consumers can't wait until prices fall. And because demand for electricity has "more the elasticity of a piano wire than a garter belt," said MG&E's Williamson, suppliers can pretty much set whatever price they want when competition doesn't exist.
Aware of the potential for abuse in a deregulated future, the PSC commissioned a study, delivered in November, which found that Wisconsin Electric's control of roughly half of all generating capacity in the Wisconsin-Upper Michigan System would allow it to exercise substantial market power. Depending on the time of day and season, prices could be raised between 15 percent and 75 percent above competitive levels, said the study authors.
Expanding transmission would help reduce market power, but doing so promises to be expensive and divisive. While Wisconsin Electric has proposed $2.7 billion over the next decade to enhance its distribution network—a plan welcomed by most—other utilities have proposed transmission lines that have met strong resistance. The largest and most controversial is a 250-mile line between Duluth and Wausau, the Arrowhead-Weston Project, proposed last year by Wisconsin Public Service Corp. and Minnesota Power/Allete.
Engineers proposed the line after studying several different options for increasing transmission reliability, in part because it offers geographic diversity: A local storm threatening the King-Eau Claire line would likely not affect a line in northern Minnesota and Wisconsin. Large industries, including paper companies in northern Wisconsin, as well as retail businesses belonging to the Wisconsin Merchants Federation support the proposal, viewing it as critical to their bottom line.
But in vocal opposition stand most of the county councils in areas through which the power line would pass and many local citizens who fear they'd lose their pastoral paradise to the hum of high voltage. Property owners and environmentalists, organized in a group called Save Our Unique Lands (SOUL), have launched a Web site, written hundreds of letters and organized protests to make their views known. "It's one of the most controversial cases in our history," said PSC spokesman Butson. "They've come down in busloads to protest at the commission."
The critics are not convinced that the Arrowhead line is essential to Wisconsin's electrical well-being. Tom Kreager, SOUL's president, argues that upgrades to existing transmission lines, demand-side management and distributed generation technology would better address Wisconsin's reliability issues. The real motive for the line, he suggests, "is moving bulk quantities of electricity across the state" to export power to higher-priced markets: Detroit, Chicago. "Wherever the highest bidder is."
The debate will not be resolved until spring 2001 at the earliest, and if approved, construction would take several more years.
Arrowhead aside, the future of Wisconsin's transmission network remains unclear. In line with federal policies encouraging integration of regional networks, the Wisconsin Legislature mandated that the state's largest utilities transfer control of their transmission assets to a Wisconsin nonprofit entity that would, in turn, join a regional transmission organization. But the regional organization, the Midwest Independent System Operator (MISO), appears to be very fragile. Several members are pulling out, others have threatened to, and observers are pessimistic. "My prediction is that MISO is going to collapse," said Jaskow. "I can't imagine it's going to survive."
Whatever MISO's fate may be, the development of a robust integrated transmission network in the Midwest will require a structure that supports the operational requirements and financial interests of the participating utilities. It isn't likely to happen soon.
Other struggles
While pricing, generation and transmission are arguably the most critical issues involved in deregulating electricity, a host of other problems must be resolved as discussions move forward. Some will be addressed at the state level, but many think the field of debate is moving to the federal level. The debatable issues are many.
Electrical service to rural residents and low-income customers will have to be maintained, and the higher costs paid for. Differential tax policies for electrical cooperatives, municipal utilities and investor-owned utilities must be addressed. Demand-side management—the technology and markets that create awareness and response to real-time fluctuations in electricity prices—requires development. Government and industry must decide whether it continues to make sense for utilities to run customer conservation programs, given the inherent conflict of interest with their primary goal of selling energy. The trade-off between our increasing demand for electric power and the environmental costs of producing that power will remain a point of contention.
While these and other questions remain, it appears that for now, the push toward retail competition has slowed. Some observers aren't sure that's such a bad thing, at least in low-price states like those of the Ninth District; given the costs involved, the net benefits of full deregulation may be less than the Big Bang first promised. "In the Midwest, where regulation has been reasonably benign, and companies have done a pretty good job building cheap coal plants and operating them, I don't think the long-term benefits are huge," concluded Jaskow, noting that the primary benefit would be encouraging innovative generation technologies. "I'm still in favor of going forward with this, but you have to be cognizant of keeping the short-run costs low."
In the states that make up the Ninth District, at least, the power struggle may eventually result in reasonable compromises between regulatory and market incentives, what one restructuring analyst calls a "hybrid from hell." Until those deals are struck, keep your flashlight handy.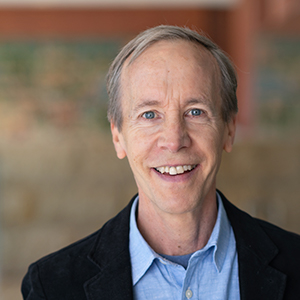 Douglas Clement
Senior Writer
Douglas Clement was a managing editor at the Minneapolis Fed, where he wrote about research conducted by economists and other scholars associated with the Minneapolis Fed and interviewed prominent economists.