District economy expected to recover modestly
After a slow year, the district economy is expected to pick up at a modest pace in 2002, according to the Minneapolis Fed's forecasting model. As the regions and industries most affected by the national recession recover, employment and personal income will expand. Home building is predicted to grow, but commercial construction started 2002 softer than a year ago. Drought and lower livestock prices are causing difficulty for agriculture producers in several district states; however, high levels of government payments are expected to offset some financial problems.
The recession that began in March 2001 didn't affect all areas of the district equally. For example, nonfarm employment in Minnesota from April 2001 to April 2002 dropped faster than the U.S. average but grew slightly in Montana (see chart). Meanwhile, personal income growth was slower than the national average during 2001 in Minnesota, South Dakota and Wisconsin, and faster than the national average in Montana and North Dakota (see related story).
The district's manufacturing, mining, and transportation and public utilities sectors all saw employment declines of better than 4 percent. But jobs in other industry sectors remained about level or increased from April 2001 to April 2002. Employment in the district's construction, and retail and wholesale trade sectors decreased slightly; while employment in services, government, and finance, insurance and real estate increased by about 1 percent. The relative strength in these industry sectors at the national level was one reason the recession was relatively mild compared with recessions of the past.
The Minneapolis Fed's forecasting model predicts slow-moving job growth, with district nonfarm employment increasing 1.6 percent by year-end 2002. Nonfarm employment is expected to grow 2.2 percent in 2002, nearing the growth rate last seen in 1999.
Despite the anticipated increase in job growth, the district unemployment rate is expected to climb from 4.3 percent in 2001 to 5.2 percent by year-end 2002, remaining steady through 2003 (see adjacent page). This suggests that more workers are expected to enter the labor force than the number of job openings created. Furthermore, job layoffs may continue and firms that have laid off employees may be slow to recall them until they are confident the economic recovery is under way.
District home building grows, commercial construction slows
District home building was solid during the first four months of 2002 as housing units authorized grew 18 percent compared with the first four months of 2001. Multifamily housing increased 53 percent during the same period, while single-family units increased 7 percent. Income growth during the economic expansion of the 1990s and favorable interest rates have helped keep the housing sector strong during the recession. The forecasting model predicts that home building will continue to grow through 2003.
Meanwhile, commercial construction has slowed. During the first four months of 2002, the value of contracts awarded for commercial construction projects decreased 1 percent in Minnesota and the Dakotas compared with a year ago, according to the Construction Bulletin. Private office building construction was down 20 percent as the amount of office space available increased. The vacancy rate for office buildings in the Minneapolis-St. Paul area increased to 12.9 percent during the first quarter of 2002, compared with 9.7 percent in first quarter 2001.
Drought and lower livestock prices worry producers; government payments save the day
Farmers and ranchers in the western part of the district are facing very dry conditions, which are wreaking havoc on winter wheat output and livestock production. Livestock profitability has also been hampered by lower prices. However, government payments and rising land values have kept most producers in business.
AVERAGE FARM PRICES
1999/
2000
2000/
2001
Estimated 2001/2002
Estimated 2002/2003
Corn (Current $ per bushel)

.82

1.85

1.85-1.95

1.75-2.15

Soybeans (Current $ per bushel)

4.63

4.54

4.25

4.00-4.90

Wheat (Current $ per bushel)

2.48

2.62

2.78

2.50-3.10
2000
2001
Estimated 2002
Estimated 2003
All Milk (Current $ per cwt)

12.61

14.97

12.45-12.95

12.25-13.25

Choice Steers (Current $ per cwt)

69.65

72.71

67.00-70.00

72.00-79.00

Barrows & Gilts (Current $ per cwt)

44.70

45.81

35.00-36.00

35.00-38.00

Source: U.S. Department of Agriculture, estimates as of May 2002.
The drought in Montana continues into another year as livestock prices softened, and spring planting in nondrought areas was relatively normal. Montana 2002 winter wheat production is expected to be up from the dismal production in 2001 but down 37 percent from levels of two years ago. Meanwhile, Montana ranchers continue to cull herds because they are having difficulty meeting water requirements. Ranchers are also facing lower livestock prices; hog and steer prices are down 30 percent and 8 percent, respectively, from spring 2001. Spring plantings for nondrought areas were normal this spring. The U.S. Department of Agriculture reported that crop progress was about even with the five-year averages for most district crops.
On the bright side, land prices rose from last year. The results of the first-quarter survey of agricultural lenders indicated that land prices in the district continue to increase. "Very willing buyers, both local and out of the area, for any real estate offered for sale," reported a South Dakota banker. Cropland prices increased from first quarter 2001 to first quarter 2002 from an average of 1 percent in North Dakota to 7 percent in South Dakota. In addition, pasture land price changes ranged from zero growth in North Dakota to an 8 percent increase in South Dakota for the same time period.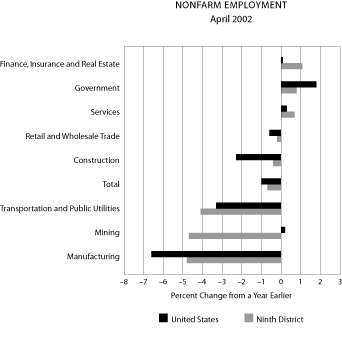 Source: U.S. Bureau of Labor Statistics
High government payments are expected to help district cash crop producers in 2002, including $1.2 billion for Minnesota producers, $676 million for North Dakota producers and $606 million for South Dakota producers.