District economy slowed in 2001; expected to remain sluggish in 2002
According to a recent poll of district business leaders that is consistent with the Minneapolis Fed's regional forecasting models, a slow-moving economy is predicted for the Ninth District in 2002. Current weak conditions indicate that the district economy has slowed in step with the nation, which fell into a recession in March 2001.
District employment conditions have weakened as mining, transportation and manufacturing industries have slowed. For 2002, the forecast model and the business poll both point toward decreases in employment, while wages and prices are expected to increase modestly. Agricultural conditions in 2001 were mixed; drought hampered Montana farms and ranches, while Dakota farmers reaped the benefits of strong harvests and profitable cattle prices. The agricultural outlook for 2002 hinges in part on the pending farm bill.
Labor markets weaken
Nonfarm employment in October dropped by 0.3 percent nationally and in the district compared with the same month a year ago. District employment in mining, manufacturing and transportation decreased by 3 percent or more. Meanwhile, the construction, services, government, and finance, insurance and real estate sectors posted modest employment growth, while retail and wholesale trade employment remained level.
Mining employment in the district decreased 5 percent, in contrast to a 3 percent increase nationally. Several iron ore mines in northern Minnesota and Michigan's Upper Peninsula shut down or cut production in 2001. Meanwhile, the Montana mining industry is generally depressed, according to a state mining official.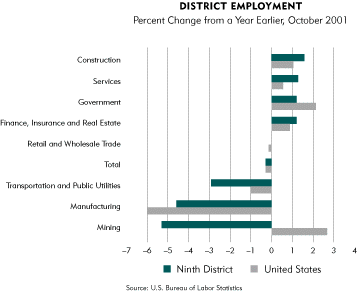 District transportation employment took a steep dive following Sept. 11, dropping at a faster rate than the national average. Labor statistics reflect heavy layoffs by Northwest Airlines, including 4,500 jobs in Minnesota.
The district's manufacturing sector posted 53,000 fewer jobs in October compared with a year earlier as manufacturing languished throughout the year. According to a Creighton University survey, manufacturing production decreased for the first 11 months of 2001 in Minnesota, while production in the Dakotas was mixed. Plant closings and employee layoff announcements continued throughout late 2001.
While labor markets have loosened, the workforce has continued to post gains in productivity. Most respondents to the outlook poll reported positive gains in productivity during 2001 (see "Business leaders pessimistic for 2002"). Productivity, defined as the amount produced during an hour worked, grew nationally at an average of almost 2 percent during the first three quarters of 2001 compared with the same period last year.
The district unemployment rate increased to 4.2 percent in the fourth quarter of 2001, up from 3.3 percent a year ago. The Minneapolis Fed's forecasting model expects the district unemployment rate to climb to 5.3 percent by the fourth quarter of 2002 (see Ninth District Forecast).
Construction slows; price increases are modest
After a strong performance during the previous five years, heavy construction, such as buildings, roads and sewer systems, weakened in 2001. Contracts awarded for heavy construction projects decreased 3 percent in Minnesota and the Dakotas during the first 10 months of 2001 compared with last year, according to the Construction Bulletin. The slowdown in construction was led by a 12 percent decrease in contracts awarded for private buildings. This coincides with reports by Minneapolis-St. Paul commercial real estate firms of climbing vacancy rates and increases in sublease office space in the local area during 2001.
The construction slowdown in 2001 followed four years of strong growth. From 1996 to 2000, district construction increased at an annual average of 9 percent, which spurred strong gains in construction employment and wages—both have moderated in 2001.
Meanwhile, existing home sales and new-home building have kept pace with year-earlier levels as relatively low mortgage rates have helped reduce the cost of home purchases. During the first three quarters of 2001, existing home sales in the district increased 3 percent compared with the same period a year ago. In addition, district housing units authorized increased 1 percent during the first 10 months of 2001 compared with last year. The forecasting model expects housing units authorized to increase in most district states during 2002.
As district economic conditions have slowed, wage and price increases have been modest and are expected to remain in check during 2002. For the first 10 months of 2001, manufacturing wages increased 2.7 percent, down from 3.2 percent during the same time period in 2001. Results of the outlook poll indicate that wage and salary growth is expected to remain at 3 percent or below in most district communities.
Since 1992 the U.S. Consumer Price Index (CPI) has increased at an annual average rate of 2.7 percent per year. Consumer prices remained contained in 2001; in October the CPI increased 2.1 percent compared with the same month a year ago. Outlook poll respondents expect only modest price increases next year; only 21 percent expect to increase prices for their products, down from 44 percent in last year's poll.
Through adversity, farmers survive the year
Agricultural conditions were mixed across the district in 2001. Crop prices remained low, while cattle and hog prices were strong for most of 2001. Tough weather conditions, including a late, wet spring, resulted in crop production that was lower than in 2000 for many district farmers. In addition, continued drought has disappointed farmers and ranchers in Montana. However, farmers and ranchers in the Dakotas had a strong year, with favorable weather conditions and cattle prices.
Average Farm Prices
1998/
1999
1999/
2000
Estimated
2000/2001
Estimated
2001/2002
Corn (current $ per bushel)

2.00

1.82

1.85

1.85-2.15

Soybeans (current $ per bushel)

5.00

4.63

4.54

4.00-4.80

Wheat (current $ per bushel)

2.65

2.48

2.62

2.75-2.95
1999
2000
Estimated
2001
Estimated
2002
All Milk (current $ per cwt)

15.38

12.33

14.90-15.00

12.85-13.65

Choice Steers (current $ per cwt)

65.56

69.65

72.52

74.00-80.00

Barrows & Gilts (current $ per cwt)

34.00

44.70

45.86

42.00-45.00
Source: U.S. Department of Agriculture, estimates as of December 2001.
The outlook for agricultural producers is mixed. Estimated prices for basic farm commodities like wheat, corn and soybeans remain low. Dairy prices are expected to dip in 2002. However, estimates for certain livestock prices decreased somewhat but remain at healthy levels. On the bright side, the progress of the South Dakota and Montana winter wheat crop is ahead of the five-year average and over half the South Dakota crop is rated as good or excellent.
In 2000, government payments represented 20 percent of total revenues for agricultural producers in Minnesota, Montana and the Dakotas. As Congress debates a new farm bill, producers are uncertain about future subsidies.
Lenders are pessimistic about the future of their farm customers, according to the Minneapolis Fed's (November 2001) agricultural credit conditions survey. Sixty percent of respondents expect profits to be below normal over the next quarter. Montana respondents were the most negative: Nearly 90 percent anticipate below-normal profits, compared with half the South Dakota respondents. The outlook for capital spending was nearly the same across all states; an average of 65 percent of lenders anticipate below-normal levels.