Mother Nature hits farmers and ranchers in second quarter
Facing either unrelenting summer drought or excessive rain, farmers in the second quarter confronted increasingly tough financial conditions, according to the Minneapolis Fed's agricultural credit conditions survey. A majority of surveyed lenders reported that the overall income of their farm customers continued to fall and, like the first quarter, although household spending remained level, capital purchases decreased. Worse times may still lie ahead.
Outlook and government payments
Many lenders are concerned about the current financial situation of their farming clients. As one South Dakota banker said, "If current drought conditions stay, the number of problem loans could climb." Another seconded this opinion: "Major cash flow problems could arise because of drought and cattle and hog prices." Bankers from across the district commented on the central role government payments will play this year. "[Farming] net income [will be] very dependent upon government payments," said one respondent. "The passage of federal disaster aid," added a Minnesota lender, "will be critical to many of our borrowers."
The extent of government payments remains to be seen; overall, lenders seem pessimistic about the next three months for their farming clients. Though 10 percent expect farm income to rise next quarter, over half of the respondents expect it to fall. Most (71 percent) foresee unchanged levels of household spending, but 52 percent predict a decrease in the purchase of capital equipment.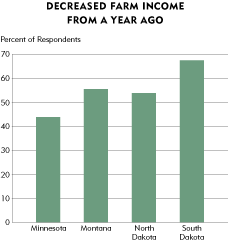 Source: Federal Reserve Bank of Minneapolis