Wisconsin imported milk last year. That bears repeating: Wisconsin imported milk.
It's sad but true. Wisconsin—America's Dairyland, home of the Cheesehead, national epicenter of udders—couldn't produce enough milk to meet local demand in 2001. In order to reach production goals, Wisconsin cheese producers were forced to ship in milk from as far away as Texas.
The inability of local dairy farmers to fully supply Wisconsin's cheesemakers last year is a symptom of what many consider a crisis in the Midwest dairy industry. And the decline of district dairy is a long—and some say inevitable—trend. Driven by technological advance and market consolidation, the dairy industry has undergone dramatic change in recent decades. Thousands of small dairy farms have gone out of business in Ninth District states, cow inventories have plummeted, milk production has dropped, and the center of dairy gravity has shifted relentlessly from the Midwest to the West Coast.
But dairy farmers in the Ninth District aren't admitting defeat, and their recent responses to the decline have ranged from large-scale growth to innovative development of small-scale dairy niches. Wisconsin and other district states may never regain the title of America's Dairyland, but these farmers hope they might just stop the downward flow of Midwest milk.
No more moo?
For most of the 20th century, Wisconsin was the nation's top milk producer. A climate favorable to good forage and a culture of skilled dairy farmers producing quality product for local processors guaranteed steady growth to the industry and comfortable profitability. Similar assets made Minnesota a leading milk producer as well.
Although cow numbers in district states have actually been declining for decades, the more worrisome trend since the late 1980s has been the faltering of total milk production. From a high of nearly 25 billion pounds of milk in 1988, Wisconsin production dropped 11 percent by 1997. Minnesota milk production dropped 12 percent during the same period, and other district states (far smaller producers of milk) dropped even more. Meanwhile, California increased production by 48 percent and other Western states showed similar growth trends. By 1994, California had surpassed Wisconsin as the nation's largest dairy producer and by 1998 was providing almost a fifth of the nation's milk.
"[We're] talking about a crisis that's taking place in Wisconsin, and it's similar elsewhere in the Upper Midwest," noted Hank Wagner, board president of the Professional Dairy Producers of Wisconsin (PDPW) and owner of a 450-head dairy farm in Oconto Falls. "Dairy is rapidly leaving our state and growing in other parts of the country, so the crisis that is really taking shape is we're losing infrastructure, we're losing dairy farmers, and we're losing a lot of the income, the money that is put back into our state's economy."
Indeed, last year's Wisconsin milk shortage was the result of a downward death spiral of milk supply and processing capacity: As milk farmers go out of business, local processors faced with excess capacity are forced to import from other states. They pay premium prices to cover the transportation, and their higher costs soon force them out of business, too. One analyst calls it "a dismal iterative process" in which Wisconsin loses scores of cheesemakers and other dairy processors just as it loses thousands of dairy farmers.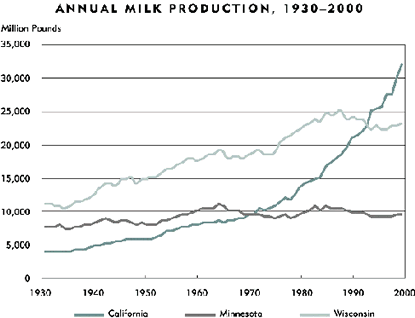 Source: U.S. Department of Agriculture
The reasons for the Upper Midwest's decline as a milk producer are complex and often disputed. A steady fall in milk prices and consolidation among dairy processors and retail groceries (see "Dairy Concentrate" story below) are often highlighted as the causes. But the central question is why dairy farms in the Upper Midwest have wilted while Western dairies—faced with similar prices and equal levels of consolidation—have prospered. And the answers have a lot to do with economies of scale and both the willingness and ability of local dairy farmers to seek them out.
Dairy Concentrate
Part of the downward pressure on milk prices, according to some, is due to the power wielded by buyers, who have become fewer in number and greater in size, reflecting dramatic consolidation within the dairy industry similar to that seen elsewhere in agriculture.
According to the U.S. General Accounting Office (GAO), the market share of the top four dairy cooperatives increased from 72 percent to 77 percent between 1997 and 1999. The top four dairy wholesalers increased their market share from 69 percent to 76 percent over the same period. At the retail level, according to the National Milk Producers Federation, the top 10 supermarket chains control 52 percent of retail grocery sales, nearly twice their market share in 1987.
Currently, two of the nation's major dairy companies, Suiza and Dean, are in the final stages of a merger that would give the combined company nearly a third of the US milk market. Decrying the merger, US Sen. Patrick Leahy of Vermont told the press that the merger would be a disaster for consumers and for farmers, "who can expect to be offered even lower prices for their labor and their products."
Concentration levels have clearly risen significantly in US dairy, but whether this concentration has created effective market power—that is, the ability of buyers or sellers to influence prices—is unclear. Because of the complexity of the milk market, academic researchers have found it difficult to reach solid conclusions about the relationship between dairy industry consolidation and market power in milk. "When taken together, we found that these studies had mixed results," said the GAO in its June 2001 review of dairy industry prices and market structure. "While some studies reported that the increased concentration could lead to greater market power and higher prices, others noted that the increased concentration led to greater economies of scale and lower costs."
Shrinking profits, fewer farms
"The backbone of the Midwest dairy industry is the small family dairy, with 50 to 60 cows, and they're having difficulty competing," noted Paul Christ, a dairy industry consultant and former vice president at the Land O'Lakes dairy cooperative based in Arden Hills, Minn. "Milk prices in nominal terms have not increased." And when inflation is taken into account, prices paid to dairy farmers actually have fallen while their costs of production have increased.
As dairy profits have declined or disappeared, less efficient producers have gone out of business, leading to dramatic drops in numbers of dairy farmers. Wisconsin lost 38 percent of its dairy farms in the last decade as roughly 13,000 dairy farms went out of business, leaving approximately 21,000 dairy operations today. The number of Minnesota dairy operations dropped 43 percent in the same period, from 15,000 a decade ago to about 8,500 currently. Small district dairy regions have suffered as well. Local officials in Michigan's Upper Peninsula estimate that there are just 200 dairy farms left in the U.P. currently, down from 460 in 1980.
Long-term dairy farm trends have been far worse than farm trends generally. According to the USDA's agricultural census, while the number of all farms in the United States declined by half from 1959 to 1997, the number of farms with milk cows declined by over 90 percent.
How beautiful is small?
As dairy operations have struggled to survive, politicians and farm advocates have called for action to support small dairy farms. Last May, for instance, US Rep. Ron Kind of Wisconsin proposed incentive payments for dairy farmers, saying that otherwise "America risks losing the family dairy farms that have made us so strong."
Such efforts may prolong the lives of traditional-scale farms, but they won't reverse the economic realities of dairy production. The fact is there are huge economies of scale in milk production, and dairy farms in the West have taken advantage of them. Midwest farms—until recently—have not.
Technological advances in dairy production—from automated milking parlors to computer systems and management protocols—have dramatically increased dairy productivity, the number of pounds of milk a cow can produce. The average cow can produce four times more milk today than in 1930. But those technologies are most economical on large-scale operations, and small farmers have been unable or unwilling to grow large enough to incorporate them. A 1998 Minnesota State Colleges and Universities analysis of Minnesota dairy farms found that small dairy herds (under 100 head) averaged 17,699 pounds of milk per cow per year, whereas cows in large herds (300+) produced 21,284 pounds.
As a result, Midwest dairy farms—predominantly small—have fallen behind in the milk productivity race. While California cows produce an average of 21,169 pounds of milk per year (16 percent above the national average of 18,204), Wisconsin cows produce just 17,306 and Minnesota cows produce 17,777.
So why have local farmers tended to stay small, despite the apparent advantages of larger operations and new technology? At least three reasons are clear: federal policies, financial constraints and cultural barriers.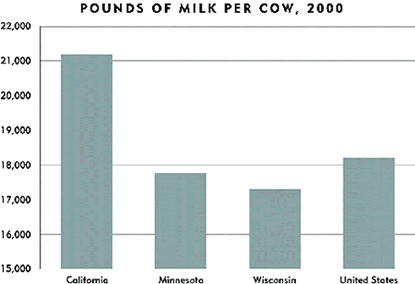 Source: U.S. Department of Agriculture
Federal protection program
With the philosophy that every region and even every state should support its own dairy industry, federal policymakers for years propped up dairy prices at artificially high levels by agreeing to purchase surplus dairy products. Surplus cheese and milk powder was bought by the government and fed to school kids or sent overseas as part of the Food for Peace program.
With protection from true competitive prices, small dairy farmers had little incentive to seek efficiencies and, therefore, little need to grow. When surplus purchases and price supports were reduced in the mid-1980s, milk prices dropped dramatically. In Wisconsin, for example, real milk prices fell from a peak of about $28 per hundredweight in 1979 to roughly $15 during the 1990s (in 2000 dollars). The price drop began to squeeze profits for dairy producers and the least efficient of them were forced out of business.
Lack of capital
Another factor has also played a significant role in preventing the expansion of the district dairy industry. Christ and other analysts note that even if a local dairy farmer wanted to expand the scale of his operation, a lack of ready access to capital has dimmed prospects for growth.
"The trouble is that we don't have a very good financial base," said Christ. "The only source of financing has been personal equity and bank loans, and the banks have required a fairly large percentage of equity."
A new or expanded dairy operation could easily cost around $5,000 per stall, including the cow. "So if you're talking a 1,000-cow deal, well, you're talking about a $5 million project," observed Harold Stanislawski, a Minnesota Department of Agriculture business adviser based in Fergus Falls. "A lot of banks, they'll say, okay, in order to make this work, you better bring 45 percent equity to the table. And you know, that's hard to do."
California farmers, say analysts, were able to self-finance by selling off portions of their land, which appreciated rapidly in the West in the 1980s and 1990s. Upper Midwest farmers, by comparison, have had less equity and were less able to self-finance. Instead they've had to rely on the Small Business Administration's 504 program and USDA grants or loans. But such programs, designed years ago, provide limited capital. "Outmoded and outdated," Stanislawski said.
Small minded?
While federal subsidies diminished the need to increase efficiency and lack of capital curbed the impulse further still, dairy farmers in the Upper Midwest have faced an obstacle to growth that never challenged California farmers: the powerful cultural tradition of the small, family-based dairy farm.
"I think there's been an important structural barrier, which was the notion that small is beautiful and big is bad," observed Al Mussell, senior research associate at the George Morris Centre, a Canadian agriculture think tank. Mussell analyzed the economics of the Upper Midwest's dairy industry as a doctoral student at the University of Minnesota. "A typical Minnesota or Wisconsin dairy farm was mom and pop and a couple of kids, 50 cows and 200 acres. There were certainly times when farms like that could be fairly profitable, but as a sustainable business venture ... it looks pretty bad."
Mussell says the problem has been one of undercapitalization. There was "a culture in the Upper Midwest dairy industry that we've got a sustainable kind of family farm unit, and there's no need to go out and assume a whole bunch of overhead to try to get scale economies," he observed. Small dairy farmers in the Upper Midwest have tended not to believe that such economies truly exist, says Mussell, "when in fact, they're very large, and they just didn't get adopted."
But unwillingness to grow in scale and invest in new technologies kept dairy farms in the Upper Midwest from improving productivity and maintaining competitiveness. "There are a lot of dairy farmers who are doing things today the same way that their parents did 'em 50 or 100 years ago," said PDPW's Wagner. "You can't do that and expect to have the same success that you had 50 or 100 years ago." Wagner says dairy farmers have to be far better managers than ever before because they face tougher competition, and that implies approaching dairy differently from before. "It means running the dairy farm as a business rather than running it as a way of life."
Many district farmers are, in Stanislawski's words, "basically on the status quo page and just trying to get to retirement and call it a day." But others are bucking the trend, and there are signs of recovery in local dairy. Some, with assistance from extension services, are maintaining their basic scale of operation but increasing efficiency through new techniques and management, including relatively inexpensive changes like the elimination of stanchion or tie-stall barns in which cows must be led in, secured, released and led out for each milking, requiring more time and labor than freestall barns and milking parlors.
But two developments with broader consequences are an increasing trend toward large-scale dairy operations in the district and the growth of niche producers.
Dairy grandé
In 1996, Tom and Wanda Hogness milked 110 cows. Five years later, with 1,000 head, they have the largest dairy operation in North Dakota. According to Wanda, the expansion was a gamble that paid off. "My husband's always had his heart in dairy," said Wanda. "So when we had an opportunity to expand, we thought, well, we're young, we can take a chance."
The Hogness dairy farm—near Milnor, about 70 miles southwest of Fargo—employs the equivalent of 20 full-time employees, turning Tom into more of a manager than a milker, but freeing him from the grueling schedule of the smaller operation. "Before it was seven days a week, you know, morning [and] night milking," noted Wanda. "Now we can get away. It's still stressful and everything, but when we look at the difference between before and now, I guess we like it now."
Large dairy farms like the Hogness operation are exceptional in North Dakota, but becoming closer to the norm for Wisconsin and Minnesota, where about 25 percent of dairy farms had over 200 head in 2000, an increase from under 6 percent in 1993. (By comparison, 97 percent of California dairy operations are 200 cows or larger; in fact, 78 percent have over 500 head.)
Shane Goplin runs a 700-cow dairy farm with his father and brother in Osseo, Wisconsin, and crops about 1,500 acres to feed the cows. They might prefer a smaller operation, said Goplin, but steadily increasing costs have squeezed margins and pushed them to increase herd size. "Profits per unit goes down so you have to get more units" to make a living, said Goplin. "We're still a family farm. It's just a larger family farm."
Move west, young cow
Officials in western Minnesota and eastern South Dakota are also optimistic about large-scale dairy. Stanislawski said, "About 15,000 dairy cows have been put in the [western] corridor region" in recent years, mostly on larger operations. Better technology drives the scale, he says, but the balance sheet is the main influence. "If you can capitalize these things profitably and productively, you're going to see that your return on assets and equity are greater by having the scale there."
Stanislawski predicts that Minnesota's dairy belt will move from southeastern and central Minnesota to western Minnesota and into South Dakota, driven by high land prices in the former region and low feed costs in the latter. Another westward draw is the recent announcement by Davisco, a Minnesota company, to build a $50 million mozzarella cheese plant in Lake Norden, South Dakota.
And the South Dakota Ag Producer Ventures farmer cooperative is pushing a dairy development program that hopes to persuade farmers to buy "start-up kits" for $4,000 that would provide them with development plans for 2,500-head dairies.
Nature's bounty
In a mature industry faced with low margins, the two key strategies for survival are growth or specialization. Milk companies are growing through acquisition and many farms are growing their herds. But other farms are charting a future by developing high-profit dairy products, differentiated from standard dairy by stressing organic production or other more "natural" feeding or animal-raising techniques.
In 1999, four farmers with about 375 "contented cows" in southeastern Minnesota formed PastureLand, a grass-fed dairy cow cooperative. Their high-fat, hormone- and antibiotic-free milk is processed into butter and cheese and sold in health food stores and food cooperatives at substantially higher prices than comparable conventional products.
Across the Mississippi River, in La Farge, Wisconsin, a similar but far larger cooperative, the Coulee Region Organic Produce Pool (CROPP), coordinates organic product sales for 409 farmers in 15 states. CROPP sales, about 90 percent dairy, have grown from $9 million in 1995 to $100 million in 2001, and though organic milk constitutes less than 1 percent of total US milk consumption, the growth trend represents a significant market opportunity for a high-margin product.
Dan Pearson, a fourth-generation dairy farmer in River Falls, Wisconsin, has been a CROPP member since 1996 and milks 75 organically fed cows. "From a dairying perspective, we're small," admitted Pearson. "The farms that I was keeping up with 10 years ago are now 200 to 400 cows. They've been growing constantly. But I guess probably just as many of them aren't in business anymore."
Pearson pays more for organic corn and soy than a conventional dairy farmer would for standard feeds, but he reduces costs by rotationally grazing his cows on 8- to 10-acre pastures on the 160-acre farm. But while cost reduction is essential, the true edge for Pearson and other CROPP producers is the pricing advantage for their niche product. When prices for conventional milk were down in 2000 to between $10 and $12 per hundredweight, CROPP maintained an organic price of around $17. "That was a real test for us," said Pearson. "Could we hold our price with the regular price being down that low for that long? And we were able to hold it. So that showed us that we have a different product." Indeed, current retail prices for CROPP organic milk are 50 percent to 70 percent higher than for conventional milk.
Doing things differently
Whether or not Midwest dairy farmers can thrive by cutting costs, getting bigger and specializing their products will not be known for a while. A pessimistic signal came from Land O'Lakes and Alto Dairy last year when they decided not to build a new cheese plant in Wisconsin, concerned about, among other things, insufficient milk supply.
But other observers are more optimistic. "Milk production has stabilized. In the last four or five years, there has been a fairly dramatic recapitalization in the dairy industry in Minnesota and Wisconsin. ... The long-run decline in total milk production, I think, has probably reversed itself," said dairy analyst Mussell. "As best I can tell, the Upper Midwest may have turned the corner on this."
Or as Wagner, of PDPW, put it: "There still is money to be made in dairy. You just have to do things differently than you did 50 years ago."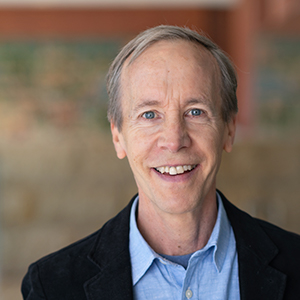 Douglas Clement
Senior Writer
Douglas Clement was a managing editor at the Minneapolis Fed, where he wrote about research conducted by economists and other scholars associated with the Minneapolis Fed and interviewed prominent economists.