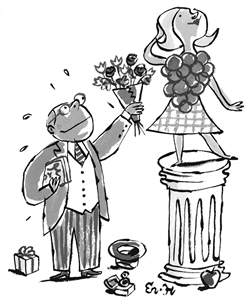 For years, 10 companies that make laser optics instruments and components in Bozeman, Mont., have gone about their business quietly, attracting only a modicum of attention from lawmakers in Helena. They were informally recognized as a "cluster," a group of similar businesses, but didn't receive much research funding, specialized services or other assistance.
That may change now that they've been singled out for special attention in a new economic development plan. According to a state-sponsored cluster report unveiled last May, the "high concentration of optics companies in and around Bozeman indicates both an existing advantage and the potential for future growth."
Whether such recognition gives those companies a leg up on competitors remains to be seen; last summer the governor's office was still figuring out its priorities and budget for implementing a full-fledged cluster initiative also designed to aid concentrations of food processing, wood products, outdoor recreation and life sciences companies in the state.
Ralph Hutcheson, president of Scientific Materials, a manufacturer of crystalline opto-electronic components, isn't holding his breath. He says the state has failed in the past to follow through on promises to aid laser optics firms. "The recognition of the cluster ... does not provide support," he said. "You have to get the governor, all of the state offices, everything else behind it."
Similar publicly funded cluster initiatives have been launched in Wisconsin, North Dakota and Michigan. In the Badger state eight "cluster councils" representing medical instruments, transportation, printing and other key industries have begun to analyze their strengths and shortcomings and suggest ways in which state and local government can lend a hand. In North Dakota a state-sponsored plan to leverage the power of clusters is moving forward in parallel with the New Economy Initiative (NEI), a federally funded program spearheaded by the private sector to encourage more high-tech, knowledge-based businesses.
The idea behind these embryonic programs and more established cluster schemes across the country is to identify conglomerations of related businesses and shape public policy in order to help them grow and prosper. But can government do anything to rev up the economic engine of a cluster, and if so, what are the best tools for the job? Should government try to pick winners by heavily subsidizing certain industries or merely facilitate a natural process by creating a business environment that encourages innovation and collaboration among firms?
As the district takes baby steps into cluster policy, a look at the theory and practice of cluster-based economic development can offer valuable perspective.
Much ado about clusters
Excitement over clusters began in the early 1990s with the publication of Harvard professor Michael Porter's book The Competitive Advantage of Nations. Porter argues that groups of similar, interrelated firms concentrated in a small geographic area gain a competitive edge when they have access to unique regional resources, feel the spur of intense demand and operate in a business environment that fosters both keen competition and cooperation on shared needs. Interlocking networks of buyers, sellers and service providers encourage knowledge spillover—a constant churning of ideas that leads to new products and more efficient ways of producing existing products.
Common in manufacturing and high-tech industries that thrive on innovation, clusters come into being over years and decades, a product of history, natural affinities and distinctive entrepreneurial cultures. Most form in metropolitan areas—Silicon Valley and Seattle's aerospace industry are classic clusters, and Minneapolis has a well-defined cluster in medical devices. But they also coalesce around small cities and towns. Besides Bozeman, bona fide clusters in the district include Winona, Minn. (composites), Fargo, N.D. (software, windows), and Marquette, Mich. (furniture).
The localized craft industries of northern Italy—ceramic tiles in Modena, knitwear in Carpi—inspired Porter and other cluster theorists. In this country, however, clusters aren't as neatly bound by geography or logical industrial classifications. Driven by their sponsors' desire to embrace as many constituencies as possible, cluster studies often define clusters very broadly and spread them statewide.
"So often a state will pick a cluster that really isn't one," said Stuart Rosenfeld, president of Regional Technology Strategies (RTS), an economic consulting firm in Carrboro, N.C.
North Dakota's NEI, for example, has tagged energy and the environment as a cluster, finding links between gasification plants, wind farms and biomass startups scattered over thousands of square miles. Montana's cluster analysis, done by RTS, tries to have it both ways, defining clusters statewide while identifying nuclei of activity such as Bozeman, Missoula and Kalispell.
The term cluster has become a buzzword, frequently used by public officials to describe any industry sector or collection of similar businesses. In general, say Rosenfeld and other cluster experts, the more generic and geographically dispersed a cluster, the less likely it is to confer any economic benefit.
Politicians may be fuzzy on cluster morphology, but they're sure of one thing: There's gold in them clusters. Economic development officials point to well-known clusters such as the microelectronics industry in Austin, Texas, and northern California's wine district as examples of economic dynamos that generate billions of dollars annually in personal income and taxes, elevating the fortunes of their host city, region and state.
In the 1990s a number of states launched cluster programs designed to lift all boats by promoting the growth of key industries. Many of those programs have since fallen victim to politics, industry inertia and post-new economy budget crises. Other, ongoing programs in states such as Arizona, Connecticut and Illinois have been adopted as models for government-supported cluster development in the district.
Tinkering with evolution
But what evidence is there that public involvement in any cluster accelerates its growth beyond what would have likely happened anyway? Given that clusters develop naturally, a product of entrepreneurial drive and the unique characteristics of a city or region, shouldn't government just get out of the way and let market forces rule?
A glance at the history of some U.S. clusters suggests that explicit government support probably isn't critical, as long as the basic infrastructure required by all businesses—good workforce training, sound transportation and communication networks, adequate law enforcement—is in place. Minneapolis-St. Paul's thriving medical device industry owes its existence not to government programs but to the fact that Medtronic Inc. founder Earl Bakken grew up in Minneapolis. Many Twin Cities medical device companies, including St. Jude Medical and Cardiac Pacemakers Inc. (now part of Guidant Corp.), trace their lineage to Bakken and his 1957 invention, the world's first wearable external cardiac pacemaker.
Phil Ankeny, chief financial officer of SurModics, an Eden Prairie, Minn., firm that makes specialized coatings for medical devices, ascribes the success of med tech in the Twin Cities largely to "the people and the culture"—that complex web of business and personal relationships that Porter talks about. "We just happened to be lucky here in the Twin Cities that there was a Medtronic, and there was a strong entrepreneurial culture that emanated from that," Ankeny says.
The mega-clusters of high-tech—Research Triangle Park in North Carolina, Silicon Valley, Austin—undeniably benefited from their proximity to major research universities that received hundreds of million of dollars in research and development funding from state and federal agencies. However, government didn't dictate which technologies would make the leap from lab to marketplace. The graduates (and sometimes professors) of those institutions did, leveraging relationships with academia, venture capitalists and other entrepreneurs to found companies such as Oracle, Netscape and Dell Computer.
But the bootstrap evolution of many successful clusters doesn't mean that government should butt out of the process, say leading experts on clusters such as Rosenfeld and Joseph Cortright, vice president of Impresa Inc., an economic consulting firm based in Portland, Ore. Both see an active role for the public sector in nurturing clusters, especially "knowledge" clusters that convert new ideas into well-paying jobs for local citizens. "Most of the clusters I've looked at were not started by government," Rosenfeld said. "But in almost every case there was a government action that really strengthened the cluster and helped it to grow."
Added Cortright, who as an economic development staffer for the Oregon Legislature helped implement that state's cluster initiative in the early 1990s: "Does government create clusters? No. Does government influence the trajectory in which they grow? Absolutely."
However, measuring that trajectory—up, down or around in circles—is more complicated than rocket science. Countless variables affect the life cycle of a cluster, and any salutary governmental influence tends to get swamped by larger economic currents.
Cluster fluster
Just as difficult is figuring out what works and what doesn't in applying public policy to clusters. As Cortright and Rosenfeld indicate, one strategy that is almost certainly doomed to failure is trying to build a cluster from scratch. Clusters have been bought-in the 1950s the state of North Carolina carved Research Triangle Park out of idled farmland and eventually succeeded in attracting companies such as IBM and Glaxo Wellcome with tax breaks and infrastructure concessions. But today the chances of success aren't good without an existing, critical mass of interrelated companies.
In the mid-1990s the city of Chattanooga, Tenn., set out to develop an environmental technology cluster by platting an "Eco-Industrial Park" and aggressively recruiting companies to move in and clean up a rundown manufacturing area. There were few takers. On Minnesota's Iron Range, a plan unveiled in 1999 to lure IT employers to the region by spending mining taxes on high-speed data lines and a network of technology centers has succeeded only in attracting a few call centers and electronics assembly plants.
Now that biotechnology is all the rage, the message still hasn't sunk in; cities in the district and across the country are creating special tax zones in a bid to become biotech hubs, ignoring in many cases the fact that they have little to build upon.
"There's nothing about using a cluster approach that immunizes it from stupidity, and biotech is a classic example," Cortright said.
Traditional top-down economic development strategies such as tax breaks and state-backed venture funds are also likely to be of limited value in strengthening genuine, naturally occurring clusters. Taxes are usually a secondary factor in corporate decisions to expand in or relocate to a particular state or city. North Dakota has one of the lowest corporate income taxes in the Upper Midwest, but Fargo's well-educated, industrious labor force—not low taxes—is the chief draw for window manufacturers such as Marvin Windows and Doors and Cardinal Glass (both based in Minnesota). Conversely, Minnesota's notoriously high taxes didn't compel Medtronic and its progeny to move to North Dakota or Texas.
State venture funds, often touted as a solution to a lack of private seed capital, are risky business—in the late 1980s Montana lost its shirt on a $10 million tech venture fund underwritten by coal excise taxes. And the significance of venture capital in growing clusters may be overplayed. Fewer than one in 10,000 companies gets off the ground with institutional venture capital, according to a 2002 global analysis of entrepreneurship financing by the Kauffman Foundation of Kansas City. Family, friends and neighbors are by far the biggest sources of informal capital for startups.
Ultimately, government has many avenues for cluster assistance. Government has and will continue to influence the fortunes of industry clusters through research and development funding, for both universities and private companies. But the bulk of that money comes from federal agencies such as the National Institutes of Health and the Department of Defense, which have little interest in funneling money for the specific purpose of building a regional cluster. Many states supply some research and development dollars as well, along with tax credits and other financial perks.
Government also promotes clusters by modifying industry-specific regulations and upgrading infrastructure (such as high-speed Internet service for IT companies or highways for rural manufacturers) that clustered businesses need to thrive. But such efforts would be useful for all businesses, clustered or not.
Walking the talk
So what does work? Collaborate, collaborate, urge cluster pundits. Government can't fathom how to help clusters without engaging in ongoing conversations with the cluster businesses themselves. In the process, government comes to understand that in most cases financial inducements aren't the key to unlocking the potential of clusters. Cluster-savvy policies emphasize "a set of issues that are more fundamental in terms of improving the competitiveness of the state's economy," Cortright said.
Like workforce education: Numerous studies and surveys have shown that businesses—especially high-tech businesses—consider access to a well-trained workforce absolutely vital. Without it, cluster growth can't be sustained. Customized, industry-targeted training by community colleges gave North Carolinans the mid-level technical skills necessary to work for expanding plants in the Research Triangle. In Alexandria, Minn., home to a mini-cluster of automated packaging companies, the local technical college's Center for Automation and Motion Control pumps out a steady stream of job candidates trained in hydraulics and computer-based automation.
Through cluster councils, regional trade associations and other forums—either preexisting or set up under a public cluster initiative—government officials learn what makes a particular cluster tick and where its greatest needs lie. Still, implementation is where cluster strategy gets sticky; across the country state and local governments are struggling to get academics, bureaucrats and business people on the same page.
Research at major universities, for example, tends to ignore the priorities of industries in their own backyards. "Right now the universities and centers do invest in R&D, but often it's based on the interests of the faculty, and what they produce may have no relevance to the local economy," Rosenfeld said. Closer collaboration with business, the thinking goes, could refocus university research on the cluster concerns while preserving resources for general, serendipitous discoveries that are at the heart of university research.
Government as catalyst
Elements of collaborative cluster strategies have been implemented in some states. Connecticut has provided seed money for lean manufacturing programs run by aerospace and metal manufacturing clusters, and lengthened the term of an R&D tax credit for bioscience companies.
Minnesota's Department of Employment and Economic Development assigns specialists to industries such as computers, health care, and printing and publishing, helping businesses market themselves, apply for loans and grants, find strategic partners and sign up for customized training. But this industry help desk, in place since the mid-1980s, isn't part of an overall cluster plan.
Arizona is the place where cluster collaboration has come closest to actual application. Ten cluster councils set up under state auspices in 1991 encourage their members to market themselves collectively, jointly sponsor workforce training and press the state for specific incentives, programs and services geared to the needs of clusters. In 2000 the state earmarked a portion of sales tax revenue for cluster-focused education and high-tech R&D; three state universities will receive $50 million each year through 2020 to direct their teaching and research efforts to industries such as optics, IT, environmental technology and biomedicine. Clustered firms also receive tailored export assistance and enjoy priority access to industry job training funds administered by the state Department of Commerce.
"It's not really about public policy," said Mary Jo Waits, associate director of the Morrison Institute for Public Policy at Arizona State University in Tempe and an early architect of the state's cluster initiative. "Our whole philosophy has been, 'this is what industry can do working together.'" By collaborating, business, academia and government learn from each other what it takes for clusters to flourish, sustaining a feedback loop of continuous improvement.
In theory, at least. Tucson's emerging clusters in software, envirotech and optics ("Optics Valley") clusters have been more aggressive in collaborating and forging links with government than established industries such as agriculture and mining. But the state has no hard, statistical evidence that these industries have prospered under the state's cluster initiative. And if it did, was it collaboration with government that widened Optics Valley in the '90s, or individual companies in pursuit of profit, aided by state investments in optical sciences research and development that date back to the 1960s?
Just down the road, Phoenix offers some caution. Despite a decade-long cluster campaign by the state of Arizona, aerospace employment in the Phoenix area actually fell more than 11 percent between 1990 and 2000, thanks to downturns in military spending, according to a report by the Greater Phoenix Economic Council. The city's national share of semiconductor manufacturing jobs also declined.
Montana officials, pondering a $175,000 cluster study prepared by Rosenfeld's firm, seem sold on the notion of government as convenor or catalyst. The state has no intention of creating new, expensive programs to funnel money to clusters, said David Gibson, chief business officer of the Montana office of economic opportunity. Instead, the goal is to modify current programs to give clustered companies an incentive to work together.
"One of the things we can do in state government is start focusing all of our grant, loan and business support programs to encourage, if not require, businesses to collaborate with each other before they apply for grants," Gibson said. "That makes the industry stronger; that makes it more competitive." For example, the wood products cluster, which includes log home builders and furniture makers as well as loggers and paper mills, could promote itself collectively, backed by state-sponsored "made in Montana" marketing.
Gibson also sees the possibility of more state funding for existing, unofficial cluster organizations such as the GDC Tech Alliance, an association of 50-odd software, laser optics and other high-tech companies in Bozeman that fosters collaboration with Montana State University and helps member companies apply for state revolving loans and federal research grants.
Hutcheson of Scientific Materials approves of that grassroots, bottom-up approach: "It's much easier to sell a program to people in which they collaborated in generating the idea, rather than somebody coming in and saying, 'well, this is what we're going to do, we want you to support it.' That doesn't work."
No magic bullet
The spectacular flameout of Silicon Valley—previously the poster child of clusters—might argue against such strategies, given that 130,000 people have lost jobs since 2000. In the 1980s diversification was the magic word in economic development. Cluster consultants have an answer: public investment in a "portfolio" of clusters, including offshoots of established clusters-bioinformatics as well as IT and genomics, for instance. If one cluster falters, other clusters in a region can pick up the slack. Diversity saved Research Triangle Park from the 2001 telecom implosion; the Triangle is really an agglomeration of several high-tech clusters, including IT, pharmaceuticals and biotech.
The latest buzzword in cluster circles is convergence—the notion that innovation results from the collision of ideas at the boundaries of interrelated clusters. Waits believes that cities and regions must cultivate multiple clusters in order to remain competitive in a knowledge economy.
Is government smart enough to keep all this straight—to pick the right combination of clusters and support them without ignoring other industries that may turn out to be economic powerhouses 20 years from now? W. David Bayless, a Bozeman-based business consultant to rapidly growing small companies, doesn't think so.
"What we see as a cluster is the result of innumerable transactions and interactions over an extended period of time, including factors and agents that we can't even see, much less understand. I think it's grossly ambitious to think with any kind of precision we can manage clusters," he said.
Government should also resist the temptation to seize upon cluster promotion as a magical antidote to hard times, said Lee Munnich, director of state and local policy programs at the University of Minnesota's Humphrey Institute of Public Affairs. At best, public policy has only an incremental role in stimulating local economic growth; just because a region boasts a group of similar businesses that are receptive to prodding from government and academia doesn't mean that it can become a hive of industry within two or three years.
"The cluster approach gives you a better understanding of the dynamics of your economy and what the key drivers are," Munnich said. "But for people to suddenly expect this to fundamentally change things ... it's not something that you can turn on, and all of a sudden the jobs start to flow."