District economy to expand modestly
The district economy will expand modestly in 2003, according to a poll of business leaders and the Minneapolis Fed's regional forecasting models. The expansion in 2003 follows a year of moderate economic growth in the district and national economies.
In 2002 labor markets grew slowly, as manufacturers continued to lay off employees during the year. Results of the business leaders poll and forecast models point to continued tepid employment growth in 2003, as well as small increases in wages and prices. In agriculture, many district farmers reported strong harvests in 2002, while ranchers faced tough weather conditions and lower prices.
Slow growth for labor markets
District nonfarm employment increased only 0.2 percent in October compared with a year ago. Nationwide employment dropped 0.4 percent. While employment levels in the transportation and utilities, manufacturing, and mining sectors dropped between 2 percent and 6.4 percent, employment increased 1.3 percent and 1.9 percent, respectively, in finance, real estate and insurance, and services. Retail and wholesale trade, construction and government remained about level.
Gains in employment are expected to come slowly across the district (see Ninth District Forecasts). Respondents to the business leaders poll also anticipate only modest gains in employment. While overall economic activity may pick up, the phrase "jobless expansion" describes the outlook for the upcoming year (see related story).
Nevertheless, productivity (the amount produced during an hour worked) remained strong in 2002. Nationwide productivity rose by 4.9 percent for the first nine months of 2002 compared with the same period last year. Gains in productivity have helped the economy grow despite the lack of job growth.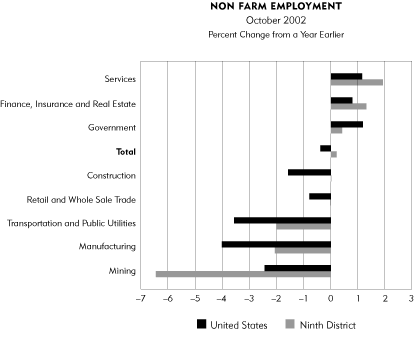 Source: U.S. Bureau of Labor Statistics
Residential beats commercial in construction
Home building has been a bright spot in the economy during the past year. The number of housing units authorized in district states was up almost 9 percent for the first 10 months of 2002 compared with a year earlier. The Minneapolis Fed's forecasting model expects housing units authorized to increase in most district states during 2003.
However, construction in larger projects, such as buildings, roads and sewer systems, was weak. The value of contracts awarded for heavy construction projects in Minnesota and the Dakotas decreased 2 percent during the first 10 months of 2002 compared with last year, according to the Construction Bulletin. In Minneapolis-St. Paul vacancy rates in the office market are above 20 percent when sublease space is included, while construction in office buildings is down over 50 percent from a year ago.
Modest gains in wages and prices
Wages and prices were subdued in 2002 and are expected to increase slowly in 2003. District wages for manufacturing increased only 1.7 percent in October from a year ago, one of the lowest increases in 10 years. However, this slight gain in wages may be explained at least in part by comparatively large increases in benefits. For example, the Employment Cost Index for the United States was up 3.2 percent for wages and salaries in October compared with last year, while benefits increased 4.9 percent.
The U.S. Consumer Price Index has grown slowly in 2002, only increasing 2 percent in October from a year ago. Both the forecasting models and the outlook poll point toward modest increases in the CPI for 2003.
Bountiful district harvests buck the national trend
In an unusual switch, farmers are beating ranchers financially in 2002. Most district farmers enjoyed bountiful harvests and higher prices, while ranchers faced tough conditions and lower prices. The outlook for 2003 is much of the same, with significantly higher crop prices and only a modest recovery in livestock prices.
For most district farmers, 2002 was a decent year. Minnesota farmers were expecting a record corn and soybean harvest and increased sugar beet production. Meanwhile, Montana wheat growers' 2002 output was higher than the drought-ravaged levels of 2001, and North Dakota farmers enjoyed increases in peas, corn, soybean and sugar beets. In northwestern Wisconsin, farmers reaped increases in corn and soybean production.
However, the increases in production came at a cost; due to high moisture content in corn and beans and wet fields in Minnesota and North Dakota, expenses rose in 2002. "High drying expenses, more fuel use during combining, and big repair bills are expected to cut into the increased income available from better prices per bushel this year," wrote the U.S. Department of Agriculture about Minnesota crop conditions.
At the other end of the weather spectrum, the drought spread from Montana into South Dakota in 2002. South Dakota's 2002 corn and soybean production decreased an estimated 10 percent and 13 percent, respectively, from 2001. Meanwhile, ranchers in Montana and South Dakota faced the double whammy of higher costs and lower prices. With grazing land burned off and water supplies dried up, ranchers had to deal with the added expense of hauling hay and water. In addition, feed prices increased. Ranchers also faced lower livestock prices in 2002; hog and steer prices were down 24 percent and 9 percent, respectively, from 2001.
The outlook for agricultural income is mixed due to strong row-crop harvest expectations and a dry outlook for ranchers. According to the results of the Minneapolis Fed's third quarter agricultural conditions survey, Minnesota lenders, whose farm customers expected an estimated record harvest of corn and soybeans, are the most optimistic. Nearly half expect increased farm income compared with only about a quarter who predict decreases. "We have a small area of very good crops and with the prices surging, incomes are expected to be up in general," commented a Minnesota lender. Meanwhile, South Dakota respondents are the most pessimistic, as 75 percent expect decreases in agricultural income compared with only 11 percent who anticipate increases.
AVERAGE FARM PRICES
1999/
2000
2000/
2001
Estimated 2001/2002
Estimated 2002/2003

(Current $ per bushel)

Corn

1.82

1.85

1.97

2.20-2.60

Soybean

4.63

4.54

4.35

5.05-5.85

Wheat

2.48

2.62

2.78

3.65-3.95
2000
2001
Estimated 2002
Estimated 2003
(Current $ per cwt)
All Milk

12.61

14.97

12.05-12.15

11.45-12.25

Choice Steers

69.65

72.71

66.14

72.00-77.00

Barrows & Gilts

44.70

45.81

34.71

35.00-38.00

Source:
U.S. Department of Agriculture, estimates as of December 2002.