Fed launches national initiative to promote financial education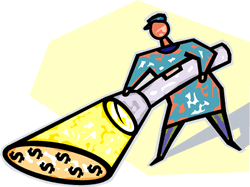 Recognizing that "there's a Lot to Learn about Money," the Federal Reserve System has launched an initiative to promote financial education. The aim is to connect consumers with the knowledge and resources they need to make informed financial decisions.
Federal Reserve Governor Edward Gramlich announced the initiative during a press conference on May 19. In his remarks, Gov. Gramlich noted that changes in technology and credit availability have expanded the number of financial products and services available to consumers. "With such changes come new opportunities, but also risks, including the potential for fraud and abuse," said the governor. To make wise decisions, "everyone can, and should, become familiar with basic financial concepts and products."
According to Gov. Gramlich, educated consumers know how to save, use credit wisely and plan for financially secure retirements. "The benefits to consumers would be reason enough to encourage financial education," he said, "but the Federal Reserve has a broader interest. Educated consumers are one key to keeping our economy functioning well."
Gov. Gramlich added, "We believe that the widespread availability of high-quality curricula, programs and training opportunities for consumers of all ages and backgrounds makes this a particularly good time to promote financial education. Our hope is to encourage consumers to take advantage of the programs available in their communities, schools and on the Web."
The Fed is spreading the word in a number of ways. The most visible communication piece is a public service announcement starring Federal Reserve Chairman Alan Greenspan, which began airing on television and radio stations across the country on May 19. In the announcement, Chairman Greenspan stresses the importance of making informed financial decisions. He encourages consumers to call (800) 411-5435 or visit a Federal Reserve Web site at www.federalreserveeducation.org to learn more.
The Web site is a source of comprehensive information on banking, credit, mortgages and other aspects of personal finance. A companion brochure titled "There's a Lot to Learn About Money: You Can Take Charge of Your Financial Future" features tips on saving, budgeting and managing credit. The public service announcement, brochure, and portions of the Web site are available in Spanish. (For free copies of the brochure, call the number listed above.)
In addition, each Reserve Bank offers a list of organizations in its area that provide financial education and counseling. The Minneapolis Fed's list, at www.minneapolisfed.org/community/financial-learning-for-the-public/, includes resources for each of the six states in the Ninth District.