Minnesota leads district in patents issued
Minnesota proved its strength in innovation, as the state ranked sixth in the nation and highest among district states for the number of patents per 10,000 people—5.3—in 2001. Wisconsin ranked 13th in the nation and second in the district at 3.4 patents per 10,000 people. South Dakota was the lowest among district states at 1.0 and ranked 44th nationwide (see U.S. map). A patent provides an incentive to create an invention, since it protects the inventor from a competitor producing and selling the same technology during the 20-year life span of the patent.
The relative strength in patents issued in Minnesota and Wisconsin is primarily attributed to patents held by companies and institutions in the states' metropolitan statistical areas (see table). The sample of MSAs listed in the table shows a high number of patents issued per 10,000 people in Minneapolis-St. Paul and Madison. Rochester, Minn., tops this list, while other relatively small MSAs in the district posted lower numbers.
Patents Per 10,000 People, 1999*
Sample of MSAs
Rochester, Minn.

18.43

San Jose, Calif.

8.05

Minneapolis-St. Paul, Minn.

7.35

Boston, Mass.

6.54

Madison, Wis.

6.12

Seattle, Wash.

3.65

Milwaukee-Waukesha, Wis.

3.14

Fargo, N.D./Moorhead, Minn.

1.61

Sioux Falls, S.D.

1.39

New York, N.Y.

.80

Billings, Mont.

.46

Sources: U.S. Census Bureau and U.S. Patent and Trademark Office
* Population data from 2000 census
Many credit the University of Minnesota-Twin Cities and University of Wisconsin-Madison for spawning innovation among companies in their regions. But they do not themselves make up a large share of total state patents, despite often ranking in the top 10 among U.S. universities receiving patent grants. The Regents of the University of Minnesota had 36 patents issued of the state's 2,635 in 2001, while the Wisconsin Alumni Research Foundation had 67 patents issued of that state's 1,837. The Mayo Foundation for Medical Education and Research, located in Rochester, Minn., was issued 20 patents in 2001.
Patents per 10,000 persons increased at a faster rate in the 1990s compared with the 1980s in district states. Strong productivity gains and economic growth during the 1990s were consistent with the increase in patents issued. During this period, Minnesota and Wisconsin remained above the national trend while Montana, North Dakota and South Dakota were below.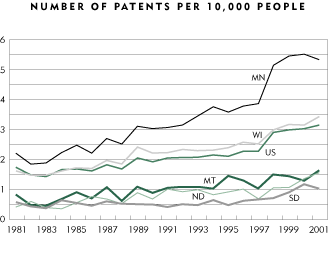 Source: U.S. Census Bureau and U.S. Patent and Trademark Office
The sluggish pace of patents issued in the United States and the district during 2001 paralleled the recession in the U.S. economy during that year. Patents issued were also slow during the early 1980s and early 1990s, when growth in the U.S. Economy was in recession or the beginning stages of recovery.