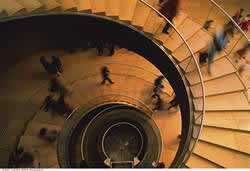 There's nothing like a trade mission to make residents of the landlocked farm belt feel like players in the global economy. Seeing a governor or U.S. senator mingling with foreign dignitaries and captains of industry, an entourage of state officials and executives of homegrown companies in tow, evokes visions of boatloads of locally made goods headed overseas. And a stream of euros, pesos, rubles and yuan flow back, bringing prosperity and new jobs to the district.
In reality, state-led trade missions tend to generate more heat and light than fire—more media attention and photo ops than actual increases in exports that create new jobs. That's not to say that trade missions don't have a role in promoting international trade and encouraging local companies to strike out into overseas markets. But the expense of trade missions raises the question of whether public funds would be better spent at home on other types of export programs and fundamental initiatives—such as improving education and transportation networks—that enhance a state's ability to compete in global markets.
Export promotion became the business of state government in the 1980s, when mounting trade deficits with Japan and stiff competition from Europe were hot political issues. Stepping into an arena historically controlled by the federal government, governors and legislators saw expanded international trade—especially exports—as a means to spur state economies and create jobs. The trade mission was one of a number of tools—along with exporting seminars, assistance attending overseas trade shows and loan programs—developed by state trade offices to galvanize local companies into selling more abroad.
Missions were conceived as exploratory forays into a country or region to expose small, internationally callow companies to the realities of doing business in Asia, Europe or Latin America. Learning the nuances of foreign markets firsthand and making initial contact with potential distributors and joint venture partners would presumably lead to contracts and increased sales down the road.
But in the last decade the state-led trade mission has become a soapbox for politicians and well-connected corporations as well as a rite of passage for small businesses interested in international trade. Well-publicized trade missions from the district in recent years include former Minnesota Gov. Jesse Ventura's trips to Mexico in 2000, Canada in 2000 and 2001, and China and Cuba in 2002; tours led by Montana Sen. Max Baucus to South America in 1999 and East Asia in 1998 and 2000; and North Dakota Gov. John Hoeven's agricultural pilgrimage to Cuba last summer.
Ventura's nine-day mission to China last summer was the largest delegation from an American state to ever visit the People's Republic—76 people representing 55 businesses and organizations. Hoeven and Ventura were only the second and third state governors to visit Cuba since the United States imposed a trade embargo in 1960.
The media paint these missions as government sallying forth to open the floodgates of trade and boost tourism in the heartland. Because so much political capital has been invested in the mission—underwritten by the taxpayer—the educational role of a mission often takes a back seat to the need to show policymakers in action, conferring with foreign ministers and presiding over ceremonial signings of export contracts.
"When politicians, particularly governors, become involved in trade missions, the whole agenda tends to get skewed in the direction of the political needs of the governor and not the commercial needs of the participants in the show," said Jock O'Connell, a Sacramento, Calif.-based consultant on international commerce who helped develop California's export promotion programs.
"Not the true driver"
There's little evidence that the imprimatur of the state translates into increased exports, either immediately or years down the road. Gauging the post-mission export performance of firms is problematic, pointed out Tony Lorusso, director of export promotion for the Minnesota Trade Office (MTO): "They're not always willing to share that information. They don't have to and they're not going to tell their competitors what they are or are not doing in a particular market."
In one of the few instances of close scrutiny of the reported results of trade missions, an audit of seven trade missions organized by the state of Pennsylvania in 1998 and 1999 found that job creation and export sales figures stated in press releases were "grossly exaggerated." Auditors could verify only about 1 percent of $55.3 million in exports sales claimed for a sample of 25 companies that participated in the missions.
Even if exports stemming from trade missions could be accurately tracked, they'd barely raise a blip on the radar of shipments of goods and services from a state to a particular country or region. In 2001, the last year for which statistics are available, Minnesota's exports to Canada alone topped $2.3 billion; from South Dakota, $87.5 million in goods flowed south to Mexico.
"Trade missions are not the true driver of exports," said F.H. Rolf Seringhaus, professor of global marketing at Wilfred Laurier University in Waterloo, Canada. Stronger influences on export trends include workplace productivity, currency fluctuations and the general state of the world economy.
Academic analyses of the efficacy of trade missions have yielded mixed, often contradictory results. Novice exporters or companies new to a country or region can "benefit significantly from trade mission participation," said Seringhaus, an internationally recognized authority on government trade-promotion efforts. But a 1989 study he co-authored revealed inconsistent payoffs for firms that embarked on trade missions: Of 82 Canadian firms that took part in trade missions in the 1980s, 69 percent sold nothing as a result of the mission, and 80 percent were unable to recover their expenses. Another study in 2000 by researchers at the University of Akron in Ohio found, paradoxically, an inverse relationship between trade missions and exports: States that sponsored more missions sold less overseas than those that led fewer missions.
But for a select number of companies, trade missions can boost the bottom line. Export trade offices point to firms that signed a contract or "initiated dialogue" with a promising customer or joint venture partner as proof that the mission was a success, that political power opens doors, especially in socialist nations where the government wields considerable influence over business.
Small companies that have struck pay dirt on recent missions from the district include Delkor Systems Inc. of suburban Minneapolis, a $17 million-a-year manufacturer of food packaging machinery that landed a $500,000 order from a Guadalajara dairy on Ventura's trip to Mexico three years ago; MSE Technology Applications of Butte, Mont., which cemented a relationship with Hyundai executives during Baucus' 2000 mission in South Korea that led to the sale of a $300,000 system for treating radioactive waste; and Northarvest Bean Growers Association of Frazee, Minn., which sold small quantities of black, pinto and red beans to the Cuban government after Hoeven's mission.
Putting missions to the test
O'Connell, the Sacramento consultant, offers a litmus test for identifying missions that are more likely to reward investment by the state and participating companies: Does the mission consist of a "grab bag" of firms, or does it concentrate on key business sectors within a state?
"I think you would find that the more effective [state] trade missions are those that are organized specifically to promote the interests of a specific industry or segment of the industry," he said.
By that measure, "China-Minnesota Ventures" in 2002 had the look of a winner. The mission was well organized, with separate information technology, agriculture and general business delegations. While some events overlapped, each group of companies followed its own itinerary of market presentations, site visits and networking sessions tailored to its interests.
In contrast, the Montana World Trade Center's December 2000 mission to the Far East and Australia had no industry focus. Besides MSE, companies on the mission included a hot tub manufacturer, a charter airline, an imaging software firm and a lumber company. Industry-specific missions don't make sense in thinly industrialized Montana, said Arnold Sherman, executive director of the Montana World Trade Center at the University of Montana in Missoula. Instead, the missions aim to fan the flame of global ambition in any company that can pony up the cash (about $6,500 per person on the Pacific Rim mission) to come along.
Focus and organization only suggest that a particular mission is capable of stimulating exports. In the absence of hard evidence that state trade missions move the export needle at all, the question becomes: What exactly does state government bring to the table? What can the state do in the international arena that a smart, aggressive would-be exporter can't?
Ostensibly, sources say that state trade delegations led by political figures lend credibility to missions, attracting a better class of potential customers or business partners for participating companies. Sherman credits Baucus with commanding the attention of U.S. commercial attachés and foreign ministers and businessmen on the 2000 mission. "You're taken more seriously in-country, particularly a delegation coming from Montana," Sherman said. "The tendency is to believe that the delegation is a serious one, that it's not a junket and that people are seriously looking to do business."
However, O'Connell believes political weight is overrated when it comes to forging business connections and closing deals. A government figure may draw media attention to the mission, he said, but has little role in connecting international companies to one another, or persuading a foreign firm to sign a sales agreement. "Having a governor along on missions like that is often like having a fifth wheel," O'Connell said.
Hoeven's presence on North Dakota's mission to Havana last summer was largely symbolic. The private, nonprofit North Dakota Farm Bureau organized the mission, urging farmers and representatives of commodity groups such as Northarvest to participate, and negotiating crop sales with Alimport, the Cuban government's purchasing arm. Eric Aasmundstad, president of the Farm Bureau, said the organization had established credibility with Alimport before the trip and would have undertaken the mission whether Hoeven came along or not. The governor simply "put an exclamation point behind it," Aasmundstad said, demonstrating the state's commitment to doing business with the Castro regime.
After signing tentative sales agreements, the Farm Bureau returned to Cuba in September to stump for North Dakota at the U.S. Food and Agribusiness Exposition, a showcase for more than 240 U.S. food companies. Aasmundstad estimated that state growers have sold about $5 million worth of lentils, chickpeas, barley, edible beans and other commodities to Cuba since the July mission.
Big companies along for the ride
The most direct benefit of state involvement in trade missions for participating companies is the underwriting of mission expenses, which can run to several hundred thousand dollars for large missions.
Businesses take advantage of discounted package deals on airfare, hotel accommodations and meeting space, and months of market research, itinerary planning and event coordination done in preparation for a mission. State costs cited for missions—$150,000 for Ventura's China trip, $80,000 for his Mexico visit—typically include only direct travel expenses for state officials, trade office staff and (not uncommon on missions) their spouses. The taxpayer also absorbs staff salaries and administrative overhead required to plan the missions themselves. Organizing the China mission demanded the part-time attention of Lorusso, four other MTO employees and staffers in the governor's office and state Department of Trade and Economic Development.
In effect, the state subsidizes companies in their pursuit of foreign markets and profits. And not just small and medium-sized businesses. Large Minnesota corporations already well established in China and Mexico went on Ventura's missions to those countries. Heavy hitters on the Mexico trip included 3M Co., a behemoth in abrasives, adhesives and signage that has been shipping south of the border for 50 years, and ADC Telecommunications, at the time a $2.8 billion manufacturer of broadband communications equipment. Along on the China mission were Medtronic, a $5.5 billion global leader in cardiac rhythm devices that operates a pacemaker plant in Shanghai and maintains sales offices in six other Chinese cities; Ellerbe Becket, a top architecture and design firm that has built extensively in China; and Dorsey & Whitney, a 700-attorney law firm with offices in Hong Kong and Shanghai.
The presence of big, seasoned exporters on missions raises the question of which type of firm—the multinational or the small firm taking baby steps abroad—derives the most benefit from state sponsorship. "Larger companies usually don't use the services of export promotion organizations because they have better capabilities themselves," said Timothy Wilkinson, an assistant professor of marketing and international business at the University of Akron who co-wrote the 2000 study on the impact of trade missions on state exports. "Really, it's the smaller firms that need those services."
One reason large companies take part in missions is to garner media attention by sharing the stage with political figures in exotic locales. Often, it turns out, sales agreements announced with great fanfare on missions had been in play for several months or years preceding the event; they would have occurred anyway, with or without the mission. That was the case with ADC's $10 million contract extension for providing wireless broadband technology to a Canadian company, signed on Ventura's 2000 mission to Saskatchewan. "Those negotiations were expedited to take advantage of the publicity and marketing that came with that mission," said Lorusso from MTO.
The road not taken
Not often considered are the opportunity costs exacted by trade missions. State trade offices have finite resources, which means investing in trade missions diverts funds from other programs such as participation in overseas trade shows—which boost state exports, according to Wilkinson's research. Various academic sources, anecdotes and other sources suggest that export logistics, legal procedure and market intelligence—not sales promotion—are the areas where small exporters need the most assistance.
So it can be argued that, rather than following the garlanded path that peters out into a swamp, state governments should take an alternate route, devoting more money and staff time to showing companies how to break into foreign markets themselves. "I think that the educational path is more demanding and more subtle than something that can be taken care of by a governor traveling abroad," said G. Edward Schuh, director of the Freeman Center for International Economics Policy at the University of Minnesota's Hubert H. Humphrey Institute of Public Affairs.
Programs offered by state trade offices and universities include general export-readiness classes; seminars on global industry trends, customs issues and export financing; and one-on-one guidance on identifying markets and finding potential distributors and joint venture partners.
"Reverse" trade missions provide relatively inexpensive, domestic forums for meeting foreign buyers face to face. The South Dakota Department of Agriculture can't afford to dispatch staffers abroad to pump up markets for commodities such as beef cattle, corn, soybeans and wheat, said Robert Weyrich, the department's value-added and crop development specialist.
"When we look at prioritizing what needs to be done, [overseas] trade missions are not real high on our list," he said. Instead, Weyrich attends incoming buyers' missions organized by the Mid-America International Agri-Trade Council, a nonprofit association that receives funding from the U.S. Department of Agriculture's Foreign Agricultural Service. Last summer he and two South Dakota food company representatives met buyers flown in from Latin America and the Pacific Rim at a reverse trade mission that included stops in Indianapolis and a food technology show in Anaheim, Calif.
Companies that have already mastered the basics of exporting and are ready to do business on their customers' turf may benefit from staking out state-sponsored space in a foreign trade show. State government often subsidizes the rental of display booths and meeting rooms—ideal venues for networking and deal making—at private trade shows. At the Ag Expo in Cuba, a $25,000 grant from the North Dakota Agricultural Products Utilization Commission paid for booth space occupied by the Farm Bureau and about a dozen food processors and growers. "[The grant] just made it easier for some of the small businesses in our state to participate," Aasmundstad said. "It took some of the financial burden off them."
Another option for state government is to eschew export promotion altogether, leaving trade missions, trade-show sponsorship, export training and the rest of it to the U.S. Department of Commerce and trade-oriented business groups such as the American Chamber of Commerce and the Rocky Mountain Trade Corridor, based in Jefferson, Mont.
If a state really wants to become an export dynamo, O'Connell said, it should start by improving higher education, telecommunications and transportation networks—all powerful drivers of productivity and global competitiveness.
"Those are traditional and primary concerns of state and local officials," he said. "But those aren't terribly glamorous things to be engaged in, and for that reason state officials like to talk about trade offices and overseas trade missions because that's more alluring. It's more fun going abroad than sweating out the funding of a new ramp at the international airport so that you're better connected to the global supply chains."
For more on district exports, see the May fedgazette.