Ag conditions remain strong despite cool weather
Agricultural financial conditions were strong during the second quarter, according to the Minneapolis Fed's second-quarter agricultural credit conditions survey. Most indicators for growth in the agricultural sector improved. Only 2 percent of the surveyed ag lenders indicated that their customers had below-normal farm income. Prices for many district agricultural products were strong in the second quarter, especially for livestock. In addition, farmers and ranchers in many of the traditionally dry areas of the district received significant rainfall. The third-quarter outlook was optimistic, as lenders expected an increase in farm income. However, cool weather was hampering crop progress in many parts of the district, and excess moisture was a problem in the mid-north.
Farm income, farm household spending
and capital investment
"Total farm income outlook is very favorable," commented a South Dakota lender. "Crop and livestock prices as a whole this past quarter are the best we've seen in decades," a Minnesota banker reported. The high prices produced solid income, as 61 percent of lenders reported an increase and 37 percent noted no change, the highest figure since the survey began asking this question (see chart). In addition to high prices, adequate moisture lifted the spirits of the previously drought-ravaged ranchers of northern Montana . However, in other parts of the district, excessive rains hurt some producers. Due to the wet Spring, some producers failed to sow a crop. "Many acres have not been planted," wrote a North Dakota respondent.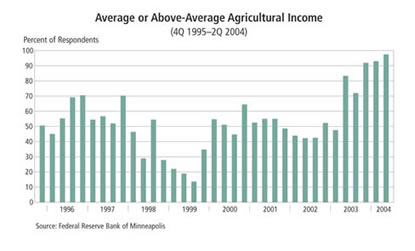 Agricultural producers are investing the increased income. About half of the respondents claimed that their customers are increasing capital spending. In addition to investing, producers are spending their profits; 42 percent of lenders noted increased household spending.
Loan repayments and renewals
The strong financial conditions allowed agricultural producers to keep up with their loan obligations. Only 5 percent of lenders indicated a decreased rate of loan repayments, and a mere 7 percent indicated that loan renewals and extensions have increased. However, with drought still an issue in southern Montana, some producers are having difficulties with their payments. A quarter of Montana respondents reported increased loan renewals or extensions, and 17 percent indicated lower rates of loan repayments.
Demand for loans, required collateral and interest rates
With financial conditions improving, some producers are looking to borrow to expand operations. Loan demand increased during the second quarter, with a third of lenders reporting increases and over half reported no change. Borrowers will not have to put up any extra collateral as nearly all the respondents indicated that collateral requirements have not changed. However, interest rates increased slightly during the second quarter, raising the cost of borrowing by about 10 basis points relative to the first quarter. Almost all lenders indicated sufficient availability of funds to lend.
Land values
The lure of increased profits and alternative uses has pushed land values up. Nonirrigated farmland and ranchland values increased from a year ago by an average of 15 percent. South Dakota lenders reported that farmland values increased by 18 percent from a year ago. "We are seeing continued high demand on recent land sales this last three months," a South Dakota lender commented. (Note: Land prices can vary significantly, not only from state to state, but also from parcel to parcel. For more detailed information on agricultural prices, see the Minnesota Land Economics Web site hosted by Dr. Taff at the Department of Applied Economics at the University of Minnesota.)
Outlook
"Total farm income outlook is very favorable," wrote a South Dakota lender. Lenders expect their agricultural producers to increase 2004 livestock and crop income by 11 percent and 4 percent, respectively, from 2003. Producers are planning to increase capital spending and take out loans to finance the purchases. About a third of lenders expect customers to increase capital spending, and 31 percent expect increased loan demand. However, weather conditions are not perfect, as some lenders expressed concerns about the cool temperatures.
Appendices: State Fact Sheet | State Fact Sheet-Outlook