It seems state regulators can't do enough to stem the tremendous growth in the usage of short-term credit.
Over the first few months of this year two Ninth District states, Michigan and Wisconsin, have seen their governors veto bills that would regulate the practice of payday advance lending. In each case those governors, prodded by consumer advocacy groups, claimed their particular bill did not go far enough to protect the public from unfair lending practices.
Consumer advocates point to interest rates for these short-term loans (typically one to four weeks) that average 391 percent when annualized, and many borrowers renew their loans again and again, sinking deeper into debt. Many have called for increasingly stringent regulation on the industry.
Lenders, for their part, argue that the cost of borrowing reflects the higher credit risks involved, and growing demand shows that a real need is being served. Payday and auto title loan businesses have continued growing extraordinarily fast, particularly in some states, since the fedgazette last reported on the subject in October 2000. For example, in August 2000 there were 195 licensed payday lenders in Wisconsin, and as of last April there were 351, according to the Wisconsin Department of Financial Institutions. In 1995 there were only 17.
But the number of locations is only part of the picture. Loan volumes speak, well, volumes about the industry's growth. In 1996, when the state began keeping track, Wisconsin's 64 payday lending stores made 80,000 loans worth around $11 million. In 2000, the number of loans was 955,666 for roughly $242 million. And for 2003 a total of 1,324,405 loans were made, amounting to a value of nearly $430 million.
Nationally, the trend is similar. Stephens Inc., an investment bank that tracks payday and title lending, also called "fringe" banking, estimates there are 22,000 payday lenders nationwide doing $40 billion in loan volume and collecting $6 billion in fees. Not bad for a business that didn't exist before the 1990s.
States have been trying to catch up as a regulator ever since. As a new industry, payday lending sprang up in some states without regulation. This led to a call for consumer protection laws, which many states passed, including some in the Ninth District. Such laws have limited the size of the business in those states. But as the numbers reflect, the industry has managed to grow in the face of increased regulation, for a number of reasons.
In fact, many payday lenders have welcomed legislative efforts. Regulations have helped change the industry "in a constructive way," said Robert Reich, president of Community Loans of America, a multistate payday and auto title lender that operates locations in Montana, South Dakota and Wisconsin. "I think any good operator should prefer to work in a better-regulated environment."
Credit report on the industry
The reason payday and title lenders need special regulations, it's argued, is the unique characteristics of such loans that separate them from other bank loans.
Payday loans are intended to be repaid within a week to a month. They are backed by a check, written by the borrower for the loan amount plus a fee, and postdated for their payday. When the loan is due, the lender cashes the check or, if the borrower cannot repay it, may renew the loan. The typical loan is for around $200 to $300 and usually costs $15 to $20 per $100 borrowed, although the fees can be much greater.
Auto title loans are also small, short-term arrangements, but they are secured by the borrower's car. The lender places a lien on the car, and if the loan is not paid back the lender may take possession of it. The car must be wholly owned by the borrower and may not have any other liens on it.
According to most observers, the auto title lending business has also grown rapidly, but it is not as easy to track as payday lending because it is not explicitly defined and regulated in most Ninth District states. In several states, pawnshops can get into the business with no special license. Montana, for example, has formal licensing procedures, and the number of licensed title lenders has gone from 21 in 2000 to 45 in April 2004, not counting pawnshops offering the service. In 2002, these licensed lenders granted almost 16,000 loans.
The perception given by consumer groups and some lawmakers is that these businesses prey on the poor because they generally have few other credit alternatives and encourage them to get further into debt. In the last few years, studies looking into the demographics of payday borrowers suggest the stereotype might not fit all that well.
A 2001 survey of payday customers by Georgetown University's Credit Research Center found that borrowers are typically moderate-income younger families—35 percent are married with children and nearly a quarter are single parents. Fully half of all borrowers have household incomes between $25,000 and $49,999. Over half have some education beyond high school. As might be expected, payday customers tend to have credit problems. By and large, however, borrowers are informed about their alternatives and are aware of the high costs of payday loans, although not in terms of annual percentage rates, the study concluded.
However, it did show that payday borrowers tend to be repeat customers, with 48 percent taking out seven or more total advances in a year, and 22 percent taking 14 or more. Borrowers also tend to roll over or renew the same loan, postponing final payment and accruing significant interest charges; about 40 percent had renewed loans five times or more. These numbers jibe with a study by Michael Stegman of the University of North Carolina at Chapel Hill, which found that the practice of payday lending encourages repeat usage and debt rollovers.
Even so, the Georgetown study revealed that three of four borrowers are satisfied or very satisfied with their most recent new advance.
Nanny states
Strong growth in the industry has been met with equally strong calls for regulation. In many cases, the payday lenders have encouraged legislation, in hopes it will improve their legitimacy and allow them to expand. The Community Financial Services Association, the industry's self-regulation and lobbying group, has spearheaded initiatives in several states, including Wisconsin.
Nationwide, 35 states now regulate payday lenders explicitly. Some states, like Georgia, have set rate caps so low that the business is effectively outlawed. In other states that do not have clear laws or strict lending rules, payday lenders have found ways to get around restrictions. In the Ninth District, several states have added new regulations since 2000
South Dakota has limited loan amounts to $500 and will not allow borrowers to hold more than one loan at a time. The state also requires borrowers to pay loan fees before renewing a loan, to prevent them from piling up, and forbids borrowers from rolling over a loan more than four times. When one out-of-state lender tried to claim the regulations didn't apply to its business, the Legislature promptly redefined the industry in a bill that will take effect in July.
"I don't think that anything that has dealt with consumer education or disclosure has affected the industry all that much, and they've welcomed it," said Rex Hagg, a former South Dakota state legislator who now works as a lobbyist with the Short-Term Lending Association, an industry trade group. "What they don't welcome is attempts to regulate the business to make it significantly more awkward for these people to obtain loans," Hagg said. "That is a big distinction for them."
South Dakota, like several other states, doesn't have such strict rules for auto title lenders. "They're not even regulated," said Hagg. "So they're out there making $2,000 loans and there's no requirement that they pay down the interest each time they roll it over, so you tack on that interest all the time and all the sudden it is out of hand and people's cars are at risk." An attempt to tighten regulations for title lenders fizzled in this year's legislative session, but Hagg said there may be another initiative next year.
North Dakota has adopted a licensing system for payday lenders, limiting rollovers to one, restricting fees to 20 percent of the loan and protecting borrowers who default from prosecution. Montana has set up regulations for title loans and extended its payday laws to include electronic debits, because its original law covered only paper checks. Wisconsin continues to have no specific payday laws, which is one reason why business has flourished there.
Minnesota hasn't changed its laws for payday loans since 1995, but the rules are relatively strict. The industry doubled there from 34 licensed locations in 2000 to 68 by early May and lent out almost $54 million in 2002—significant growth until you look at neighboring Wisconsin, which has five times the number of payday outlets.
For rent: bank charters?
Whether or not a state wants to allow payday lending, however, may be of little consequence, thanks to national banking laws. The same laws that allow credit card issuers to evade state interest rate caps can work for payday lenders if they partner with a bank that issues the loans. That is, one state cannot prevent a national bank from conducting business in accordance with the laws of another state in which the bank is chartered.
So in some states, payday chains have partnered with banks to market payday loans technically issued by a bank. In the industry, this is referred to as "the bank model." The lender and the bank share the loan fees. The practice is therefore almost exclusive to states that have tough restrictions, since where payday lending is allowed, lenders would prefer to issue the loans themselves and keep all the fees.
"It's not the norm; almost the only [payday lenders] who are doing it are the big ones that operate in multiple states," said John Caskey, an economics professor at Swarthmore College and an expert on fringe banking. "So most of the small independents, if they're located in a state where the state laws are favorable, they don't bother partnering, because it's kind of a hassle to set it up and so on. It was the bigger ones, that operate across multiple states where they wanted a common way of doing things, that tended to do it."
Since South Dakota has no usury laws, a number of small banks there have been courted by payday chains. There are now seven South Dakota banks partnering with lenders in states like Pennsylvania, Georgia, Michigan and Texas. For small banks in South Dakota, often sensitive to the volatility of agriculture, the opportunity to partner with a payday lender is tempting.
One of those banks is First Fidelity in Burke, which partnered with Advance America in October 2001 to lend in Michigan. President and CEO George Kenzie is pleased with the results. "We were just looking for a line of business that we could minimize risk and increase some profits. We didn't have to put a lot of our loan portfolio into this business, and it has some definite profits to it. And it diversifies some of our portfolio and some of our income, so we're not reliant strictly on agriculture."
The practice has steamed consumer groups, who call the practice "charter renting," and it has attracted the attention of some regulators. The attorney general's office in Georgia, for example, is pursuing legal action against Advance America and Bank West in South Dakota, which could determine if and how states can stop payday lenders from using banks to get around usury laws.
"If consumers in South Dakota don't want to be protected from usury that's one thing," said Jean Ann Fox, director of consumer protection for the Consumer Federation of America, "but the folks in North Carolina would like to have the benefit of their 36 percent annual rate cap for small loans, and payday lenders are ignoring that by partnering with these banks. Georgia is a state that has made it a crime to do this kind of lending, where the criminal usury cap is 60 percent. But you have South Dakota banks helping storefronts evade that."
Starting in 2000, the Office of the Comptroller of the Currency and the Office of Thrift Supervision (OTS)—two federal agencies that regulate the lending industry—decided the risks involved in bank partnerships were dangerous, and eventually the OCC ordered all nationally chartered banks to end the practice. In January 2003, as part of the crackdown, the OCC ordered First National Bank in Brookings, S.D., to end its association with payday lender Cash America International, threatening to charge the bank with violating the Federal Trade Commission Act.
But payday lenders were already one step ahead, having begun to move toward partnerships with state-chartered banks, whose right to export rates to other states has been consistently upheld by federal courts. In the case of First National, its holding company, Fishback Financial, continued its partnership with Cash America through a different state-chartered bank.
Last July, the Federal Deposit Insurance Corp. issued guidelines on the practice (which are available on its Web site). The FDIC has declared that it will conduct on-site reviews at third-party lending locations partnered with banks to make sure they are in compliance with the guidelines and, if they are not, take appropriate action. The FDIC says that this kind of lending is one of the riskiest activities a bank can get involved in and requires banks partnering with payday lenders to hold more capital, while limiting the amount of a bank's total capital that can be extended in payday loans.
For its part, the Federal Reserve declared in 2000 that payday lenders, even though many are not considered banks under state laws, are nevertheless subject to the Truth in Lending Act, enforced under Regulation Z. Lenders are therefore required to fully disclose all costs and details of loans to customers, including what fees amount to as annual percentage rates. Many in the industry believe treating the fees as APRs is irrelevant, though. Hagg, from South Dakota, said that fees on other financial transactions like ATM withdrawals are comparable when annualized. "I think the best analogy that I have heard in a long time is that it's like taking a taxi somewhere. You would never buy a car at the rate that you pay for a taxi," Hagg said, "but what it is for is to fill short-term need."
"You did have the setback from the OCC forcing the national banks out of it," said Dennis Telzrow, an analyst at Stephens Inc. "I think there were a lot of different issues, some of which may or may not have been economically driven, shall we say."
Caskey agrees with Telzrow. "In some states, the state regulators have not minded state banks partnering with payday lenders, and even though they're members of the FDIC, the FDIC did not take the same hard-line view as the OCC and the OTS. So the payday lenders who are still partnering with banks now partner with state-chartered banks to get around state usury laws. A lot of them had to find new banks because originally most of them were partnered with national banks. After the OCC crackdown on that, then they started looking for new banks and so on. So there was a lot of juggling and fear as this went on."
Because of the bank model, consumer groups have focused more recently on national regulations. If the FDIC doesn't take steps similar to those of the other regulatory agencies, Fox said, "then the only other avenues for solving this problem are Congress clarifying that they had no intention for state banks to be able to rent their charters to third parties to evade state law, or the courts."
Fox hinted that other state-level actions, like prohibitions on partnering with third parties, might be forthcoming. Such actions may make it harder for payday lenders to do business and may limit their number. But if the past is any indication, they will not stop the demand for these services.
"There is such an unmet demand in the marketplace for this kind of lending, that we have people lining up at the stores as they're nearing completion," said Reich of Community Loans of America. "It's kind of, 'build it and they will come.'"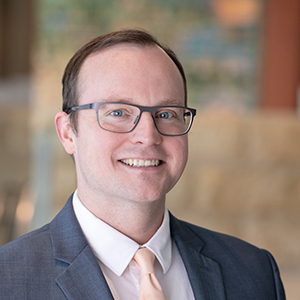 Request as a speaker
Joe Mahon
Director, Regional Outreach
Joe Mahon is a Minneapolis Fed regional outreach director. Joe's primary responsibilities involve tracking several sectors of the Ninth District economy, including agriculture, manufacturing, energy, and mining.