Business outlook best in four years
District business leaders appear to have turned the pessimism corner, exhibiting their most optimistic views on the economy and the prospects for their own firms since 1999, according to an early November fedgazette poll of business leaders.
Most Ninth District business leaders expect the national and district economies to grow 3 percent or more in 2004. Not everyone's joining the party. A majority—almost 60 percent—of business leaders in the Upper Peninsula (U.P.) of Michigan remained pessimistic in their outlook for 2004. But respondents in every other district state were solidly positive.
"Definite sign of increased positive activity," a western Wisconsin manufacturer said. Leaders foresee modest inflation growth; however, within their own communities they envision increases in employment, investment and consumer spending, with only a slight decrease in housing starts. For their own companies, respondents anticipate increasing sales, employment, capital investment and prices. Nonetheless, tight state and local government budgets are expected to have a somewhat negative effect on their businesses.
Growth in national economy predicted
About 70 percent of the 335 poll respondents expect growth of 3 percent or more in U.S. gross domestic product in 2004, while last November only 30 percent predicted this level of growth for 2003. Montana and North Dakota leaders anticipate the greatest growth, and respondents from the U.P., the least.
An increase in output is also expected to generate a slight increase in inflation; 80 percent foresee a 2004 consumer price index change of 3 percent or less. Business leaders from Montana and the Dakotas predict the highest increases, and U.P. respondents, the lowest. Meanwhile, 56 percent of agricultural respondents expect increases of 3 percent or more. "The escalating prices in soybeans and corn will have a very negative impact on animal agriculture in 2004," according to a Minnesota agricultural producer.
Investment, employment to boost local economies
Business leaders are generally optimistic about the economic prospects for their own community in 2004: 78 percent responded positively in this poll vs. 57 percent a year ago. The outlook is most positive in North Dakota and the most pessimistic in the U.P. More specifically, respondents overall expect business investment, employment and consumer spending to increase.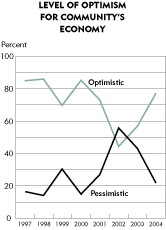 Source: Federal Reserve Bank of Minneapolis
"Capital equipment budgets that were not let loose in 2003 should be opened up in 2004," a Minnesota manufacturer said. More than half the respondents predict business investment will increase, while only 16 percent foresee decreases. The strongest growth in investment is expected to occur in Minneapolis-St. Paul, and the weakest growth in the U.P.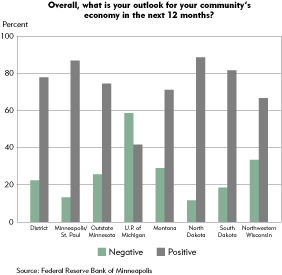 The jobless expansion may be ending, as 39 percent foresee employment increases, while 20 percent expect more layoffs. A Minnesota manufacturer commented that his company is "having an extremely hard time getting enough employees." For each business sector, the number of respondents who expect increases in employment exceeded the number who anticipate declines. The service sector may see the strongest growth in employment. However, as demand for workers is predicted to pick up, wage levels are also projected to rise modestly: 77 percent say that wage hikes will stay in the 2 percent to 3 percent range.
Consumer spending, which held steady during the slower economy, is expected to increase. Overall, 37 percent of business leaders predict consumer spending to increase, while only 14 percent think a decrease is likely. The strongest increases are predicted in Minneapolis-St. Paul, and the biggest decreases in the U.P.
Meanwhile, housing starts, which have been a strong contributor to economic growth in the past, are expected to drop slightly. Minneapolis-St. Paul respondents are the most pessimistic about housing starts, Montana the most optimistic.
Manufacturing outlook bright
Business leaders expect their own company sales revenue, employment, investment and prices to increase in 2004. Nearly two-thirds foresee increased sales, and many companies plan to hire more workers and invest more in capital equipment. "There is more optimism in our industry than in the last four years," a western Wisconsin manufacturer noted.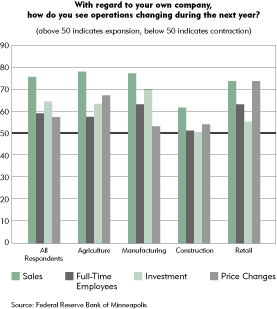 One-third overall may expand employment at their companies, compared with 15 percent who may shrink their workforce. All business sectors may see employment increases, but the most optimistic responses came from manufacturers, who most notably also predict increased investment in plant and equipment. "We have tons of work," said a Minnesota manufacturer.
Thirty percent of businesses expect price increases for their own product and services compared with only 16 percent that foresee lower prices.
Businesses were also aided by significant productivity gains in 2003. Nearly one-third of respondents indicated productivity gains of 1 percent to 2 percent, and another 30 percent reported productivity gains of 3 percent to 5 percent.
Sales generated over the Internet dropped slightly from the previous two years' polls: 29 percent reported some Internet sales compared with 30 percent and 35 percent in 2002 and 2001, respectively.
Despite general optimism and expected increases in economic activity, business leaders are concerned about budget deficits, government regulation and foreign competition. Over 60 percent say that tight state and local government budgets will have a negative effect on their businesses, and 48 percent of business leaders indicated that complying with government regulation is a challenge or a serious challenge.
"Government regulations and the environmental protests have stalled Montana business," said a Montana service company respondent. In addition, concern about foreign competition is increasing. Nearly half indicated that meeting foreign competition is a challenge compared with 37 percent in last year's poll.
This year's poll asked a special question regarding the effects of increased trade with China on district businesses. Overall, 30 percent indicated trade with China had a negative effect and just 15 percent reported a positive effect. Manufacturers were the least enthusiastic about trade with China, while agricultural businesses and retailers saw the greatest benefits.
Public Affairs intern Amy Stittsworth contributed to this article.