Around the turn of the last century hundreds of thousands of Germans, Norwegians, Swedes, Poles, Finns and other Europeans poured into the Great Plains to bust the prairie sod, cut virgin timber, toil in mines and build cities of brick and steel.
In 1910, the peak year for immigration to Minnesota, 29 percent of the state's population was born outside the country. These pioneers established the cultural, political and economic character of much of the Ninth District and provided fodder for generations of Ole and Lena jokes. By 1930 the immigration boom was over, blighted by tightened immigration laws and the Great Depression.
For decades that was the only immigration story in the district. Federal immigration policies that discouraged immigration from non-European countries ensured that the Upper Midwest remained almost exclusively the domain of white, native-born Americans.
The door cracked open in the late 1970s, when seasonal migrant farm workers from Mexico began to put down roots, and refugees from Southeast Asia arrived in the aftermath of the Vietnam War. Changes in immigration laws in the 1960s that abolished national-origin quotas in favor of a system based on job skills and family ties allowed more immigrants from Latin America, Asia and Africa to enter the country on student or work visas and apply for permanent residency—the coveted "green card."
Since then immigration into the district has steadily increased, driven by the push of greater mobility in developing countries and the tumult of war and other conflict around the world, as well as the pull of economic opportunity in growing cities and job availability in labor-intensive industries. A second immigration boom—the most concentrated and sustained influx of foreigners in 60 years—occurred in the 1990s. Between 1990 and 2000 the number of foreign-born residents in the district nearly doubled to almost 320,000, according to the U.S. Census Bureau.
That's nowhere near immigration levels at the beginning of the century—districtwide, less than 4 percent of the population currently hails from another country—but the inflow is nonetheless dramatic, unprecedented in living memory. "This larger migration of people to the Midwest from other countries is kind of a recent phenomenon; in past censuses we haven't seen that growth," said Nancy Nelson, program manager of the South Dakota State Data Center in Vermillion.
Significant immigration into a region hundreds of miles away from traditional immigrant gateways such as New York City, Chicago, Los Angeles and Miami can be viewed as a testament to the strength of its economy; foreigners make their way to the district from abroad or elsewhere in the country because they see an opportunity to improve their lives and those of their children. In the booming 1990s employers in Minneapolis-St. Paul, Fargo, Sioux Falls and other cities were desperate for labor—any labor. Even during the nationwide economic downturn of 2001-2002, urban centers in Minnesota and the Dakotas beckoned immigrants with jobs in manufacturing, construction, food service, retail and meatpacking—relatively low-paying, undesirable jobs spurned by many native-born Americans.
A strong network of social service agencies in the district has also helped to attract immigrants to a part of the country that was terra incognita to most before they left their native lands. Since the 1970s organizations such as Lutheran Social Services (LSS), the Minnesota Council of Churches and the International Institute of Minnesota have sponsored refugees fleeing war and privation around the globe, arranging for affordable housing and health care and helping them to find jobs.
Because of this local support, refugees in the district account for a larger proportion of total immigration than in the rest of the country. Nationally, refugee resettlement accounts for about 8 percent of immigration. But in North Dakota, three quarters of the immigrants who entered the state in the latter half of the 1990s were refugees. In Minnesota, 25 percent to 50 percent of immigrants are refugees in any given year.
Once settled in a community, refugees become a catalyst for further immigrant growth. "The most significant contributing factor to any refugee flow tends to be economics," said John Borden, associate director of the International Institute in St. Paul. The agency is the country's biggest sponsor of Hmong and Somali refugees, and Borden noted that large numbers of Somalis moved to the Twin Cities from California and Texas in 2000, alerted to available employment by relatives who had settled earlier in the Twin Cities. Those newer arrivals in turn invite their relatives to join them in the metro labor market.
Business as usual after 9/11
A security crackdown in the wake of the 2001 terrorist attacks choked off the flow of refugees into the district but only for a couple of years. The 2002 USA Patriot Act hit émigrés from Muslim countries such as Somalia, Sudan and Bosnia particularly hard. The number of refugees admitted to Minnesota dropped from 4,012 in 2000 to 1,035 in 2002, according to statistics compiled by the state Department of Health. In the same period the number of refugees resettled in and around Fargo plummeted 90 percent to 52, according to Cass County Social Services.
Refugee numbers picked up again last year (132 refugees arrived in the Fargo area in 2003), and this year is shaping up as a big year for district resettlement agencies, partly because of relaxed homeland security but also because the U.S. State Department has opened the door to Hmong and African refugees. "A lot of things both legal- and perception-wise have changed, which are allowing the spigot to turn back on, and I assume that will continue unless other events bring a halt to it," said Richard Rathge, director of the North Dakota State Data Center in Fargo.
Through June the International Institute alone had sponsored 610 refugees and was bracing for another 900 by the end of the year. Up to 500 of those refugees are Hmong coming to the Twin Cities from Wat Tham Krabok, a shantytown north of Bangkok that was the last refuge for Hmong fleeing Laos after the Vietnam War. A total of 5,000 Hmong refugees are expected to settle in Minnesota in 2004, in addition to 3,000 exiles from Somalia, Liberia, Myanmar and other countries.
Curiously, the post-9/11 decline in refugee arrivals didn't appear to make a dent in the overall number of immigrants admitted to the district in the aftermath of the terrorist attacks. Census estimates show that immigrants entered Minnesota, Montana and the Dakotas at a steady clip of about 16,500 annually after September 2001—about the same rate of inflow as before. The number of immigrants entering Minnesota in 2002 was the highest in 20 years, according to the U.S. Office of Immigration Statistics. One explanation is that an increase in the number of immigrants coming directly to the district on work and student visas, or relocating from other parts of country, made up for the drop in refugee cases. But the Census Bureau and U.S. Immigration estimates may be way off; no one keeps track of illegal immigration across the Mexican border and secondary migration into the region from other parts of the country.
Nor does Immigration Statistics count the number of H-1B visas issued to skilled immigrants (technically "nonimmigrants," because they're temporary workers) in the district. But the number is probably quite small; in 2003 only 105,000 applications for new H-1B workers were approved for the whole country. This year, only 65,000 will be approved under a reduced cap for H-1B workers.
Minnesota: an immigration magnet
Minnesota sits at ground zero of the immigration explosion in the district. Between 1990 and 2000 the state's foreign-born population increased 130 percent to over 260,000—four-fifths of all the immigrants in the district. The influx was massive enough to rank Minnesota 12th nationally in the rate of immigrant population growth, ahead of California, Florida and Texas. The state that has traditionally viewed itself as Scandinavia on the Prairie has the largest population of Somali immigrants in the country—9,300 according to the 2000 census—and the second biggest population of Hmong, after California. About 42,000 Minnesotans were born in Mexico, making that country the largest single nation of origin for immigrants in the state.
They and newcomers from more than 100 other countries came to Minnesota because it's the economic dynamo of the Upper Midwest. "In the 1990s, especially in the latter half of the 1990s, Minnesota created jobs at a rate twice that of population growth on an annual basis," said Barbara Ronningen, senior research analyst with the State Demographic Center in St. Paul. "Unemployment rates were about 2 percent to 2 1/2 percent, depending on region of the state, and we just needed more workers. And people were welcome here, because of all the agencies that serve immigrants. That, combined with economics, made Minnesota a real magnet [for immigrants]."
Just as the state claims the lion's share of immigration to the district, the Twin Cities captures roughly 80 percent of immigration to Minnesota. Between 1990 and 2000 the foreign-born population of the Twin Cities metro area, comprising 13 counties in Minnesota and western Wisconsin, more than doubled to over 210,000—7.1 percent of the total population. A study released earlier this year by the Brookings Institution dubbed the Twin Cities a "re-emerging gateway" for immigrants; long quiescent as a destination for Europe 's huddled masses, the metro area is once again attracting large numbers of immigrants.
The Twin Cities' robust, diverse economy has a place even for someone who doesn't speak English and didn't graduate from high school. The work may not be lucrative or glamorous, but it's a start, a down payment on a new life. More than 4,000 Hmong, originally farmers in the mountains of Laos who fought on the U.S. side in the Vietnam War, pulled up stakes in Fresno, Calif., and moved to the Twin Cities in the 1990s. In Fresno, afflicted with double-digit unemployment, the Hmong labored in the fields, picking grapes for piece rates.
"In the Twin Cities, these people could take jobs in manufacturing with benefits and eight-hour workdays, for a better rate of pay," Ronningen said. "It doesn't take a rocket scientist to figure out which is a better situation." That recent history will be repeated this winter and in the years ahead as Hmong from the Wat camp enter the workforce.
Entry-level jobs in assembly, construction, hospitality and other industries also spell opportunity for Somalis, Ethiopians, Mexicans and other immigrant groups just beginning to climb the economic ladder. It's readily apparent to travelers arriving at Minneapolis International Airport that Somalis and Ethiopians keep the taxis rolling. The janitorial staffs of office buildings in downtown Minneapolis consist largely of immigrants, including Latinos, many of whom live in Minnesota illegally.
Beyond the inner city
You're more likely to hear Spanish, Somali or Hmong spoken in Minneapolis or St. Paul than in Minnetonka or Blaine. But immigration isn't just an inner-city phenomenon, nationally or in Minnesota; over time, as immigrants learn English, go to college and get better jobs, they gravitate to the suburbs, just like their native-born neighbors.
The 2000 census counted over 113,000 foreigners in the Twin Cities suburbs and exurbs—more than the total living in the central cities and a 150 percent increase over 1990. Seeking bigger houses for their large families, the Hmong are moving to affordable inner-ring suburbs such as Brooklyn Park, says Peter Xiong, a real estate broker in north Minneapolis. Eden Prairie, a Minneapolis suburb with a concentration of high-tech information technology and manufacturing firms, harbors an enclave of Asian Indians, many of them college-educated professionals who entered the country on student or H-1B visas.
Outside the metro orbit, refugees have dominated immigration to Rochester, the home of the Mayo Clinic and IBM Corp.'s server division. Just under 8 percent of Olmsted County's population—more than 9,700 people—was foreign-born in 2000. Over 60 percent moved to the area in the 1990s, either directly as refugees or transplants from the Twin Cities, Milwaukee and other immigrant gateways. The 2000 census counted 2,000 Southeast Asians and 1,400 East Africans—the overwhelming majority of them Somali—living in the county.
Word of Rochester's well-rounded economy has spread among immigrants around the country, said Phil Wheeler, director of the Rochester/Olmsted County Planning Department. "The advantage for the immigrant community is that we have jobs that they can start out in and work their way up in," he said. Struggling manufacturers such as Pemstar Inc. have laid off immigrants in the last year, contributing to rising unemployment, but immigrants with few skills and a limited English vocabulary still find entry-level jobs at Mayo, nursing homes and umpteen hotels, motels and fast-food restaurants catering to patients and business travelers. At the other end of the wage scale, IBM continues to recruit computer engineers and programmers from India, China and other countries.
The great Dakota boomlet
The 1880s were the boom years in the Dakotas, a golden age of growth when settlers from the East, most of them immigrants, staked out 160 acres apiece and founded cities such as Chamberlain, Bismarck and Mitchell. Over the next century the flow of immigrants slowed to a trickle and almost petered out; today less than 2 percent of the population in either state is foreign-born.
But in an echo of the Great Dakota Boom, immigrants have started journeying to the High Plains again. South Dakota's foreign-born population increased 75 percent in the 1990s, to 13,500 people. Without the arrival of 6,340 immigrants in the decade, North Dakota's population would have shrunk.
The Dakota mini-boom is most apparent in the region's two biggest cities, Sioux Falls and Fargo. Census data show that immigrant communities in both towns have grown exponentially, albeit from minuscule population bases. Improbably, the immigrant population of the Sioux Falls metro area was the fastest growing in the country in 2000; in the previous decade, the number of immigrants in the city more than tripled to over 5,700 people. In the Fargo-Moorhead metro area, almost two thirds of the foreign-born arrived in the 1990s. Sioux Falls and Fargo are magnets for immigrants for the same reasons the Twin Cities and Rochester are—they're growing numerically and economically, generating jobs in manufacturing and service industries that immigrants are eager to fill.
Companies such as Sioux Valley Hospital, StarMark Cabinetry and pork packer John Morrell & Co. employ a rainbow coalition of immigrants: Bosnians who fled war-torn Yugoslavia in the mid-1990s; Russian and Ukrainian escapees from the ruins of the Soviet Union; Mexicans, Guatemalans and other Latinos who came north to find work and join relatives in a well-established Hispanic community. The most recent additions to the local workforce are refugees from war and famine in Africa. After a hiatus in the fall of 2001 and much of 2002, LSS in Sioux Falls began accepting refugees for resettlement last year. Most of them are Sudanese, Liberians and Somali Bantu, an ethnic group oppressed by other Somalis.
Even if the flow of refugees stopped tomorrow, the city's immigrant population would continue to grow, said Qadir Aware, executive director of the Multi-Cultural Center, a nonprofit organization that serves immigrants. Aware, a former refugee from Iraqi Kurdistan who resettled in Sioux Falls in 1977, estimates that half of the immigrants who came to the city over the last seven or eight years moved from another state in their adopted country. They came not only to take available jobs, but to partake of Sioux Falls' quality of life—a low crime rate, good schools, inexpensive housing.
"The refugees that come in from different states just feel that the city where they live is too big, they can't get around, they can't get help and support," he said. "They feel that it's easier to live and adjust to the community in a small city."
In Fargo, immigrants have both contributed to and benefited from the city's strong growth. The population of Cass County increased 20 percent to 123,000 between 1990 and 2000, driven by job opportunities in thriving light manufacturing and service industries. More than one in 10 of the newcomers were foreign-born. About 1,000 Bosnians, Romanians and other Eastern Europeans live in the county, and the number of Africans—primarily Sudanese, Somali and Liberian refugees resettled by LSS—has grown from a handful to more than 700 in the last 10 years.
From another country to the country
For most of the 20th century, immigration was an urban phenomenon; successive generations of immigrants in search of work gave big cities such as New York, Los Angeles and Chicago their ethnic flavor. But in the last 15 years, especially in the Midwest, small cities and towns that have not seen meaningful immigration for 70 or more years have become destinations for the foreign-born. District cities of under 20,000 people with growing immigrant communities include Worthington, Pelican Rapids, Faribault and St. James, Minn.; Barron, Wis.; and Brookings, S.D.
The common denominator in almost all towns with a sizable immigrant population is the presence of a food manufacturing facility. Open or expand a meatpacking or vegetable canning plant, and immigrants will surely follow. In Nobles County in southwestern Minnesota, home to two hog processing plants, three out of every eight births in 2002 were to foreign-born mothers, according to the state Department of Health. To the east in Watonwan County, the foreign-born—most of them Latinos, Asians or Africans—accounted for 8 percent of the population in 2000. The county has three food processing facilities.
Immigrants seek work in food processing because you don't necessarily need a command of English or a sheepskin to eviscerate hogs or can peas. "Particularly for certain groups of immigrants that are not very proficient in English, or who are not able to get other jobs, the availability of these jobs is a draw," said Katherine Fennelly, a professor at the University of Minnesota's Hubert H. Humphrey Institute of Public Affairs who has done research on immigrant labor in rural Minnesota.
Over the past 25 years food processing has become a largely rural enterprise, concentrated in small cities close to interstate highways and pools of cheap, nonunion labor (see the March 2004 fedgazette). Increasingly, food companies have relied on immigrants to perform physically demanding, often unpleasant tasks for $8 to $12 an hour. Many immigrants learn about food processing jobs in distant towns through the family grapevine. Others, particularly Latinos, are actively recruited in Mexico and Texas by agents for food manufacturers.
The migration of Somalis to Barron, Wis., is a case study of food manufacturing's appetite for inexpensive labor and its effect on communities. In the last four years about 400 Somali immigrants have moved to the small town about 50 miles northwest of Eau Claire, increasing the East African population from a token few to roughly 13 percent of the total population. Almost all of the adults work at the Jennie-O Turkey Store plant, the city's largest employer and the reason Barron calls itself the "turkey capital of Wisconsin."
Most Somalis in Barron are refugees who initially settled in Minneapolis or St. Paul, said Zoltan Grossman, a geography professor at the University of Wisconsin-Eau Claire who has conducted a survey of the town's Somali community. In Barron they face less competition for low-wage jobs than in the Twin Cities, with its multitude of immigrants. They can walk to work, saving the hassle and expense of getting a driver's license or taking the bus. And Barron is safe, largely devoid of the low-level crime that plagued their old neighborhoods in the city.
But life in Barron has its downsides. A lack of affordable housing obliges Somalis—as well as Mexican and Hmong immigrants—to crowd into a single apartment block, or commute from Rice Lake, Cameron and other surrounding towns. And Somalis return to the Twin Cities on weekends to worship and stock up on African foods unheard of at the local Econofoods. "The grocery stores would make a killing if they carried halal [permitted by Islamic religious law] meats," Grossman said.
Immigrants? Where?
As Barron illustrates, there are other immigrant pockets outside Minnesota. In Rapid City, the gateway to the Black Hills, jobs at a regional hospital and dozens of hotels and restaurants support about 1,400 immigrants. In the 2000 census about 1,600 people in Eau Claire identified themselves as Hmong, and enough Somalis, Pakistanis and other Muslims have settled in the area to support a mosque in nearby Altoona. Other regional centers with small immigrant populations include Bismarck and Grand Forks, N.D., and La Crosse, Wis.
But immigrants are conspicuous by their absence in large swaths of the district—Montana, the Upper Peninsula of Michigan, rural parts of the Dakotas and much of western Wisconsin. Local economies that are treading water or not endowed with large numbers of basic, nonunionized manufacturing and service jobs don't attract immigrants in large numbers.
Fewer than 5,000 people in the Upper Peninsula were born in another country, and more than a third of those have lived in the region since the early 1960s. The U.P.'s economy has traditionally lagged behind the rest of the district, with some manufacturing but no major food processing plants. A lack of suitable employment also limits immigration to much of northwestern Wisconsin and the Dakota hinterland. In rural areas of the Dakotas the foreign-born population is almost invisible—less than 1 percent in counties such as Mellette in South Dakota and Ransom in North Dakota.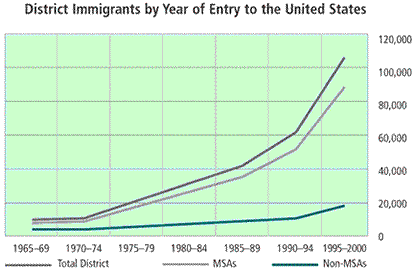 Source: U.S. Census Bureau
Montana is the Empty Quarter of immigration to this country. When native Montanans complain about immigrants, they're talking about Californians and Coloradans—"cappuccino cowboys"—moving into gated ranchettes on the edge of town. Of the 16,400 Montanans who claimed foreign birth in 2000, 28 percent were Canadian, and 38 percent had entered the state before 1965. Long-standing immigrant communities in the state include Canadians living in northern border counties, Yugoslav ex-miners in Butte, and aging Norwegian and Swedish farmers along the Hi-Line. In contrast to the rest of the district, 40 percent of the state's immigrants came from Europe; only 10 percent are Latino.
"We have very little Mexican migration; we just don't have the jobs that they're looking for," said Jim Sylvester, an economist with the Bureau of Business and Economic Research at the University of Montana-Missoula. Meatpacking plants have steered clear of Montana, and manufacturing and assembly jobs are few and far between. Sylvester points out that the state's bread-and-butter industries—wood products, oil refining, smelting—are heavily unionized, effectively shutting out low-skilled immigrant labor. As for work in motels, hospitals, restaurants and ski resorts, "our people are taking those jobs," he said.
Related articles:
Total Foreign-Born, 2000 [U.S. Map]
Research for these stories was contributed by Rob Grunewald, regional economic analyst, and public affairs research assistants Shefali Mehta and Colbey Sullivan.