Office flu shots, anyone?
An economy in recovery? Two years running? While broad economic indicators say it's so, that doesn't mean everybody's feeling sprightly again.
In the commercial office market, the economic downturn has been a bit like the flu bug—infecting a wide swath of markets over the last three years, but bypassing some altogether.
Particularly in major markets, landlords have watched vacancy rates slowly and persistently creep up. The Twin Cities—the only major market in the district—is representative of the commercial office malaise affecting large markets across the country. Two smaller areas in Minnesota—Duluth and Rochester—are also struggling with higher vacancy rates.
But the district's other, small-market regions outside Minnesota weren't hit particularly hard by the vacancy bug during the recession. As a result, their outlook for 2004 is modest to strong as the economy continues to strengthen. And even in soft markets, the improving economy is—finally—bringing brighter expectations.
Flu bug in the office (market)
Nationally, vacancy rates have increased every quarter since fourth quarter 2000. For third quarter 2003, the national office vacancy rate rose to 14 percent for downtowns and 18 percent for suburban areas, according to CB Richard Ellis, an international commercial real estate firm.
The little bit of good news is that absorption—the net change in occupied space, which signals in- and out-migration of tenants—was slightly positive for the third quarter of last year after being largely negative since the first quarter of 2001. Preliminary figures for absorption in the fourth quarter were also positive, but that won't necessarily stop vacancy rates from creeping up because new space is constantly being added.
While it hasn't suffered as much as some other big-city markets, the Minneapolis-St. Paul office market has had rough sledding the past three years. Statistics for metro regions typically are available earlier than national figures, and the fourth quarter of 2003 saw the Twin Cities vacancy rate increase to almost 17 percent. Over the past year, the region also saw negative absorption, meaning there were either fewer tenants or tenants were leasing less space overall.
To put those figures in context, the average vacancy rate for the Twin Cities since 1980 is about 11 percent and average annual absorption is above 1 million square feet, according to Torto Wheaton Research, a business unit of CB Richard Ellis.
Like the national picture, there is some good news in the Twin Cities. Higher quality, or class A, space in the Twin Cities saw net absorption over the previous year. Still, the vacancy rate inched up slightly to 13 percent as newly constructed office space came online. What's more, vacancies in class B space—the majority in almost any market—ran over 20 percent and had negative absorption that more than canceled out the gains in higher-quality office space.
In the suburbs, overall office vacancy sat at 15 percent, but vacancy for new construction came in over 30 percent, according to the 2003 Real Estate Planning Guide from New American International (NAI), a real estate services company. "It's still a really soft market, and it has been for three years now," said Gary Glockner, a senior sales associate who specializes in the southwest suburbs for Minneapolis commercial real estate firm Colliers Turley Martin Tucker.
In some ways this is reminiscent of the recession and office slump of the early 1990s. The major problem back then, particularly for downtown Minneapolis, was a surplus of space from a construction boom, according to Larry Chevalier, senior vice president at Colliers. Four large office buildings (Chevalier called them the "Final Four") were completed around the same time, and each was only half preleased. So the net effect was to dump 2 million square feet of extra space onto an already flooded market.
But now the situation is different. "It's happening now without the cranes in the sky," Chevalier said.
The problem this time around is a different kind of construction boom. Several "megatenants," or large office users like Target, General Mills and U.S. Bank, built new facilities in the last few years and have begun to move into them. "We've been so dependent on them to keep our base full," said Chevalier, "and when they go and build their own buildings, that throws things off."
Like their big-city brother, smaller Minnesota metros are also struggling. Duluth has an estimated 17 percent vacancy rate, according to its Building Owners and Managers Association. "What we have tracked is that vacancy has trended up," said Chris Maddy of Northspan, a property listing service. "We started keeping track about two years ago when we became concerned. ... We were seeing companies' building plans and then when things slowed down, putting those plans on hold." Rents even went down on class A space, though Maddy added, "It's kind of stabilized recently."
Although there are no official figures for Rochester, "vacancy rates are higher," according to Gary Smith of Rochester Area Economic Development Inc. "One reason is that we've added an awful lot of space in the last two years ... [and] we've got a tech sector that was hit pretty hard."
Few bugs outside Minnesota
The office market looks significantly better outside Minnesota, however.
"I think actually we're doing pretty well," said Mike Schotz, director of Economic Development of Eau Claire, Wis. "We certainly don't have a lot of large office space sitting vacant."
Ditto for Fargo, N.D. "Generally speaking, this market is healthy. We weathered the recession pretty well," said Jim Buus, sales manager for Goldmark Commercial Corp. in Fargo. Vacancy rates in downtown Fargo were 10 percent for class A and 16 percent for class B in 2003, according to NAI, and Buus said the suburban vacancy rate is even lower, though figures were not available. "The demand is really pushing growth in suburban southwestern Fargo; that's really the natural growth pattern," said Buus.
There are some soft spots in the Fargo market, but they tend to be on the small side. "There's still a lot of vacancy on the smaller 1,000- to 5,000-square-foot spaces. I guess we've [had] above average vacancy on those for the last few years," Buus said. But, he added, "there's been strong, steady demand for the bigger 10,000- to 50,000-square-foot projects, both in terms of occupancy and new construction."
Fargo has been helped along by spinoffs of its burgeoning tech sector from Microsoft and North Dakota State University, Buus said, and a conservative approach to new space. "There's not a lot of spec building; it's mostly owner occupied."
For smaller markets, size may be on their side. "We have seen more positive absorption in this market in the last few years," said Michael Bender, a Sioux Falls, S.D., realtor. "We're so small that we're somewhat self-correcting."
Office markets in Montana may actually be suffering from a lack of office space. In Missoula, vacancy rates are estimated between 4 percent and 8 percent, depending on the property's class and location. In Billings, high-quality class A vacancy is 2 percent downtown and 0 percent in the suburbs, according to NAI, and class B rates run between 5 percent are 13 percent, respectively.
"It's becoming more and more difficult to place people," said Greg Krueger, executive director of the Downtown Billings Partnership.
I'm feeling much better
Like other national economic forecasts, the 2004 outlook for the national office market is optimistic. Reis Inc., a New York real estate research firm, has forecast absorption of 30 million square feet for next year, in contrast to the last three years of negative national absorption.
Everyone interviewed in the district was optimistic about the near future, to varying degrees. "We're anticipating vacancy rates to go down because we've gotten a lot of inquiries about space downtown," said Maddy, from Duluth. He cited a newly diversified economy and pent-up demand. In Rochester, Smith said, "Looking forward, I guess I would expect things to get better in '04," and pointed out that several businesses he surveyed expect to expand in the second half of the year.
Skip Greenberg, a Grand Forks, N.D., realtor, said, "I don't see things changing much. The market here's very good right now." Likewise, Buus from Fargo said, "historically, Fargo's not a very cyclical town so my outlook for 2004-2005 is pretty good."
Returning to the Twin Cities, most analysts expect a recovery, but a slow one, since the underlying problem is different from the last recession. Torto Wheaton Research predicts a slow decline in vacancy rates and for absorption to return to average levels by mid-2005 and vacancy by the middle of 2006. United Properties also predicts slow, stable absorption growth.
Chevalier, from Colliers, pointed out that since developers look at existing rates to determine the feasibility of large projects, and since it takes a couple of years to develop a big project, there likely won't be any huge growth of new space in the near future. That means that the recovery will fill existing space. "The recovery? We're predicting to start to feel it in '05," said Chevalier. "I think we'll start to see vacancies dropping from that point dramatically. ... As soon as landlords start to smell that, they'll stop giving it away."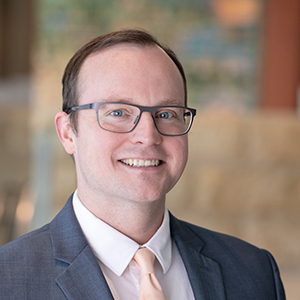 Request as a speaker
Joe Mahon
Director, Regional Outreach
Joe Mahon is a Minneapolis Fed regional outreach director. Joe's primary responsibilities involve tracking several sectors of the Ninth District economy, including agriculture, manufacturing, energy, and mining.